We are Helena & Peter Bergström. We live in a houseboat in Stockholm, Sweden and travel as often as we can – by plane, train, boat or our camper FREEDOM. You can read more about us if you scroll down.
OUR TRIPS
We have travelled in more than 45 countries in five continents, by plane, train, boat or camper. We love to discover new places, try out new foods and meet new people. During the last ten years we have, among other trips, travelled the Trans Siberian Railway, been backpacking in Kenya and Tanzania, been roadtripping and adventure hunting in New Zealand, went on beach holiday in Ukraine and been island hopping in the Philippines.
During 2015 we explored Europe by taking one year off from work and travel with our camper around the coast of Europe, from Normandy in the west to Albania and Macedonia in the east. During 2016 we plan several shorter trips, for example to Croatia and Hungary.
OUR CAMPER
The camper is an Adria Coral 660 sp from 2007, but we have made an "extreme motorhome makeover" so it's not really recognizable… Peter has made the design and the foliation is made by the company BrandFactory.
The camper is now equipped with alarm on the doors, motion alarm, safety box, double batteries, solar panel anda portable power station. And "some" extra lights and sound systems and things like that of course… Here you can see some pictures of the camper before and after the makeover.
OUR HOUSEBOAT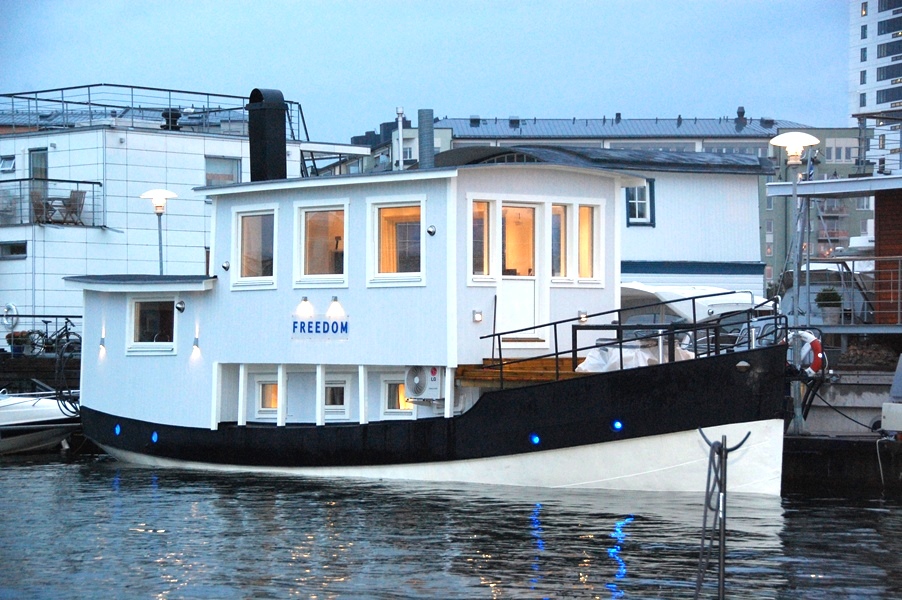 The houseboat is from the 1930s. From the beginning it was a passenger boat and then it layed in Djurgården in Stockholm as a houseboat before it came to Pampas marina in Solna in Stockholm. Today it's a houseboat without motor, permanently laying at the jetty, with water and drain connected to it.
The summer 2014 we liftet the boat up on land and made an extensive renovation. We tore the whole living room and built a new one, changed all the panel and all windows and made new roofing. Here you can see more pictures of the houseboat, before and after the renovation.
OUR BLOG
We blog about travelling, adventure and camping, but also about houseboat life and lifestyle in general.
Travel – We travel in the neighborhood as well as far away. Our blogposts include destinations, attractions, restaurants, culture and nature.
Adventure – We like to visit unexpected destinations and the adventure might include everything from exciting cultural encounters to backpacking, wildlife or rafting.
Camping – We write about our trips in a camper, both in Sweden and abroad. Sometimes w also write about camping in a caravan or in a tent.
Today the blog has approximately 20,000 unique visitors each month, and we also have Facebook and Instagram. We have written one blogpost per day since 2009 and aim to present a blog that is both informative and personal. Do you represet a company which is interested in advertising and partnerships? Read more about our Swedish travel blog and about advertising and marketing.
SOME MORE ABOUT US…
Peter (56 years) likes to design everything he sees: appartements, campers, clothes… and houseboats!  He likes to listen to trance, drink Amarone wine, exercise Tapout XT (MMA style, home fitness program) and to discover the world. He takes a lot of photos which you can see on Instagram (in English). In everyday life: has a small construction company.
Helena (41 years) likes to travel, write, taking photos and blog. She appreciates also good food, interesting books and exercise. In everyday life: Med. Dr. working with public health at Karolinska Institute, Stockholm.
Billie (20 years), the youngest son of Peter, likes to travel with us now and then. He has for example joined as to New Zealand and to Morocco. Last trip together: camper trip to Öland in Sweden in 2013. In everyday life: personal assistant for people with disabilities.
Robin (28 years), the oldest son of Peter, lives with his wife Alexandra. Sometimes they like to travel with us, and they have for example joined as to Italy and Ukraine. Last trip together: The Bråvalla festival in Sweden 2013. In everyday life: work at Taracci, a fashion store for men.