ArkDes is a museum in Stockholm specialising in architecture and design. We had little knowledge of this museum before we visited it this weekend. An interesting visit, and plus points for free entry!
ArkDes in Stockholm
ArkDes describes itself as Sweden's national centre for architecture and design. In addition to being a museum, it is a knowledge centre and an arena for debate and discussion. There are regular exhibitions, so if you come here at another time, you might see something completely different from what we show here.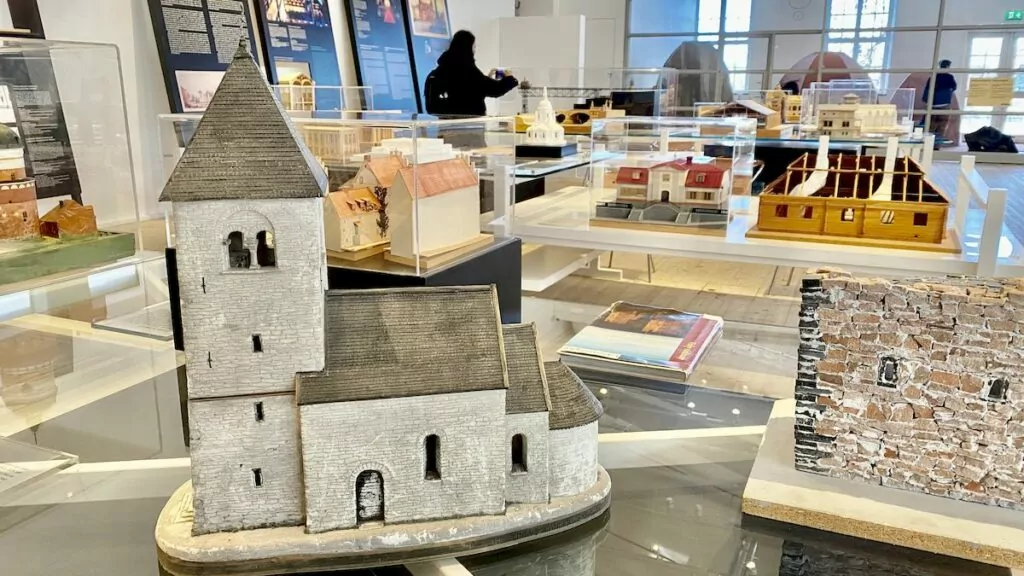 ArkDes is located right next to the Moderna Museet, on Skeppsholmen in the centre of Stockholm.
Exhibition: Smoothies, museums and airports
The first exhibition we checked out was "Smoothies, Museums and Airports", which runs until 1 May 2022. The exhibition features projects by Stockholm Design Lab, which has become part of the city and everyday life. Fascinating to see how a single company influences the world around you with lots of famous brands and symbols on signs, road signs, apps and takeaway cups...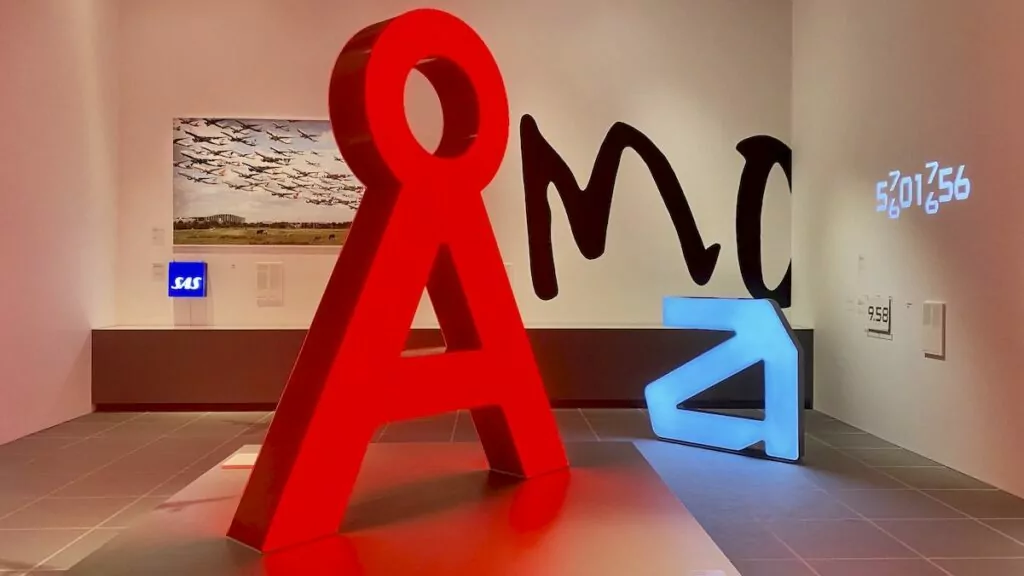 Exhibition: Architecture in Sweden
In the main hall, the exhibition "Architecture in Sweden", which shows a thousand years of Swedish construction and runs until 31 January 2023. This exhibition also appealed to us. We travel a lot, so it was interesting to look at models and photos of lots of Swedish buildings that we have seen, or want to see.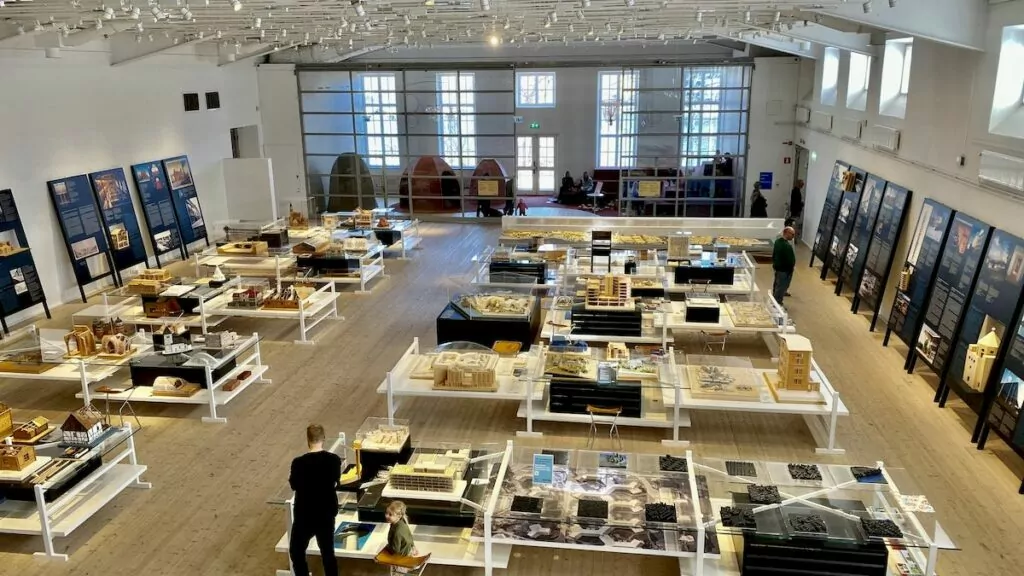 There are models of both older and newer buildings. For example, we checked out Riddarhuset in Stockholm, Stockholm City Library and Gripsholm Castle in Mariefred.
A fascinating building that we would like to see on occasion is Kiruna Church. It was also fun to check out more recent architecture, such as the anthroposophists' eurythmy house in Järna and the private Naturhuset in Saltsjöbaden. This is an experimental house that is almost self-sufficient in terms of heat, water, sewage and access to fresh vegetables. Delicious!
Exhibition: Sigurd Lewerentz
We also checked out the exhibition 'Sigurd Lewerentz: Architect of Death and Life', which runs until 28 August 2022.
Mr Lewerentz is perhaps best known for creating the UNESCO heritage site with architect Gunnar Asplund. Forest cemetery. Through the exhibition, you can get to know a few more sides of him.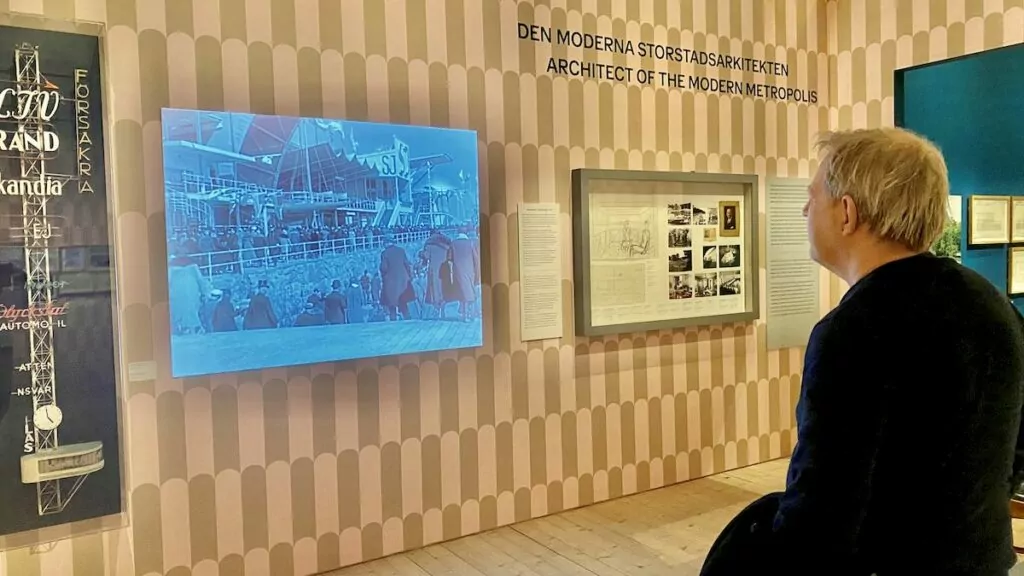 Café Blom at ArkDes
After our visit to ArkDes we were hungry, so it was a good time to pop into Café Blom, which is located here. We each ordered a southern French prawn stew and a beer. A good and pleasant end to the visit!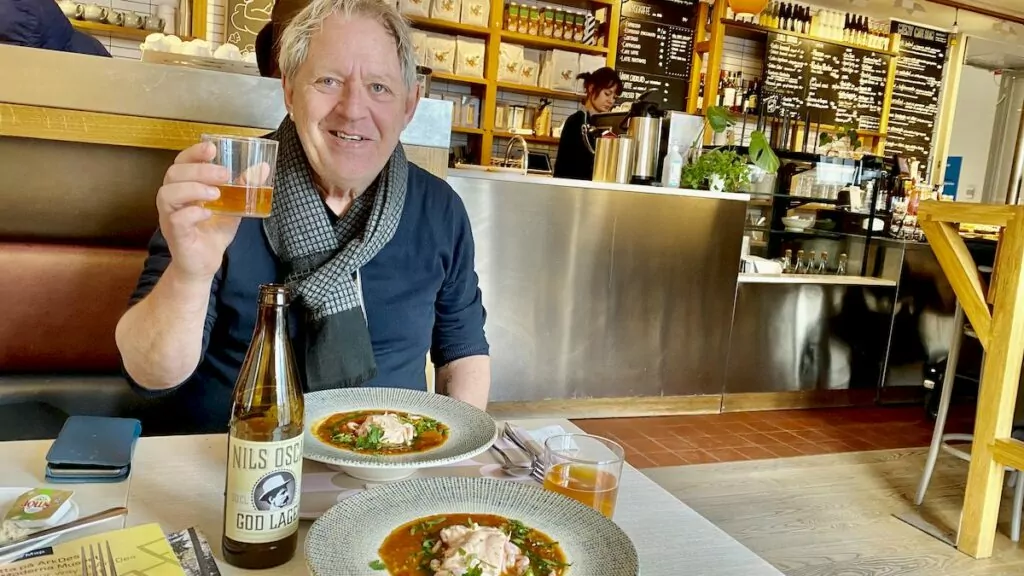 More to see in the neighbourhood
ArkDes is located on Skeppsholmen, and there are three more museums: Moderna museet, Östasiatiska museet and Stockholm Toy museum. It's also nice to walk around Skeppsholmen just to check out all the beautiful boats and ships.

On the other side of Skeppsholmsbron is Blasieholmen with the National Museum. It's also not far from the Old Town, with the castle and lots of other attractions.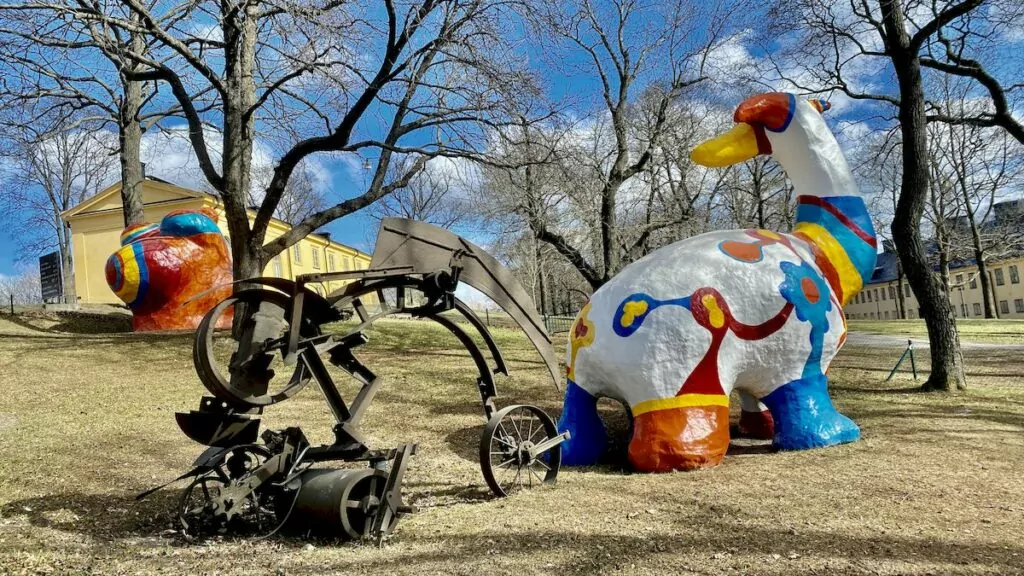 Have you visited ArkDes in Stockholm? Do you like architecture and design?
Facts about ArkDes in Stockholm
Address: Exercisplan 4, Skeppsholmen
Municipality: Stockholm
County: Stockholm County
Landscape: Uppland
Read more: You can find more information at the museum's website.
Tours and activities
Group viewing: Tours, on different themes, can be booked for groups on the museum's website.
Ralph Erskine's BoxRalph and Ruth Erskine's first home in Sweden is a 20 square metre house full of smart solutions. Today there is a replica on Lovön and occasional tours are organised.
Activities for children: The ArkDes family room is a place to relax and play. The museum also organises school activities.
Services and practical information
Opening hours: Closed on Mondays. Open other days at slightly different times. See the museum's website for current opening hours.
Prices: Free admission.
Food service: Café Blom serves pastries, sandwiches and meals. The café has full rights. There is a picnic area on the first floor. At the Moderna Museet, in the same building, there are additional food outlets.
Library: Here you can borrow books on architecture and design.
Accessibility
Internal accessibility: The museum is built on one level and there are no obstructing thresholds. Most doors open automatically
Toilet: Accessible toilets are available in the auditorium foyer and in Café Blom.
Parking: Parking spaces for the disabled are available both outside the main entrance and the lake-side entrance.