Travel destinations in the USA! Here you will find inspiration for places to visit in the USA. Do you like dramatic nature, big cities or maybe amusement parks? Here are our top tips for travelling to the USA!
Why travel to the US?
The USA is a huge country with dramatic scenery, exciting national parks and long white beaches. There are plenty of opportunities for hiking, cycling, horseback riding, kayaking and other outdoor activities.
If you prefer city life, there are many interesting places to explore such as New York, Los Angeles, Chicago, Miami and Philadelphia. Here you can discover restaurants and nightlife, but also culture and amusement parks.
Travel destinations in the USA - inspirational reading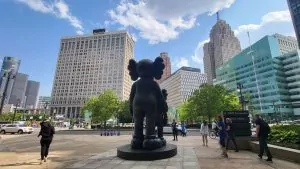 Guest writer: Mia Ulin Join us on a journey to Detroit 2.0 which offers thriving culture, sports,...

Facts about the USA
Capital city: Washington D.C.
Language: English (American English)
Name: United States of America or United States of America (USA)
Residents: More than 331 million (2021)
Currency: US dollar (USD)
Religion: The US is officially a secular state, with a survey showing that 78.4 per cent of adults are Christians.
Flag: The flag has red and white stripes. At the top left is a dark blue field with white stars.
National anthem: The Star-Spangled Banner
Good to know about the USA
Price mode: Average prices in the US are higher than in Sweden.
Time difference: Sweden is 6 hours ahead of New York.
Emergency number: 911
El: Adapters are needed for US electrical outlets.
Think about: Sales tax is not included in the prices of the shops. Up to 7 per cent is added at checkout, depending on the type of product and state. Breakfast is often not included in hotels and must be ordered separately.
Travelling to the USA
Flight: Several airlines (including SAS, Air Canada, Lufthansa, United, Virgin Atlantic, Delta, KLM and Air France) fly directly from Sweden to the US.