Travel destinations in Sri Lanka! Do you like intensely green nature, exotic animals, beautiful temples and lovely beaches? Here are our top tips for travelling to Sri Lanka!
Why travel to Sri Lanka?
Sri Lanka is a country of natural beauty, from swaying palm trees to mountains and tea plantations. You'll see monkeys, elephants and exotic birds, and if you're lucky, even animals like leopards. The country is also full of sacred sites for Buddhists with beautiful and historically interesting temples.
If you like sun and sea, you can be sure to find long sandy beaches, where you can also enjoy surfing and water sports. Another reason to visit Sri Lanka is the low prices, which can make adventures easier. Here are our top tips for travelling to Sri Lanka.
Travel destinations in Sri Lanka - inspirational reading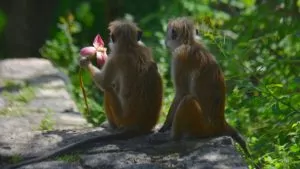 Do you dare to travel to Sri Lanka? That's a question we sometimes get, and right now it feels...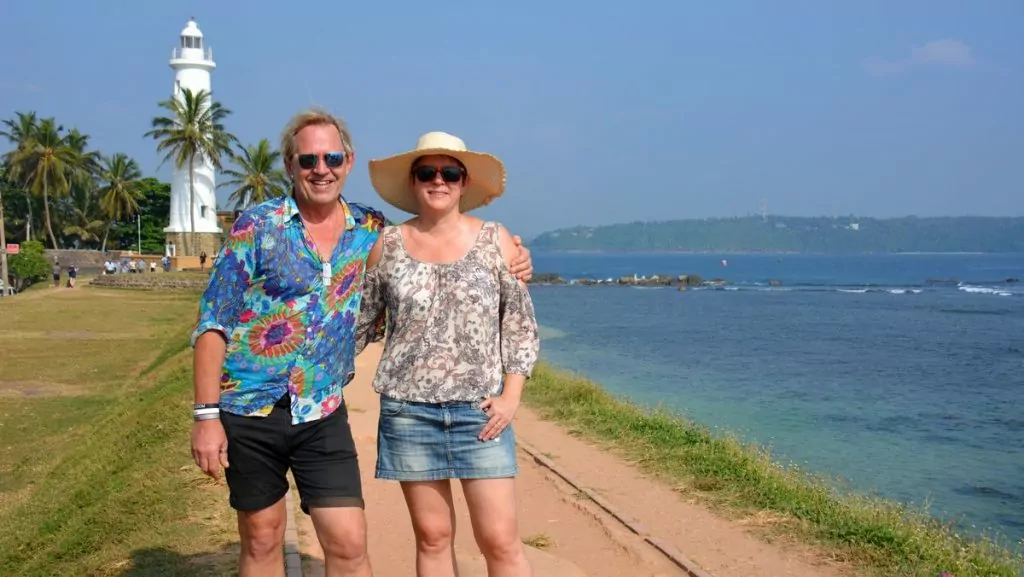 More destinations in Sri Lanka - bucket list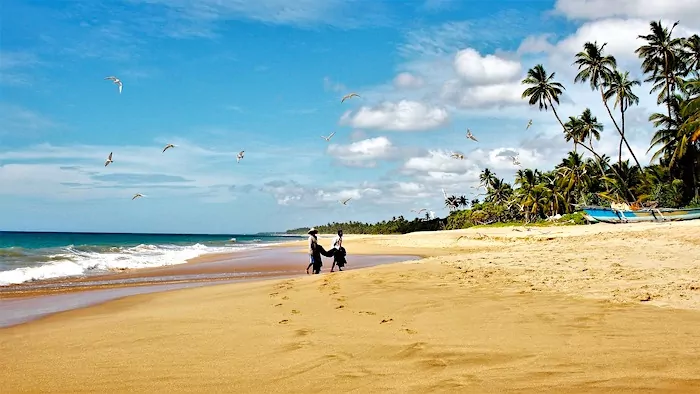 Mirissa beach
Even though Weligama bay which we were on and which goes with Marissa, so we can go back down and explore more. There are also excursions from here to see blue whales, orcas, dolphins and flying fish.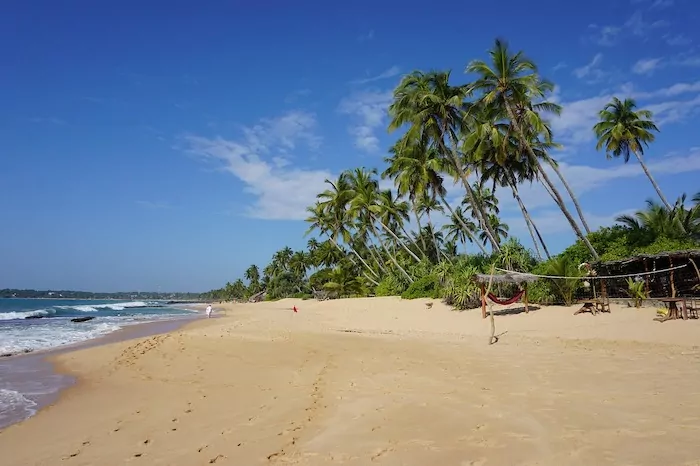 Tangalle
The beaches go on and on along the southern coast of Sri Lanka.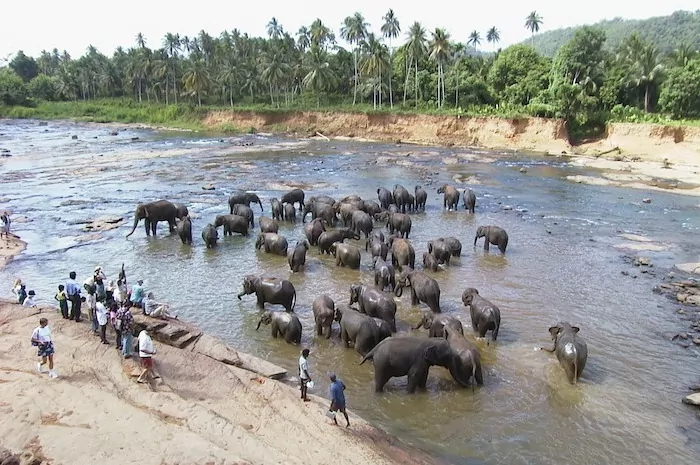 Pinnewala
In Pinnewala there is an elephant kindergarten which cares for orphaned elephants.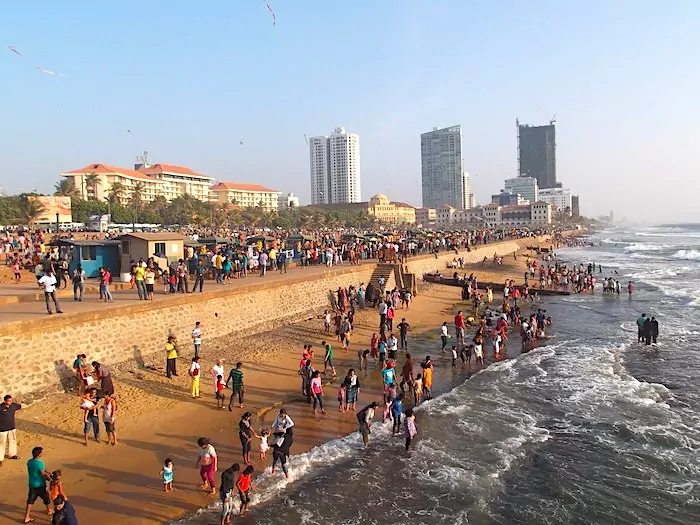 Colombo
Sri Lanka's largest city is Colombo and the capital that we did not have time for. Here you would like to have at least 2 days to take in the big city pulse, and fun shopping.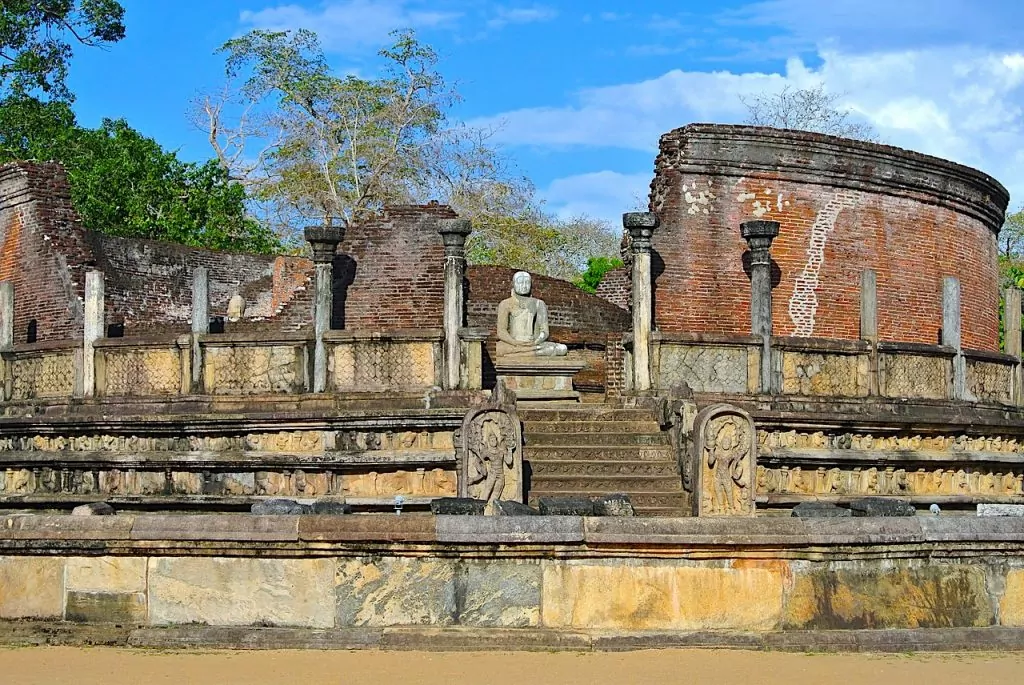 Polonnaruwa
A city we missed last time but is on our list. It is on another list, the UNESCO World Heritage List.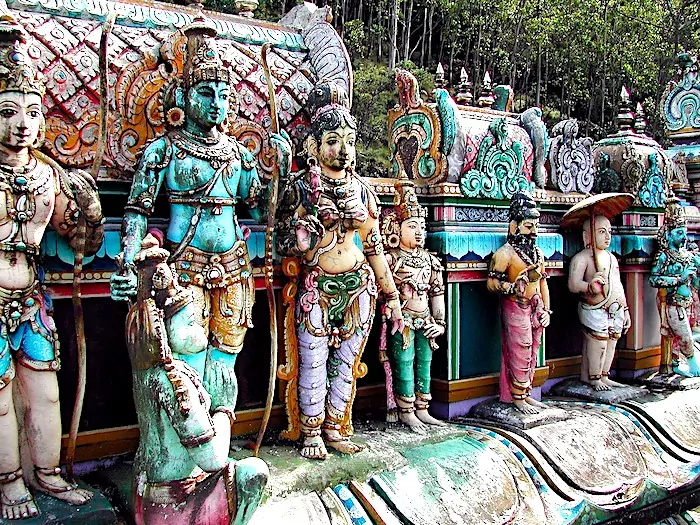 Trincomalee
The area in the north-east of Sri Lanka has a huge number of Hindu temples in all their colours, which really stand out from the crowd. Diving opportunities and beautiful beaches. I want to go here!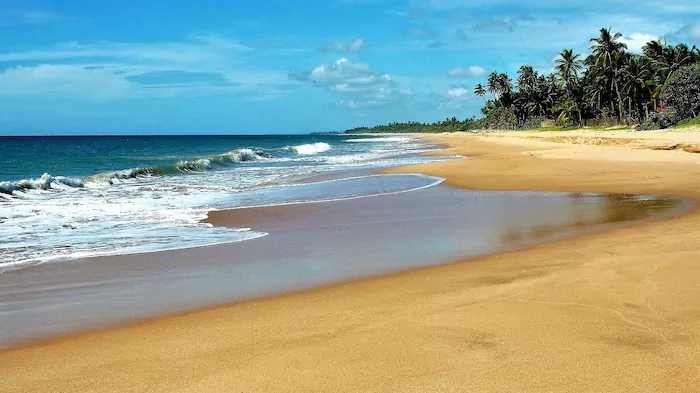 Nilaveli
East coast and another paradise beach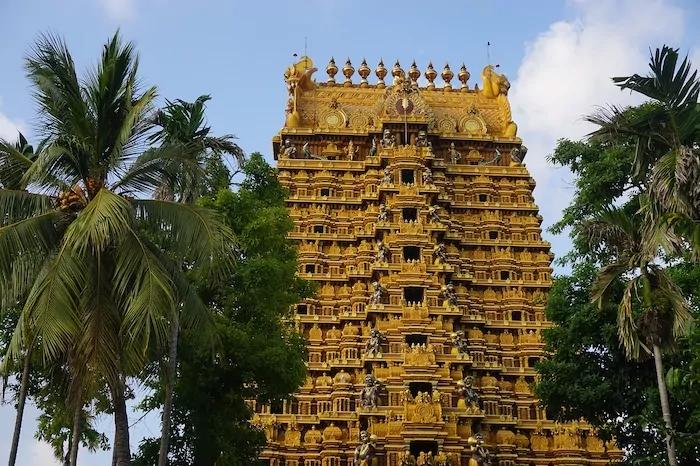 Jaffna
Jaffna Peninsula and Elephant Pass in the north. Just being around Jaffna is really exotic and there are certainly hidden spots there.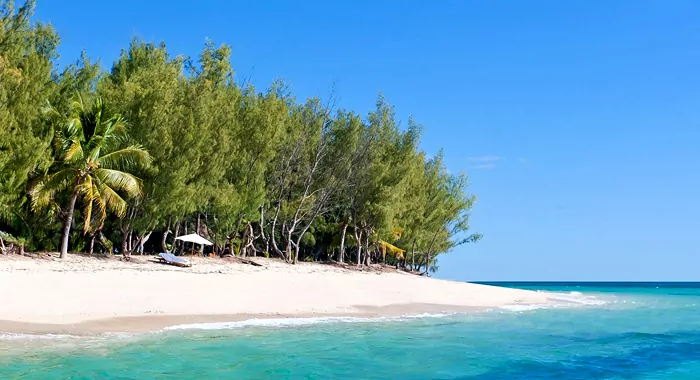 Delft
North-west side and Delft Island. It can only be reached by boat which takes 2-3 hours. Is it worth it? for me it's easy!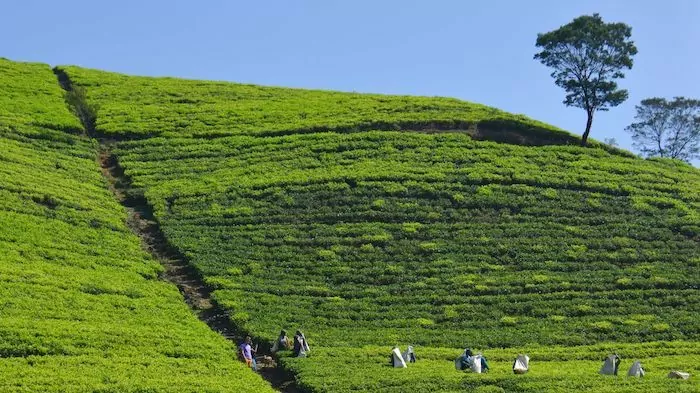 Nuwara Eliya
Between Kandy and Ella there are many beautiful tea plantations. We passed by but want more time here in the mountains.
Hikkaduwa
North of Galle is this beach and they can be found all along the coast up to Colombo.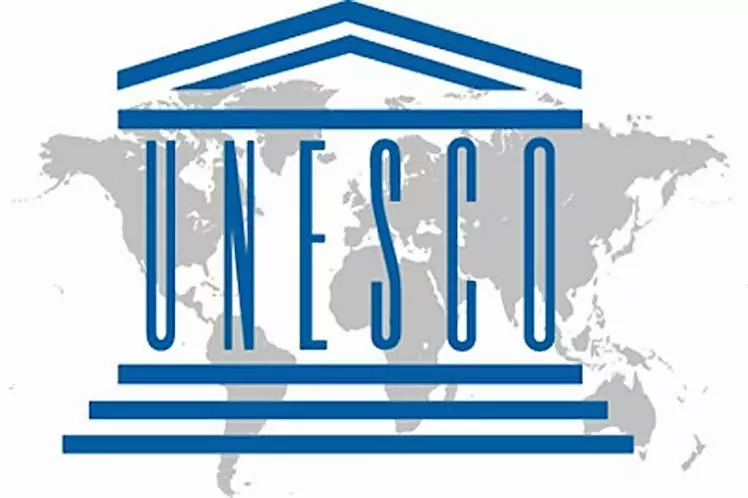 Sri Lanka's 8 unesco World Heritage Sites
Ancient city of Polonnaruwa
Ancient city of Sigiriya
Sacred city of Anuradhapura
Old town of Galle with the old city wall
Holy City of Kandy
Siharaja rainforest and reserve 30
Rangiri Dambulla temple cave
Central Highlands of Sri Lanka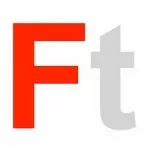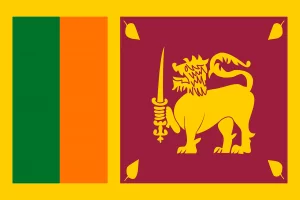 Info and facts about Sri Lanka
Capital city: Colombo (Sri Jayawardenapura)
Residents: 21.4 million (2017)
Currency: Sri Lankan rupee (LKR) Country code: +94
National Day: 4 February
National flower: Nil Mahanel, known to botanists as Nymphaea Stellata.
Language: Sinhalese, Tamil and English
religion: Buddhism (70 %), Hinduism (15 %), Islam (9 %), Catholicism (7 %).
Flag: The flag is said to be one of the oldest in the world and also features Buddhist, Muslim and Hindu motifs in the same flag.
National anthem: Sri Lanka Matha (Mother Sri Lanka)
Record-breaking travel destinations in Sri Lanka
Highest mountain: Pidurutalagala (Mount Pedro) 2 524 metres above sea level.
Longest river: Mahaweli, 335 km
Second largest city: Dehiwala-Mount Lavinia
Biggest lake: Kala Wewa
Highest building: two World Trade Centre towers of 40 floors each
Main sports: cricket and volleyball
Good to know about Sri Lanka
Emergency number: 119
Time difference: +4.5 hours
El: Three straight spikes occur quite often as our earthed sockets in Sweden, but straight. Usually there are three round ones, and the top one is just a latch without electricity in it, which you put a pen in to release the latch, and then you can use the two bottom ones for mobile phones etc.
Water: Not drinkable. Sold everywhere in bottles
Price mode: Cheap (about 50% cheaper than Sweden)
Money and cards: Withdraw money from the ATM at the airport as a start, and ATMs can be found in many places around the country. Not everyone takes cards, although it is done in fancier restaurants and hotels.
Watch out: There has been political unrest in the country in the past, and the country can also be affected by storms. Check the current situation on Sweden Abroad before travelling.
Think about: Your passport must be valid for at least 6 months when you enter the country. There may be rain showers as it is a tropical island. Bring a thin rain cape because it's hot.
VisaVisas are applied for online 30 days before travelling and are applied for here at Embassy of Sri Lanka
Travelling around Sri Lanka
Car hire: If you want to rent a car during your trip to Sri Lanka, you will need an international driving licence and stamps from an authority to drive a car (in left-hand traffic).
Car hire with driver: Car hire with a driver is incredibly common in Sri Lanka. An advantage of having a driver is that as a foreigner you risk being the one who is considered guilty in case of a car accident. It is good to know that the drivers usually have a commission for taking customers to certain places/hotels, and that they therefore suggest these.
Trains: Trains are a very good option for travelling around Sri Lanka. It is also known to be one of the most beautiful in the world. In high season it can be extremely busy and book early.
Tuk-tuk: In towns and cities, you can go by tuk-tuk. Don't forget to haggle over the price.
Food in Sri Lanka
National dish: Rice and curry with a fish or meat base, vegetables and hot chilli and coconut oil.
More dishes: Devilled chicken/prawns/fish (a spicy dish in sauce served with rice) and Battered chicken/prawns/fish (lightly fried ingredients served with rice).
Fruits: Many varieties of bananas, papaya, rambutan, jackfruit, coconuts, mangosteen, mango and many, many more.
Travelling to Sri Lanka
Flight: You can travel to Sri Lanka with several different airlines such as Qatar Airlines, Sri Lanka Airlines, Air India, Finnair, Emirates, and LOT Polish Airlines. There will be one stopover and you should allow between 13-20 hours.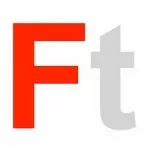 Videos from Sri Lanka
Anuradhapura
Sigiriya - Minneriya National Park
Dambulla film
Galle - Nogombo film