Holidays in Norrbotten can offer everything from wonderful nature to exciting culture and interesting history. In this part of Sweden you can go hiking, fishing, picking mushrooms, summer holidays at sea baths or perhaps winter holidays with skiing and the northern lights.
Holidays in Norrbotten
Why not experience a wonderful holiday in Norrbotten? Here you can visit beautiful cities such as Luleå and Piteå, and be fascinated by old church towns such as Gammelstad Church Town and Öjebyn Church Town. You can also experience wonderful rapids, such as Kukkolaforsen and Storforsen.
If you visit Norrbotten in the summer, there are great sea baths, such as Pite Havsbad. You can also experience beautiful nature areas, where it is great to hike or fish. If you visit Norrbotten in the winter, you can enjoy winter activities such as skiing, snowboarding or ice skating, or perhaps get the chance to see a beautiful aurora borealis in the sky.
Tips for your holiday in Norrbotten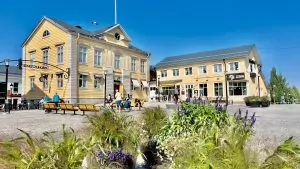 What to do in Piteå? This northern holiday paradise is known for its long, sandy beaches and...
Good to know before your holiday in Norrbotten
Here you will find information and things to know before your holiday in Norrbotten.
Accommodation in Norrbotten
Hotels, cottages and hostels: There are many different types of accommodation around Norrbotten, whether you want to stay luxuriously or more simply.
Camping and caravanning sites: There are plenty of campsites and caravan parks, many of which are beautifully located by the coast, rivers or lakes. Read more about campsites and pitches in Norrbotten here.
Free camping: Free camping with a motorhome is fine as long as you follow laws and local regulations.
Food and drink in Norrbotten
Regional courts: Arctic char with vendace roe, pitepalt or boiled, braised elk brisket with horseradish sauce.
Delicacies: Chanterelle mushrooms, cloudberries, field berries and Kalix salmon roe.
Desserts: Try any dessert with cloudberries or field berries!
Activities in Norrbotten
Nature: Hiking, cycling, canoeing, golf, fishing, mushroom picking and boat trips to various islands as well as skiing, skating, snowshoeing, dog sledding and the northern lights.
Culture: Art and galleries
History: Church towns, open-air museums, heritage centres, fortresses and museums.
For children: Swimming, camping and winter sports.