Holidays in Västmanland! Do you want to experience beautiful castles, nice cities or cosy campsites? Or have you always dreamed of seeing the Sala silver mine? Then Västmanland is for you!
Holidays in Västmanland
Västmanland is bordered to the south by Lake Mälaren, Lake Hjälmaren, Södermanland and Närke. To the west it borders Värmland, to the north Dalarna and Gästrikland, and to the east Uppland. Traditionally, the region is divided into Bergslagen and Mälardalen.
Here you can visit Västerås, which has a lot to offer in the form of beautiful castles, exciting ancient remains and a fantastic open-air museum. Other cities include Arboga, Hallstahammar, Hällefors, Kopparberg, Köping, Lindesberg, Nora, Sala and Skinnskatteberg.
Tips for your holiday in Västmanland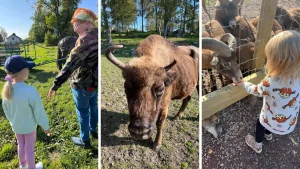 Guest writer: Anna Nilson Spets A hasty visit to Sweden to spend time with children and grandchildren...
Discover beautiful castles, descend into deep mines or stroll through beautiful nature? Here you will find tips for activities and experiences during your holiday in Västmanland.
Good to know before your holiday in Västmanland
Here you will find information and things to know before your holiday in Västmanland.
Accommodation in Västmanland
Hotels, hostels and cottages: There are of course many different types of accommodation around Västmanland, ranging from the more luxurious to the more basic. For example, you can find tips on the region's website.
Camping and caravanning sites: There are plenty of campsites and pitches and many are well located along the coast. In high season, popular sites can become crowded. Read more about campsites and pitches in Västmanland here.
Free camping: Free camping is perfectly possible as long as you comply with laws and local regulations.
Food and drink in Västmanland
Regional courts: Halted, lightly grilled pike-perch fillet on forest mushrooms and cucumber tagliatelle with horseradish crème fraîche and tomato vinaigrette, Mälar pike-perch with horseradish and deer haunch with potato gratin á la Bredsjö.
Delicacies: In Västerås you will find the market hall Slakteriet.
Drinks: Try, for example, apple must from Köpings must & cider.
Activities in Västmanland
Nature: Hiking, cycling and golf
Culture: Art and galleries
History: Churches, castles, open-air museums and ancient tombs
For children: Swimming, Vallby open-air museum and camping