Travel destinations in The Gambia! Here you will find inspiration about Gambia's best travel destinations. Do you like a warm climate, beautiful beaches and cultural experiences? Here are our best tips for those who want to travel to Gambia!
Why travel to Gambia?
The Gambia is a small and poor country in West Africa, where tourism plays a major role for the population. Here you can enjoy a warm climate and beautiful beaches. You can also take a boat trip on the Gambia River, visit the capital Banjul, experience the hustle and bustle of the markets or learn about the history of slavery on Kunta Kinte Island.
The Gambia also offers opportunities for cultural experiences and encounters with local people. You can also try the local food, which includes cassava, nuts and fruit.
Gambia travel destinations - inspirational reading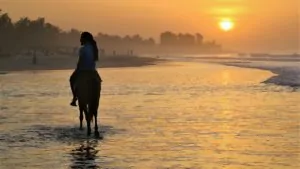 Curious about travelling to Gambia? We have the privilege of presenting an interview with writer and...

Info and facts about Gambia
Capital city: Banjul
Language: English
Residents: Around 2.6 million (2020)
Currency: Galasi (GMD)
Religion: Islam
FlagThe Gambia's flag is red, blue and green.
National anthem: For The Gambia Our Homeland
record-breaking destination in the Gambia
Highest point: Unnamed location, 53 metres above sea level
Longest river: Gambia River, approximately 1,100 - 1,300 km
Largest city: Serrekunda
Highest building: The Petroleum House, 43 metres
Good to know about Gambia
Price mode: Cheaper than Sweden
Time difference: +1 timme
El: Adapter needed
Water: Choose bottled drinking water
Travelling to Gambia
Flight: You can travel charter to Gambia with Ving or TUI. It is also possible to fly regular flights, for example with Ethiopian Airlines, but you have to expect stopovers.