What to do in Umeå? This northern city, sometimes called the city of birch trees, offers everything from rooftop bars and exciting museums to fantastic nature experiences. Here are all our top tips for things to see and do in Umeå.
Umeå
Umeå is a university town in northern Sweden, which is also renowned for its culture and sports. The entire city burned down to the ground in 1888 and when it was rebuilt, it was decided that it should not be too crowded between houses and that birch trees should be planted in the streets. Hence the nickname 'the city of birches'.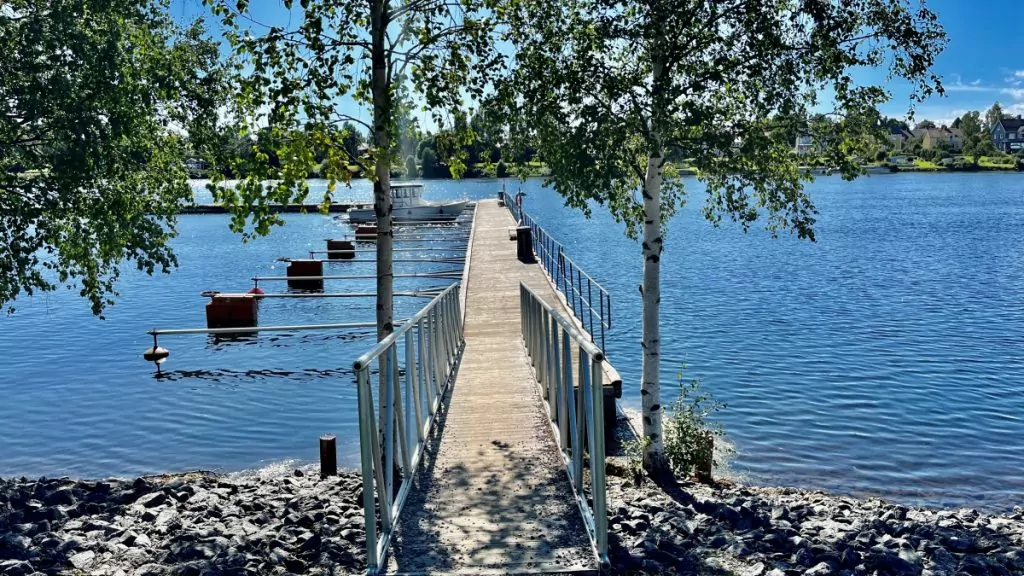 Umeå is located on the Ume River in Västerbotten, about 135 kilometres south of Skellefteå.
What can you do in Umeå?
So what can you do in Umeå? There's a lot to discover, whether you like culture and history or enjoy nature. Here are our top tips for things to do in Umeå and the surrounding area.
1. Check out the architecture in the centre of Umeå
Umeå offers a lot of exciting architecture. As you walk around, you can check out the historic Rådhusparken, the Väven cultural centre and the Sara Lidman tunnel, a 170-metre-long work of art. If you are interested in architecture, you can follow Visit Umeå's architecture guide.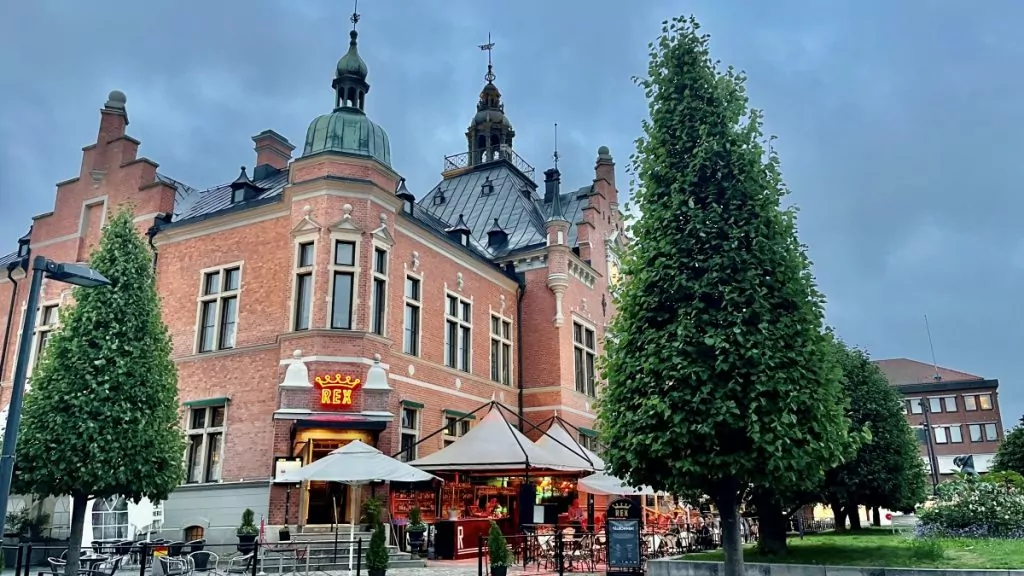 2. walk along the river Umeälven
The Umeälven river flows right through Umeå, and there is a nice walking path along it. For example, you can choose to walk in a westerly direction, cross the river over the Lundabron bridge to Bälesholmarna, continue to the Teg district on the south side of the river and then walk back to the city centre via the beautiful Gamla bron.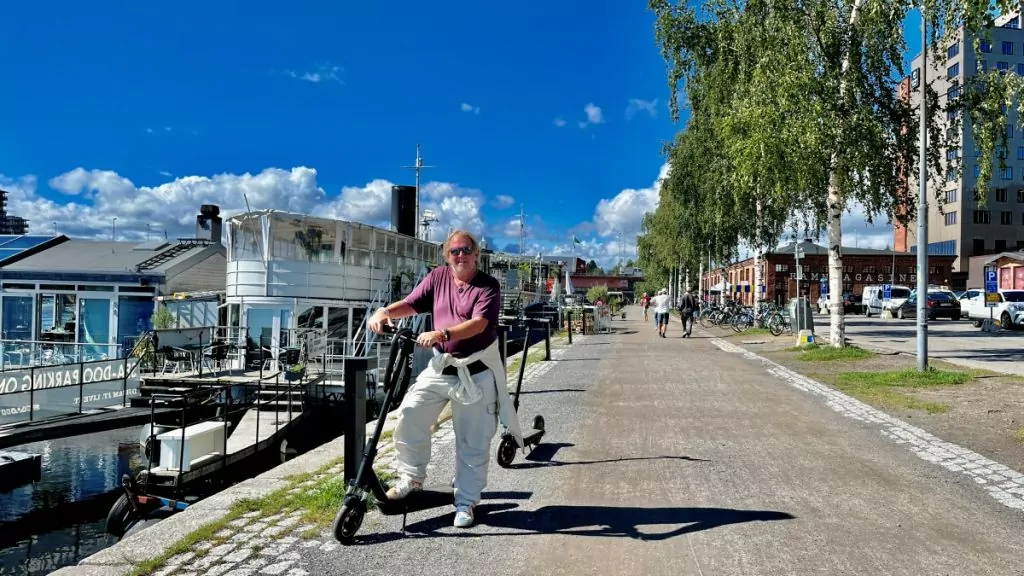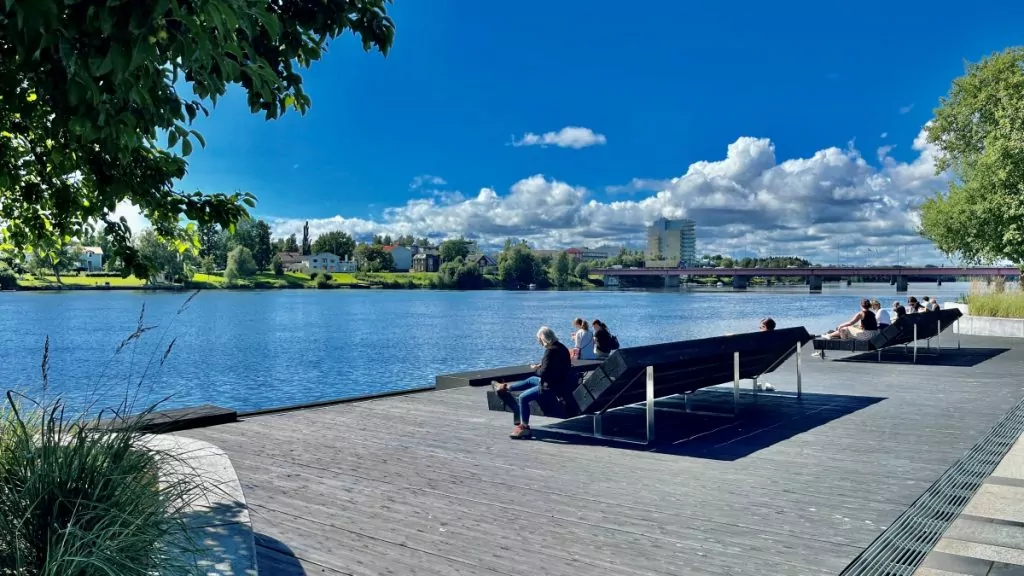 3. Take a peek inside Umeå City Church
Umeå City Church was built between 1892 and 1894, and is the third church on the same site. The church was designed by the then city architect Fredrik Olaus Lindström, but its appearance has changed over time through remodelling and extensions. The brick church is beautiful both inside and out.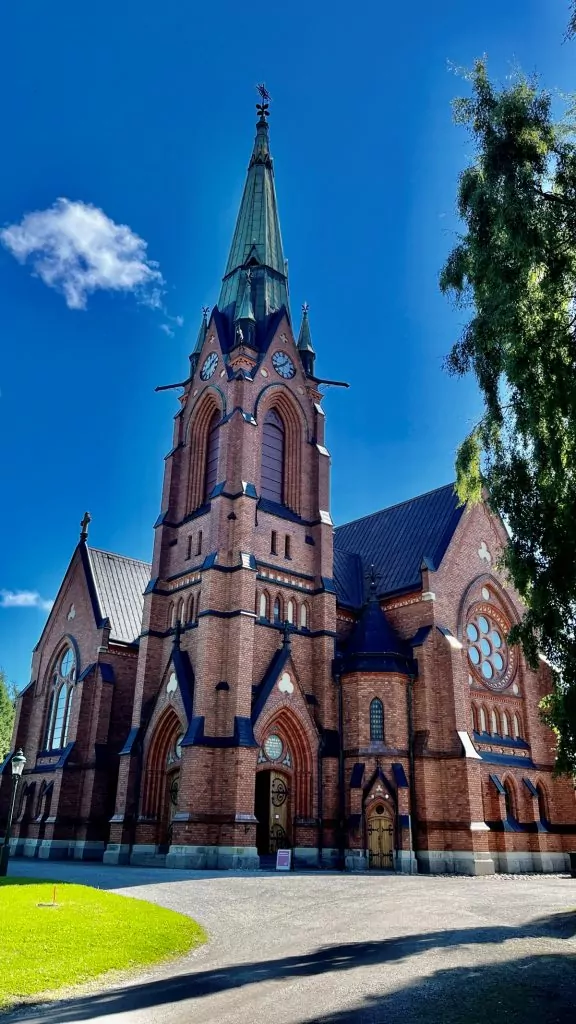 4. See art at the Bildmuseet
One of the most popular museums in Umeå is Bildmuseet, located in a beautiful building by the Ume River, designed by Henning Larsen Architects in collaboration with White. There are always different current exhibitions of international contemporary art on display, and admission is always free. In addition, openings, guided tours, lectures and other events are sometimes organised.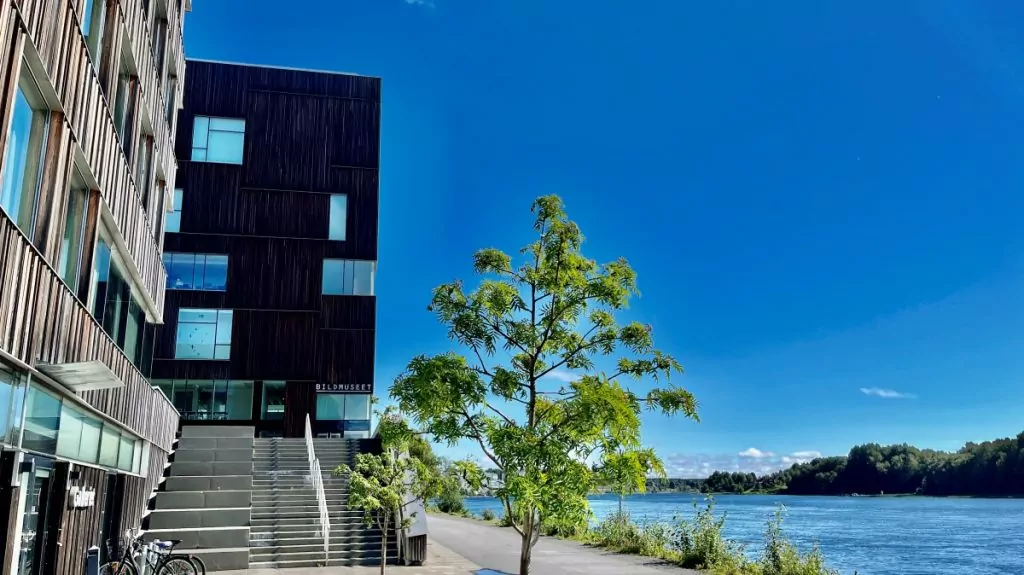 5. Experience Guitars - The Museum
Another museum that you don't want to miss is the Guitar Museum, or "Guitars - The Museum" as it is actually called. Located in the centre of Umeå, this museum offers both an exciting story, filled with experiences from the world of music, and a fantastic collection of guitars.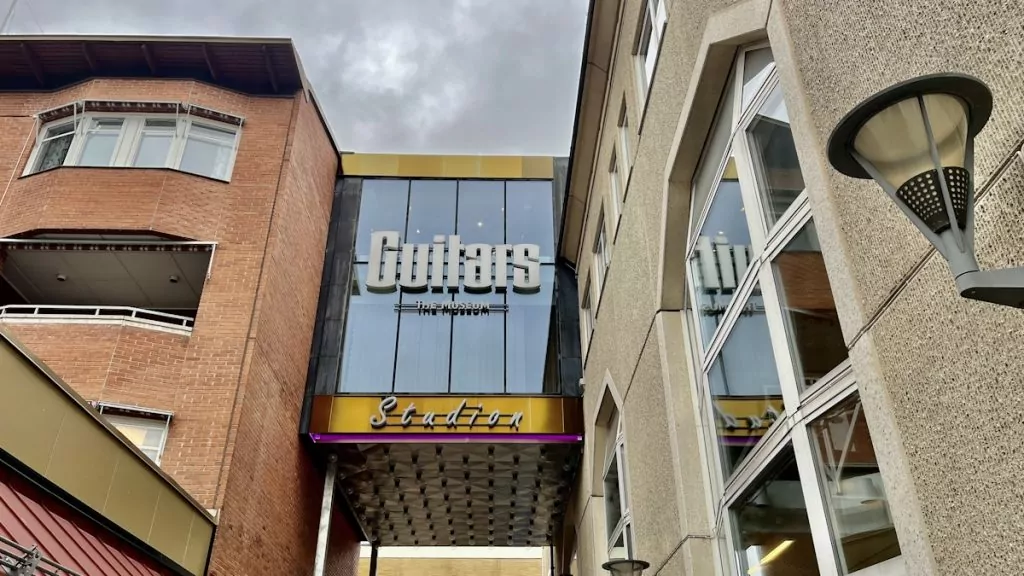 The two Umeå brothers Åhdén started collecting guitars at an early age and, according to them, it was the pre-Internet era, when prices were still within reason, that allowed them to build their impressive collection. At first, they kept it secret, even from family members, because it was so valuable. Today, the guitars are displayed to visitors from all over the world.
The museum is much bigger than you might think, and you can spend a lot of time browsing through electric guitars and other musical gadgets in the very stylish and modern museum. If you want the stories to come alive, don't miss the guided tour.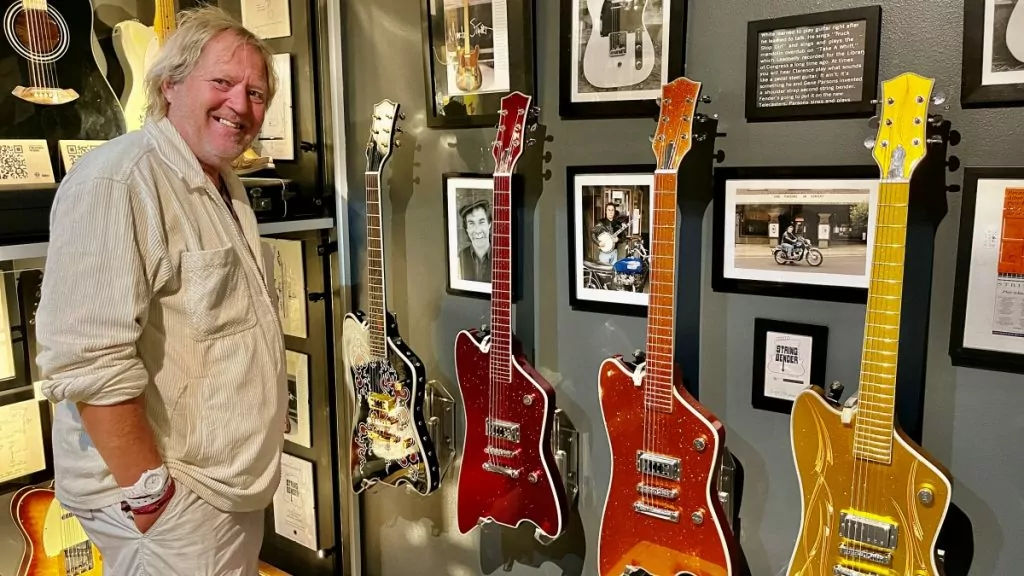 6. Visit the Västerbotten Museum
If you want to learn more about the culture and history of Västerbotten, head to the Västerbotten Museum. This family-friendly museum, which is always free to enter, features both permanent and temporary exhibitions that take you from past to present, as well as showcasing arts and crafts.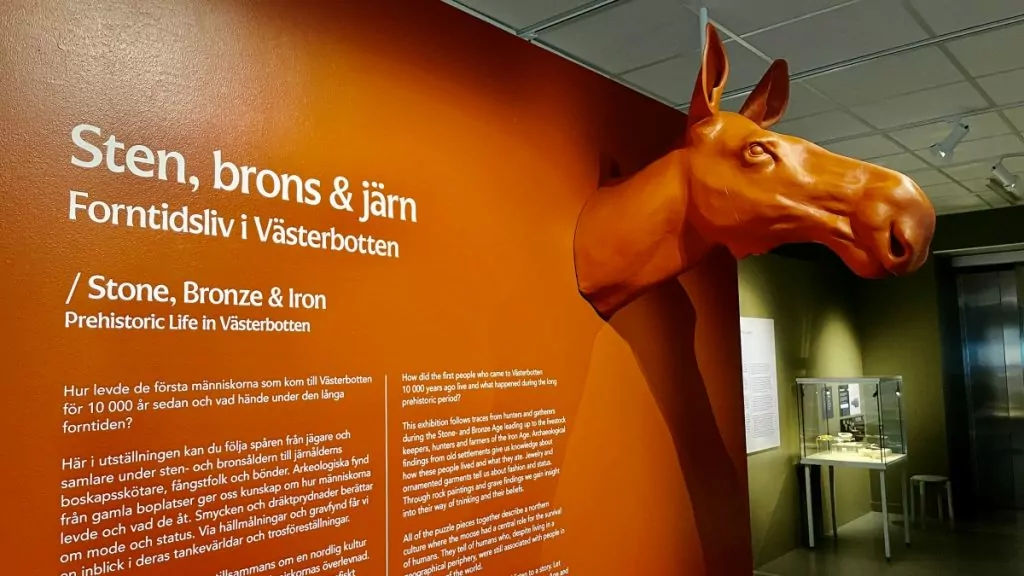 7. Strolling among the houses in Gammlia
At the Västerbotten Museum you will also find the open-air museum Gammlia, where some 30 historical buildings have been collected. You can always stroll among the houses, and during the summers various activities are organised.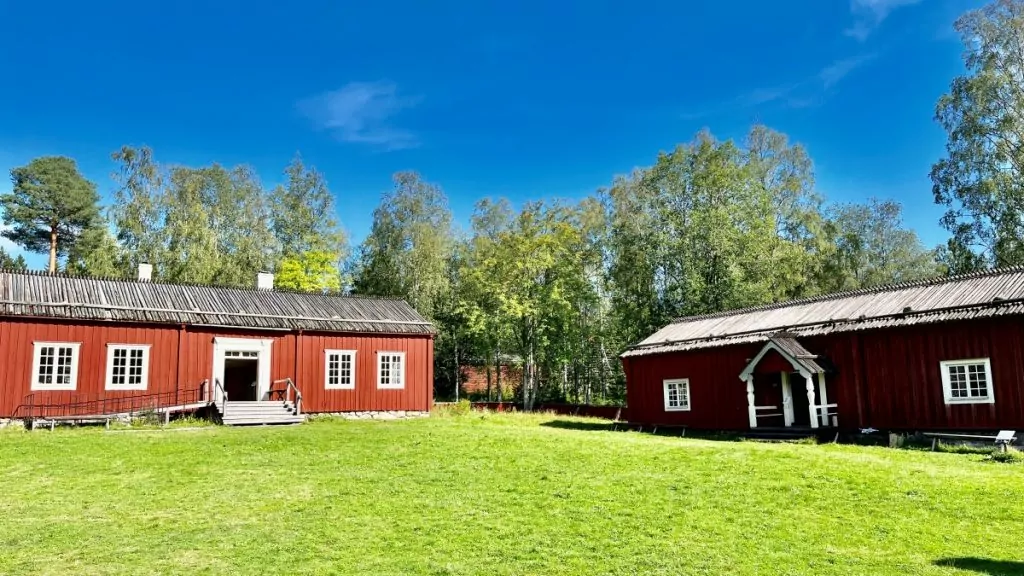 8. Eat at Sjöbris
One thing you won't want to miss doing in Umeå is grabbing a bite to eat at Restaurant Sjöbris. This charming and year-round open restaurant has a fantastic location on the Ume River.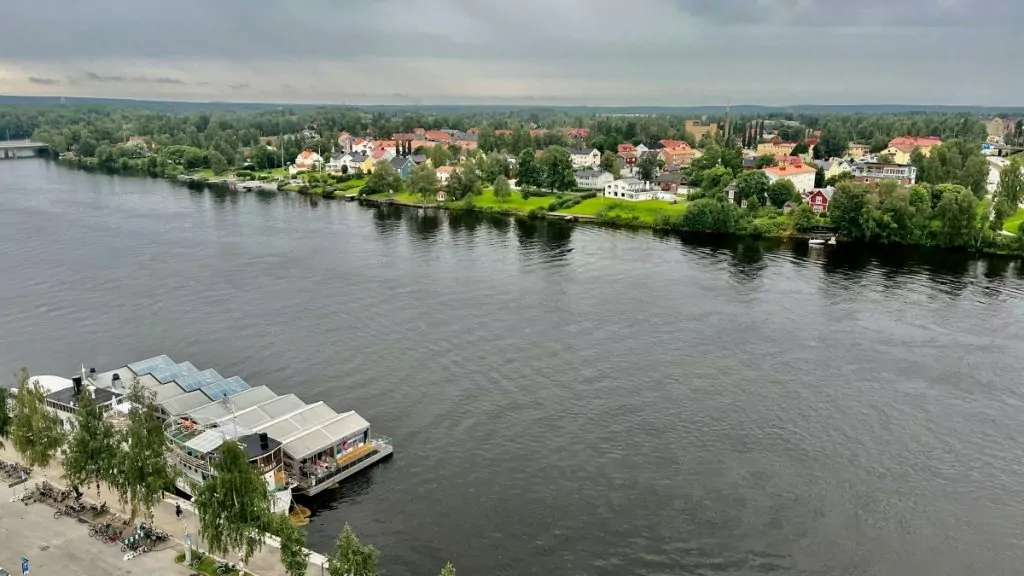 We had an excellent lunch here, together with our travel blogger colleague Gunilla from the travel blog. 4000 mil. You can also eat wood-fired pizzas here and live music is sometimes organised.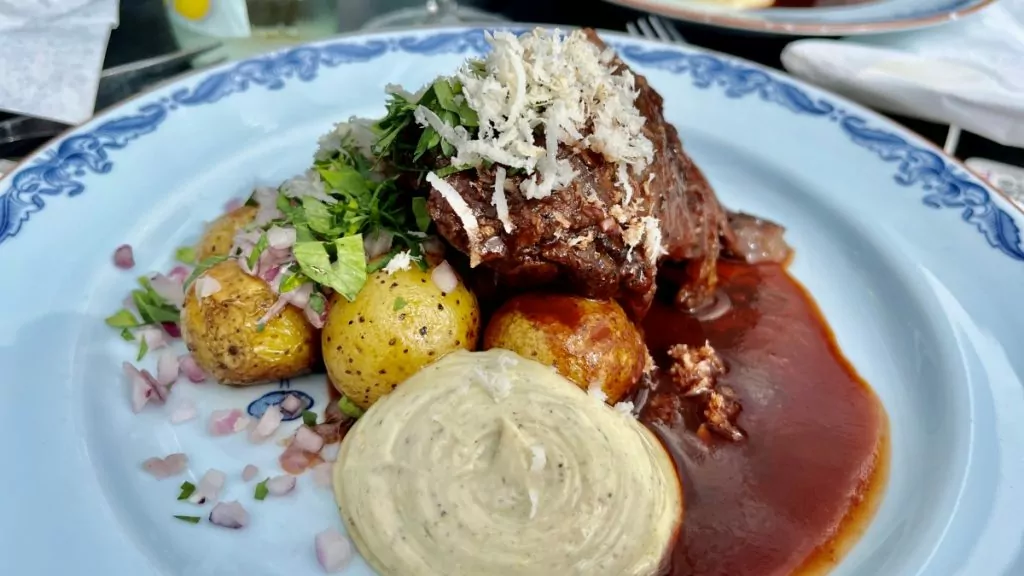 9. Have a drink at the Clarion Hotel's rooftop bar
At the top of the Clarion Hotel in Umeå, on the 13th floor, you'll find both brasserie NÒR and a sky bar with a roof terrace and fantastic views of the Ume River. When we were here it was a bit too chilly to sit outside, but it was great to check out the view and we each had a good drink.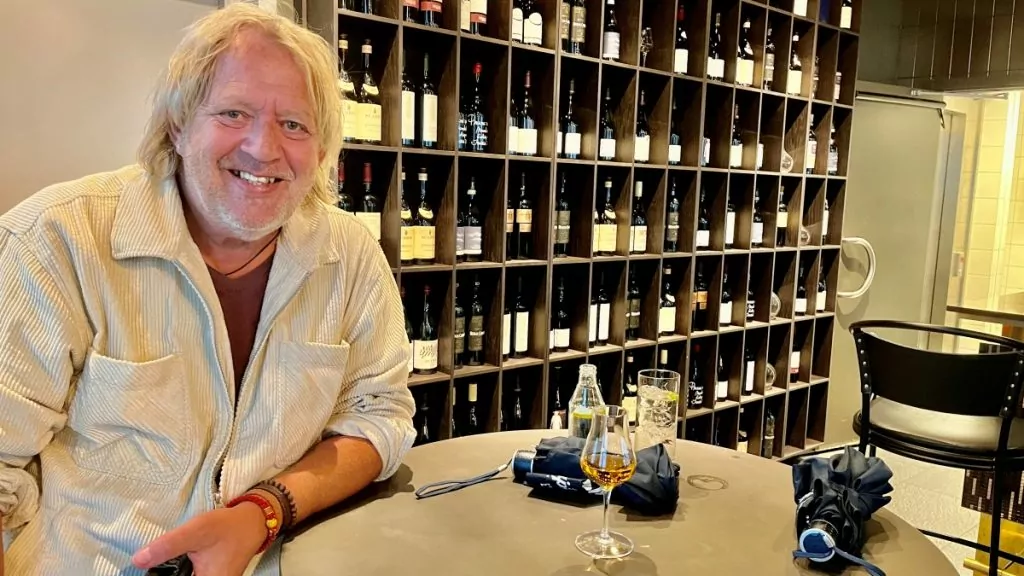 10. Discover Umedalen sculpture park
Umedalen Sculpture Park is a really nice sculpture park with exciting works of art spread over a relatively large area, where you can stroll around free of charge. According to Visit Umeå, there should be a map to the sculpture park in a wide box in the park, next to the restaurant Bistro Le Garage. We unfortunately missed this map, which probably meant that we missed some works, so a tip is to look a little more carefully for it.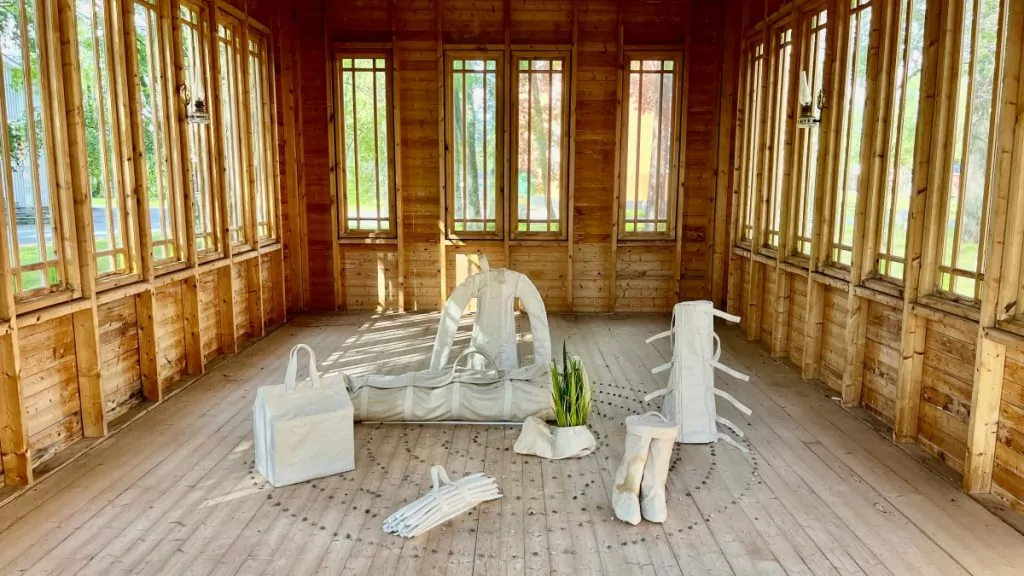 11. Shopping at Avion
One thing to do in Umeå if you like shopping is to head to the Avion shopping centre. In this large shopping complex you will find everything from IKEA and large chain stores to local boutiques and restaurants.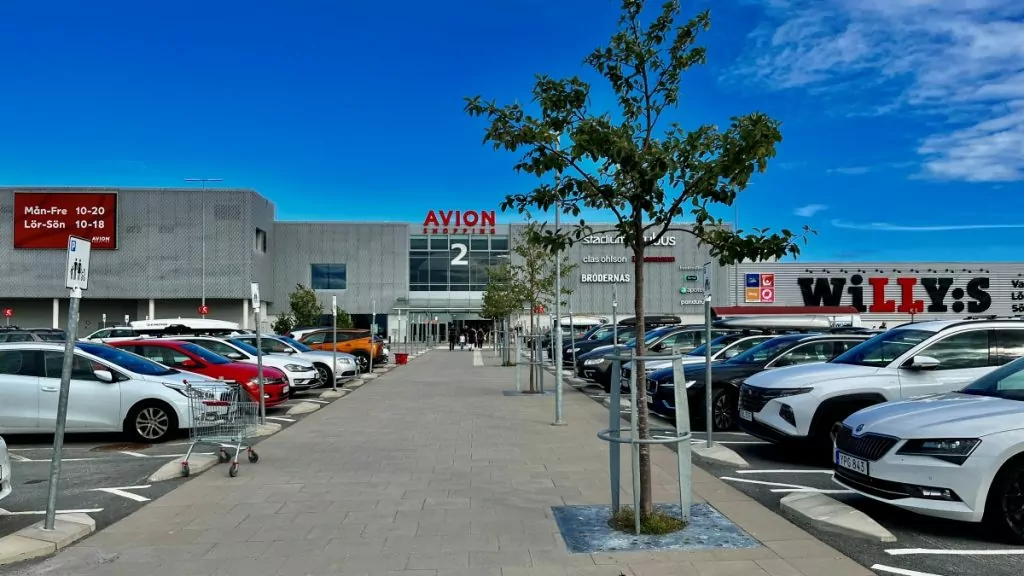 12. Pay a visit to Röbäck Glas & Lera
In Röbäck, just outside the centre of Umeå, is the workshop and gift shop Röbäck Glas & Lera. Here you can watch the artisans blow glass or buy crafts in glass, ceramics and other materials. There are also various temporary art exhibitions on the premises.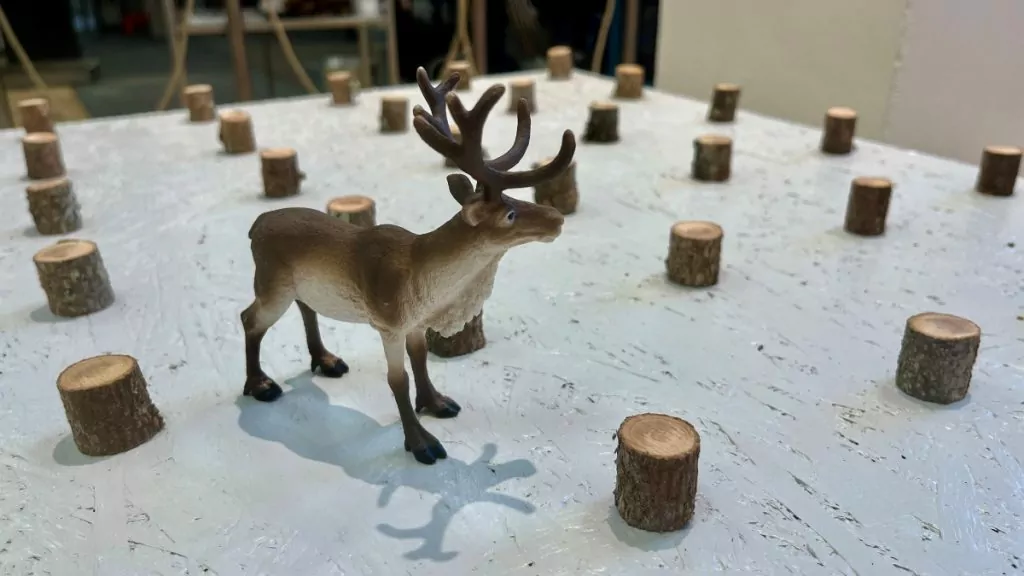 13. Enjoying nature at Strömbäck-Kont
If you want to experience beautiful nature close to Umeå, you can go to the Strömbäck-Kont nature reserve. There are several hiking trails and picnic areas, and in the summer it is also popular to come here to sunbathe and swim at the cliffs or at Simphamn's sandy beach.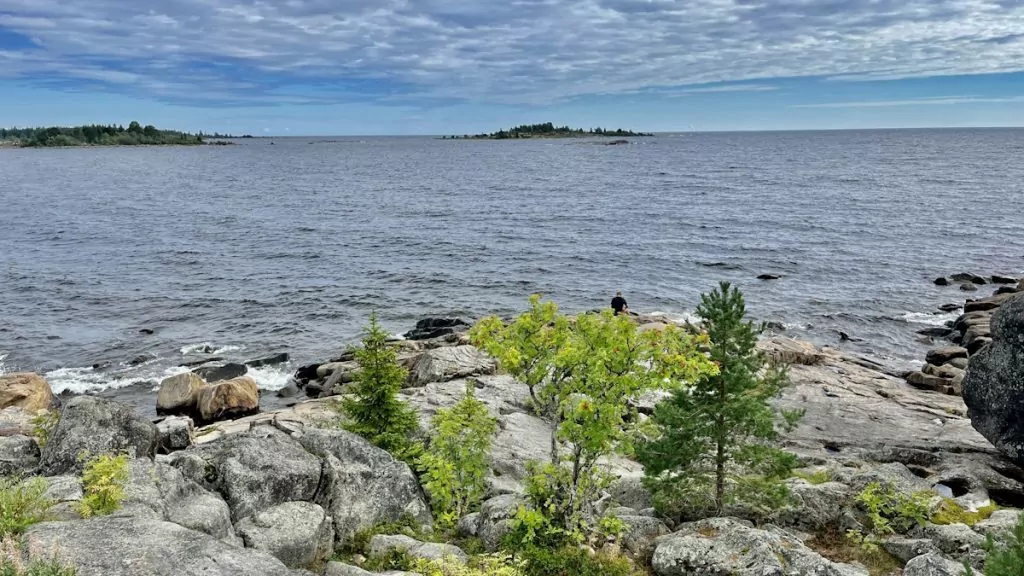 14. Swimming at Bettnesand sea baths
If you like sunbathing and swimming, you can also go to Bettnesand's sea baths, where there is a fantastic sandy beach and several beach volleyball courts. There is a large car park here and on a hot summer day we can imagine that it is very popular to come here.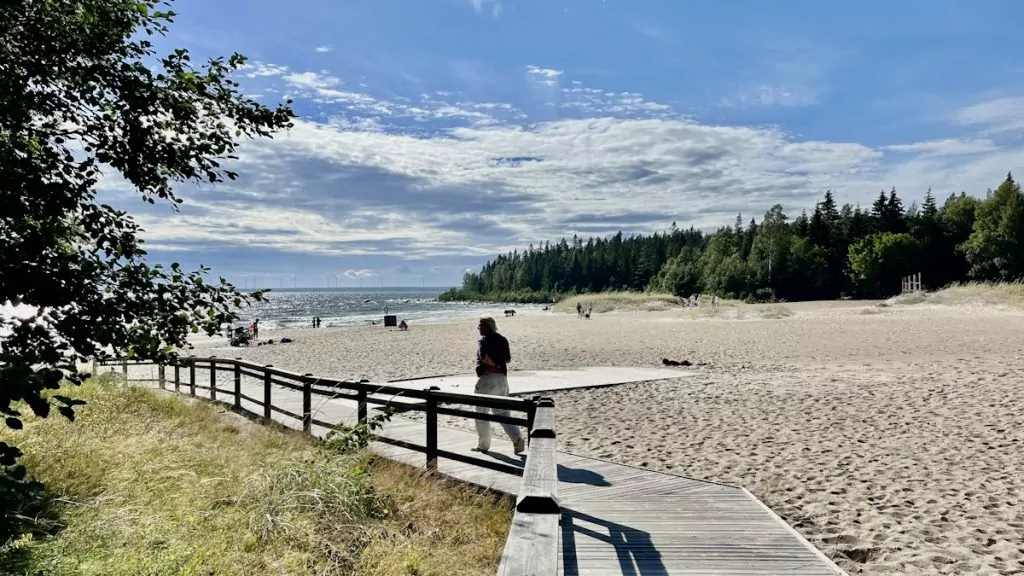 15. Hang out at Norrmjöle sea baths
Not far from Bettnesands havsbad is Norrmjöle havsbad, which is also a very nice sandy beach. There is also a golf course, a campsite and a caravan park, and in summer there is also a restaurant.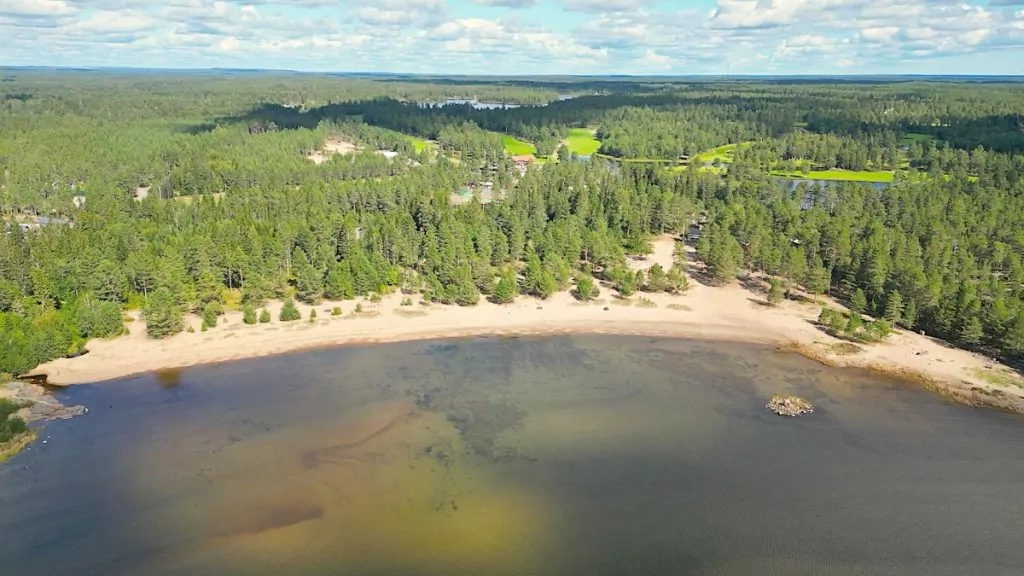 This is an idyllic place where we enjoyed ourselves very much, and chose to stay overnight with our motorhome.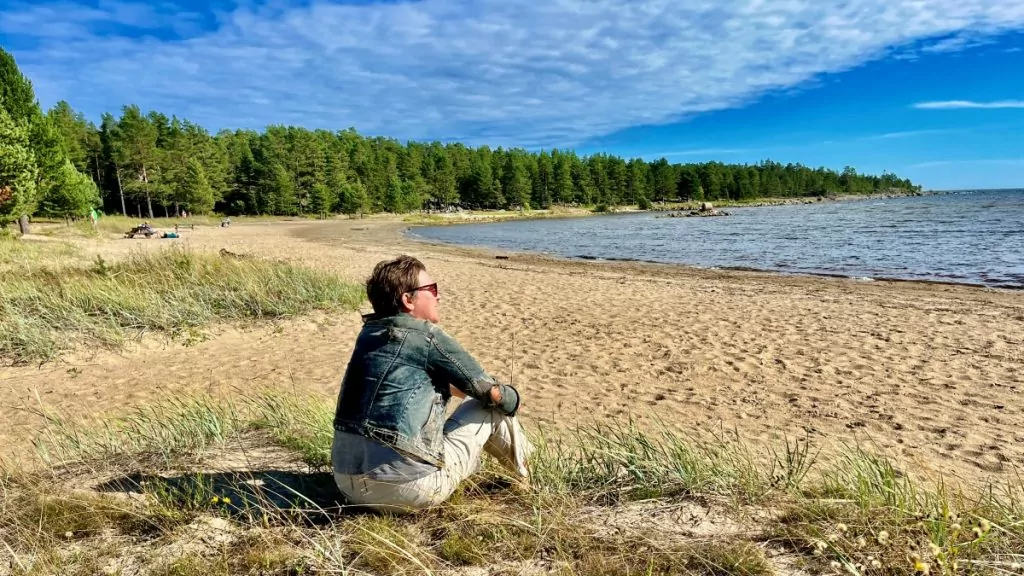 16. Take an excursion to Norrbyskär.
Norrbyskär is located in the Norrbyskären archipelago and was once home to one of Europe's largest sawmills. Today, in the summer, it is a popular destination with nature, historic buildings and museums. We didn't take the time to go out to the island this time, but checked out the ferry which should take around 15 minutes.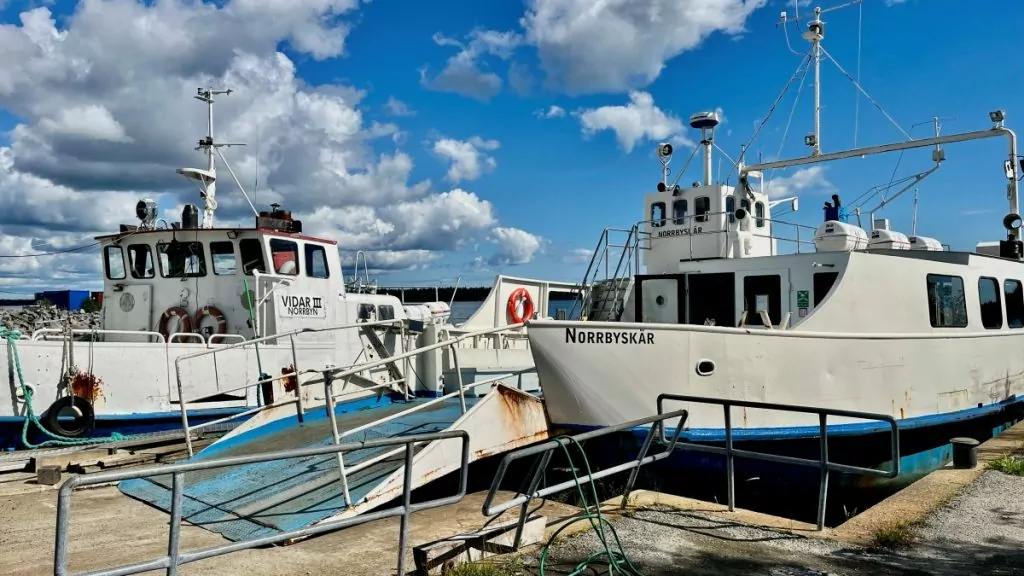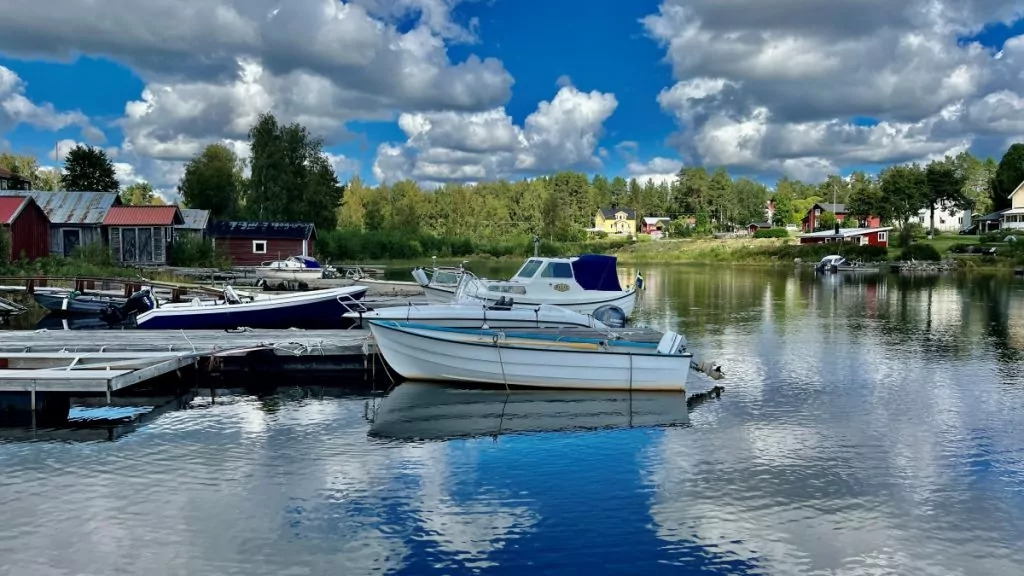 17. see Norrfors salmon ladder
The Ume River valley is an area along the Ume River, and here you can visit the Norrfors salmon ladder, which is one of Europe's most modern and designed for both upstream and downstream fish. There is a rest area, information signs and a viewpoint next to the stairs.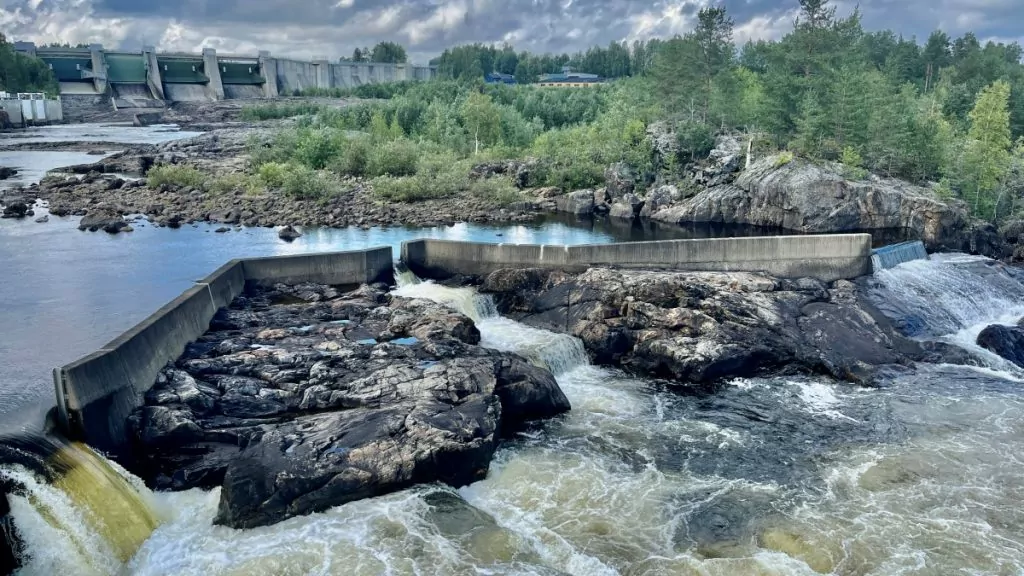 18. Look at rock carvings at Norrfors
In Norrfors there is also an area with 54 rock carvings, which are the most northerly rock carvings discovered in Sweden. Most of the carvings depict moose, while others depict boats and people. The moose are depicted in profile, with what appear to be skeletons and internal organs.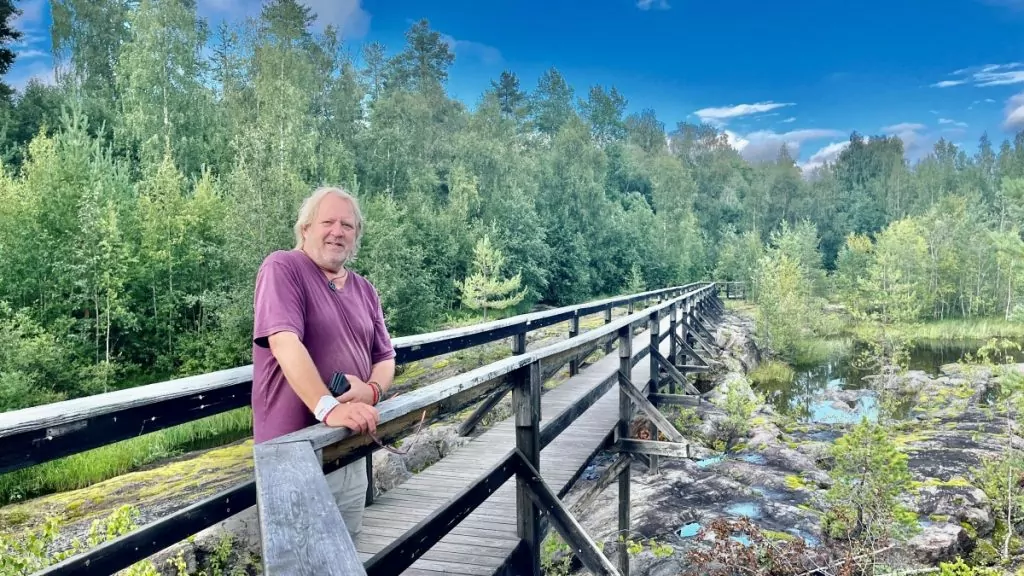 More things to do in Umeå for culture and history lovers
There is, of course, even more to see and do in Umeå than our tips. Here are some more suggestions for those who like culture and history.
Women's History Museum is the first museum in Sweden to specialise in women's history. (Storgatan 46a)
Live! is a 170-metre-long glass artwork in the pedestrian and bicycle tunnel between Järnvägstorget and the Haga district, sometimes referred to as "Sara Lidman's train of thought".
Norrlandsoperan offers opera and dance performances, concerts and art exhibitions (Operaplan 5).
Olofsfors Mill is a former ironworks with various summer activities (Olofsfors 101, Nordmaling).
Umeå Folkets hus organises various events (Vasaplan, Skolgatan 59).
Weaving is a cultural centre by the river Umeälven, where various events are organised (Storgatan 46a).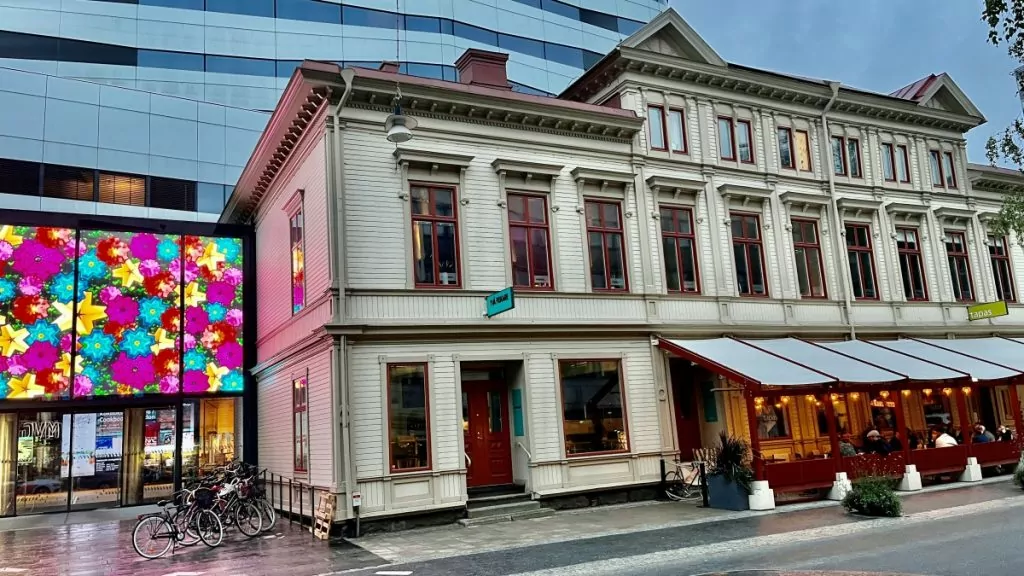 More things to do in Umeå for nature lovers
There is of course even more to see and do in Umeå. Here are some more suggestions for those who enjoy nature.
Arboretum North is located south of Baggböle Manor and is a "forest garden" with around 2,800 trees and shrubs of various species.
Granö snipe is an unusual destination on the Ume River, where you can stay in hotel rooms in the trees.
Grössjön Nature Reserve is an urban wilderness area with a bird lake, bird tower, old growth forest and marked trails.
Holm Island offers nature reserves, beaches, lighthouses, cultural sites, ancient monuments and a boat museum.
Lake Nydala offers swimming areas, playgrounds, adventure trails, a cycle park, a high ropes course and a pedestrian and cycle path around the lake.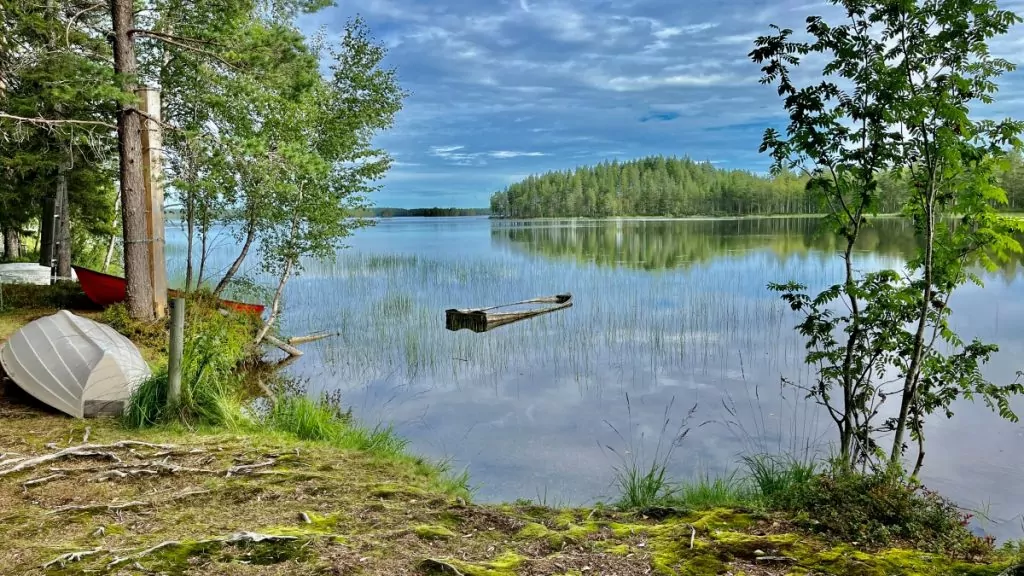 More to do in Umeå with children
Travelling with children or teenagers? Then you can find even more tips on things to do in Umeå here.
Curiosum is a science centre for curious people of all ages. (Östra Strandgatan 32)
Leos Lekland offers thousands of square metres ready for play, fun and adventure. (Bruksvägen 7)
Megazone is an entertainment centre with activities for both young and old (Östra Rådhusgatan 8B).
The hub offers opportunities for swimming, recreational swimming and exercise (Västra Kyrkogatan 6).
Umelagun is a temperate outdoor pool on the shore of Lake Nydala. (Lake Nydala 10)
Umevatorium is a public observatory and planetarium (Umestan Business Park, building 56).
The house of the moose is an elk farm with domesticated elk, 70 kilometres from Umeå (Västernyliden 23, Bjurholm).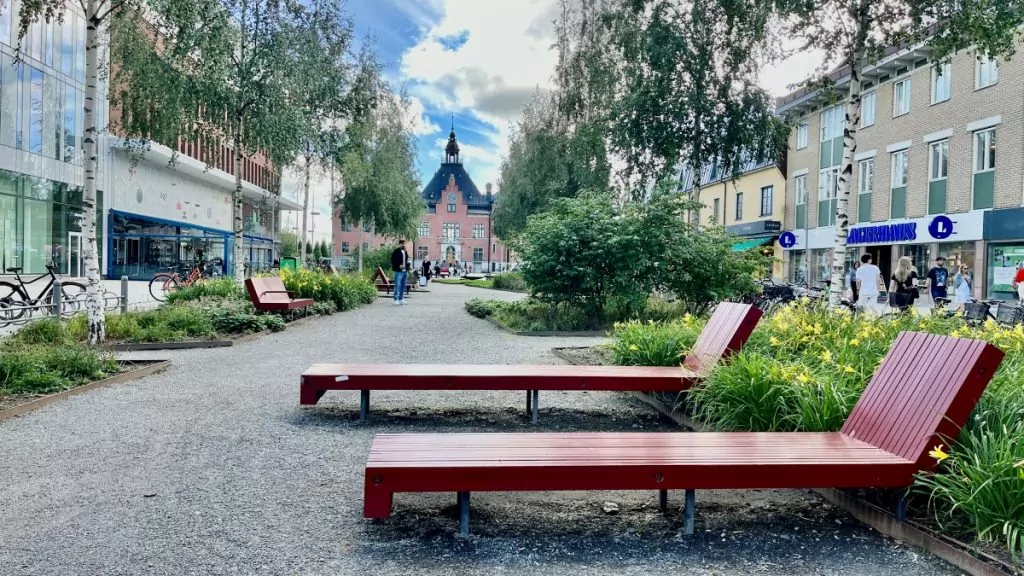 What to do in Umeå in winter
We visited Umeå in the summer, which was nice, but this is also a place you can visit in the winter. Here are suggestions for things to do in Umeå during the snowy season.
Northern Lights can be seen if you are lucky, and there are activities such as aurora tours and aurora photography.
Lake Tavelsjö offers opportunities for ice skating, cross-country skiing, horse and sleigh rides and more
Downhill skiing on different slopes such as Middagsberget, Buberget, Ålidberget, Bräntberget, Agnäs and Kassjö.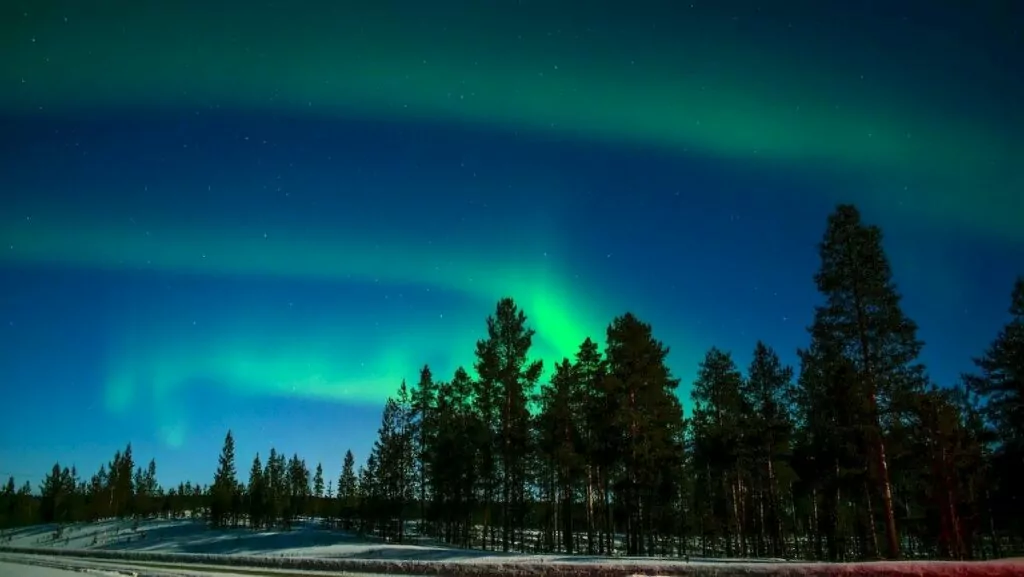 Where can you stay in Umeå, or park your campervan?
In Umeå there are many different hotels and other accommodation options, such as the Clarion Hotel. If you, like us, are travelling with a campervan, there are also a bunch of different options in and around Umeå. When we visited the centre of Umeå, we stayed at a simple site on Kyrkogatan, with a very good location but no services. We also stayed one night at the nice site at Norrmjöle beach. Below you can see some different options
First Camp Umeå - Nydala, Lake Nydala 2
RV park at Norrmjöle sea baths, Norrmjöle sea baths
RV park Avion, Avion Shopping
Reserved parking on Västra kyrkogatan, Västra kyrkogatan 25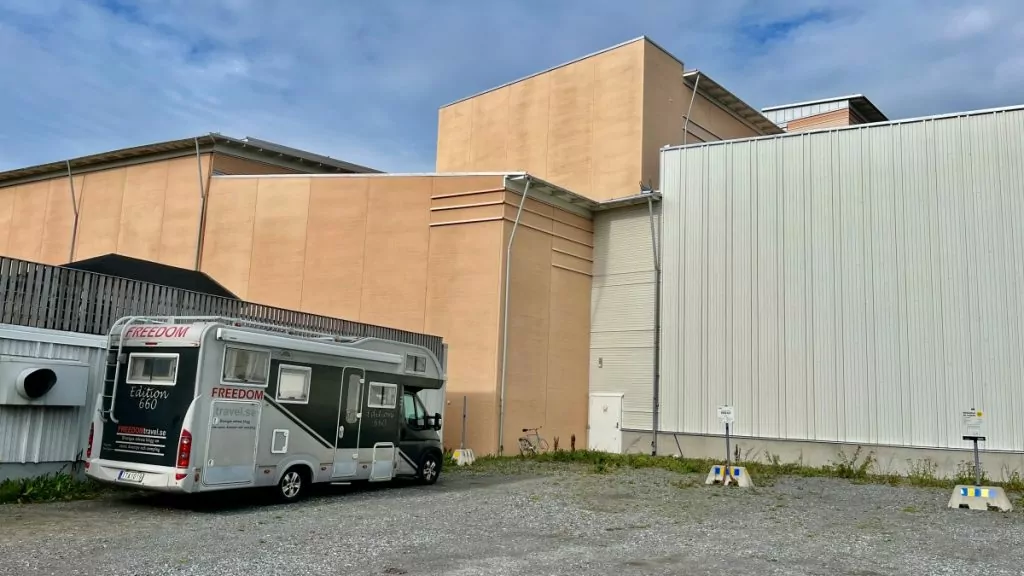 More to see and do near Umeå
If you are travelling north from Umeå, you can get to Lövånger church town as well as to Skellefteå, where you can visit Sara Kulturhus and Bonnstan, as well as nature areas such as Bjuröklubb. If you are travelling south, you can visit Örnsköldsvik, with museums and parks.
What to do in Umeå? This northern city, sometimes referred to as the city of birches, offers...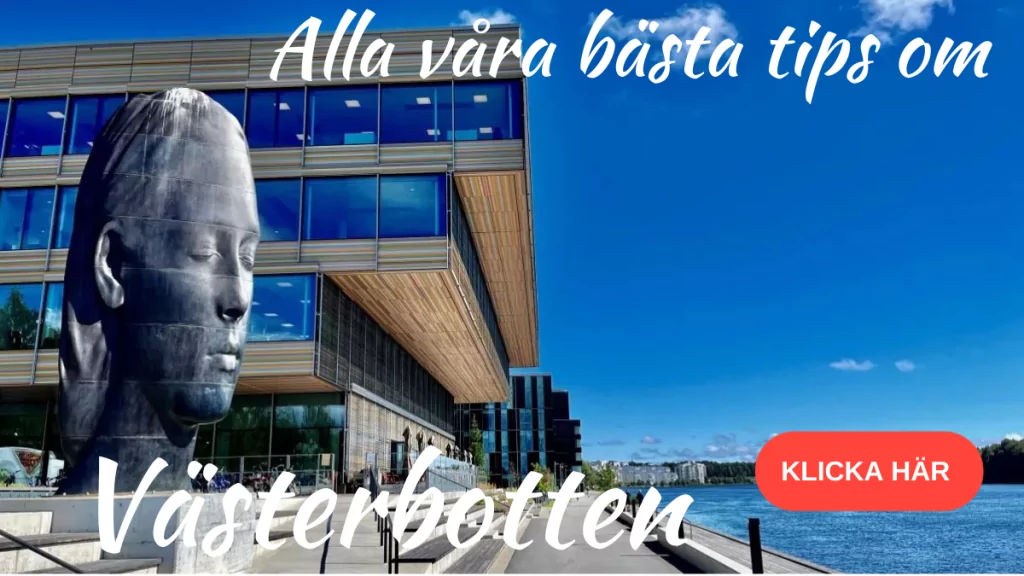 More tips for things to do in Umeå?
Have you visited Umeå? Do you have even more suggestions on what to see and do in Umeå? Let us know!
Facts about Umeå
Landscape: Västerbotten
County: County of Västerbotten
Population: Just over 131 000 (2023)
The name: Early variants of the town's name include Huum, Vma and Wmeå. The name probably comes from the Old Norse word úma (the thundering), or from the Finnish word uoma (riverbed).
Read more: You can find more information at tourist office website.
History of Umeå
Prehistory: The oldest rock carvings near Umeå, in Norrfors, date from 3000 BC. There are also remains from the Bronze Age.
1314: Umeå is mentioned in writing for the first time, when Umeå kyrksocken is mentioned in the church tax list.
1482: Archbishop Jakob Ulvsson received the whole of Norrland, including the parish of Umeå, as a bequest.
1588: City privileges were granted to Umeå, which at that time was five kilometres west of the current city centre.
1590s: As the river was not deep enough for larger boats, interest eventually cooled and the town died out. The church town survived.
17th century
17th century: Gustav II Adolf ordered the city to be rebuilt, this time five kilometres downstream from its previous location. The town plan was probably drawn up by Olof Bure.
1621: The new city of Umeå was granted city privileges.
1638: The county of Västerbotten was formed (today's Norrbotten and Västerbotten) and Umeå was appointed as the county town.
1646: The city received definitive city privileges from Queen Christina, and construction of the Umeå City Church began. Nicodemus Tessin the Elder took over city planning.
1652: Umeå, with a population of 200, got its first school.
18th century
1714: Sweden was at war with Russia (the Great Northern War) and Russian troops burned down the entire town, except for the church.
1719: The Russians crossed the ice and sacked the city.
1720-1721: The Russians burned down the rebuilt city, twice. Then the city was rebuilt again.
1766: The city was given a staple city law.
Late 18th century: Umeå was characterised by shipyards and Upper Norrland's first hospital was established in the city.
19th century
1809: During the Finnish War, Umeå was captured twice by Russian troops. In connection with this, several deadly plagues broke out.
1862: Regular freight and passenger services by steamship began to run between the city and ports in the archipelago.
1884: The Court of Appeal was built by Johan Nordqvist, one of the few buildings that survived the fire.
1888: Umeå burned to the ground. 2300 of the city's 3000 inhabitants were left homeless, but no one was killed. When the city was rebuilt, it was decided that the streets would not be too narrow and that birch trees would be planted on all streets.
1892: Umeå became the fourth city in Sweden to have electric street lighting.
20th century
1901: Umeå became a garrison town when the Norrland Dragoon Regiment was transferred to the city.
1902: The main line of the railway reached Umeå.
Early 20th century: Several industries were established in the city, mainly wood industries.
1950s: Umeå was awarded a dental school and Umeå Lasarett was upgraded to a regional hospital for Upper Norrland.
1965: Norrland's first university was inaugurated in Umeå.