Söderköping is an idyllic and picturesque little town on the Göta Canal. We offer nine tips on what to see and do in Söderköping. Here you can watch boats lock, stroll among charming old houses and, perhaps not least, indulge in ice cream.
Söderköping
Söderköping has been a town since the 13th century, and it was also in the 13th and 14th centuries that the town had its heyday. During this time, churches and monasteries were built, and a king and two queens were crowned here.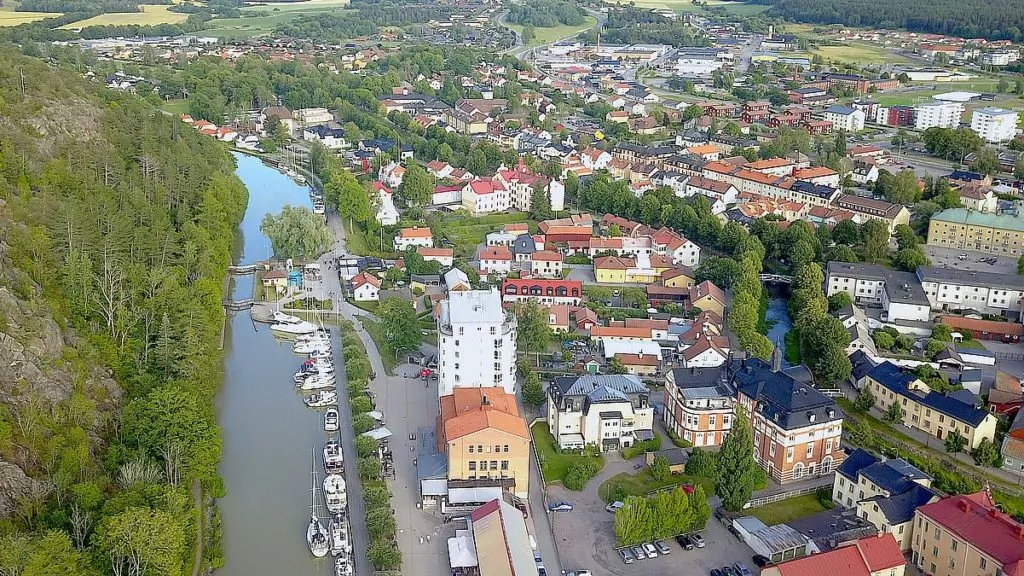 Today, Söderköping is a small but very charming town with many fine historic houses. It is not difficult to understand why Söderköping was chosen as the location for the Madicken films.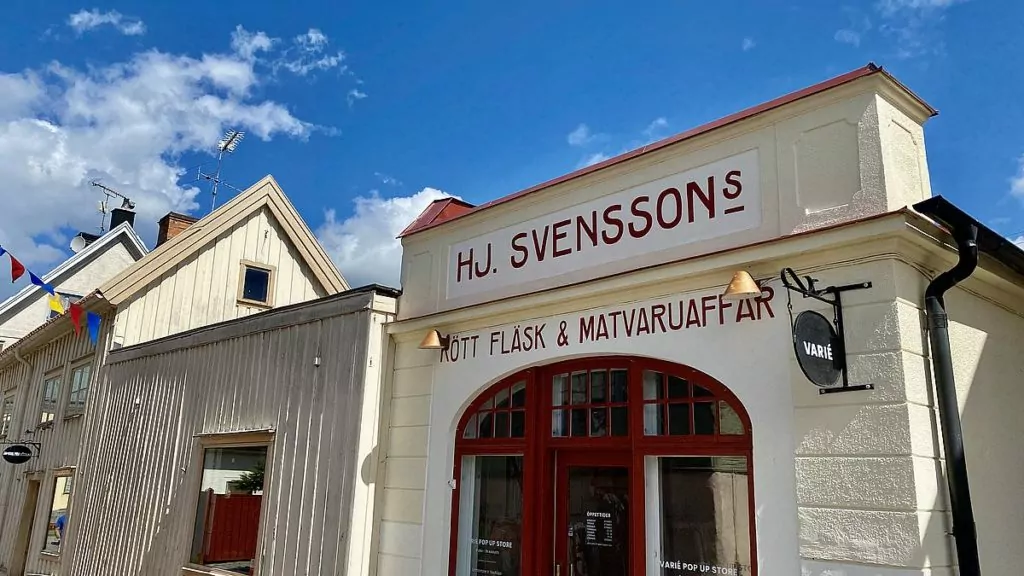 Söderköping is located in Östergötland, about 16 kilometres south of Norrköping.
What can you do in Söderköping?
So what can you see and do in Söderköping? We've had plenty of time to look around this charming town, and here are our top tips.

1. look at the locking of the Göta Canal
The Göta Canal runs through Söderköping and provides a cosy atmosphere, with all the large and small boats passing through the town. Several old lock buildings remain, such as the lock keeper's house built in 1869-1870. We looked at some locks, really fascinating!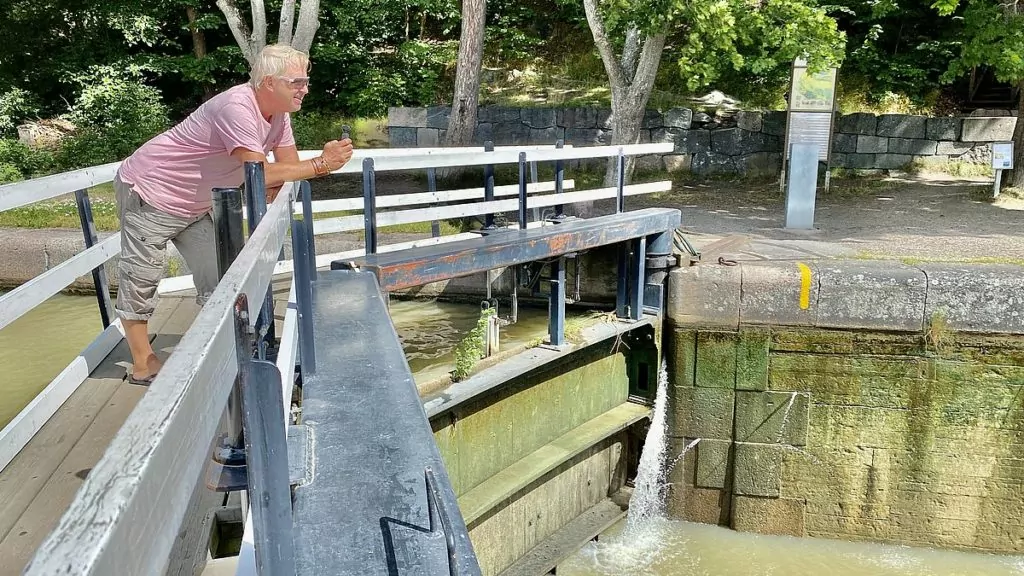 2. Admire the artwork Rabbit Crossing
By the canal in Söderköping you can see the artwork 'Rabbit Crossing'. The work was created by Eva Fornåå in 2005 and, according to the artist, is about crossing to the other side. Together with several other works of art, it is part of a sculpture trail along the Göta Canal developed through the art project 'Visions by Water'.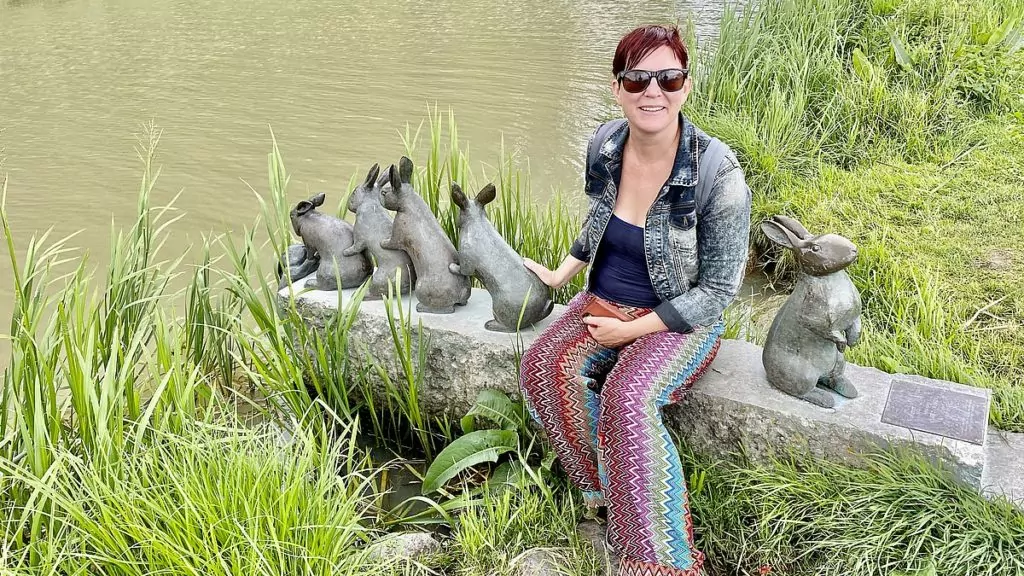 3. Eating ice cream in Söderköping - Smultronstället and others
When we started asking for tips about Söderköping, we quickly heard about 'Smultronstället'. The same thing happened when we googled and when we asked different tourist offices. Söderköping? They all said the same thing: "Smultronstället!". How is it possible that the same ice cream parlour gets so much publicity? A bit exciting!
It became even more exciting when some readers thought that we should not be "fooled" by the massive advertising but instead visit "the better ice cream parlour at Rådhustorget". Now we were curious! We simply decided to try both places. But wow, what a queue there was at the famous Smultronstället!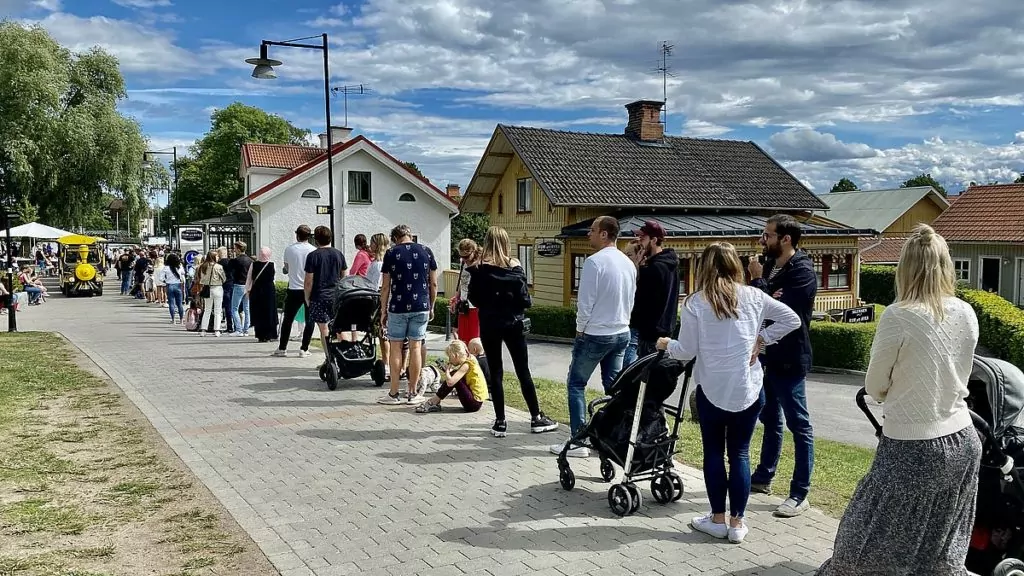 After a while we realised that the long winding queue was to sit at the ice cream restaurant, and be served ice cream pastries at a seated table. If you wanted to buy a waffle or a cup instead, the queue was much shorter. We ordered a cup with two scoops - chocolate and strawberry. Our verdict? Very good! Especially the chocolate was really good and tasty.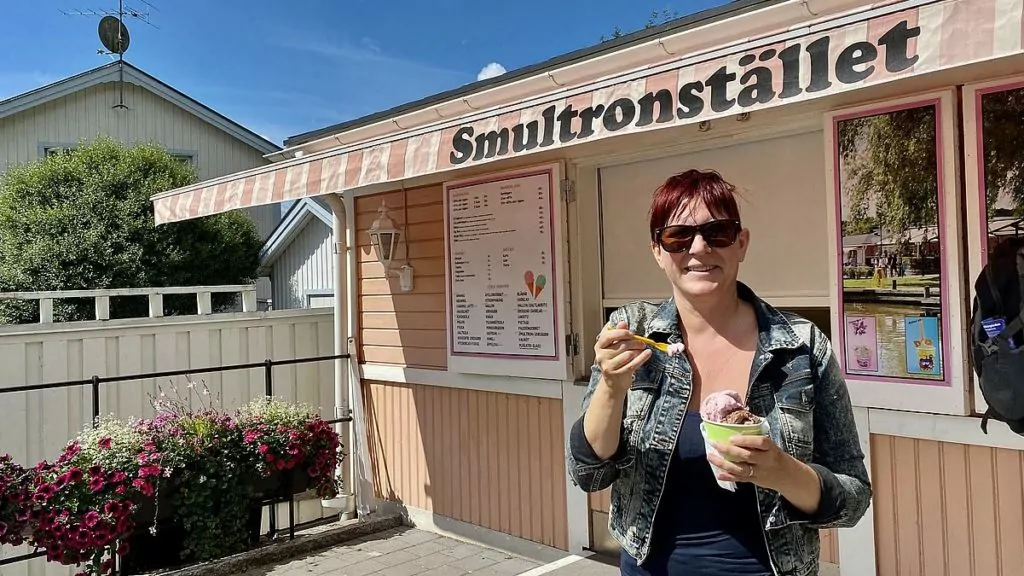 A little later it was time to find the ice cream parlour at Rådhustorget. Here they sell homemade ice cream, and you get a generous portion in nice cups. We again ordered chocolate and strawberry, to be able to compare. The strawberry ice cream was fantasticand was definitely a winner. When it came to the next bullet, they listened a little badly, or misunderstood, and it was nougat instead of chocolate. Difficult to compare, then.

Anyway, both places are good! There is also an ice cream parlour on the canal called "Göta glass", which also has good ice cream, according to what we have heard. So you don't have to worry about being without ice cream in Söderköping!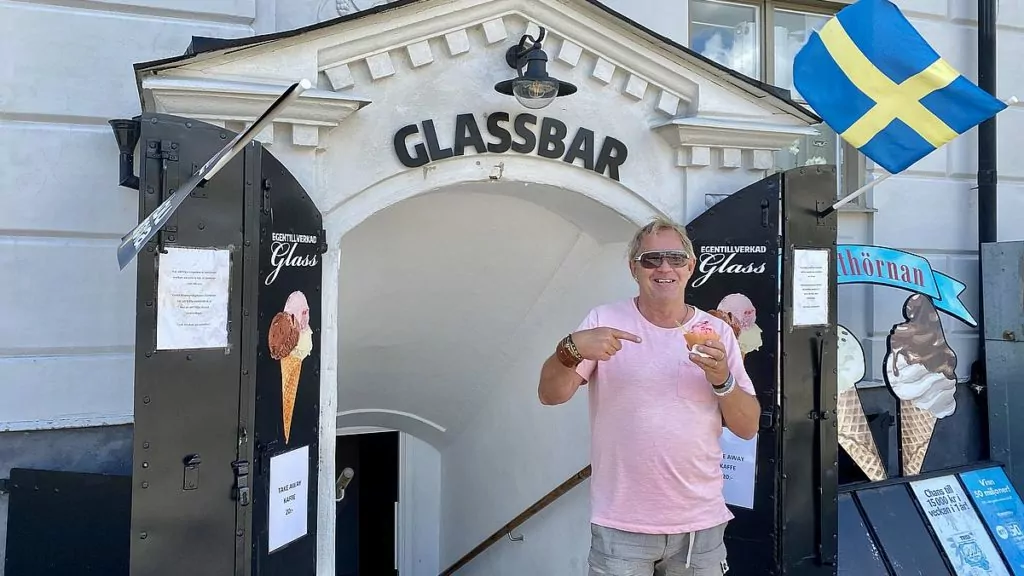 4. Stroll in the cosy Drothem quarter
After eating your ice cream, you can take time to stroll around Söderköping, which we did. On the way to the old "Drothemkvartern" we passed fantastic charming houses in lovely pastel colours, with tall beautiful flowers in front. So Fine!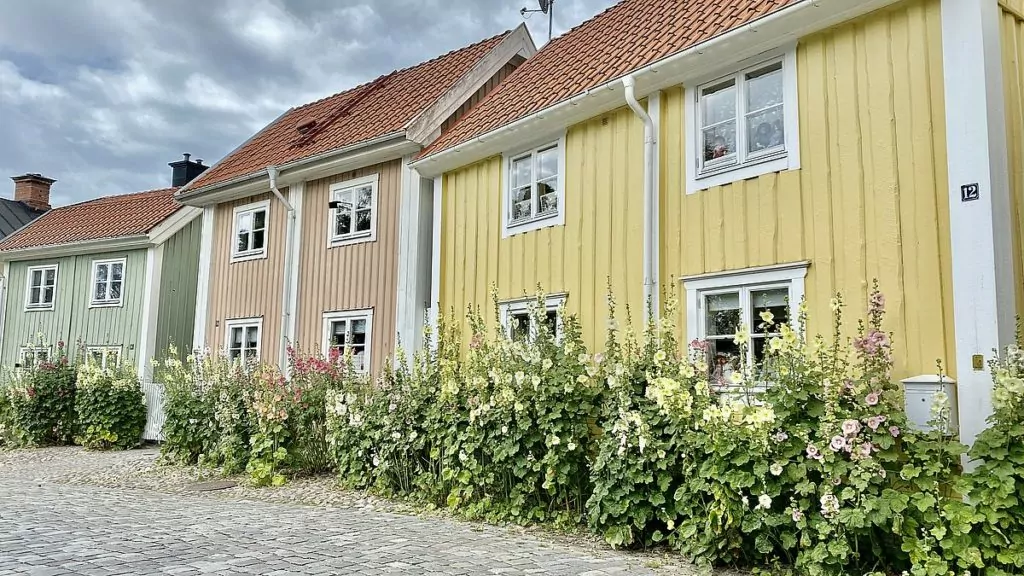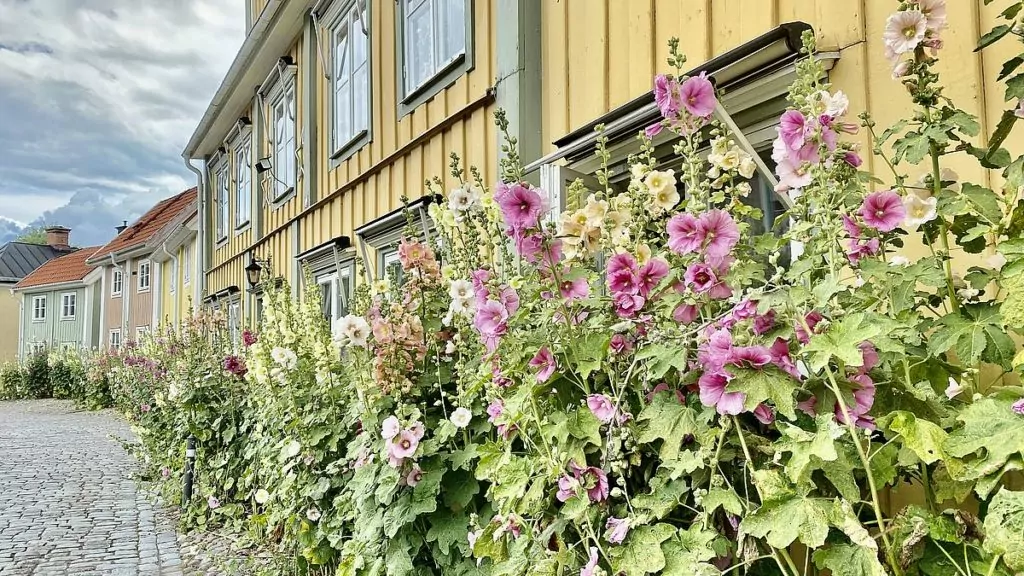 Drothemskvarteren in Söderköping are old neighbourhoods that give a sense of what Söderköping might have looked like in the Middle Ages. In these neighbourhoods, the houses are small and the alleys are narrow. Fantastically charming!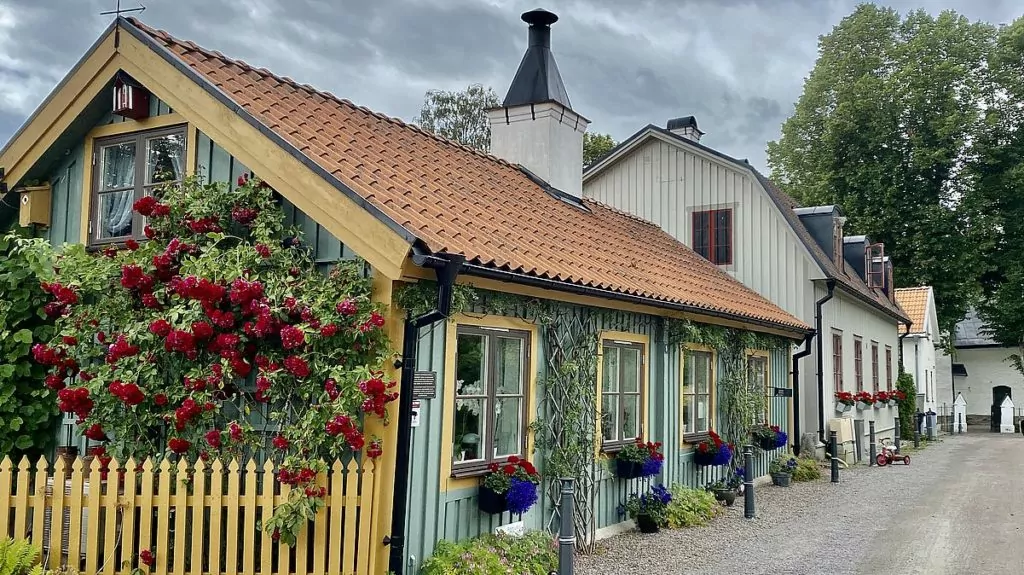 5. Check out the churches of Söderköping
There are several churches in Söderköping, and we looked at two of them. The first church we checked out was St Laurentii Church. This church was consecrated around 1200, and was rebuilt after a fire in the 1490s.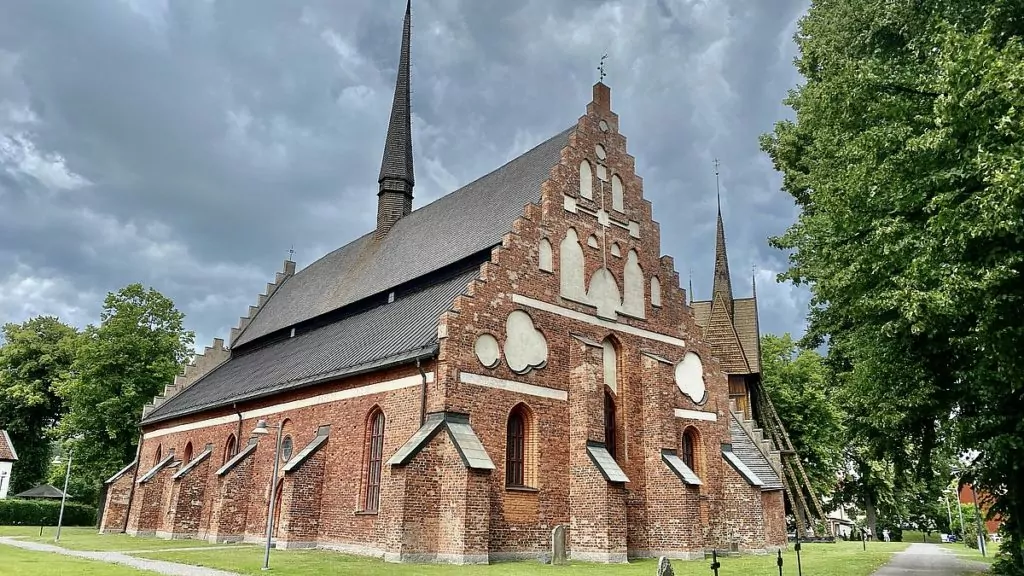 We also looked at Drothem's church. Already in the 1000s there was a wooden church here. The current Drothem church is from the late 13th century, with, among other things, a medieval altar cabinet.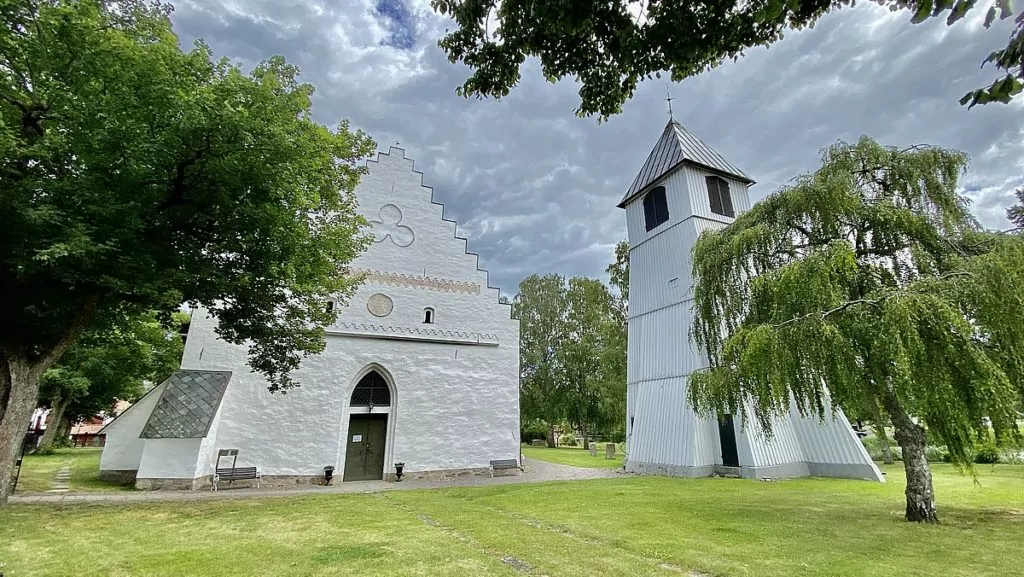 6. Climb Ramunderberget
After lunch, we decided to take a walk up Ramunderberget, which is both a mountain and a nature reserve, located in the centre of Söderköping. There are stairs all the way, so it is easy to walk, but it is many steps. When you reach the top, you are rewarded with a great view of the city from 70 metres.
There are several jogging tracks and walking paths in the Ramunderberget nature reserve. If you like history, you can immerse yourself in eerie stories from the past. The mountain once had a gallows hill, and it is said that a woman was burned at the stake here for witchcraft in the 17th century.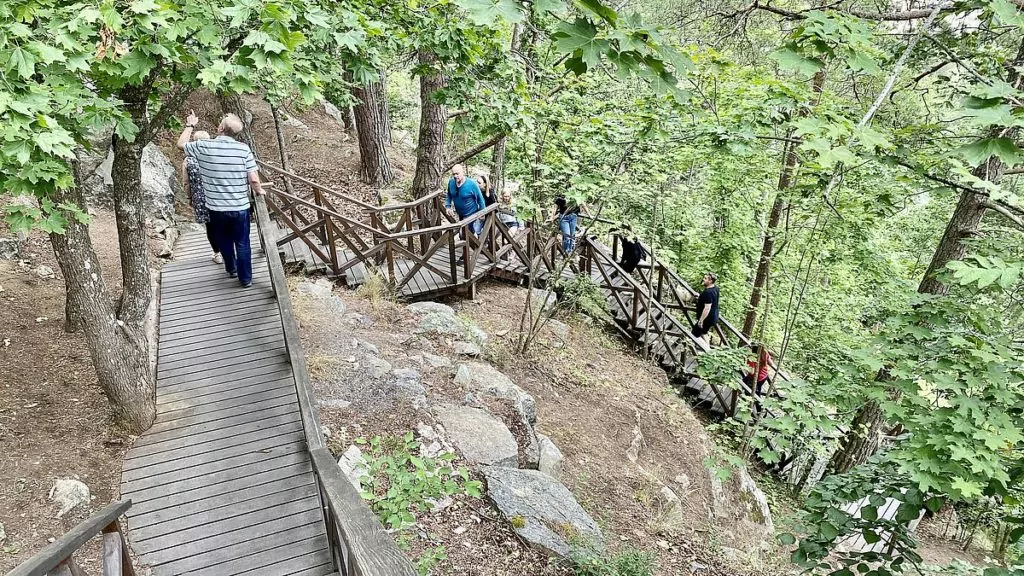 7. Sample beer at a microbrewery in Söderköping, Sweden.
After the walk up and down the mountain, we thought we had earned a beer. We found our way to the Lock, Hop & Barrel Brewery Restaurant. This is not only a restaurant but also a microbrewery, and we tried their own pilsner. In addition, we tried a double IPA from Linköping. Both were really good!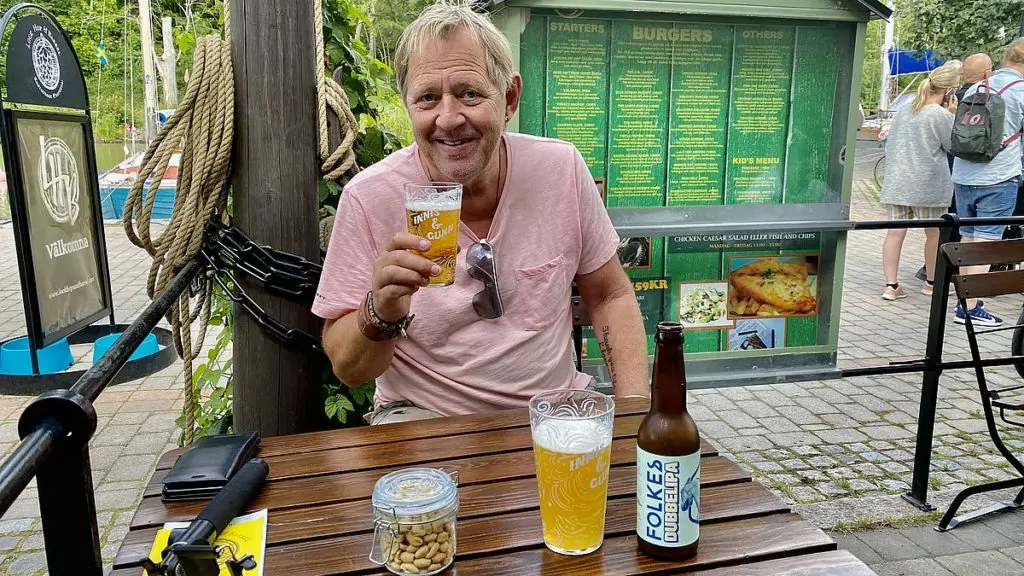 8. Go on an excursion to Stegeborg.
Stegeborg is located about two kilometres from Söderköping, and here you will find an exciting castle ruin from the 13th century. A lot of interesting history has taken place here, including people like Magnus Ladulås and Gustav Vasa. Stegeborg also has a marina, a harbour restaurant, a garden hotel, a caravan park and even an airfield for those who prefer to arrive in their own aircraft.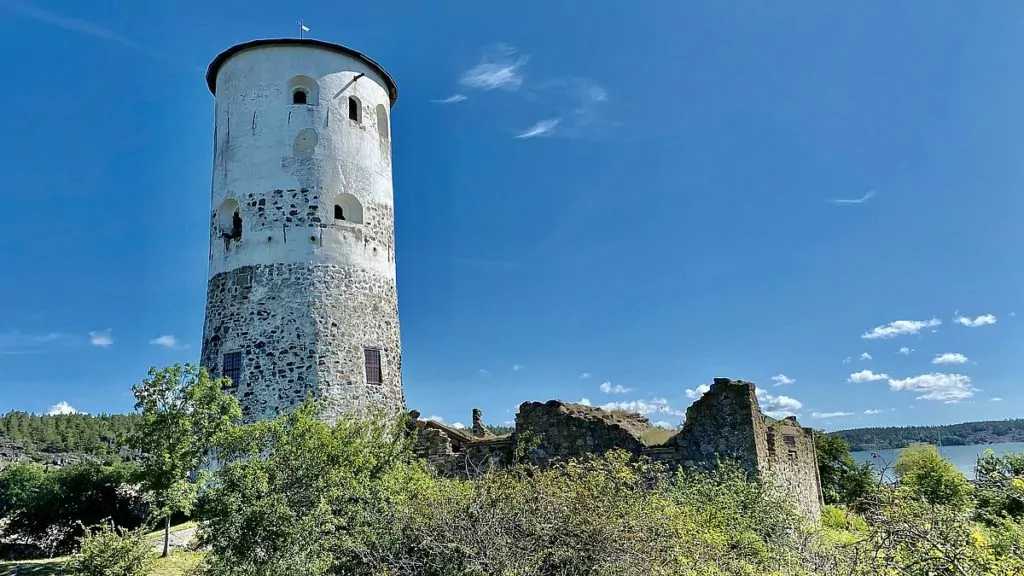 9. Cycle along the Göta Canal - perhaps to Mem.
Cycling along the Göta Canal is popular, and if you start in Söderköping you can, for example, cycle to Mem, which serves as the Baltic Sea gateway to the Göta Canal. It was here that the entire famous canal was inaugurated once upon a time. Today it is a nice little town where you will find a lock, a caravan park and a restaurant.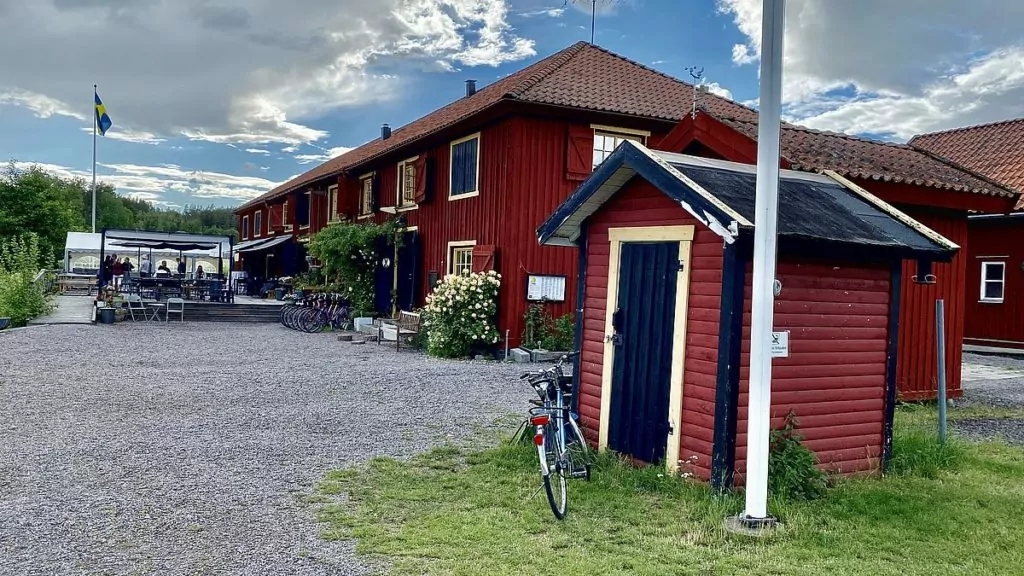 More to do in Söderköping
There is of course even more to do in Söderköping. For example, you can visit Husby Estate which offers a beautiful castle setting where you can dine, stay overnight or take part in events. Another famous place is Söderköping Well where you can stay, but also enjoy a spa or golf. Another tip we received is Fröö farm, which has a farm shop with natural pasture meat. There are also many cosy cafés and coffee shops in Söderköping.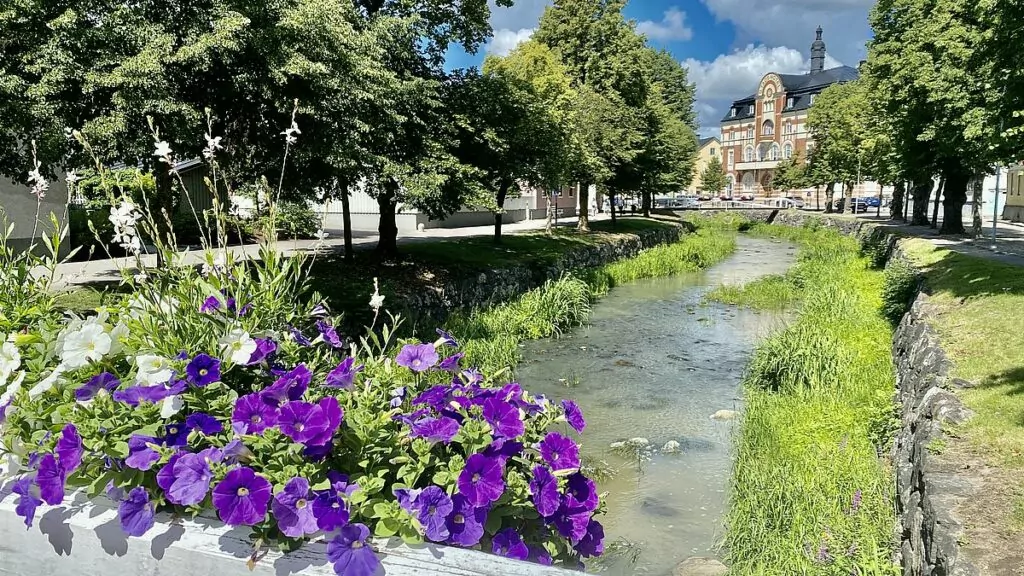 RV park in Söderköping
So, where did we stand with the motorhome then? Well, we headed to "Ställplats Göta kanal", which is located by the canal, in the centre of Söderköping. It costs 185 SEK / day to stand here and according to the information you have access to the guest harbour's service, in the form of toilets. Unfortunately, it is a small distance to walk to the guest harbour service, so it is not exactly the case that you go there to borrow the toilet between turns. In practice, you stand on a gravel field without service.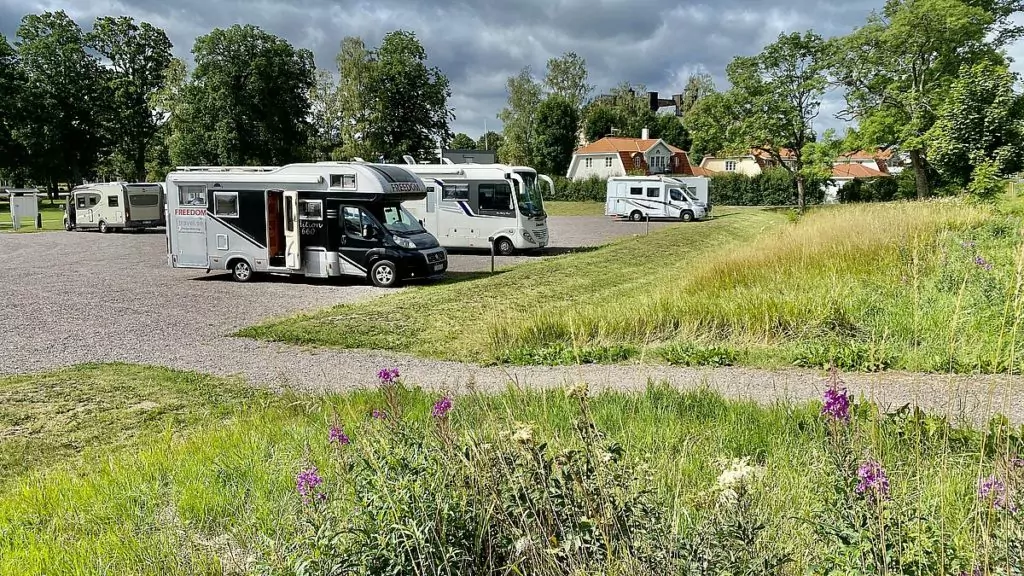 The site is in an excellent location for visiting Söderköping, and is also nicely situated right next to the canal where the boats go by. But it's a bit expensive at 185 kronor, when there's not even a toilet nearby.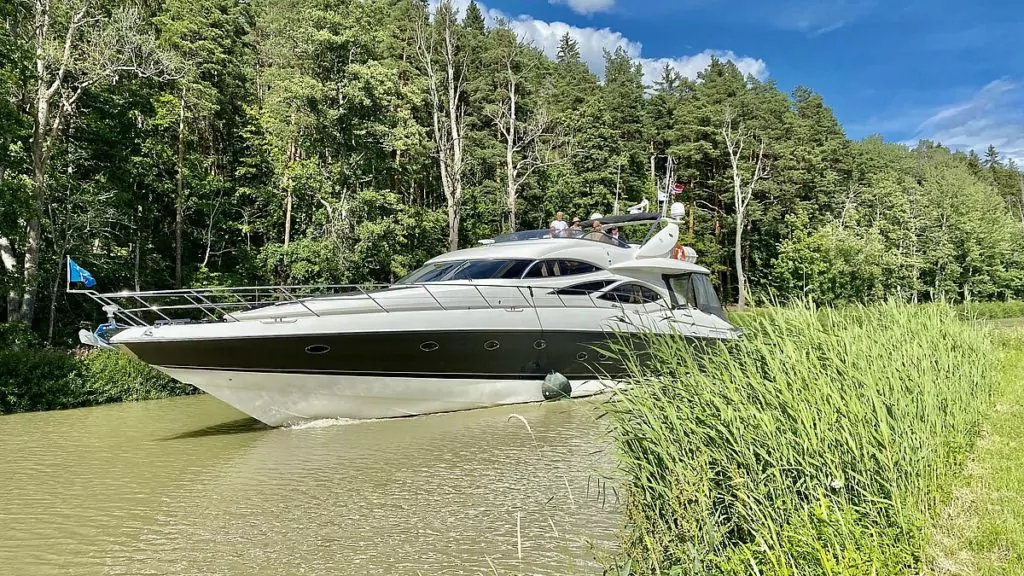 More to see and do in Östergötland
There is much to see and do in Söderköping and the rest of Östergötland. Here you will find even more reports on exciting destinations in the countryside, where you can see everything from monastery ruins and castles to locks and charming delicatessens.
Alvastra Monastery Ruin is the ruin of the monastery where St Birgitta once received her...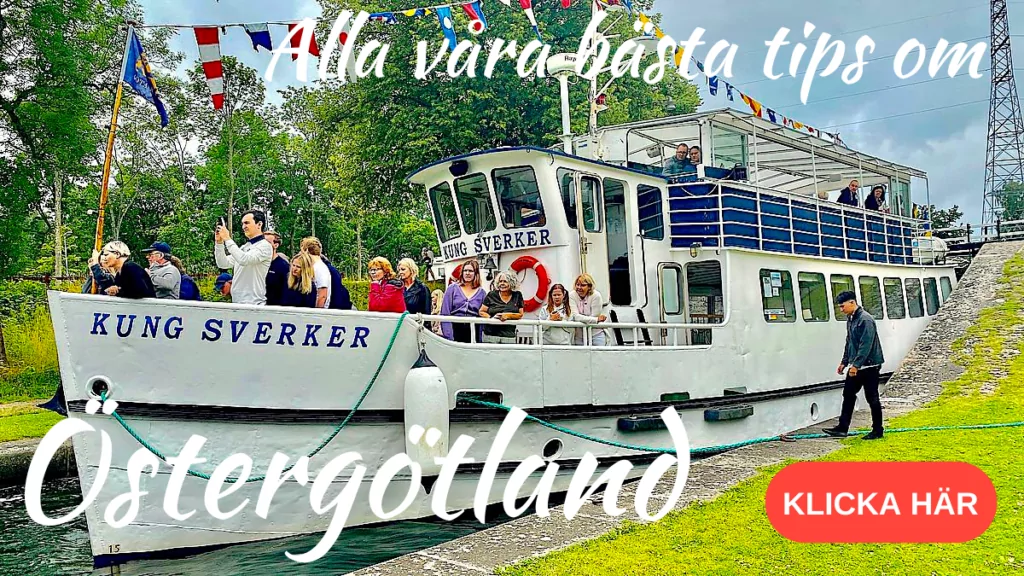 Have you been to Söderköping?
Have you been to Söderköping? How was your experience? Do you have any other tips on what to see and do in Söderköping?
Facts about Söderköping
Landscape: Östergötland
County: County of Östergötland
Municipality: Municipality of Söderköping
Population: About 7600 (2019)
Read more: You can find more information at Visit Östergötland
Facts about Söderköping Lock, Göta Canal
Baptismal name: Söderköping
Year of construction: 1847
Technical facts: A single lock with hydraulic operation and a fall height of 2.4 metres.
History of Söderköping
Ancient history: The town of Söderköping has no ancient monuments before about the year 1000 because at that time the site was on the seabed. There are ancient graves on the hills near Skönberga church and Ljunga farm. At Borgberget, northeast of the town, there is also an ancient castle from an unclear period.
11th century: A rune stone has been found in the church of St Laurentii from around 1025. The stone was erected by Gunnvat after his sons Torsten and Torlak, and a cross indicates that the people who erected it were Christians. Other rune stones from the 11th century can be found in Gårdeby parish and in Mogata.
13th and 14th century
13th and 14th century: Söderköping grew strongly in the 12th century and had its heyday in the 13th and 14th centuries, on a par with Stockholm.
1250: Sweden's Queen Katarina Sunesdotter bequeathed Söderköping to her sister Benedicte.
1281: Hedwig of Holstein was crowned Queen of Magnus Ladulås.
1302: Birger Magnusson and Märta Eriksdotter were crowned.
15th to 17th century
1436: Peace was concluded in Söderköping between Erik of Pomerania and Engelbrekt Engelbrektsson.
1517: Söderköping was occupied by Danish troops led by Christian II.
1567: Söderköping was ravaged by Daniel Rantzau's troops, and then never regained its importance.
Modern history
1718-1719: Söderköping's well was constructed at St Ragnhild's spring. Today there is a conference hotel here.
19th century: The Göta Canal was built, which was important for Söderköping.
Find your way to Söderköping
Car: If you are coming from Norrköping, take the E22 road towards Kalmar. Söderköping is located about 16 km south of Norrköping.