What to do in Kalmar? Well, we'll tell you! Kalmar is a city we've come to love. Here you can enjoy the holiday feeling on the coast, visit Kalmar Castle or stroll through charming historic neighbourhoods. Here are our top tips for things to see and do in Kalmar!
squid
Kalmar is a city with a long history. Already in the 12th century a castle (a defence tower) was built next to the city and in the 13th century Kalmar Castle emerged. But the city has not always been where it is today! Originally, Kalmar was located right next to the castle. It was only in the 17th century (after attacks and fires!) that the entire city was moved to a safer location on Kvarnholmen.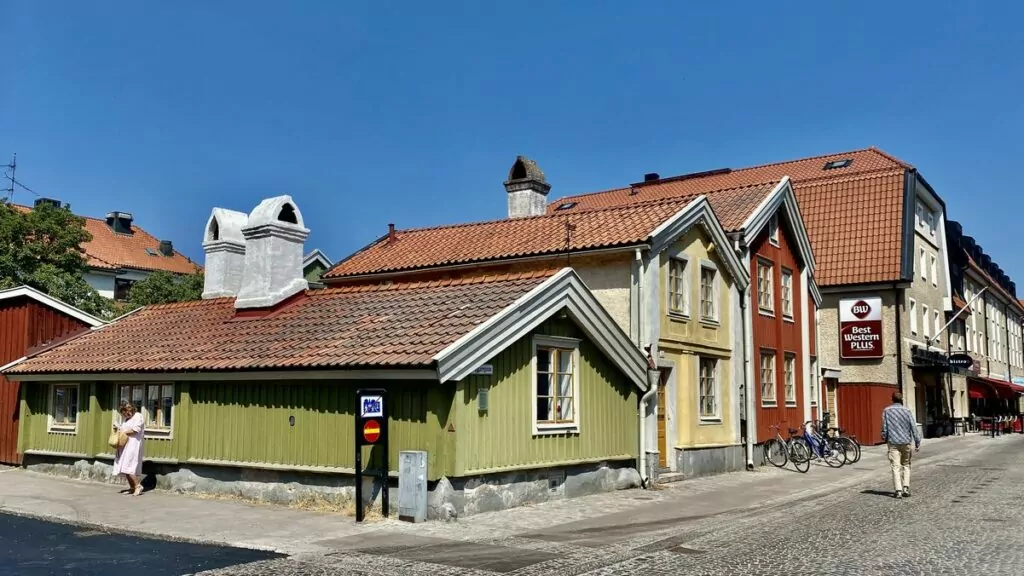 Kalmar is located on the coast in Småland. Today the city is located both on Kvarnholmen, and around it.
What can you do in Kalmar?
So what can you see and do in Kalmar? All sorts of things actually! During our last motorhome trip, we made two stops in Kalmar - both on the way south and on the way north again. We managed to spend quite a few days here, and there were both bike rides and guided city walks. We have now collected our best tips on things to see and do in Kalmar in a list.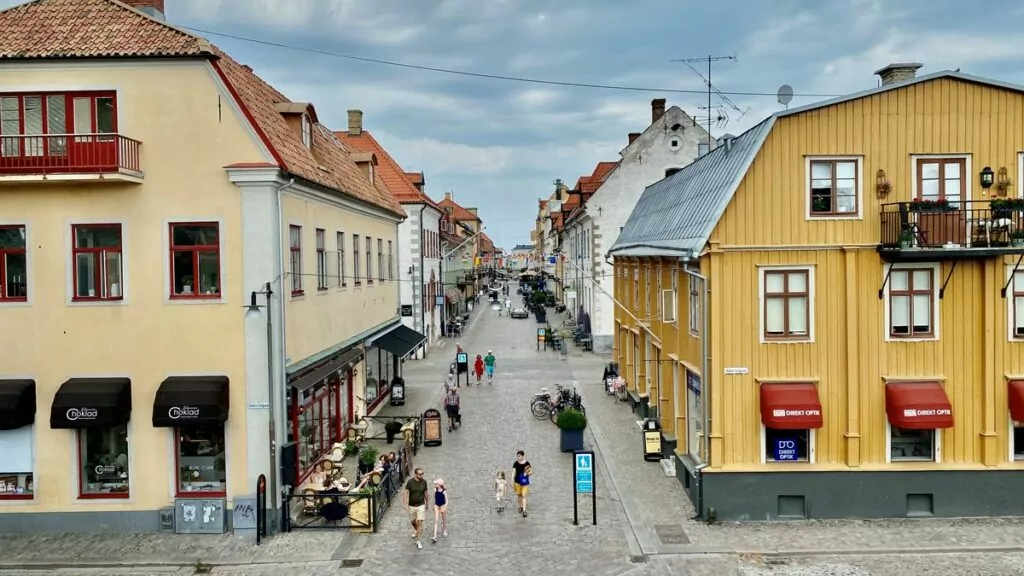 1. visit Kalmar Castle
Kalmar Castle is a mighty structure that feels both historic and fairytale-like as it rises from the waterfront with its walls and towers. The castle has an 800-year history that includes everything from the formation of the Kalmar Union to the bloody battles of the Kalmar War.

Inside the castle there are several beautiful halls as well as Kalmar Castle Church and a number of interesting exhibitions. Among other things, you can be fascinated by Johan 111's Easter meal and be horrified by the conditions in the Women's Prison.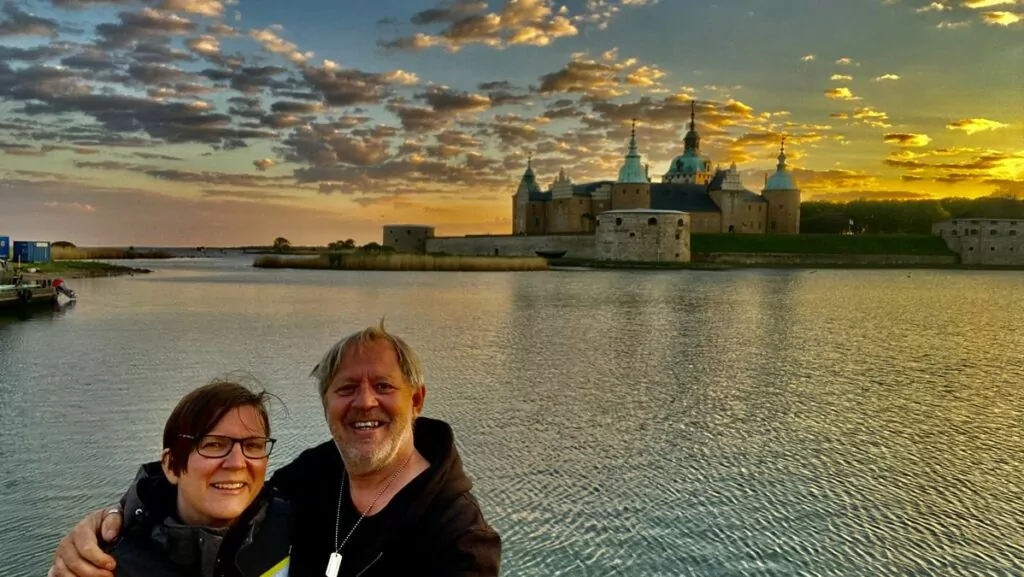 2. Walk in the city park
The city park is located right next to Kalmar Castle. The park was built between 1877 and 1880 and was characterised by a romantic English park, with nature as a model. This is a very beautiful park that also offers a number of surprises in the form of various monuments and Asian-influenced gardens.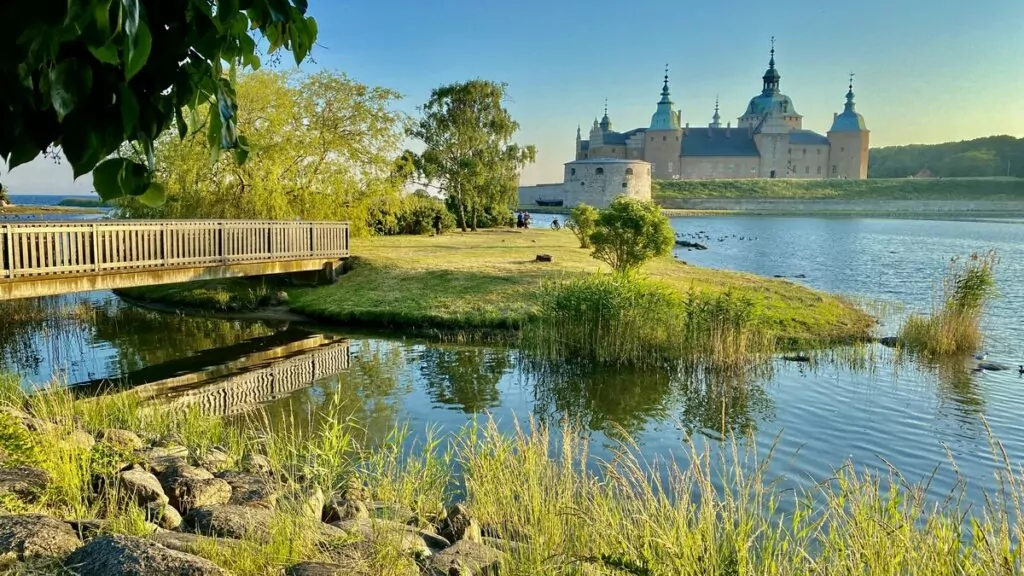 The large elm (from 1795!) is the oldest tree in the park and the gazebo was moved here in the early 1900s. The Gustav Vasa monument (large picture below) was originally erected on the Stensö headland, but when the park was built it was moved here.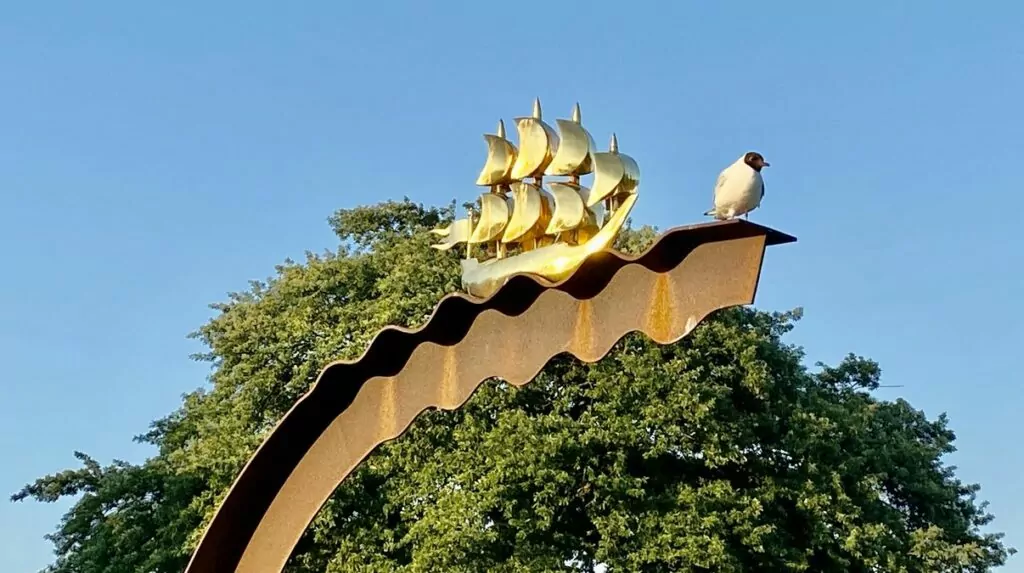 3. test seat Sweden's 3rd longest bench
Sweden's longest bench is 265 metres long and can be found in Hjo in 2022. The second longest is in Karlskrona at 260 metres and in Kalmar this bench is 222 metres long, not far from the castle. The bench, named the Gustav Vasa bench, was erected on 15 July 2015.
It is indeed just a ... bench. But still. When you visit "Sweden's longest ..." something, you want to try it, right? By the way, a big praise to our blog colleague Dryden who wrote a whole blog post (!) about this bench.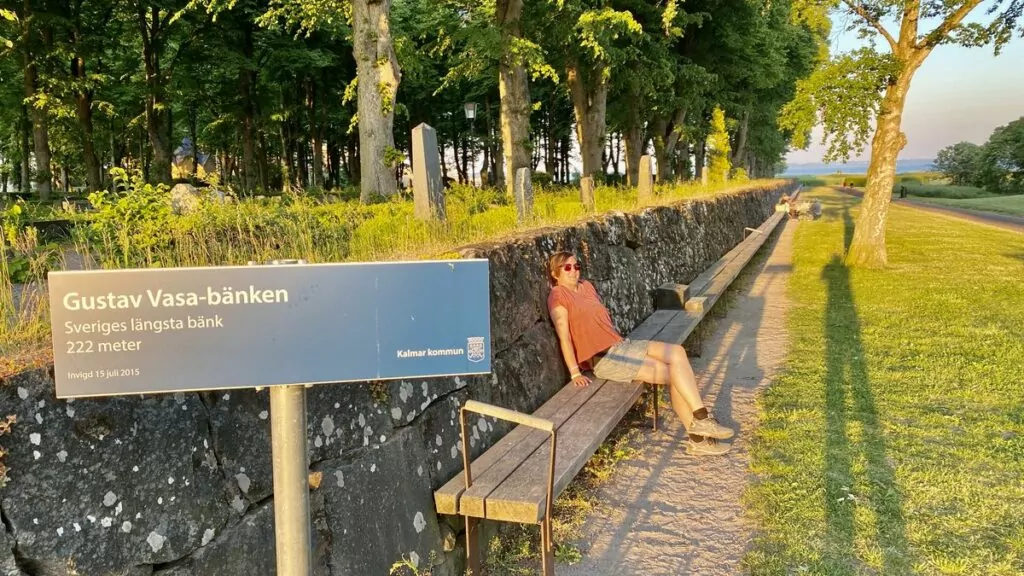 4. See art at the art museum
In the city park is the Kalmar Art Museum, which was built after an architectural competition in 2004. Some people thought the building would disrupt the park, but today it has found its place.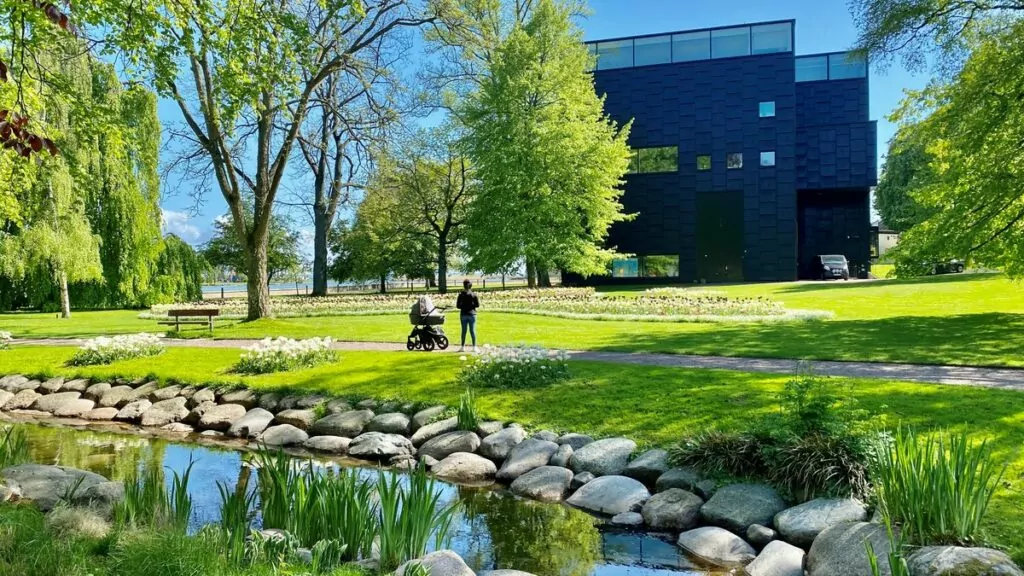 The museum showcases Swedish and international contemporary art. When we were here, the theme of the exhibitions was "The Sea". When you come here, there may of course be other exhibitions that are relevant.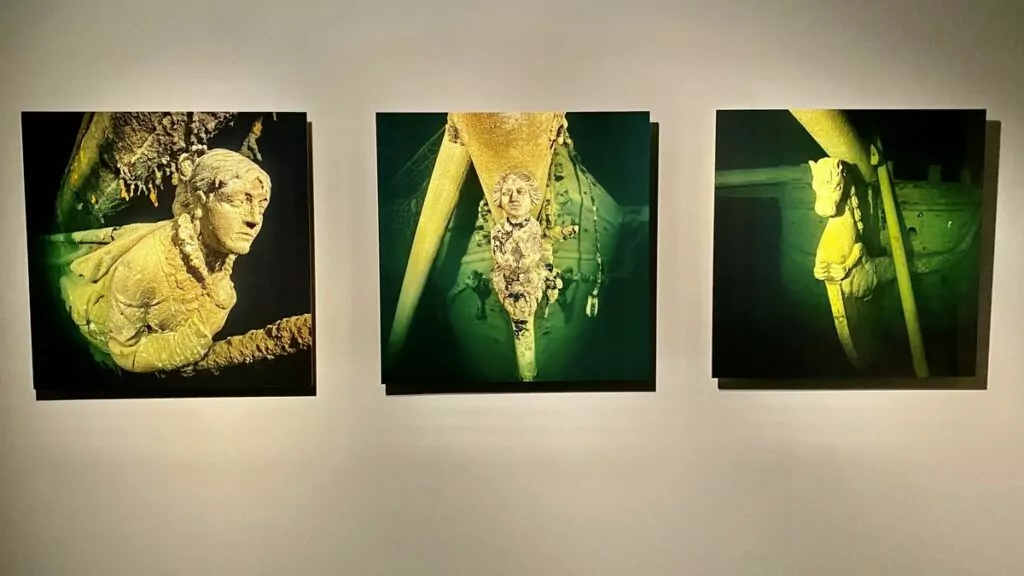 5. Kayaking in Kalmar
A different thing to do in Kalmar is to kayak and experience the city from the water. If you don't have your own kayak, you can rent one from Kalmar kajak, which also organises courses and events.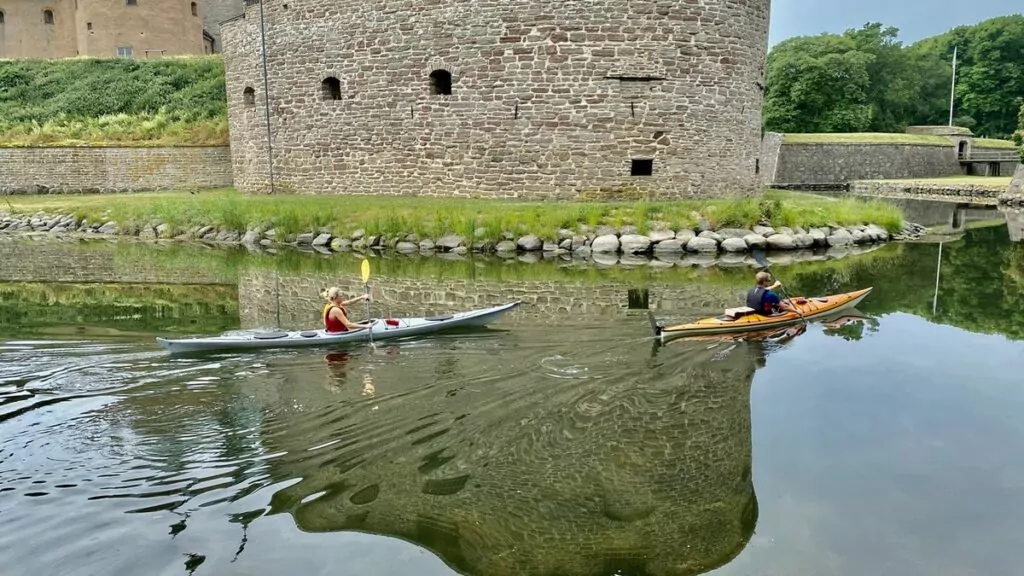 6. Discover the Old Town
The city of Kalmar was originally located right next to the castle, and not on Kvarnholmen where the city is located today. Not much of the original settlement remains. For a while after the city moved, however, it became popular to build "lyckor" here, a kind of allotment or summer house.
Today it is this settlement that has evolved, and there are incredibly charming streets with houses from the 18th and 19th centuries. There are also signs in the area telling you about the old town that existed here in the 16th century.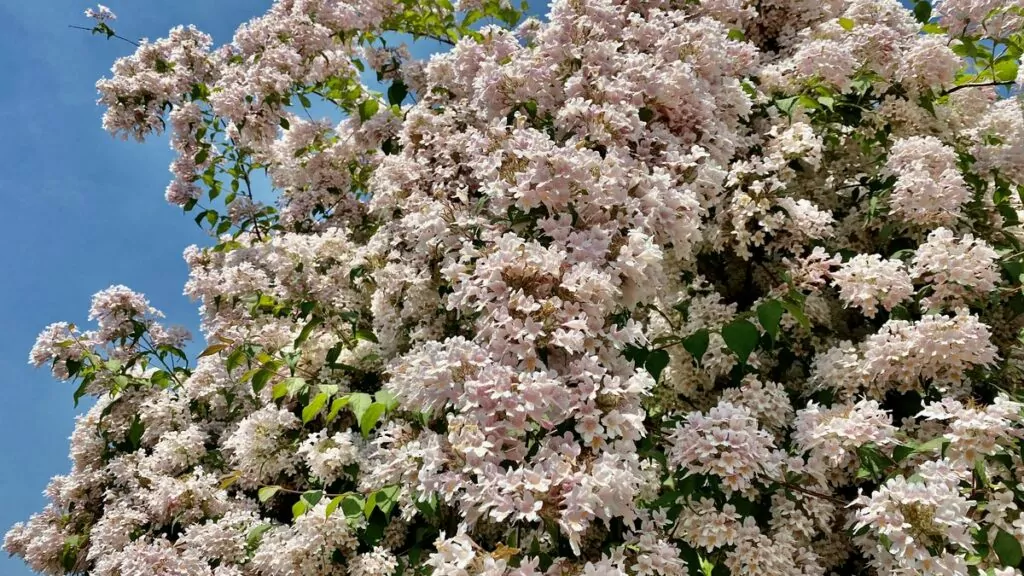 7. Feel the wings of history in the Old Cemetery
The Old Cemetery was established in the early 13th century. The cemetery is no longer used as a cemetery, but is a very interesting historical site. Among other things, you can still see the outer contours of the old Church of St Nicholas - which was apparently huge.
There are also several interesting sculptures and tombs with exciting stories. For example, you will find a statue of St Christopher, who was the patron saint of Kalmar in the Middle Ages. There is also a yellow tomb chapel that has not been opened. eversince it was sealed in the 18th century. Book a guided tour if you want to know more!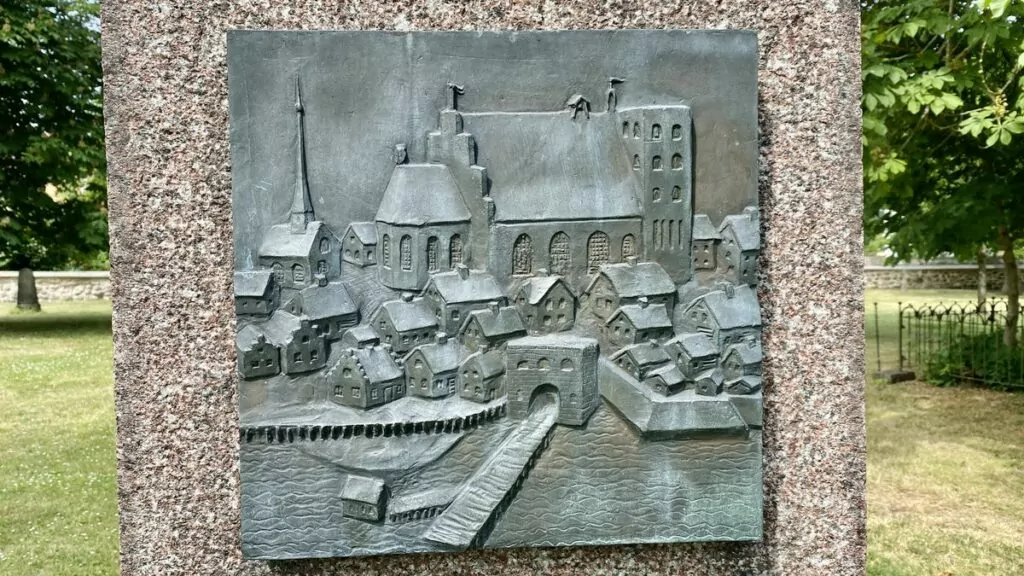 8. Coffee at Krusenstiernska gården
Krusenstiernska gården is a civic garden built after the city of Kalmar moved to Kvarnholmen. It has been preserved as it was in the 19th century, thanks to a donation by the last owner on the condition that it be managed as a cultural monument.
And yes, when you come here, it feels like you are transported 100 years back in time! Here you drink coffee in the beer halls as they did in the past, and when we came here they were also playing traditional Swedish music. What an idyll!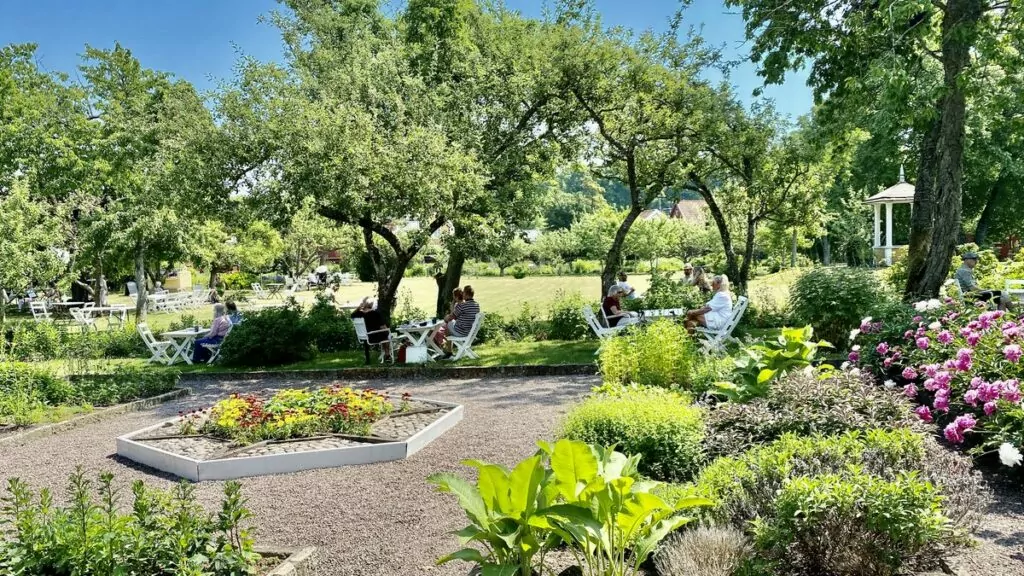 There is a café where you can buy sandwiches or pastries. We went for the ice cream instead, which felt just right in the summer heat. A visit here is one thing to do in Kalmar that you don't want to miss!
Address: Stora Dammgatan 9-11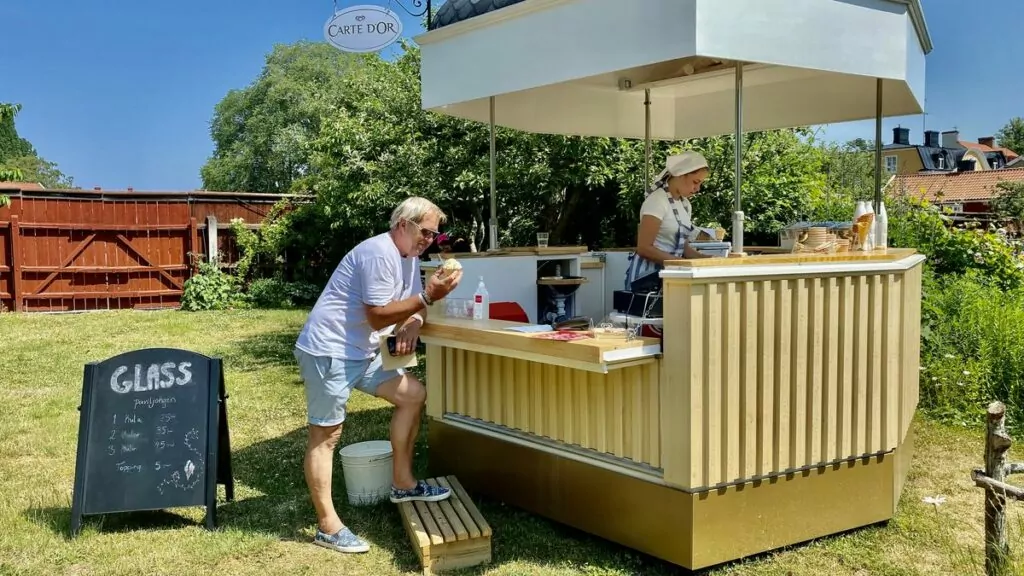 9. Strolling on Kvarnholmen
In the mid-17th century, the city of Kalmar was moved to Kvarnholmen, where it was protected by a ring wall. The city is a great place to walk around. Here you can see everything from grand historic houses to small charming cottages. If you wish, you can book a guided tour of the town via the tourist office in town.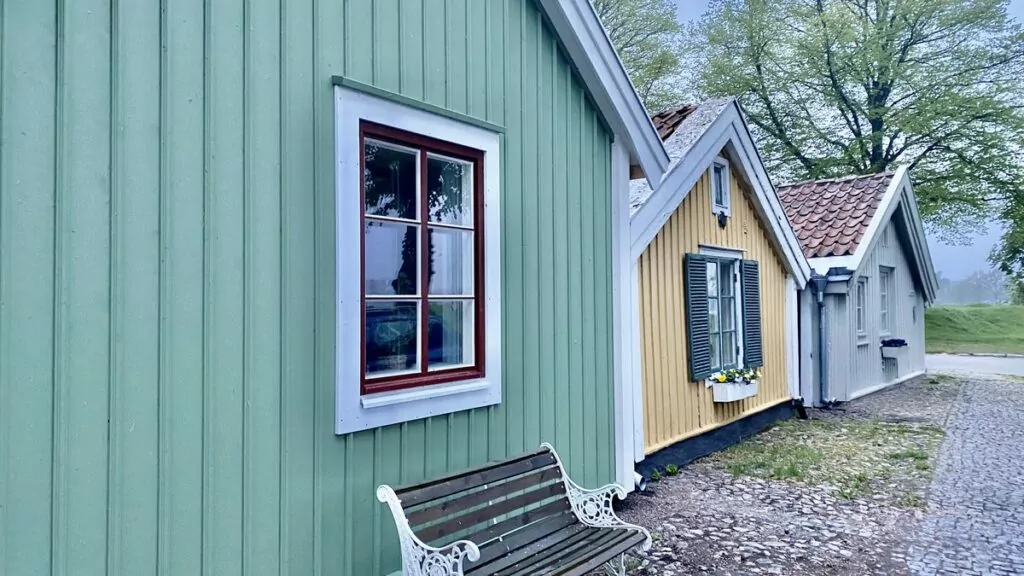 Some of the city's most interesting buildings are located in the squares:
The main square was built in the 17th century and is today one of Sweden's best preserved Baroque squares. The cathedral and town hall are located here. (Big picture)
Armoury was originally called "Alarmtorget" and was a place where the city's troops gathered in case of alarm. Here is the fountain sculpture Vasabrunnen from 1926 (small picture to the right).
Small square is Kalmar's smallest square and contains three Carolingian stone houses: Domprostgården, Residenset and Dahmska huset, as well as Kalmar's oldest house. (Small picture to the left)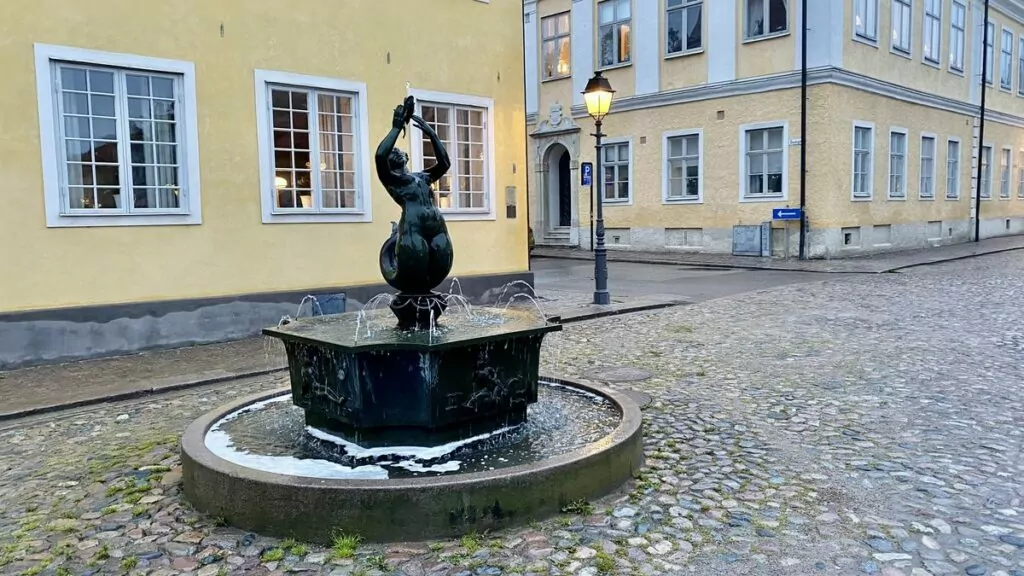 We walked with a guide on one of the days, and she showed us pearls that we otherwise would not have found. Among other things, we looked past Gerda's tea and coffee shop, which is really cosy but which is also located in a beautiful and historic house.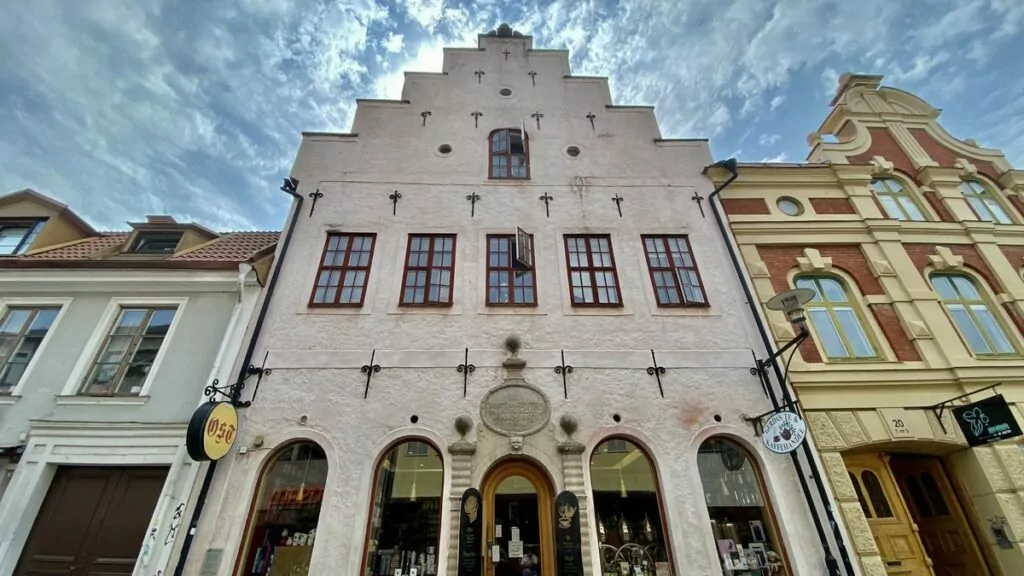 10. See the city gates: Västerport, Kavaljersporten and Jordbroporten.
Kalmar had suffered both attacks and fires, and when the city was moved to Kvarnholmen, they tried to protect it by building in stone and surrounding the houses with a ring wall. Large parts of the wall remain today, as do its gates. In many places you can walk up the wall and look down on the city.
Don't forget to check out the city gates. The magnificent Västerport, or Högvakten as it is also known, was completed in 1658 and served as the main entrance to Kvarnholmen until 1870. Today you will find Västerport Spa & Relax here. In the pictures below you can see the following gates:
Westport (large image)
Cavalier sports (small picture on the left)
Earth Gate (small picture on the right)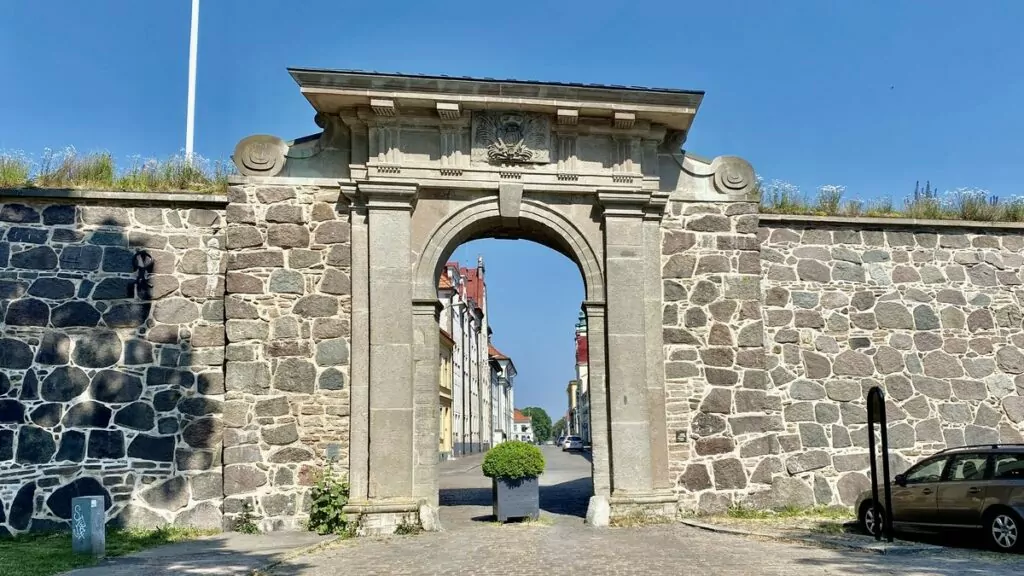 11. Admire Kalmar Cathedral
Kalmar Cathedral, inaugurated in 1682, is one of the most important Baroque buildings in Sweden, designed by the architect Nicodemus Tessin the Elder. Usually a cathedral is linked to a diocese, but this is not the case with Kalmar Cathedral. At least not anymore.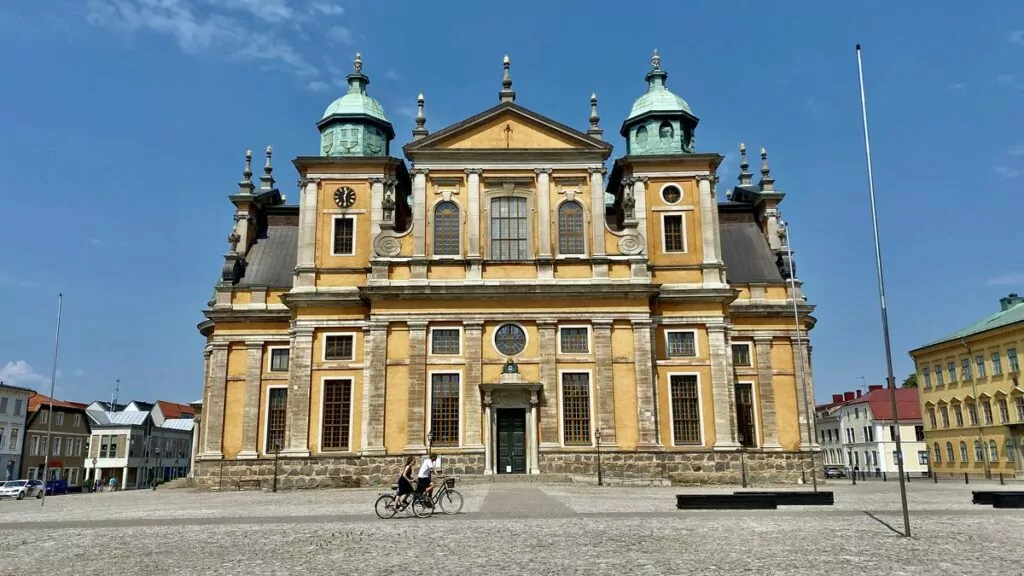 The Parliament wanted to limit costs and therefore wanted to merge the dioceses of Kalmar and Växjö. It was decided in 1901 that the bishop who lived the longest would lead the diocese, and the bishop of Växjö 'won'.
12. Peek into the flap house
A folding house is a building that was once used to wash clothes and other textiles. On Kvarnholmen in Kalmar there is a preserved clapboard house, which is probably the only preserved clapboard house in Scandinavia. The house dates from the beginning of the 20th century, and before that there was an older clapboard house here.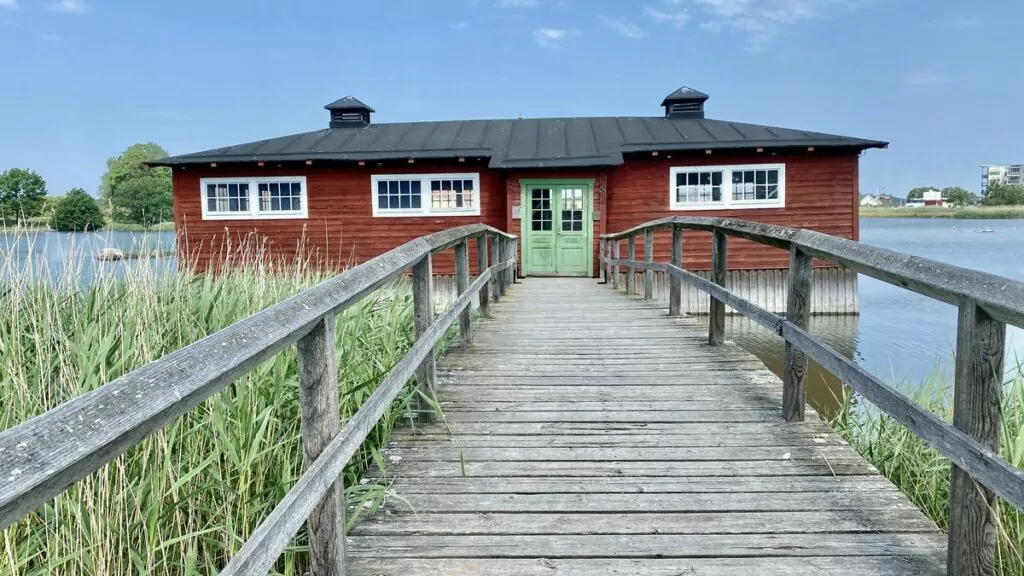 If you step inside, you can see exactly what it looks like, and imagine the 'clapping'. This is a fascinating place - like a document of time in the middle of the modern world.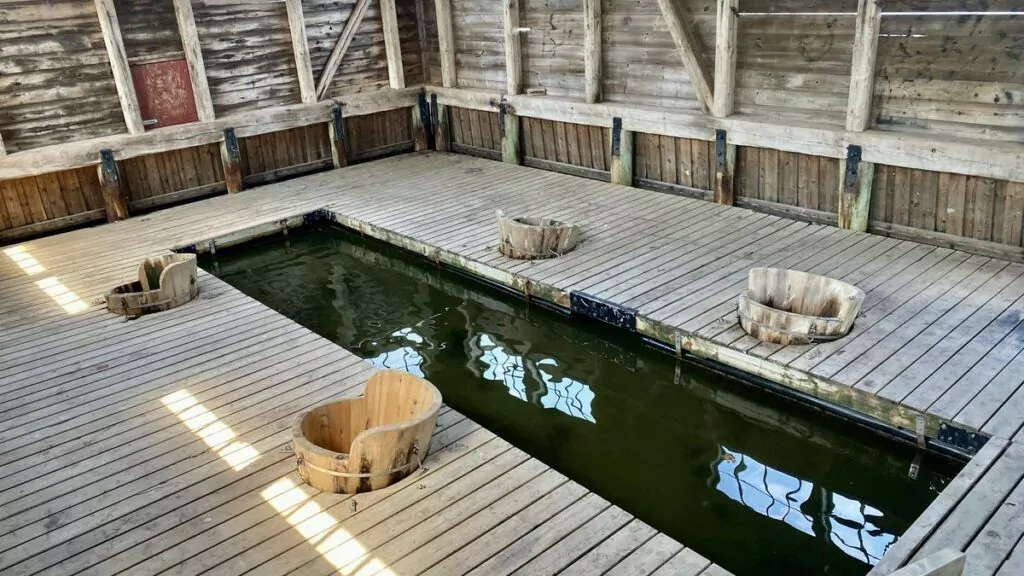 13. Experience the history of the regal ship Kronan at Kalmar County Museum.
Kalmar County Museum offers a very exciting exhibition about the regal ship Kronan, which sank in the Baltic Sea in 1676. More than 35,000 artefacts have been recovered from the seabed, telling the story of life in the 17th century.
There are also some other interesting exhibitions here - including one on the mysterious massacre at the ancient Sandby Borg castle on Öland. You can also learn more about Kalmar-based artist Jenny Nyström, who is known for her Santa Claus on Christmas cards and Advent calendars.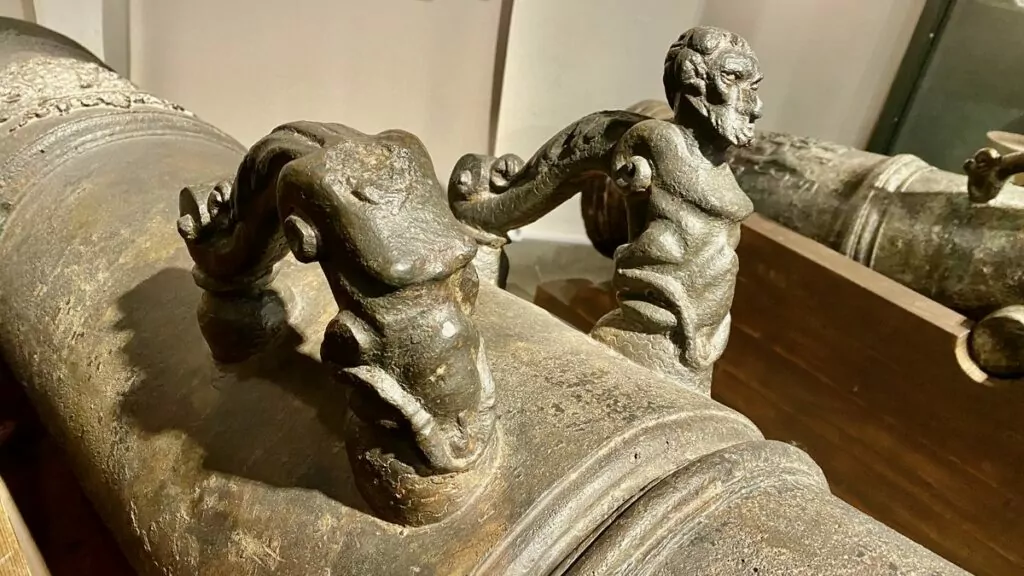 14. Learn about shipping at the Maritime Museum.
The Kalmar Maritime Museum is located in a beautiful old house on Kvarnholmen. When we arrived, pandemic restrictions were still in place and we were asked to call to book a visit. But as soon as we called, the museum opened!
In this museum you can see collections of various nautical objects, ship models, paintings and exotic items brought back from travelling to faraway countries. The man in the museum was a skipper himself and proved to be very knowledgeable and dedicated, which made for a really interesting visit to the museum.
We also saw an interesting film about the first Swedish Antarctic expedition, led by Otto Nordenskjöld in the early 1900s. The fact that the men survived these ordeals, including an unplanned winter in an extremely inhospitable environment, is absolutely incredible. A fascinating film narrated by one of the survivors himself!
Address: Södra Långgatan 81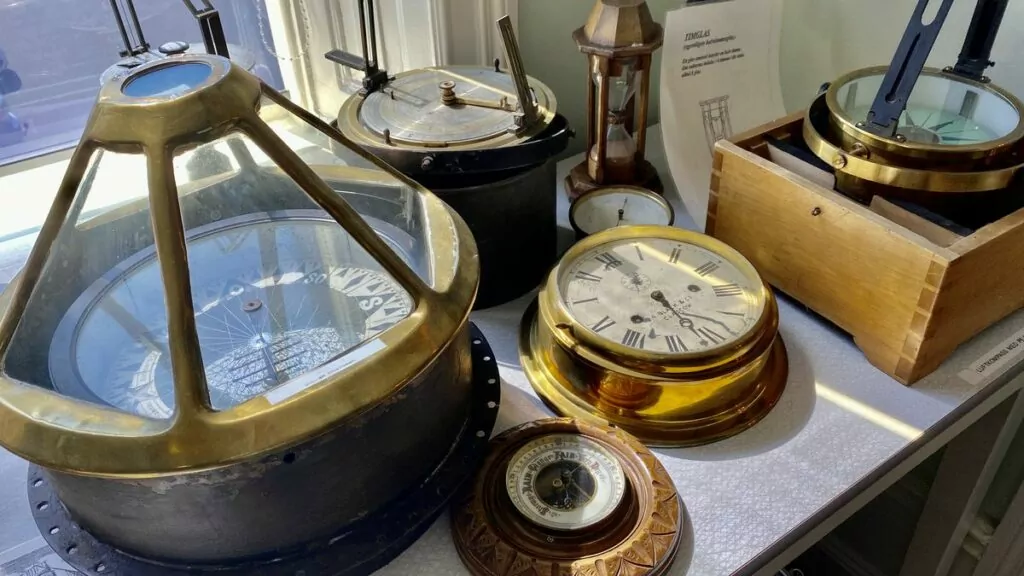 15. Sunbathing and swimming at Kattrumpan or Kalmarsundsbadet.
What can you do in Kalmar in the summer? Swimming of course! Kalmar is located along the coast and there are several swimming spots to choose from. A popular swimming spot on Kvarnholmen is Cat's Paw. The site may have been named because it resembled a cat's arse with a tail on the map. Another explanation for the name is the old term "cat", which means that there is an elevation in the defence wall.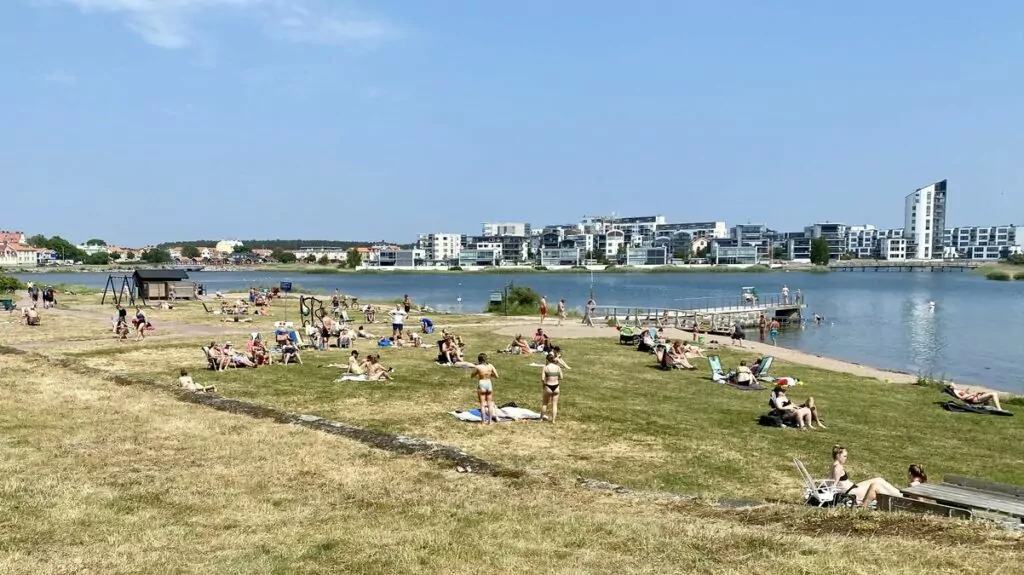 Another popular swimming spot is Kalmarsundsbadet, not far from the castle. Here you will also find a "kissing point".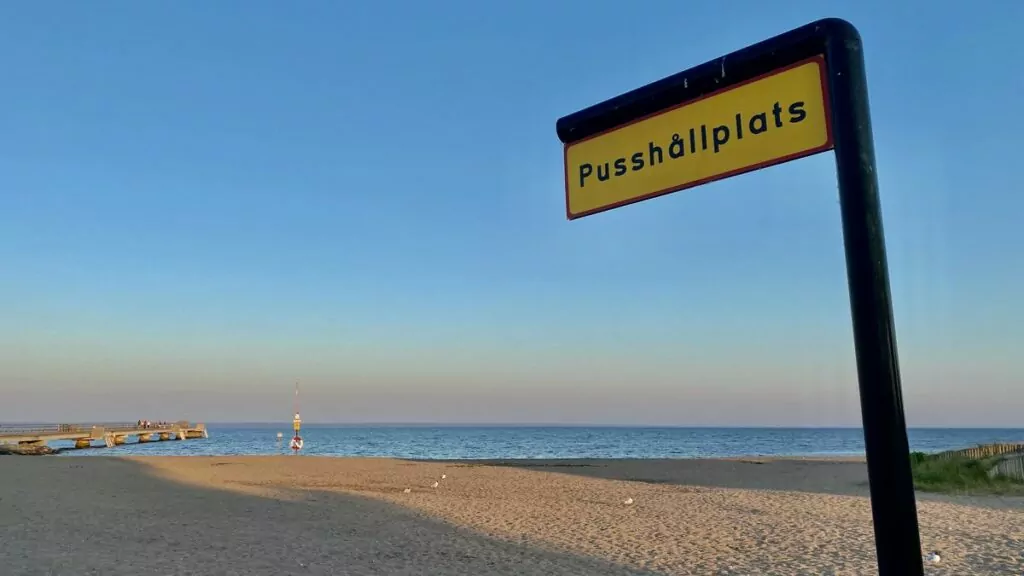 16. Discover the city's restaurants
There are of course plenty of restaurants in Kalmar and we have only managed to discover a fraction of them. By talking to others (at the caravan park among others) we have received tips on restaurants in cosy environments. We have received tips on Rosenlund cellar, which is located in a house dating from 1654, and on the other hand about FF's Bar and a small kitchen located inside one of the old city walls.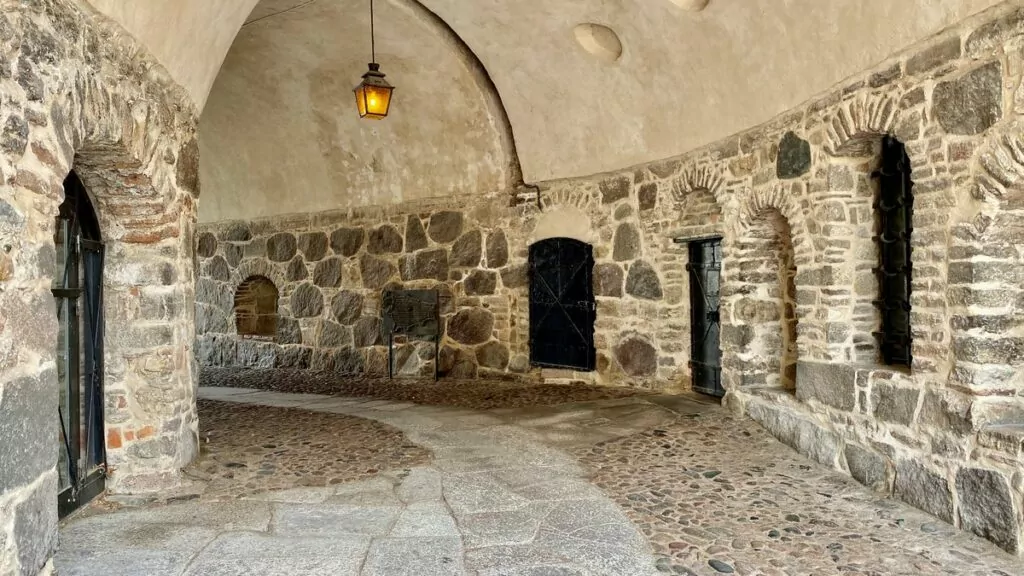 We ended up for lunch at E.A.T. where we had a buffet of sushi and Asian food. Buffets are not always exciting, but this one was really good. The sushi was very good and they served fresh spring rolls and fresh desserts.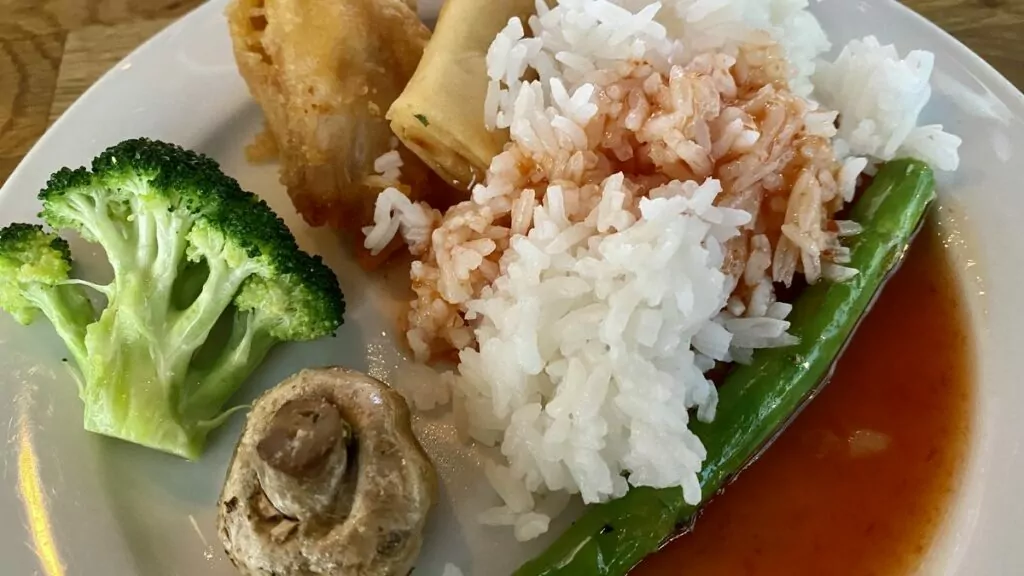 17. Take an excursion to Stensö.
Stensö is a peninsula in southern Kalmar that is separated from the mainland by the Stensö Canal, which was dug in the 1930s. We took the electric bikes here and had a nice bike ride through a beautiful natural area. On Stensö there are, among other things, a campsite, bathing area and adventure park.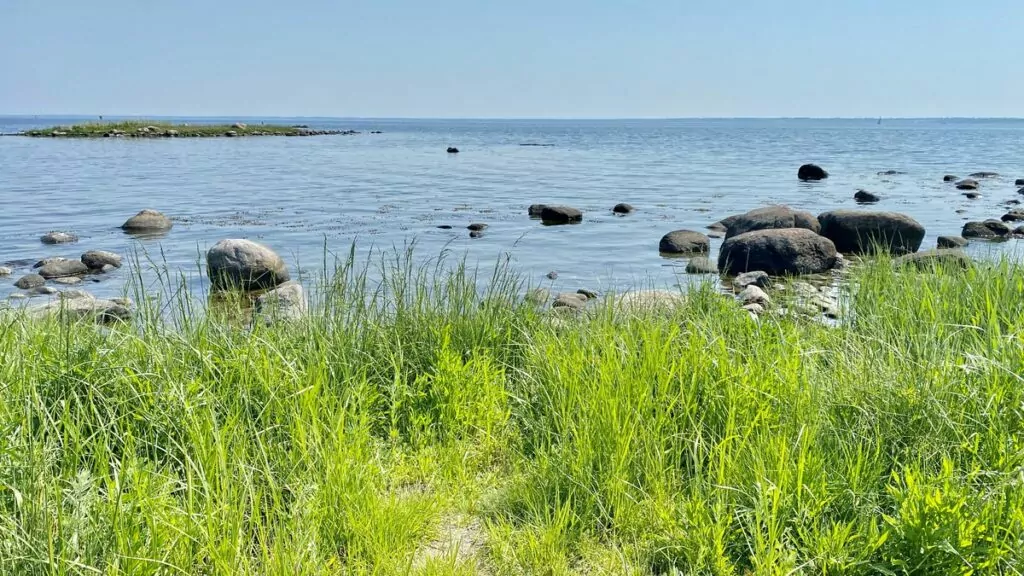 There is also a memorial stone commemorating Gustav Vasa's landing on Stensö headland on 31 May 1520. Originally, there was another memorial statue, which has now been moved to the city park, and in its place is a large boulder erected in 1933.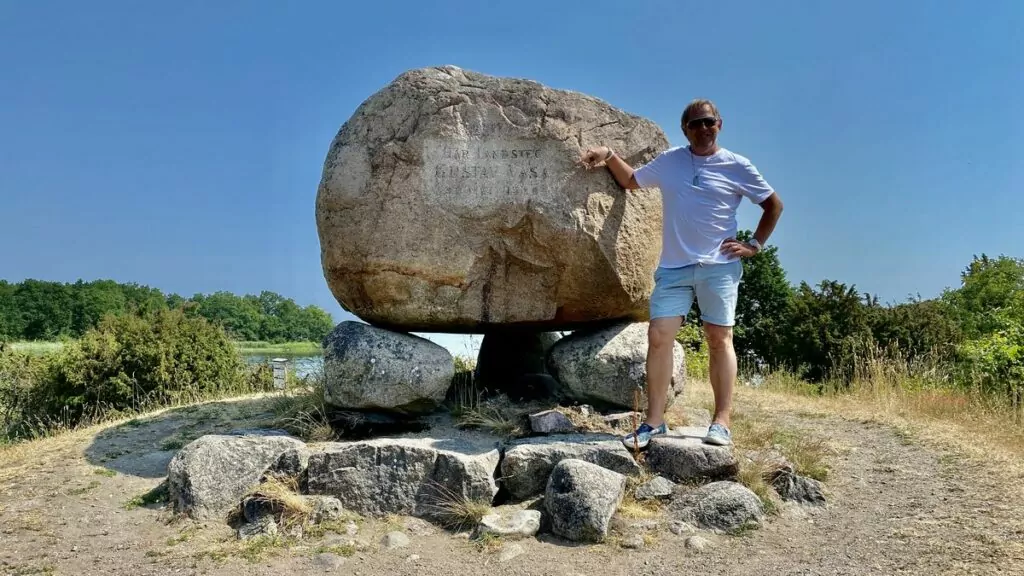 In the bushes, not far from the memorial stone, you can actually find another memorial stone. It was Louis XVIII who had an inscription carved in 1804 to commemorate his visit to Gustav Vasa's landing.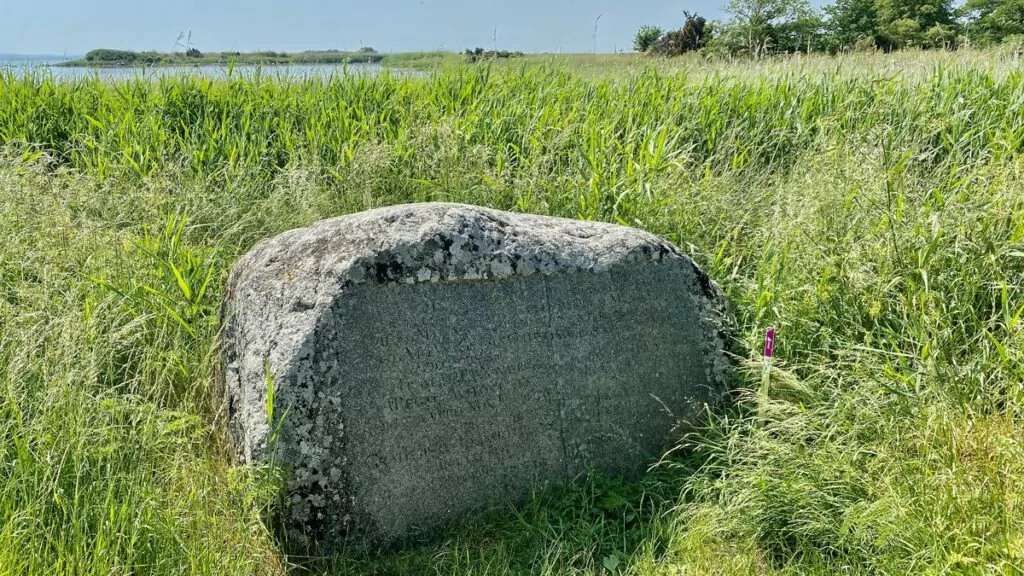 More things to do in Kalmar for culture and history lovers
Here you will find more suggestions for things to do in Kalmar, for those interested in culture and history.
Historical city walks with different themes is one way to discover the city. In summer, you can also take a guided boat trip on the Kalmar Flounder.
Kalmar Hall is a place where various events and cultural activities are organised.
Kalmar Theatre is the city's municipal theatre, designed by architect Bror Carl Malmberg and opened in 1863 (Larmtorget 1).
Kullzénska farm is a well-preserved 18th century merchant's house, which today houses a popular café. The rest of the block is a large department store, but the Kullzén siblings refused to sell despite high bids, so the building remains. (Kaggensgatan 26)
Stävlö Castle is located north of Kalmar and is perhaps one of Sweden's most beautiful castles (see picture here). Please note that the castle is completely private and cannot be visited.
Öland Bridge is Sweden's longest bridge, if you only compare the bridges that are on Swedish territory. The bridge is 6 072 metres long.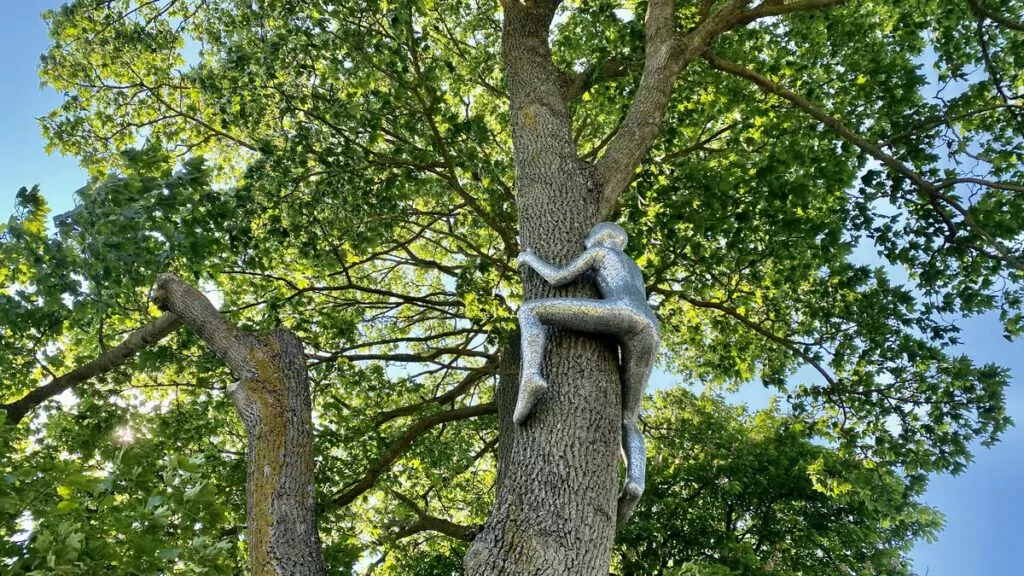 More things to do in Kalmar for nature lovers
Here are also some more suggestions for things to do in Kalmar for those who enjoy nature and the outdoors.
Boat trip from Bergkvara to Garpen is an excursion that can be done in the summer.
Diving is popular in Kalmar, including at Octopus Dykcenter and Kalmar Dykcenter.
Horsö - Värsnäs nature reserve is located in the northern part of Kalmar. There are forest trails, jogging tracks and swimming areas.
Kalmarsund Park is a popular recreational area, with green spaces and swimming areas, just south of Kalmar Castle.
The Kalmarsund Trail is a nature and culture trail that runs from Slakmöre in the north to Bröms in the south.
Svinö Nature Reserve is located at the Ölandsbron bridge fortress. There are walking trails and bathing areas.
Östra Sigfridsleden is a 30-kilometre pilgrimage trail that starts in the coastal landscape of Södermøre and ends in Källebäcksmål.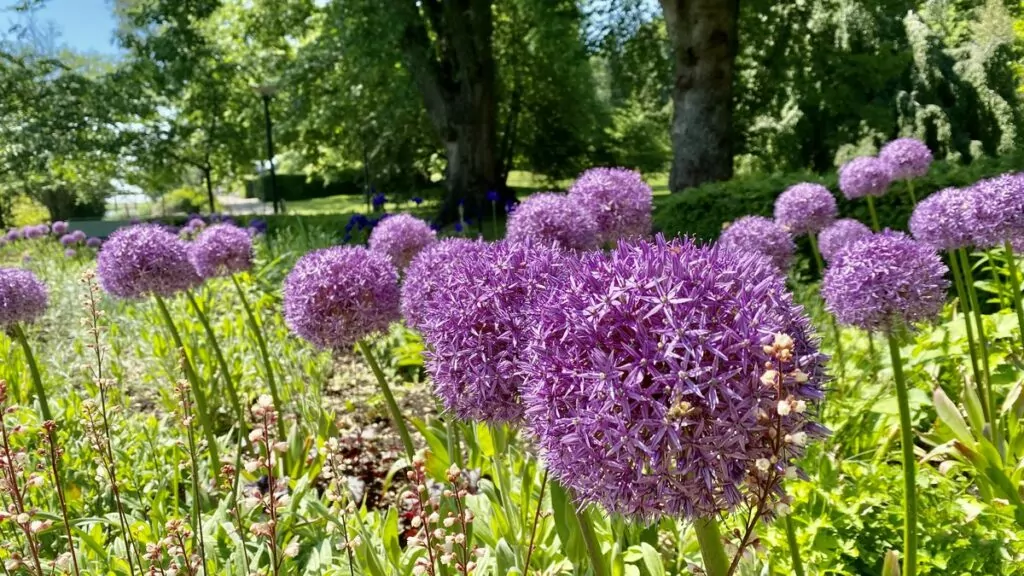 More things to do in Kalmar for those who like events
Do you like events and happenings? Then you'll find even more tips here on things to do in Kalmar.
Kalmar City Festival means that for three days in August, Kalmar is filled with music and fun activities.
Music at Larmtorget is an event that features garage concerts by popular Swedish artists.
Sand sculpture festivalwith international artists, is usually organised in Kalmar every summer.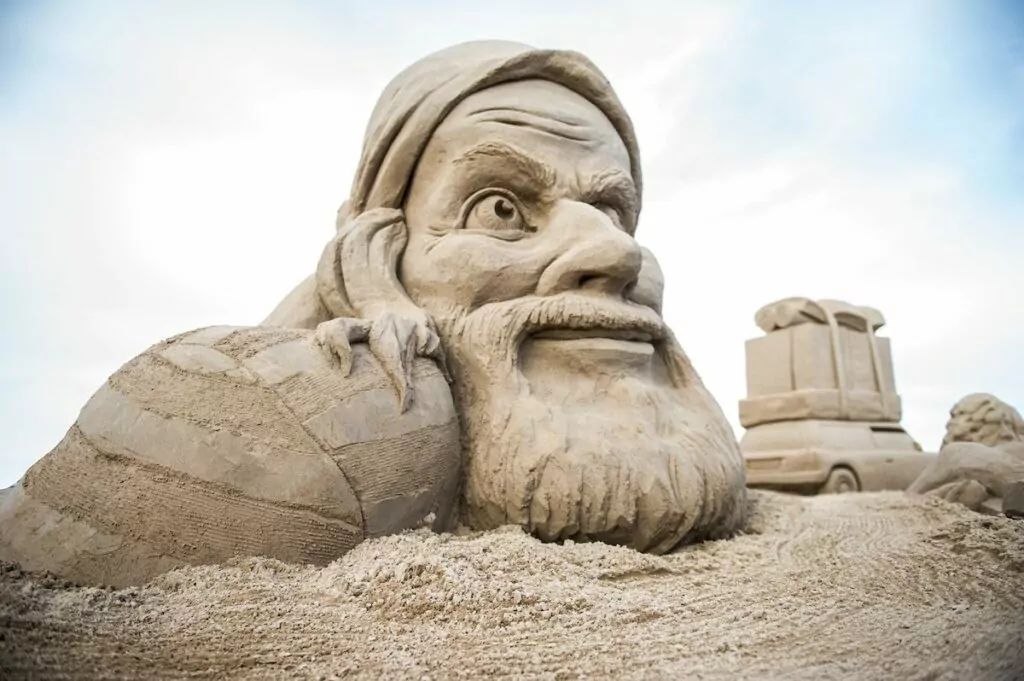 More to do in Kalmar with children
Travelling with children or teenagers? Then you'll find some more tips on things to do in Kalmar here.
A world of Dinasaurs is a dinosaur museum with both fossils and large moving dinosaurs. (Tingby farm)
Kalmar park golf is a 12-hole park golf course, inspired by mini-golf and adventure golf. (Vänortsparken, Södra vägen 2)
Leo's playground is for children who want to run, climb and play. (Verkstadsgatan 5)
Skälby 4H farm offers encounters with farm animals and is located in a popular park area (Skälbyallén 5).
Snurrom Bike Park is an approximately 4 kilometre long mountain bike course for both children and adults (Värsnäsvägen 15 C).
Upzone Adventure Park is located on Stensö, with activities such as a high ropes course, zipline, climbing trees and escape games. (Stensövägen 100)
Adventure pool offers a water slide, water bomb, wave machine, whirlpool and more. (Smålandsgatan 21)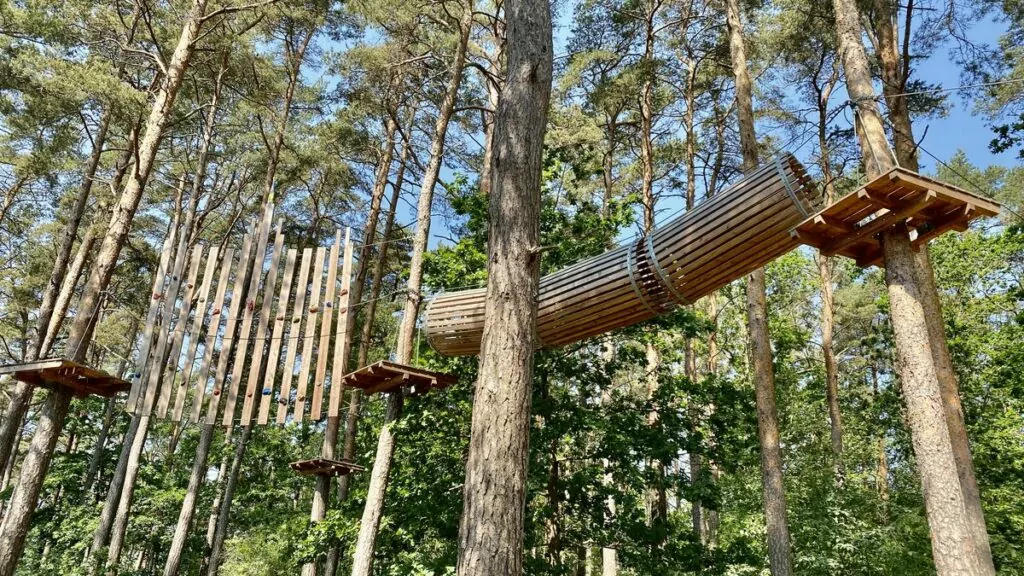 Where can you stay, camp or caravan?
There are of course many different hotels and other accommodation options in Kalmar to choose from. If you want to go camping, there are also a few different options:
First Camp Stensö - Kalmar located on Stensö
Kalmar Camping Rafshagsudden is located just north of the city
Vita Sands Camping is located just south of the city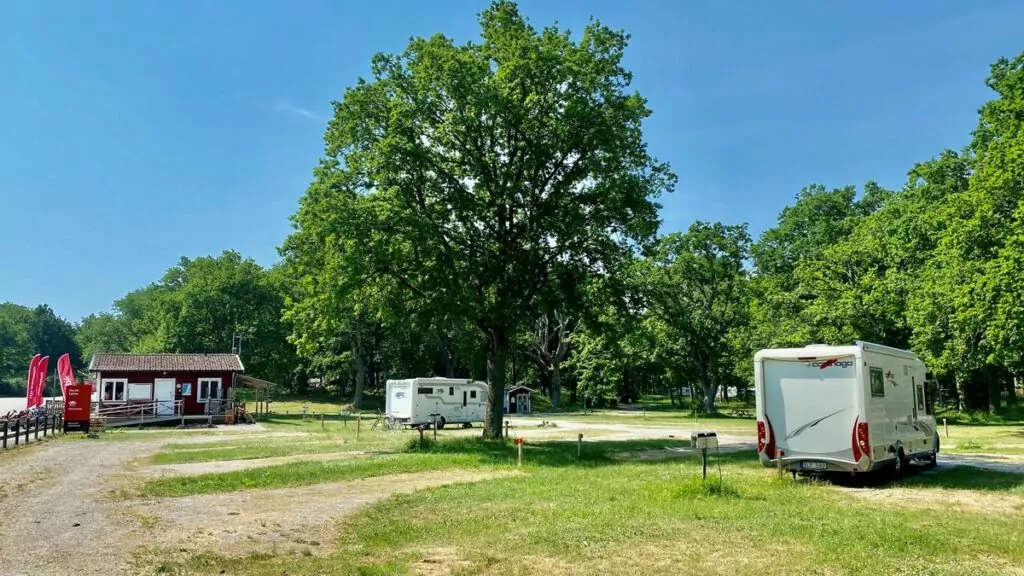 If you're travelling with a motorhome and want to park on a pitch, there are also a few different options. We stood on Ölandskajen, right next to the guest harbour and Linnaeus University. From here you have a good starting point for visiting most things in the centre of Kalmar. You also have access to services in the form of electricity and a service centre with toilets and showers. There is no latrine emptying, but you can go to Kalmar Dämme rest area to empty latrine and grey water, and fill water.
When we were here, the price was 220 SEK/day, which is either paid at the tourist office or by cheque. At the tourist office we got very good help with information, and here you can also book guided tours and other things.
Another option is to stand on The lift quay, but it is only in summer and without electricity. Another option is the Svinö car parkwhere you can stand for a maximum of 18 hours.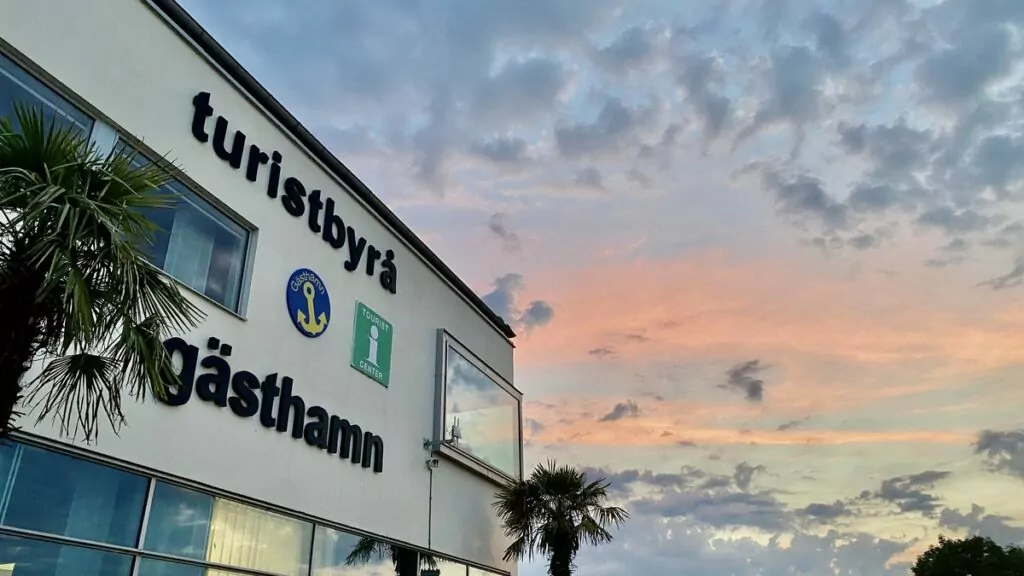 More to do in Kalmar - nearby
Only a bridge separates Kalmar from the beautiful island of Öland, where you can experience everything from castles and fortresses to nature and fantastic sandy beaches. If you want to stay in Småland, take the opportunity to experience the Kingdom of Glass or Växjö and the surrounding area. Among other things, it is close to the world's only James Bond Museum.
We can also advise you to visit the beautiful and historically interesting places of Kristianopel, as well as in the Unesco heritage Karlskrona. Another exciting excursion is to take a boat trip from Oskarshamn to the island and the Blå Jungfrun National Park.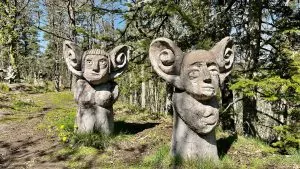 Trollen i Gamleby, or Friends of Garpe Sculpture Park, is a different kind of sculpture park in Västervik....
More suggestions for things to do in Kalmar?
Have you been to Kalmar? Tell us about your experiences and your relationship with the city! Do you have even more tips for things to see and do in Kalmar?
Facts about Kalmar
County: Kalmar County
Landscape: Småland
Population: More than 70 000 (2021)
District: Kalmar Cathedral District, Holy Cross District, St Birgitta District, St John District, Two Sisters District and Förlösa-Kläckeberga District.
The name: The early Swedish place name Kalmarnir means 'gravelly island' and may have referred to the area of Stensö. The place name was spelled "Calmar" from the 13th century until the middle of the 19th century, and for a long time had the genitive form "Calmare".
Read more: You can find more information at the destination's website.
History of Kalmar
1123: A Norwegian fleet led by Sigurd Jorsalafare attacked Småland and burned the town, under the pretext of Christianising the pagans.
1180s: A castle (defence tower) was built near the town.
Late 13th century: Magnus Ladulås had a defensive castle built around the castle, creating Kalmar Castle.
14th to 15th century
1397: The Kalmar Union was formed, led by Queen Margaret.
1483: The Kalmar recess, which was an agreement regarding relations within the Kalmar Union, was held between Sweden, Denmark and Norway.
16th century
16th century: Kalmar Castle was transformed into a Renaissance palace during the reign of the Vasa kings.
1505: The Kalmar bloodbath occurred, which was a political mass execution.
1520: Gustav Vasa landed on the Stensö headland on 31 May.
1599: Another bloodbath, i.e. a mass execution, occurred.
17th century
1611-1613: During the Kalmar War, much of what was then Kalmar was destroyed, mainly due to the Danish siege in 1611, when the city surrendered. It is said that Krister Some surrendered and gave up the castle to the Danish King Kristian IV.
1639: Quartermaster General Johan Wärnschiöld started working on a fortification and urban plan for Kvarnholmen.
1647: The city suffered a severe fire. It was decided that the city should move.
1657: The relocation of the city to Kvarnholmen was completed. Kvarnholmen was fortified with ramparts, bastions and a city wall. Inside the city wall, the city followed a clear plan.
18th century to the present
Around 1700: Kalmar Cathedral was completed.
Late 19th century: Kalmar was connected to the railway network. Industrialisation began. The steam mill (now the Kalmar County Museum) was built.
1915: The Diocese of Kalmar was incorporated into the Diocese of Växjö.
1972: The Öland Bridge was inaugurated.
2005: The largest Swedish coin hoard was recovered from the regal ship Kronan.