What to do in Prague? We've visited the Czech Republic's capital several times, and after our last visit, we've put together a list of 30 tips for sights, activities and excursions. Do you have more tips for things to do in Prague?
Prague
Prague is a fantastic historic city, largely built between the 12th and 18th centuries. The city's historic centre is a UNESCO World Heritage Site and there are plenty of beautiful and impressive buildings to admire. Prague also offers many other experiences, such as museums, theatres, boat trips and food tours.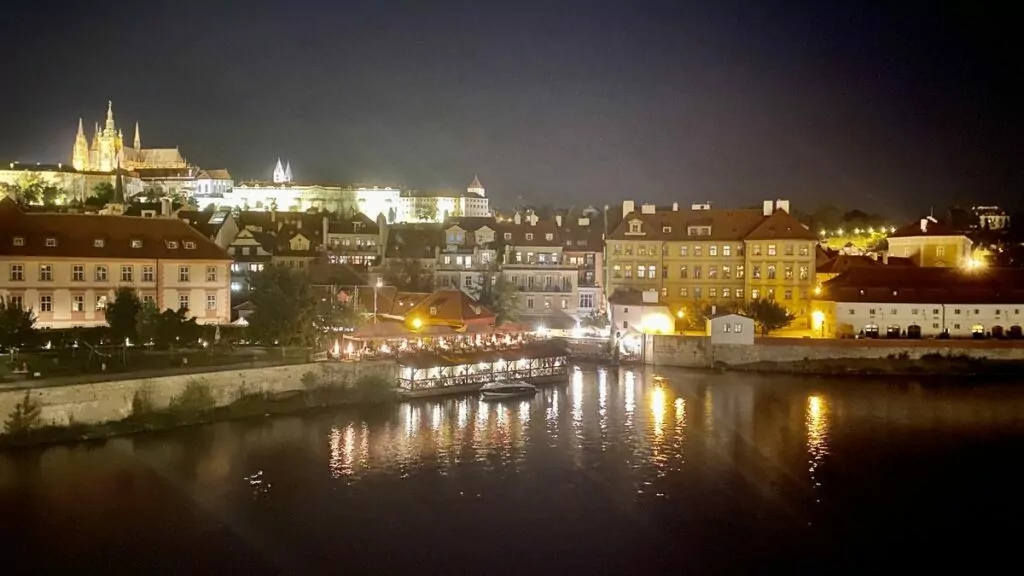 Prague is located in Bohemia / Bohemia, west of the centre of the Czech Republic.
What to do in Prague
There's a lot to see and do in Prague, and we offer our top 30 tips below.
1. Walk across the Charles Bridge
The Charles Bridge, which crosses the Vltava (Moldau) River, is one of Prague's most famous buildings. The bridge replaced the former Judith Bridge, which collapsed during the flood of 1342, and was named Karluv Most in Czech, after the then King Charles IV. Completed in 1402, the bridge has 16 arches and is 505 metres long.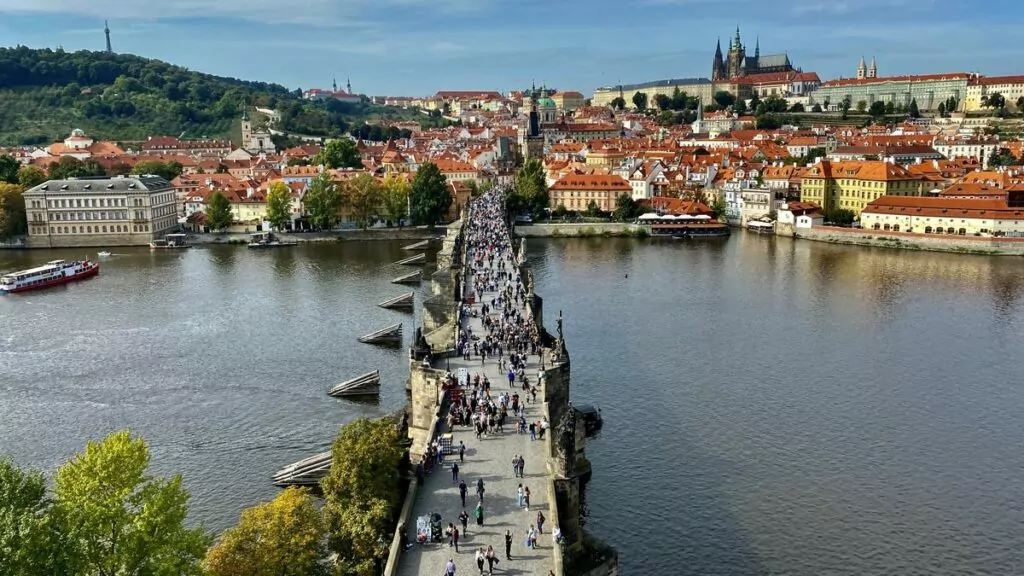 In 1648, fierce battles were fought on the bridge between the Swedish army and the population of the Old Town. And yes, it was the Swedes who were defeated ...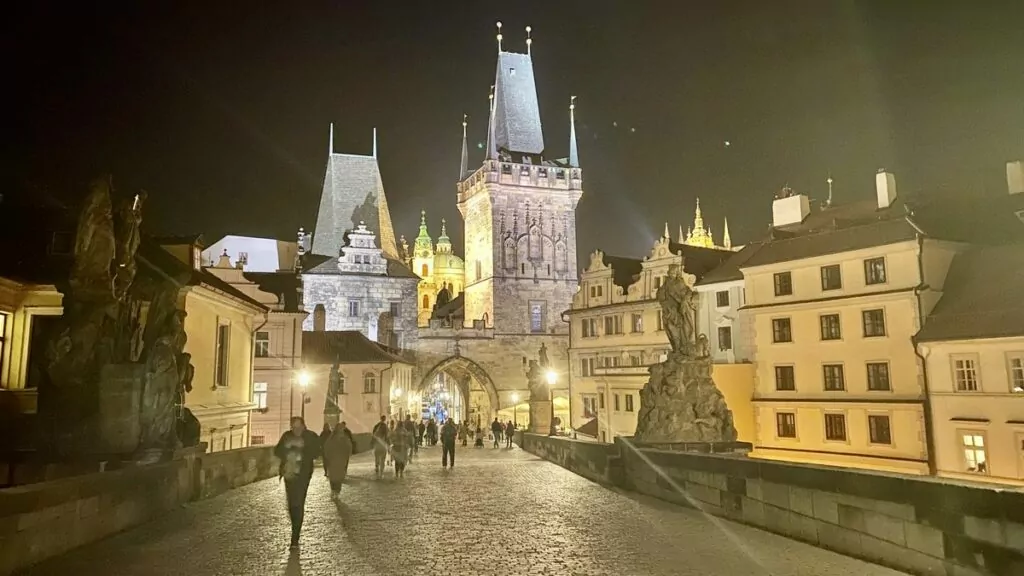 Today, the bridge is for pedestrians only and is adorned along its long sides by 30 large and impressive statues of saints, which were placed here in the 18th and 19th centuries. One of the statues is the Catholic priest John of Nepomuk who was murdered by soldiers by being thrown from the bridge on 20 May 1393.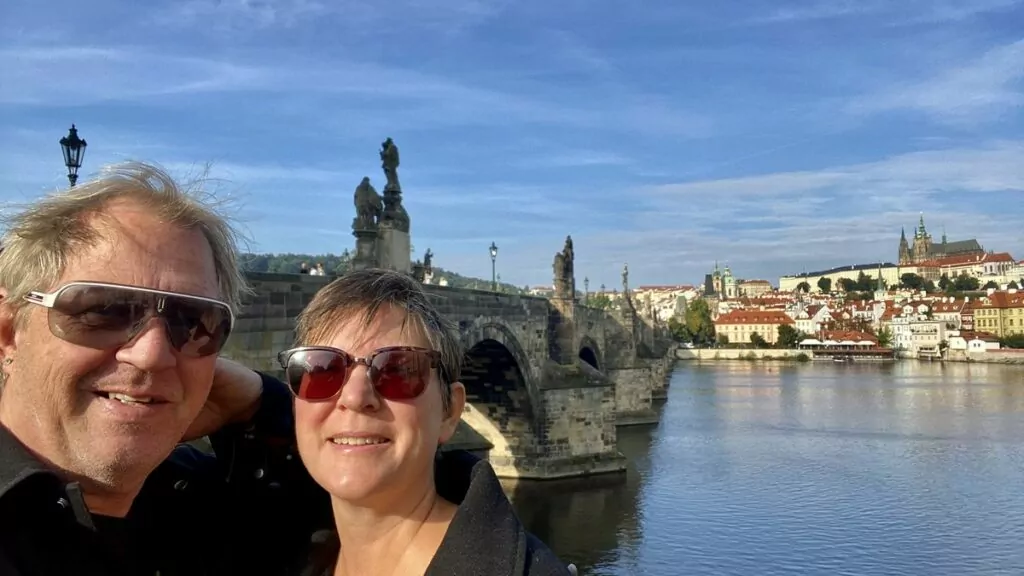 Just strolling across the bridge is an experience, and if you want to get an extra view, you can climb one of the bridge towers (Old Town Bridge Tower or Little Side Bridge Tower). Right next to the bridge, you'll also find the Charles Bridge Museum. Here you can learn more about the bridge, and there are also boat trips on the river.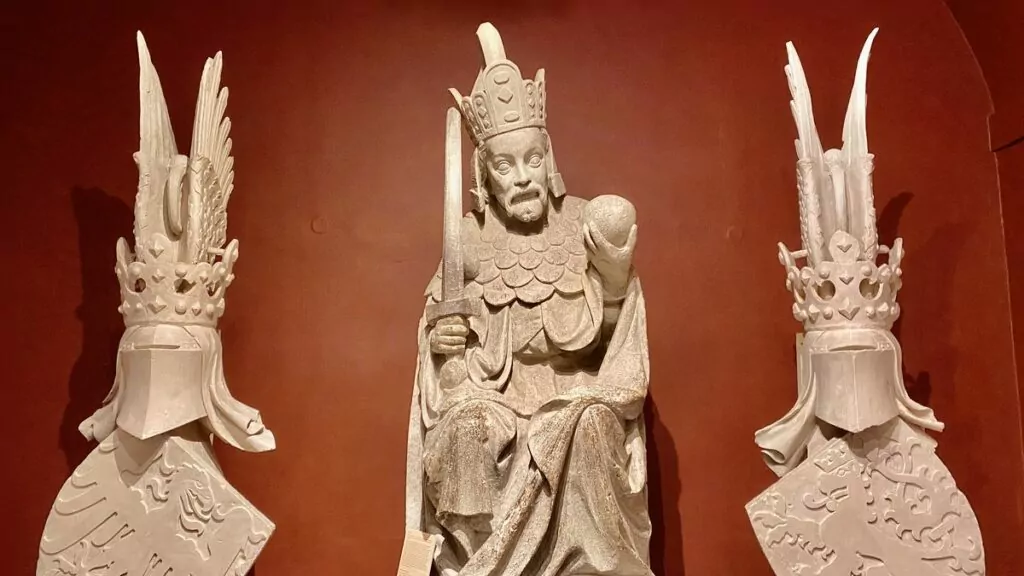 2. Experience the Old Town and the Old Town Square.
Strolling around the Old Town (Staré Město) is one of the must-dos in Prague. The centre of the Old Town is the traffic-free Staroměstské nám, surrounded by one historic building after another. Here you will find Týn Church, Kinský Palace, a statue of the church reformer Jan Hus and the Town Hall with the astronomical clock, as well as restaurants and museums.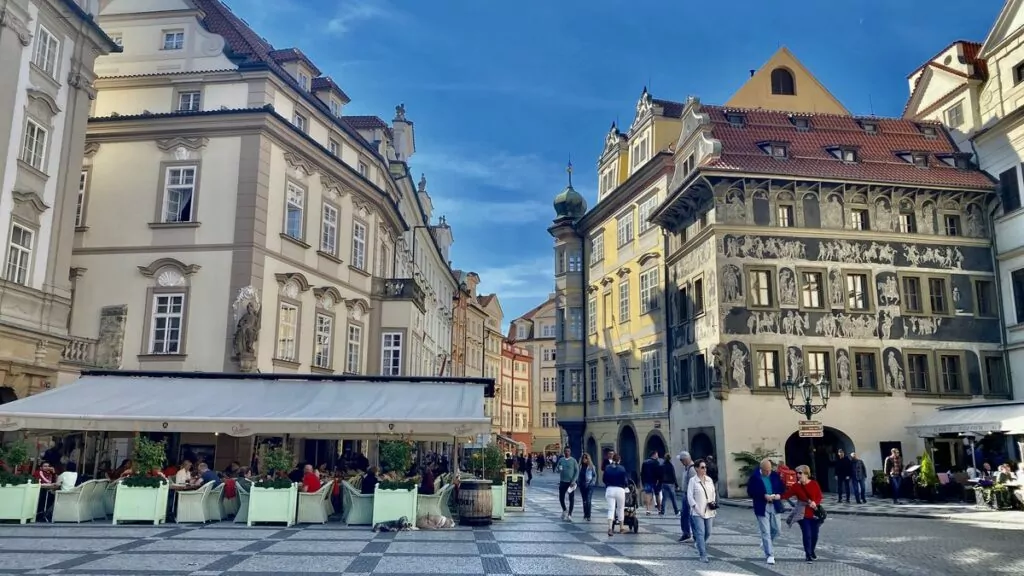 3. admire the Týnkyrkan
The impressive Týn Church (Týnský kostel) stands at one end of the Old Town Square, with its two mighty towers jutting out. Construction began in 1365 and was completed in 1435. You can peek inside between certain hours, but photography is not allowed.
Buried in the church is the astronomer Tycho Brahe, who was born in Skåne, formerly Denmark, and whose museum you can visit on the Scanian island of Ven. He is buried here because he moved to Prague. It has been speculated that his death was due to mercury poisoning, but an exhumation of his grave proved the mercury theory wrong.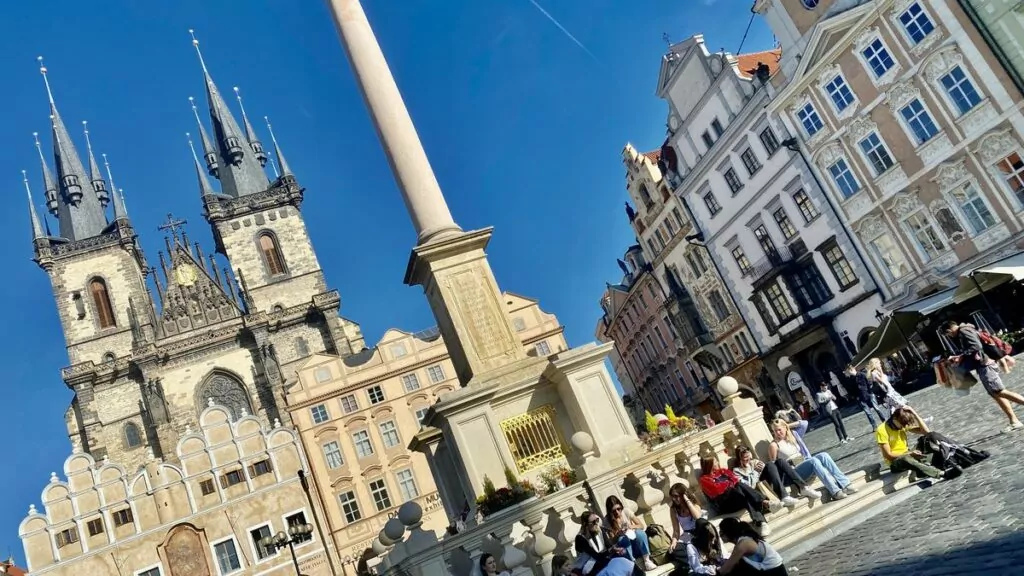 4. Fascinated by the astronomical clock and the view at the Town Hall
One of the biggest tourist attractions in Prague is the town hall with the astronomical clock (Pražský orloj). In 1410, Master Mikuláš of Kadaň together with Šindel constructed this clock. Every hour, tourists gather around the clock to watch the mechanical game, which depicts the twelve apostles.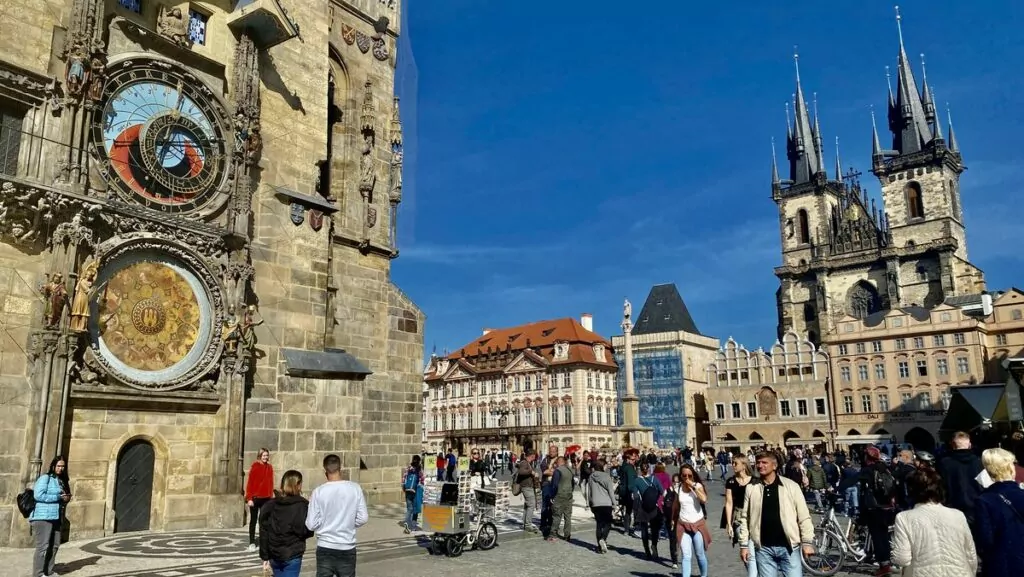 The town hall, which dates from 1338, also has a 69.5 metre high bell tower. You can either take the stairs or the lift to the top for a great view of the city. However, you should be prepared to wait your turn to get the perfect photo. There are many tourists from all over the world who want to take a selfie from this spot.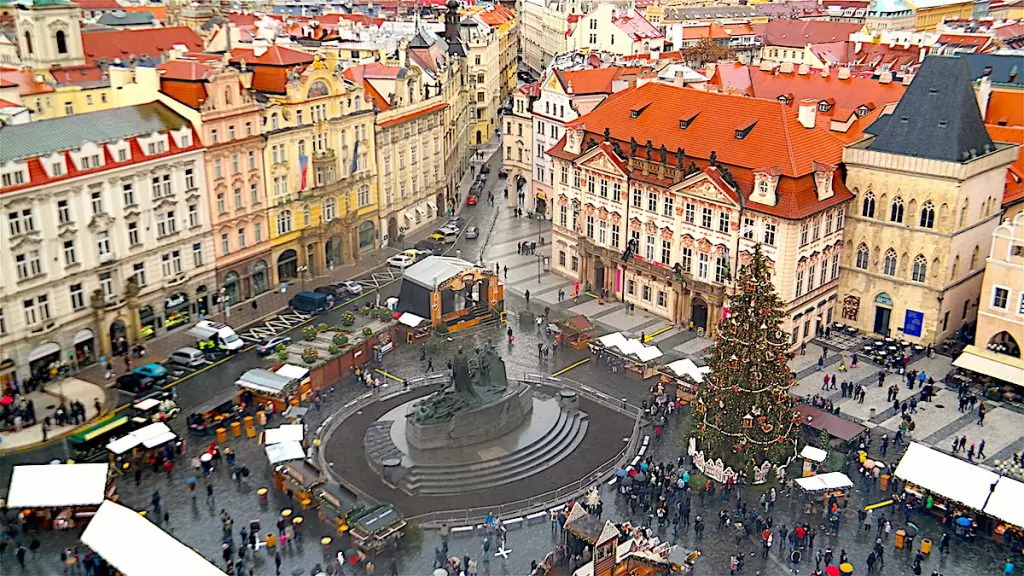 5. Have fun at the Museum of Illusion
Right next to the Town Hall and the Prague Astronomical Clock, the Museum of Illusions offers a different kind of experience. It displays a range of paintings and artworks that trick the eye into thinking you are seeing something other than what you actually are. Often you have to step into the "picture" yourself and use your camera to see the result.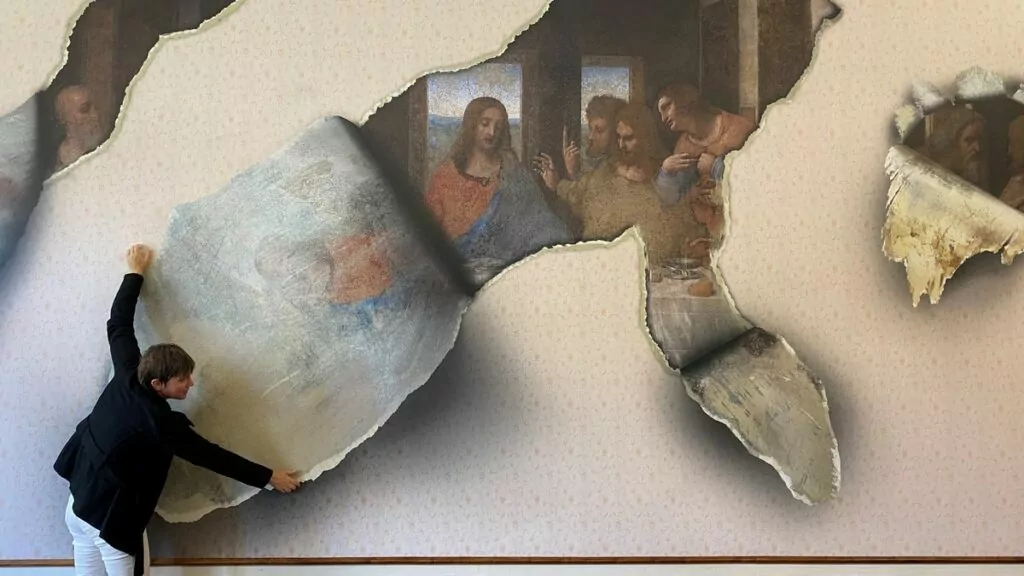 These include a series of portraits made from 'rubbish'. When you look at the piles of rubbish from the side, you see nothing but a pile of old stuff, but if you look at exactly the right angle, a portrait emerges. We found this to be an entertaining museum, and there are great views from the windows of the astronomical clock.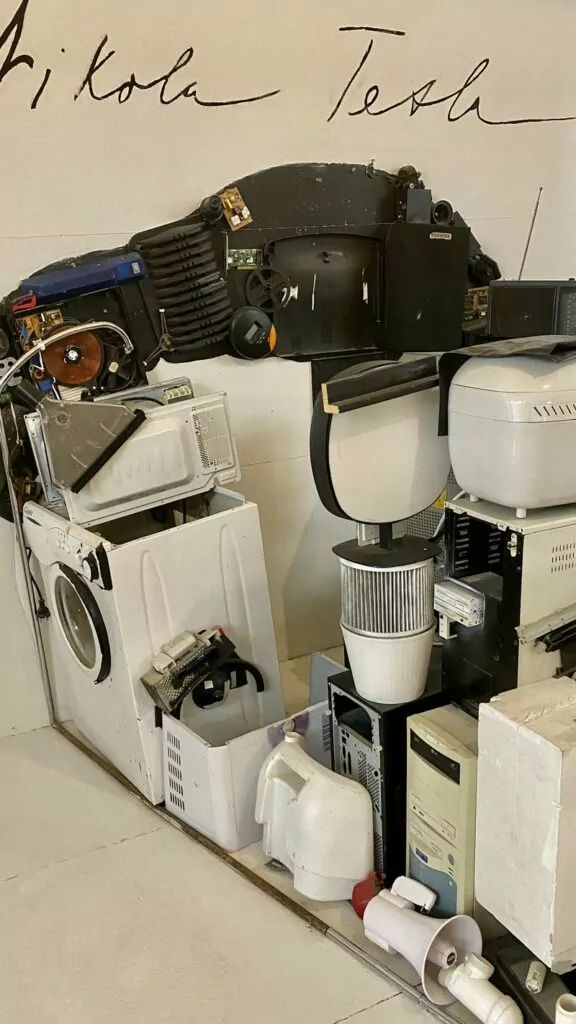 6. Venture into the sex toy museum
Near the town hall is also the Sex Toy Museum, or "Sex Machines Museum" as it is called in English. This is a museum for those interested in sex toys from different cultures and eras, and you can end your visit with a black and white porn film from the 1920s.
This museum is not for the shy, but apparently quite popular in the evening. Note that our photos are from the nicer parts of the museum... The dildos you see, by the way, are handcrafted in Czech glassworks.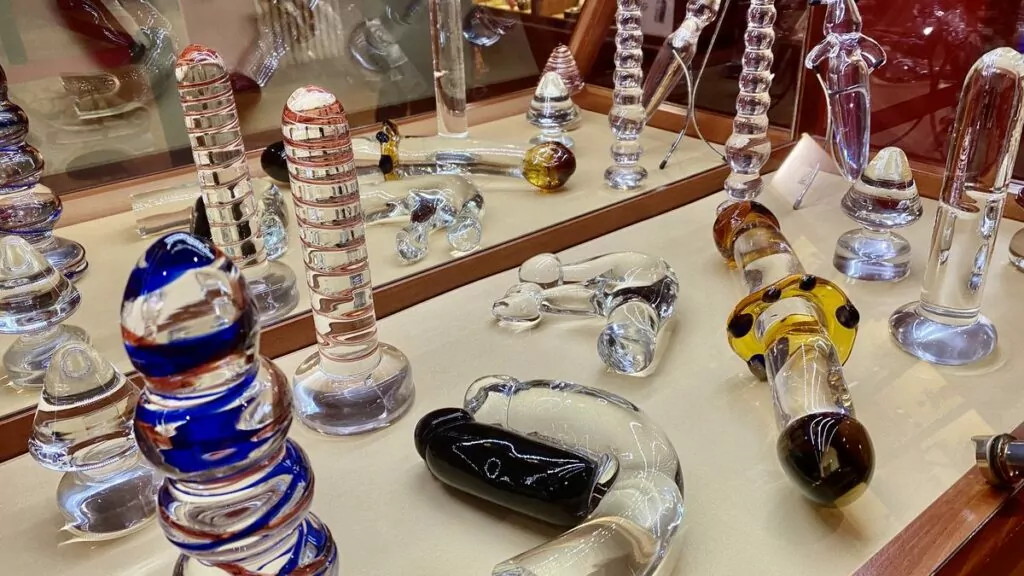 7. Discover Prague Castle and St Vitus Cathedral
The famous Prague Castle (Pražský hrad) is a fortified castle located on a hill above the Vltava River. Construction of the castle began in 870 and was expanded over the years. It was (and is!) the seat of the Kings of Bohemia, the Holy Roman Emperors and the Presidents of Czechoslovakia and the Czech Republic.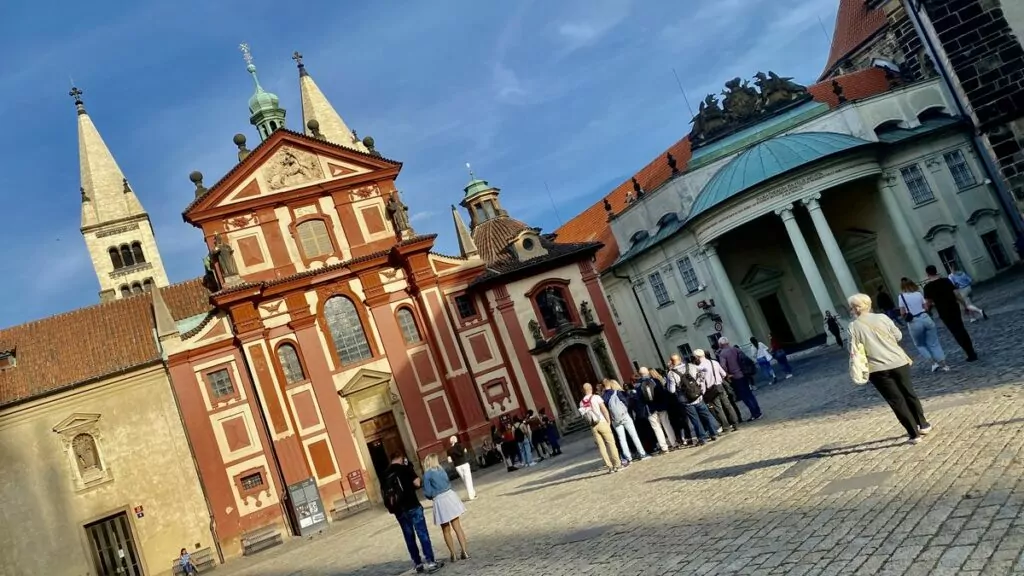 The castle is impressive in its size and is one of the largest castles in the world. Inside the grounds, you will find a variety of buildings, including churches, palaces, monasteries and museums. These include the Royal Summer Palace and its gardens, and the charming Golden Street (Zlatá ulička) where artisans and alchemists once lived. One of the most famous residents in recent years was Franz Kafka, who lived for a time in house number 22.
The best way to take in the whole area is to buy a combination ticket and set aside at least two hours for the visit. It's also nice to stroll around the outside of the wall, which offers great views of the city.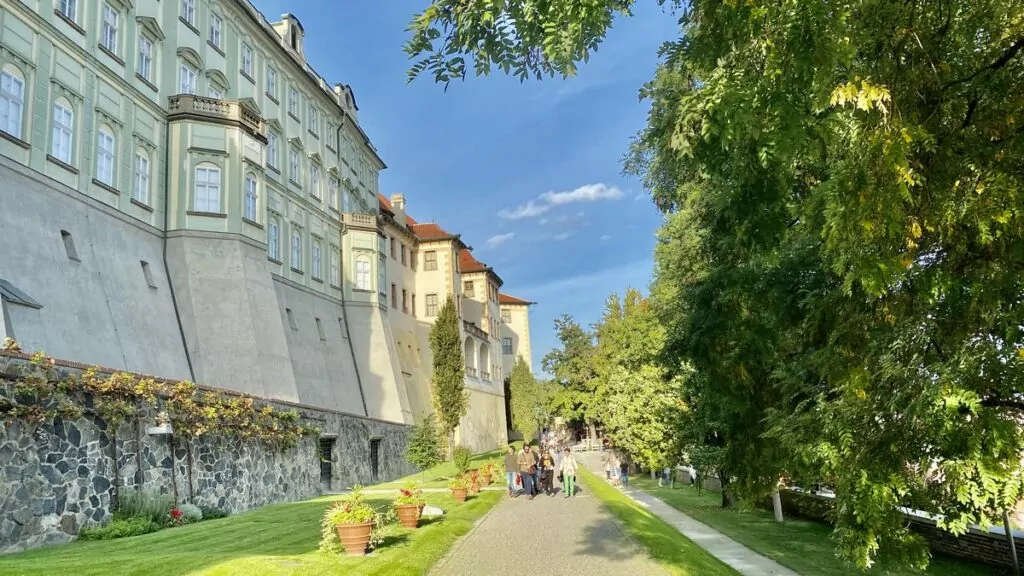 The 97 metre high St. Vitus Cathedral is Prague's cathedral and one of the most magnificent buildings in the castle area. The cathedral is 124 metres long, 60 metres wide and the main tower is 96.5 metres high. The cathedral was founded around 930, and has been rebuilt several times since then.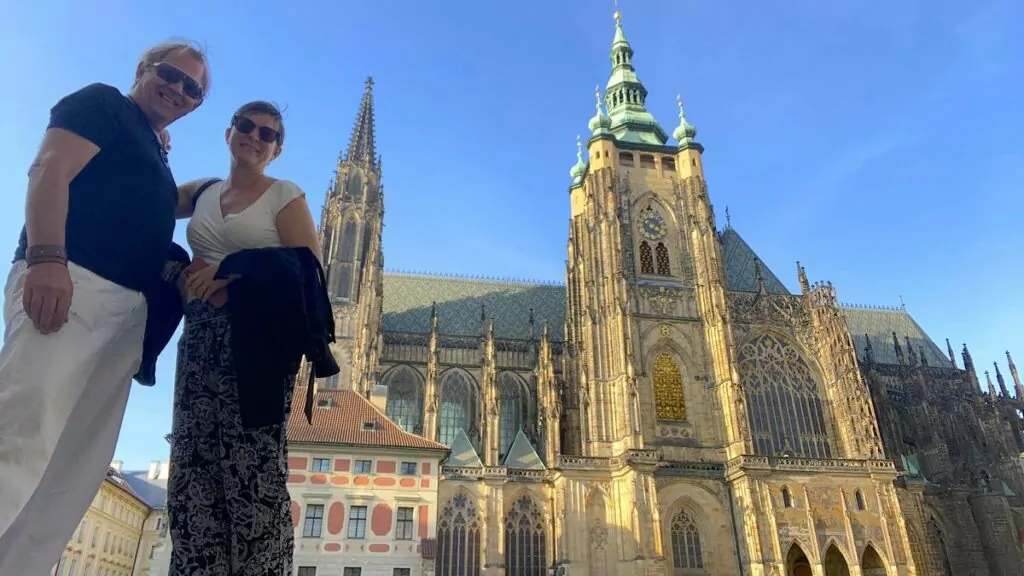 The interior of the cathedral can be visited free of charge.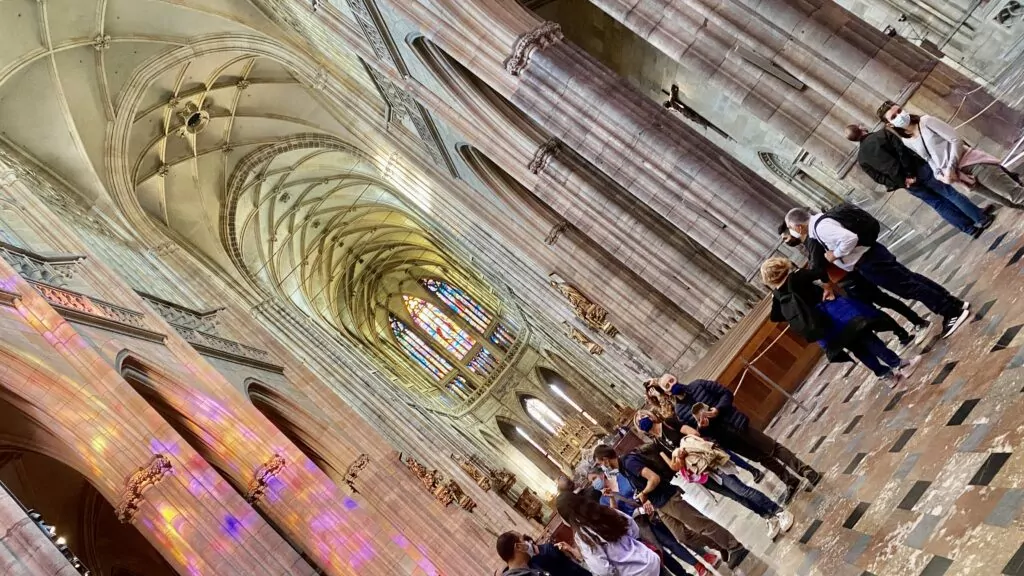 8. Peek into the amazing libraries at Strahov's Monastery
Strahov's Monastery in Prague (Strahovský klášter) was founded in 1140 and comprises a large area with several different buildings. These include a church and a large collection of Gothic art from Central Europe. There are also two extremely beautiful libraries - the Theological Hall and the Philosophical Hall.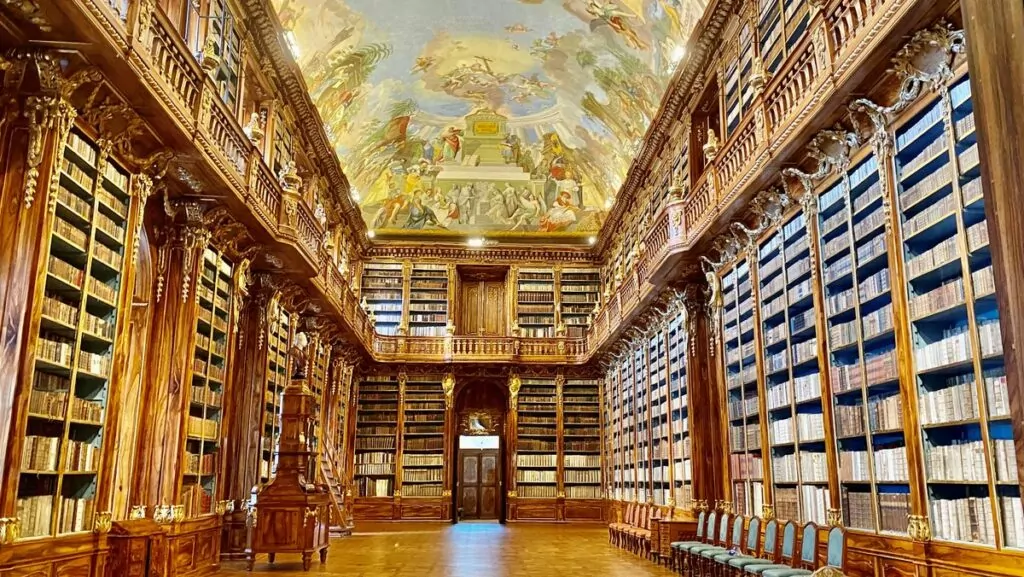 As a tourist, you can choose to pay to see only the libraries, or to see both the libraries and the picture gallery. Please note that you are not allowed to walk around the libraries, but only look in from one side.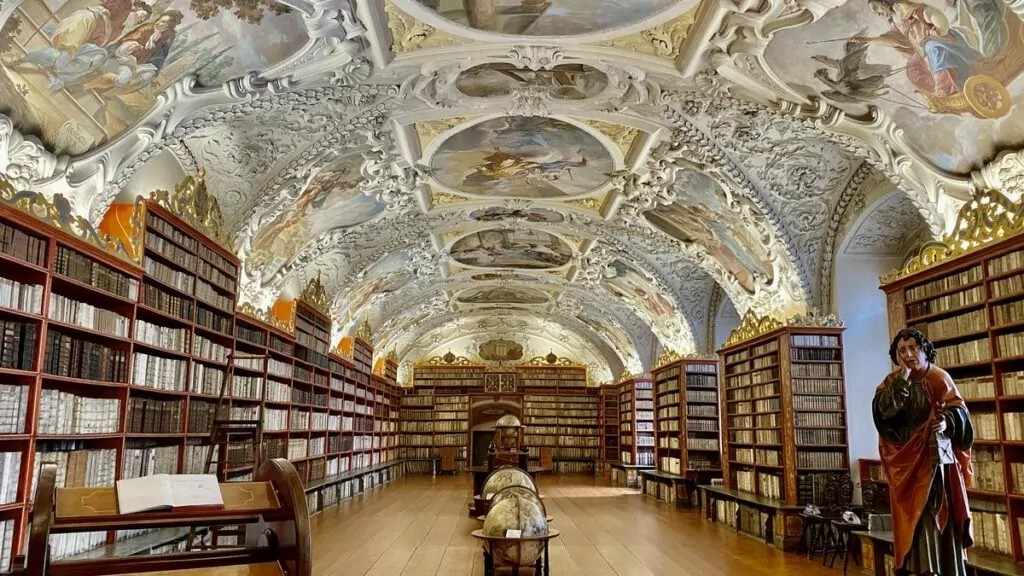 9. Strosa on the Small Side (Malá Strana)
Malá Strana is a neighbourhood in Prague known as Lillsidan or Lilla sidan, and in English as Lesser Town. The neighbourhood is located below Prague Castle and Petrine Hill and continues down to the Vltava River. This part of the city is known for its beautiful buildings, fine old churches and charming neighbourhoods. There are plenty of restaurants, bars and cafés and you'll also find several museums.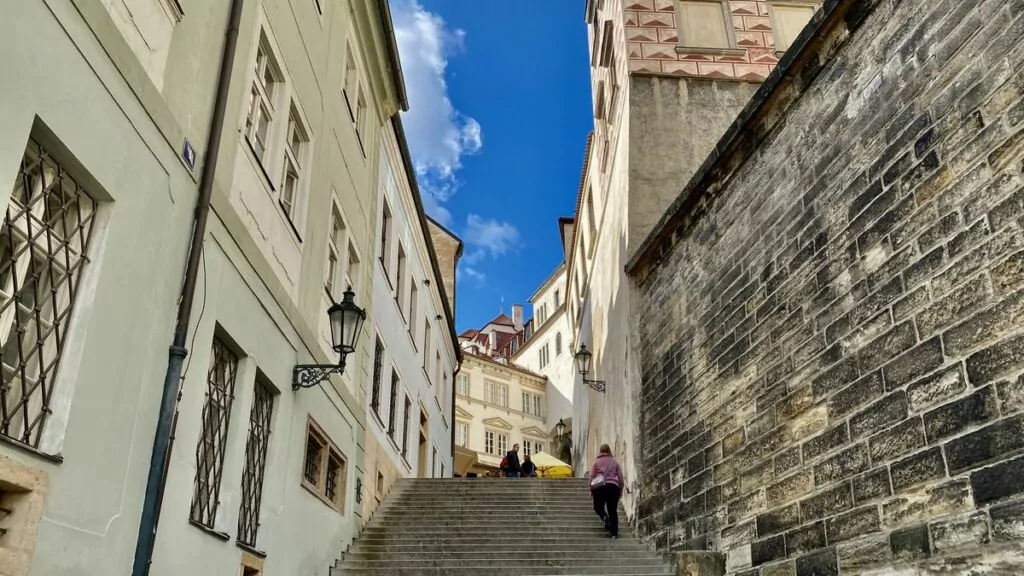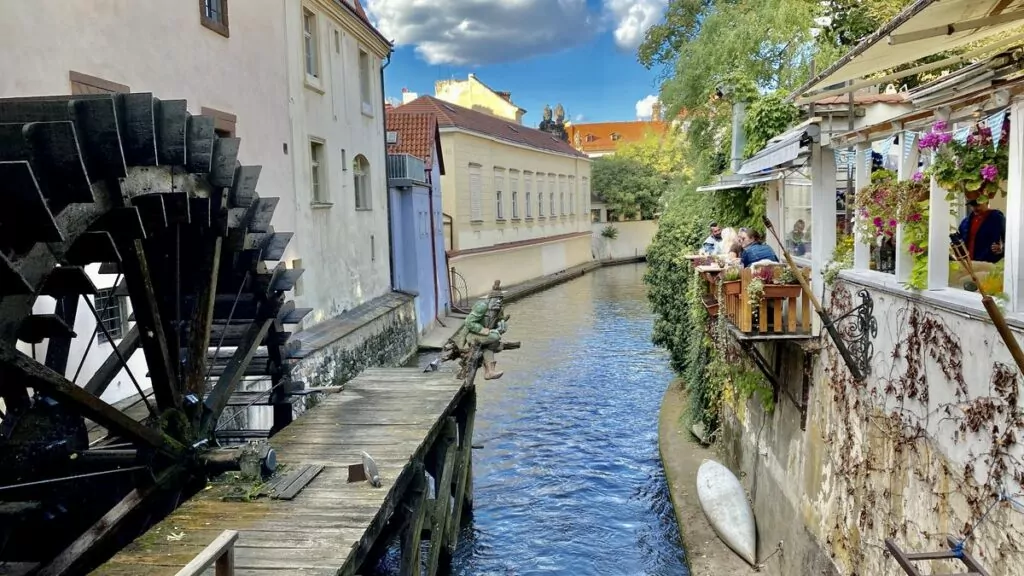 10. Exhale in the "secret" garden Vrtba Garden
If you get tired of the city's hectic pace, look for one of the many quiet parks. Our favourite was Vrtba Garden, located at Karmelitská 25 in Malá Strana. You have to pay an entrance fee to get in here, but the park is really nice, albeit not very big. It's built on several levels, and when you get to the top you have a great view of Prague.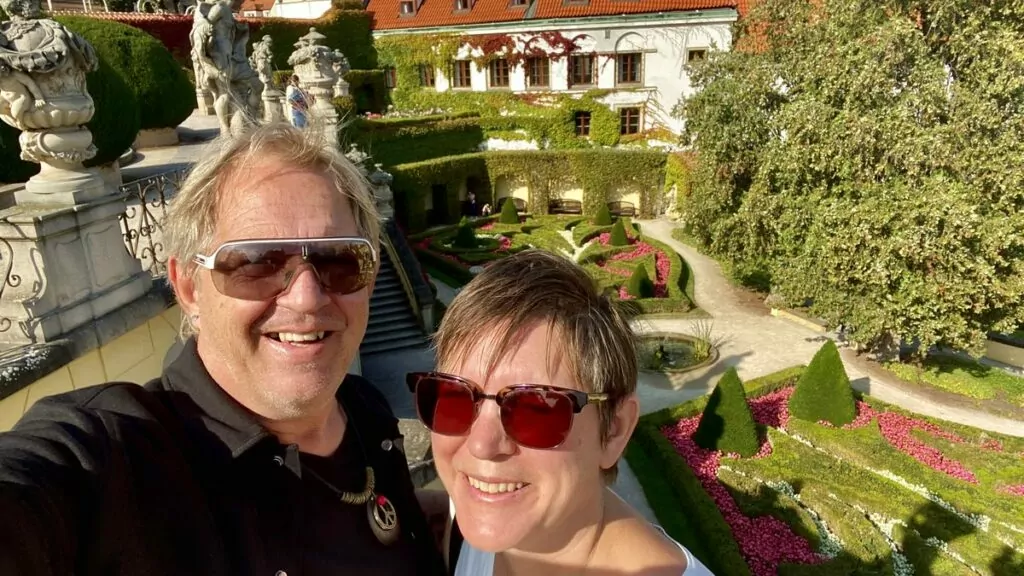 11. Photograph yourself at the John Lennon wall
The John Lennon Wall in Prague is a relatively modern attraction. When John Lennon was murdered in 1980, the wall began to be filled with paintings and quotes from the music of John Lennon and the Beatles. The wall is constantly changing as new graffiti is added, so even if you see it once, it will be different the next time you visit. The wall can be found at Velkopřevorské náměstí square in the Malá Strana neighbourhood.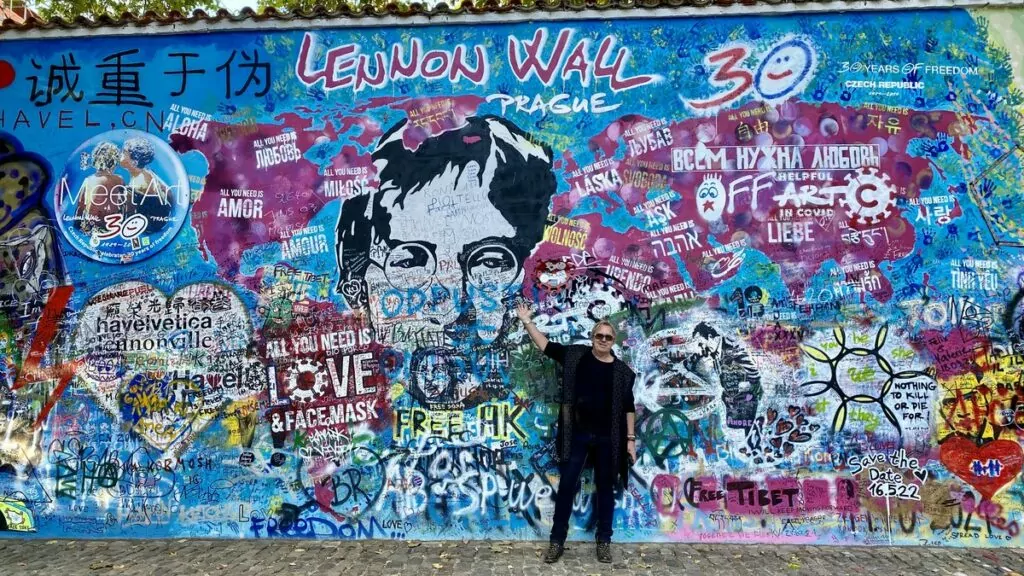 12. Visit the Kafka Museum
Author Franz Kafka (3 July 1883 - 3 June 1924) is considered one of the great writers of the 20th century. His novels 'The Trial', 'The Castle', and 'America/The Disappeared' were published by his best friend Max Brods against Kafka's wishes after his death. The short novel "The Transformation" has been called the best short story in world literature and is famous for its opening sentence: "When Gregor Samsa awoke one morning from his troubled dreams, he found himself lying in bed transformed into a giant insect".
The Franz Kafka Museum in Prague is perhaps one of the city's most famous museums. This is a very aesthetic museum that draws you into a twisted and dark world of Kafka. However, we felt that you may need to have a fairly good knowledge of Kafka before the visit, in order to be able to absorb the museum in the best possible way.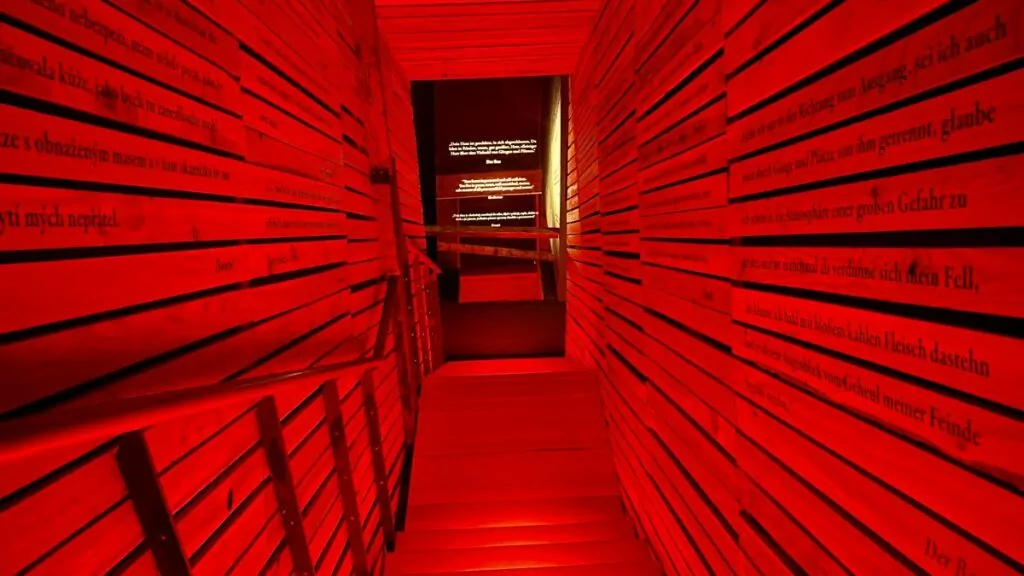 13. Passing through Prague's narrowest street
Prague's narrowest street is called U Lužického semináře and is found in the Malá Strana neighbourhood. The street consists of a narrow staircase sandwiched between two buildings, with traffic lights at both ends for pedestrians.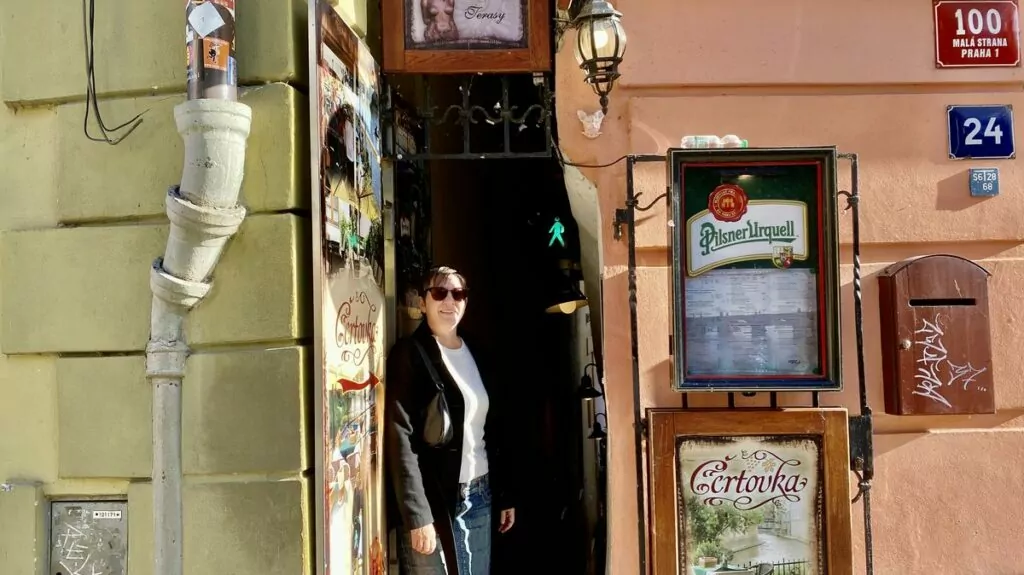 14. Be impressed by the Church of St Nicholas in Malá Strana.
If you like beautiful churches and classical art, you should visit the Church of St Nicholas (Kostel svatého Mikuláše) in the Malá Strana neighbourhood. This is the most famous baroque church in Prague and the decorations and paintings in the church are amazing.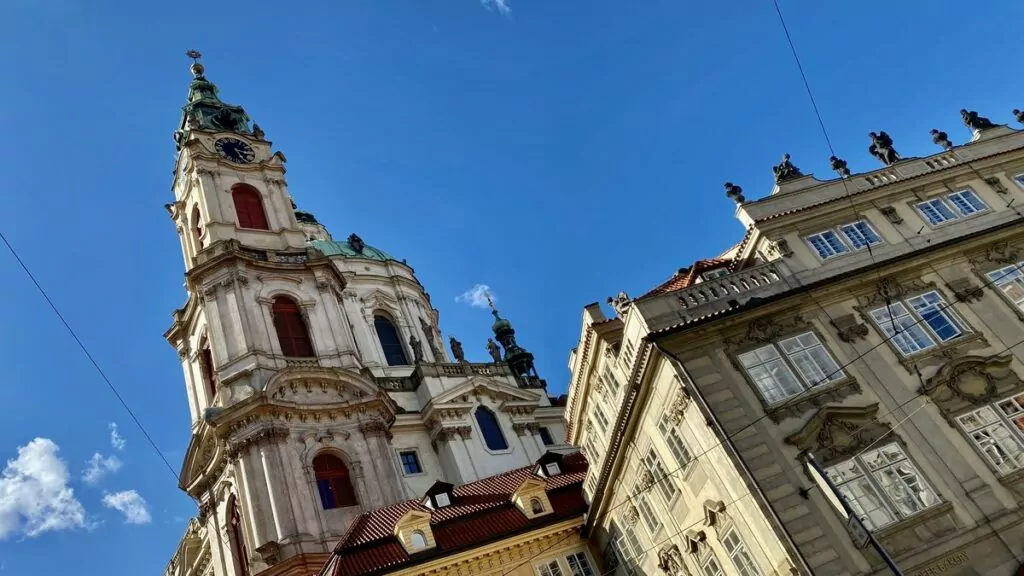 To clear up some confusion, there is another church in Prague called St Nicholas Church, located in the Old Town Square (Staré Město). This church was not open when we were here.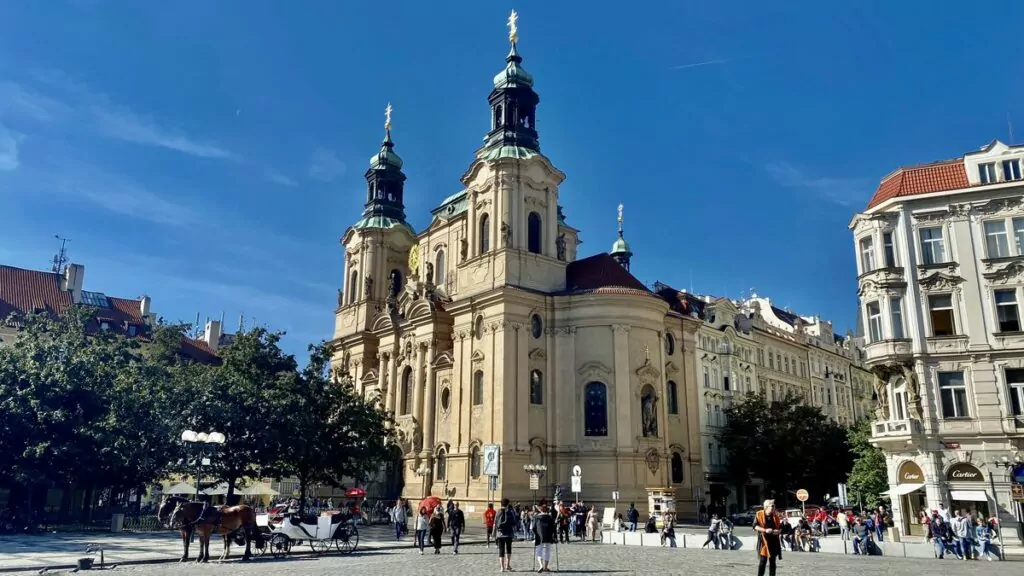 15. Take a lovely boat trip on the Vltava River
Taking a boat ride on the Vltava River is a great thing to do in Prague that you won't want to miss. There are lots of different boat trips to choose from. You can choose to cruise in a small boat or a larger vessel. Perhaps a lunch cruise, a dinner cruise or a jazz cruise will suit you. Or why not hire a kayak or pedal boat?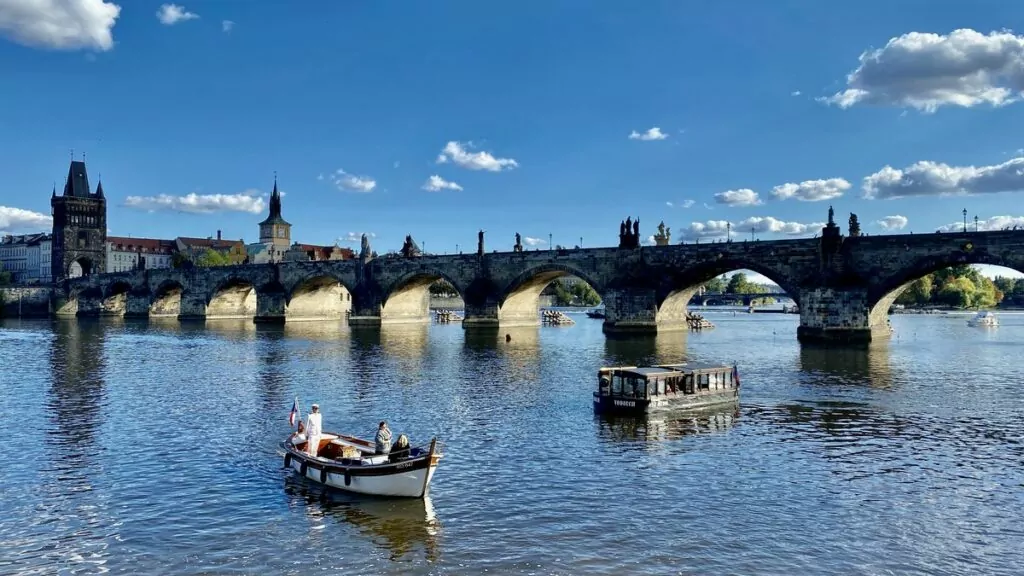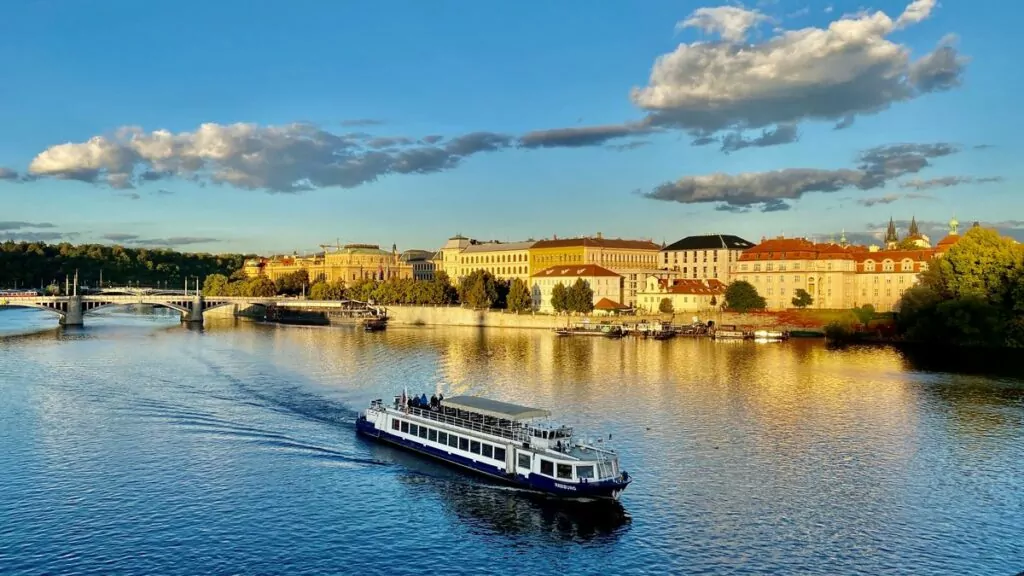 16. Take a guided tour of the Klementinum and its library.
The Klementinum is a large historical complex located in the neighbourhood of the Charles Bridge. In fact, this building complex is so large that it is one of the largest in Europe. The Klementinum also has a long and rich history and is an important place of culture and knowledge.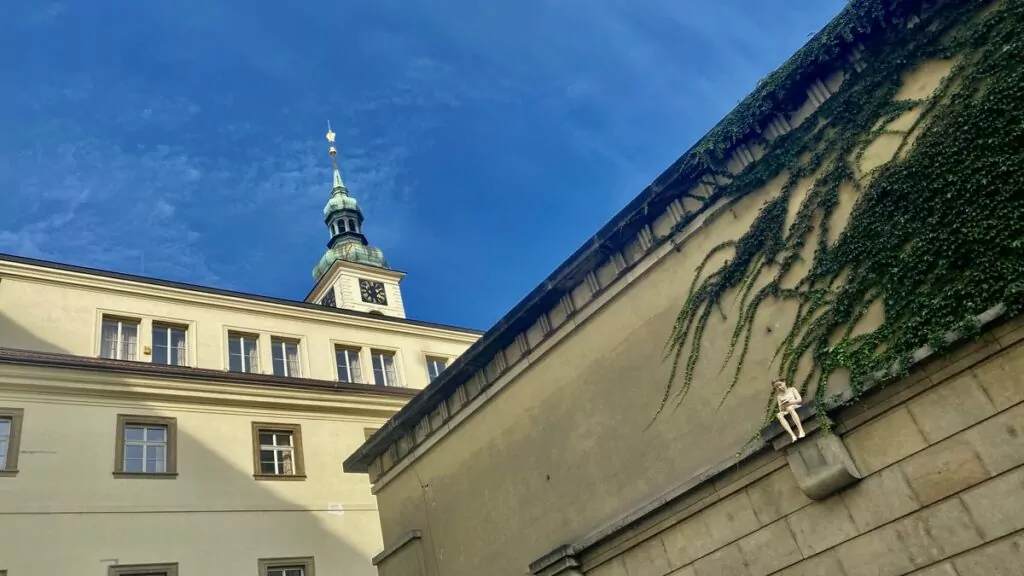 You can take a guided tour that takes you to the beautiful baroque library, and then to the 68-metre-high Astronomical Tower, which offers great views of Prague's historic centre. The Clementine Library is stunningly beautiful and well worth seeing, even if you can't go inside, but only peek in from one of the short sides.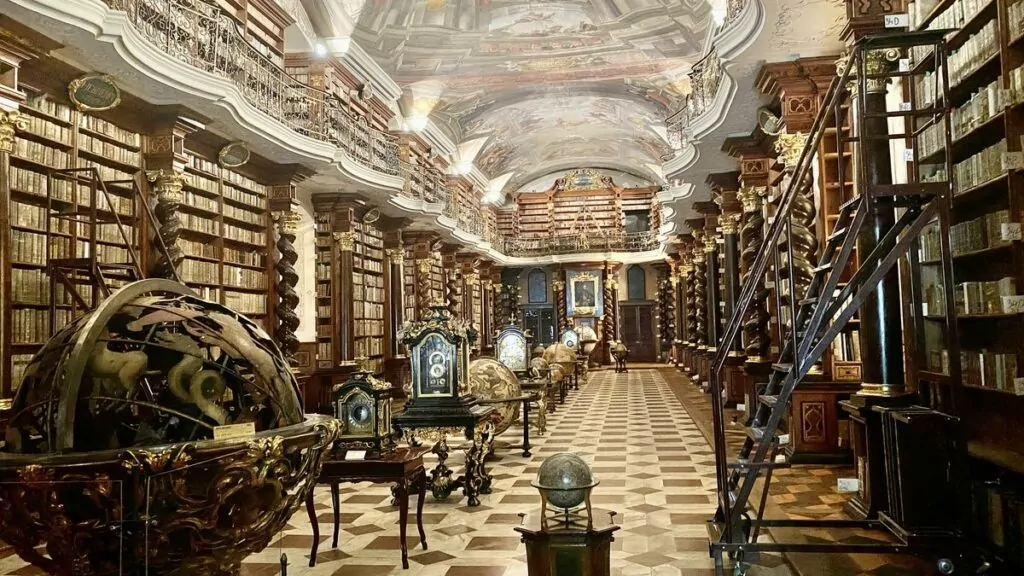 17. Climb to the top of the Powder Gate
The Gunpowder Gate from 1475 is one of 13 gates into old Prague. If you buy a ticket (or use the Prague Card for free entry), you can go up the tower. On the way there is an exhibition of all the original towers.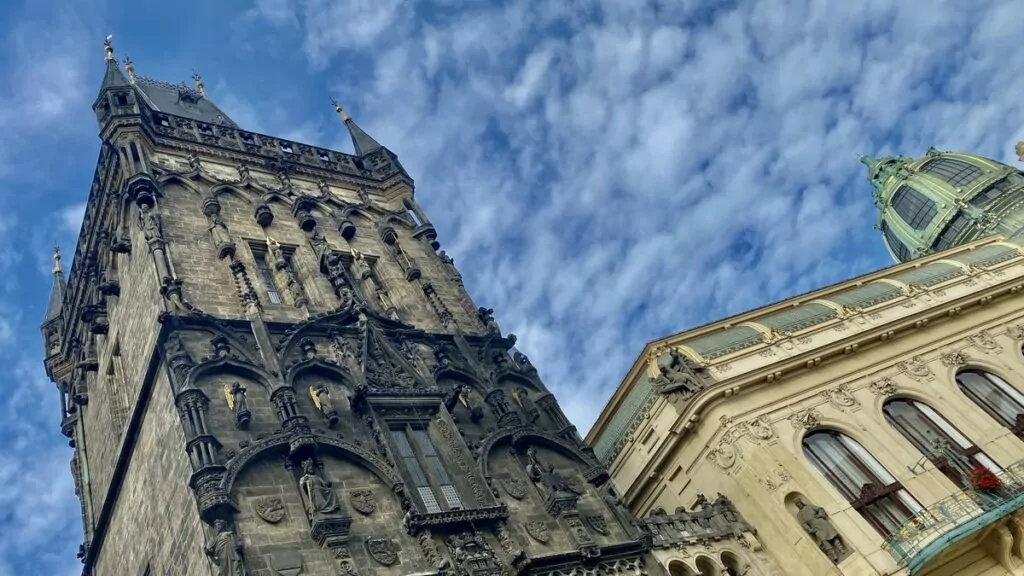 There are a total of 186 steps to climb to reach the top. Once you reach the top, you'll have a great view of the city. Looking for even more towers? In addition to the towers at Charles Bridge and Rådhustornet, you can also climb Henry's Tower.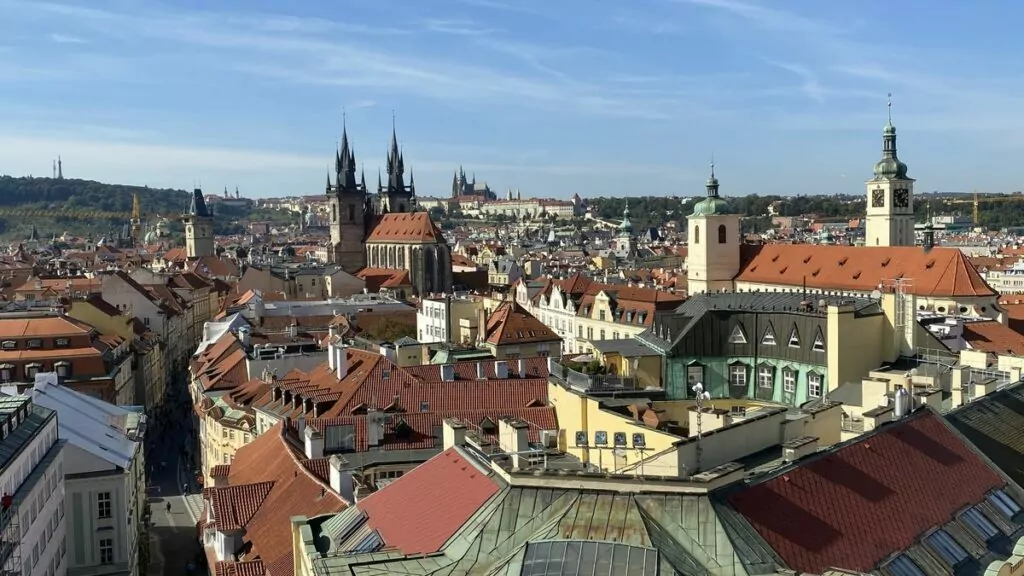 18. Losing your footing at the Museum of Senses
The Museum of Senses offers experiences that surprise the senses, such as optical illusions. You can try to change your appearance using different mirrors or step into rooms that slant or spin around you. As an adult, it didn't feel very new, but with children of an appropriate age it could be fun. The museum is located at Jindřišská 939/20 in Nové Město.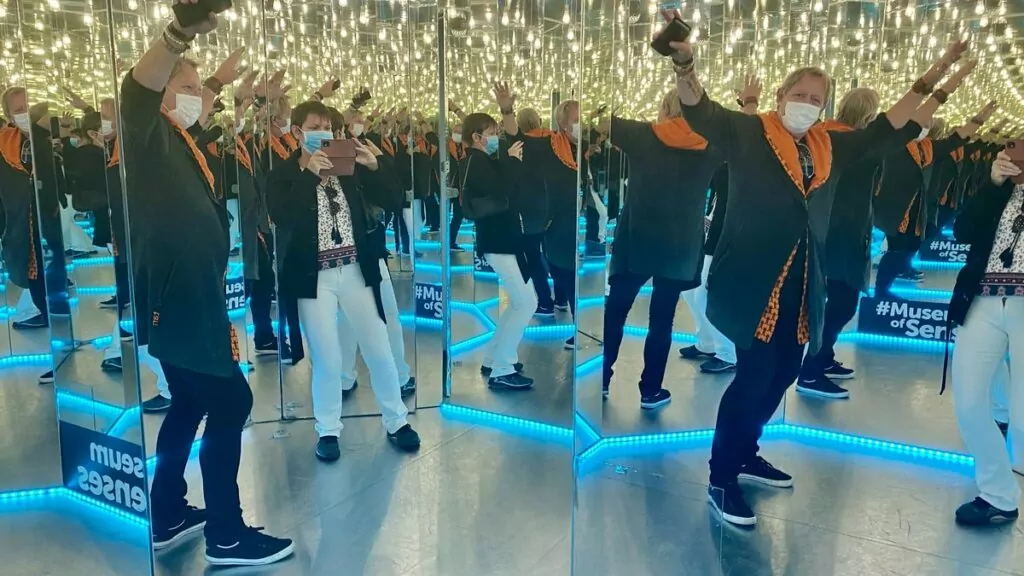 19. Visit Wenceslas Square and the National Museum
Wenceslas Square (Václavské náměstí) is a square that resembles a boulevard in the Nové Město neighbourhood of Prague. It was at this location that the student Jan Palach set himself on fire in 1969 in protest against the Soviet invasion, leading to his death a few days later.
It was also here that a violent demonstration in 1989 finally led to the Velvet Revolution and the fall of communism. Wenceslas Square is also home to the magnificent National Museum (Národní Muzeum).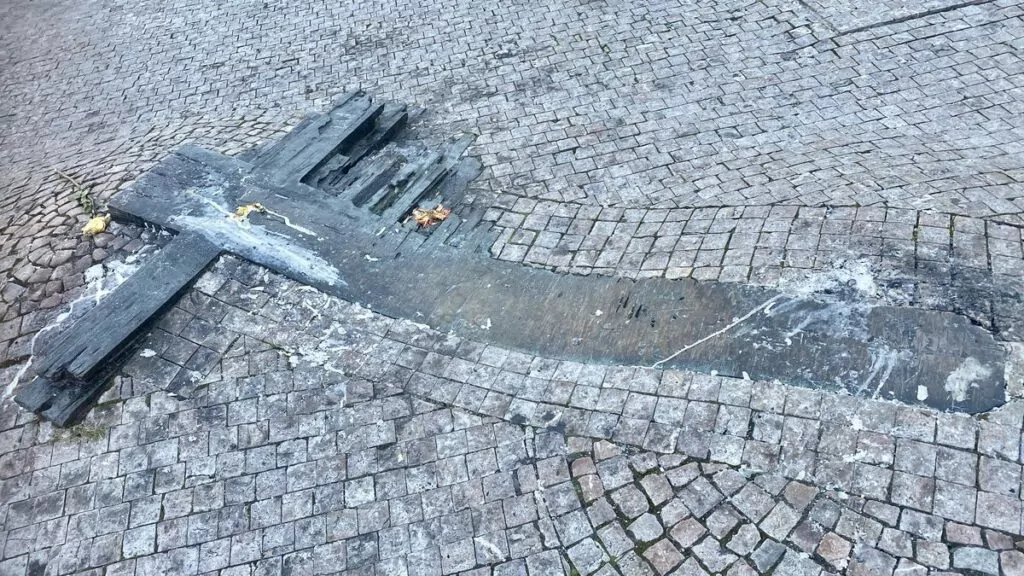 The National Museum is a magnificent museum that primarily promotes science, culture, art and history. Just walking around the beautiful building is worth the price of admission.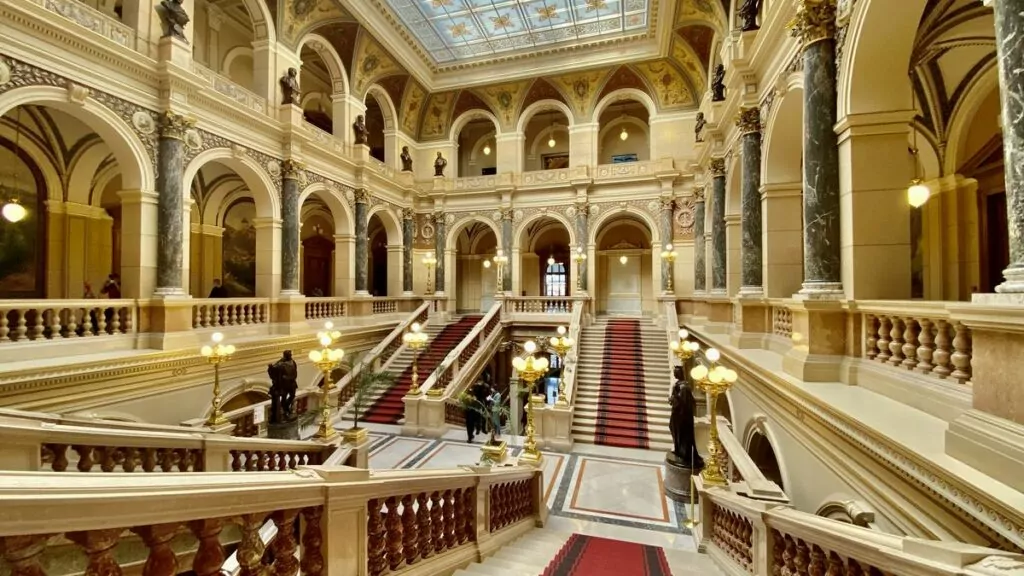 We took a look at some of the exhibitions and were particularly struck by the one on evolution. Fascinating and beautiful!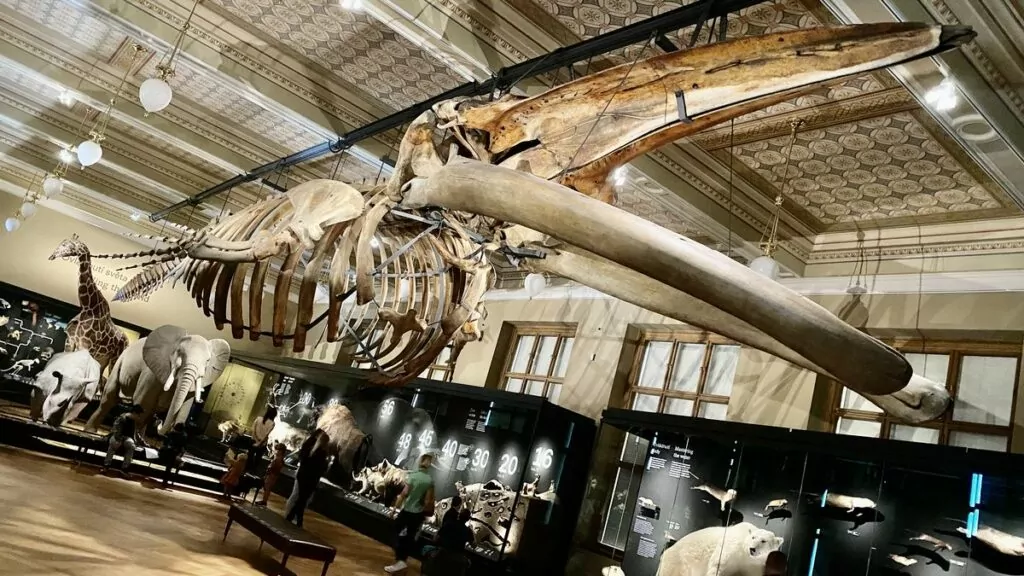 20. Join a guided tour of the State Opera House.
Prague's operas and theatres are often fantastic buildings with a long history, and many of them offer guided tours. We booked a guided tour of the State Opera, located near Wenceslas Square. First opened in 1888, with an opera by Richard Wagner, this opera house has for some time operated as an independent theatre and is now part of the National Theatre (Národní Divadlo).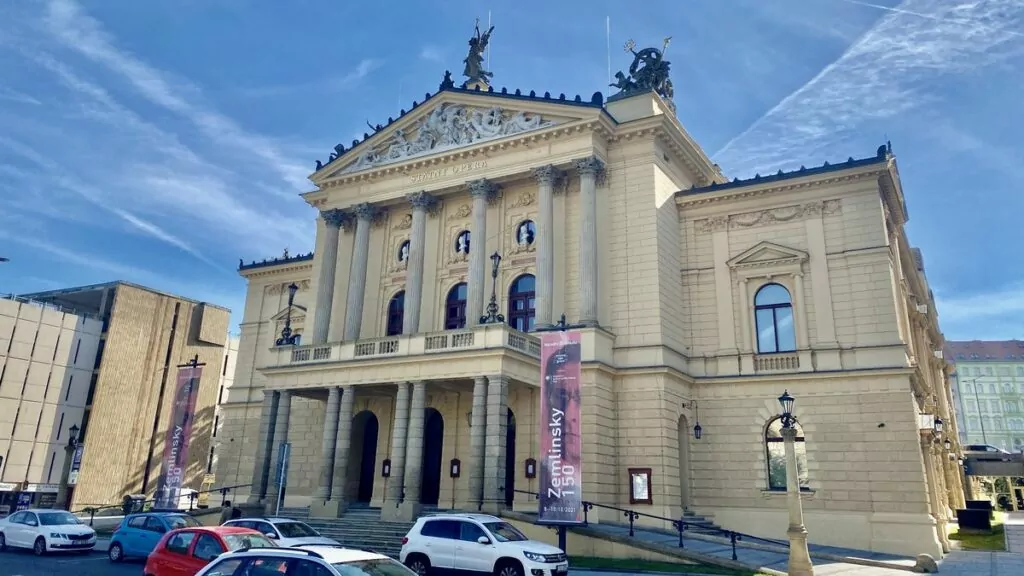 21. go to the theatre or opera
There are a huge number of theatres and operas in Prague and the choice for those who want to see a performance is vast. National Theatre (Národní Divadlo) is perhaps the most famous and was built in 1868-1881 to provide the Czech nation with a stage where theatre was also performed in Czech, not just German. Today, several theatres are part of the same organisation, so you can buy tickets for many of the city's theatres here.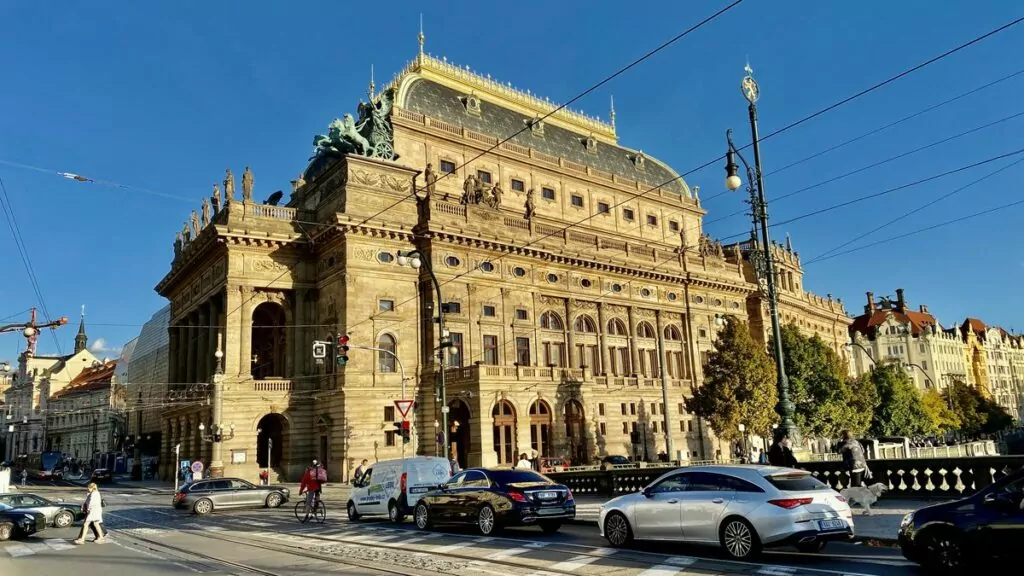 Another theatre is The Estates Theatre (not to be confused with the State Theatre) which was built in 1781-1783 and is part of the National Theatre. The theatre presents ballet, opera and drama, with a special focus on Wolfgang Amadeus Mozart.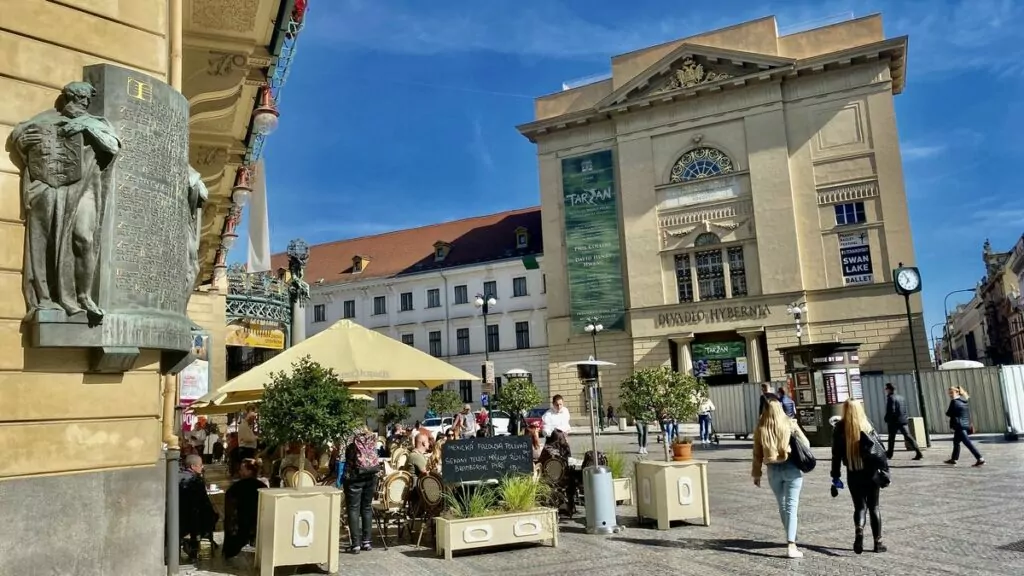 Right next to the National Theatre is The New Stage / Magic lantern, which has a completely different and much more modern design. Among other things, it hosts performances that combine acting with film elements.
Additional theatre experiences include Black Light Theatre, a special kind of Czech theatre without talking, but with light shows. Puppet theatre is also a traditional form of theatre that is usually performed.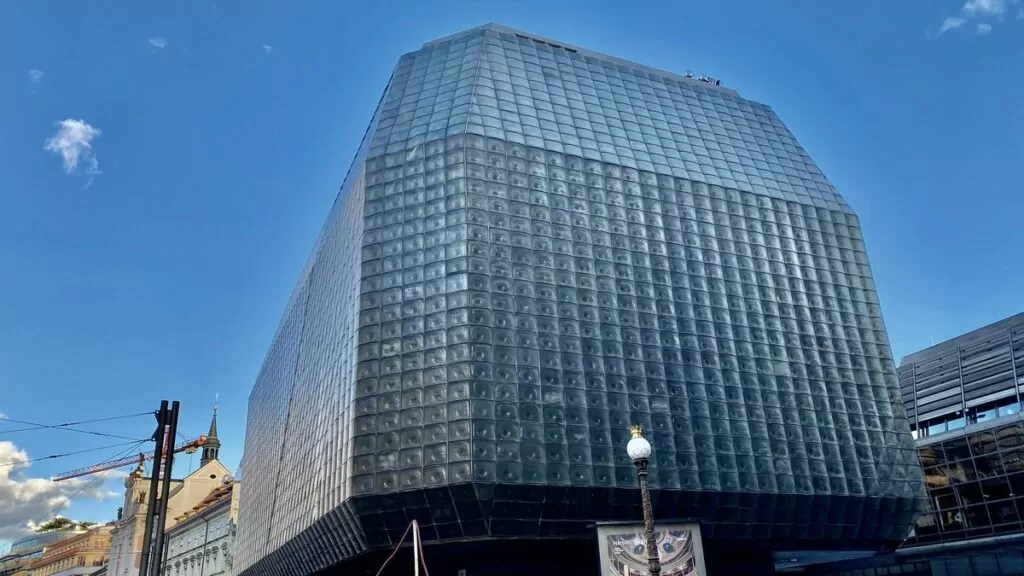 22. Check out the dancing house
The Dancing House (Tančící dům) is known for its very special and quirky architecture. Completed in 1996, it was designed by Yugoslavian-born Czech Vlado Milunić together with Frank Gehry. Originally named 'Fred and Ginger' after the famous dancers Fred Astaire and Ginger Rogers, the building is now simply called the Dancing House.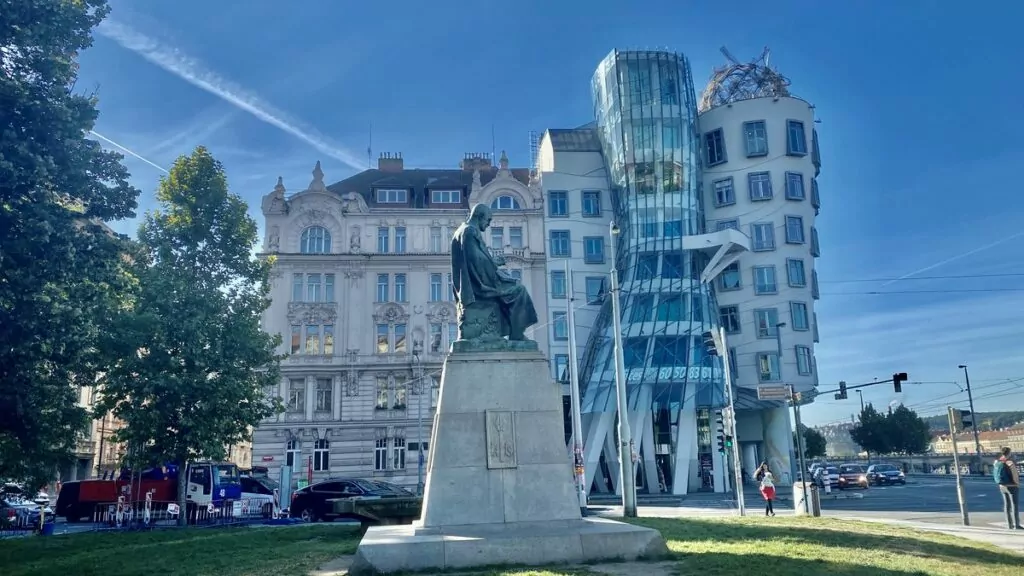 23. Learn about the history of the Church of St Cyril and St Methodius.
The church of St Cyril and St Methodius has a dramatic history, and in the wall there is a small memorial to the event, along with several bullet holes. The crypt also houses a small museum.
Following an attack on the Nazi Reichsprotector of Bohemia and Moravia, Reinhard Heydrich, on 27 May 1942, the attackers hid in the church crypt. The Gestapo searched for a long time without success, but finally, on 16 June 1942, the traitor Karel Čurda revealed several hiding places for a reward of 1 million Reichsmarks. In addition, one family was forced, after torture, to give up further hiding places.
On 18 June, the Gestapo besieged the church with 700 soldiers, and all seven attackers died. Traitor Karel Čurda had been given a new identity by the Germans, but was tracked down and hanged after the war for treason.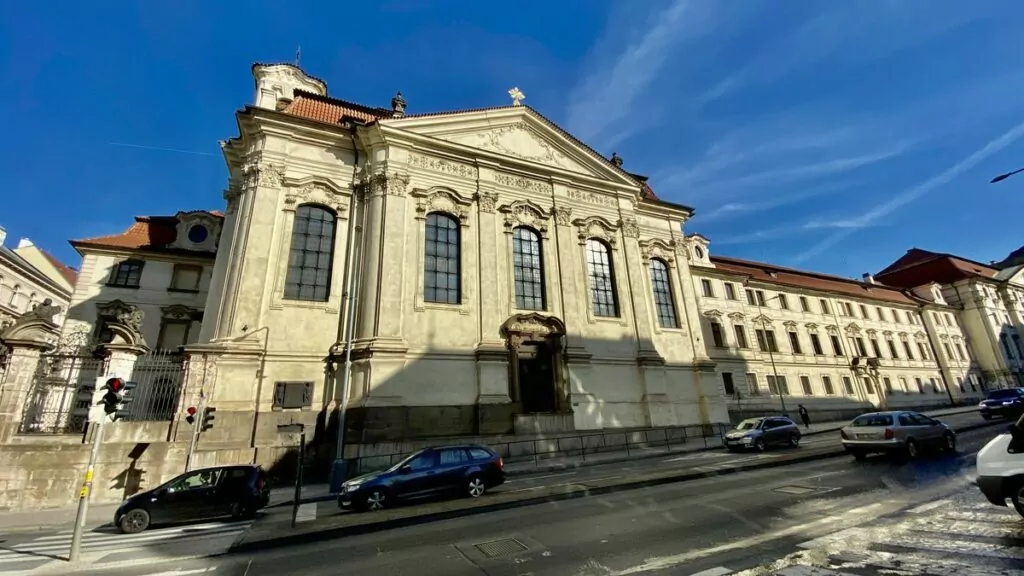 24. Have dinner in the Žižkov TV Tower
Looking like something from outer space, the Žižkov TV tower is decorated with ten giant babies created by artist David Černý. 216 metres high, the tower offers a fantastic panoramic view of the city. Here you will find the exclusive Oblaca restaurant, but also the "One Room Hotel", a hotel with only one room at 68 metres above the ground.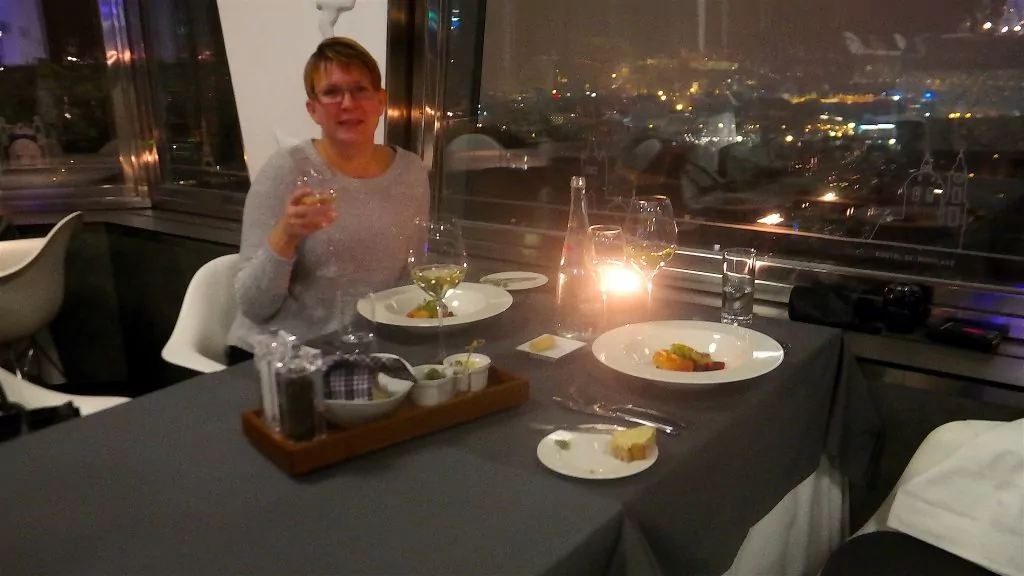 25. Enjoying a Czech beer at a beer hall
If you like beer, Prague (and the rest of the Czech Republic) is heaven. The beer is both tasty and very affordable, and there are local breweries everywhere. There are also plenty of classic beer halls, where people come to drink beer, talk about problems and maybe have a simple snack. Try Lokál, for example, which has grown into a small chain. You can find one of the restaurants at Dlouhá 33.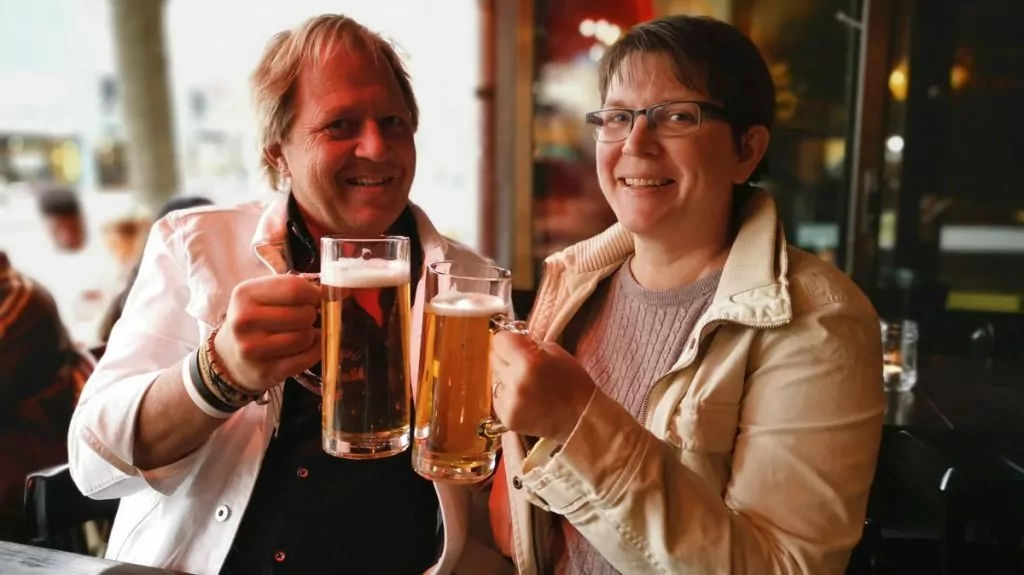 26. Try traditional Czech food
One thing you won't want to miss in Prague is trying traditional Czech home cooking. The Czech Republic eats a lot of meat, and it is common to serve the dish with dumplings or potatoes in some form.
Classic dishes include goulash, pork loin, beef, schnitzel, duck, fried cheese and halušky dumplings (which is actually the national dish of Slovakia). It is also common to eat different kinds of soups.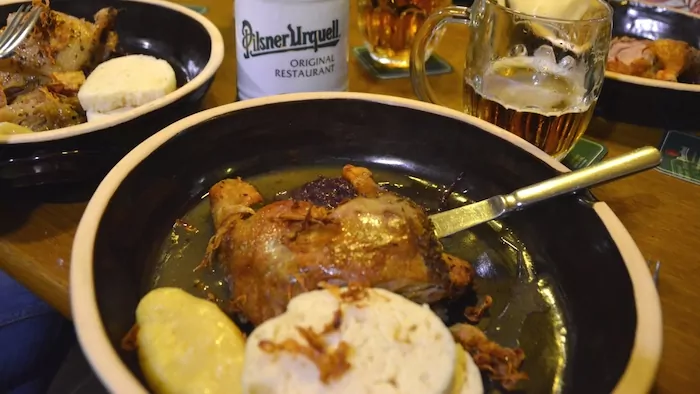 27. Relax in a beer spa
A slightly different thing to do in Prague is to visit a beer spa. In this way, you can enjoy the beer both externally and internally, although the beer you bathe in is usually an extract. After the bath you can rest for a while, still with a beer of course.
Bathing is believed to relieve everything from psoriasis and cellulite to stress, but whether you believe in the health benefits of beer or not, it's a relaxing experience.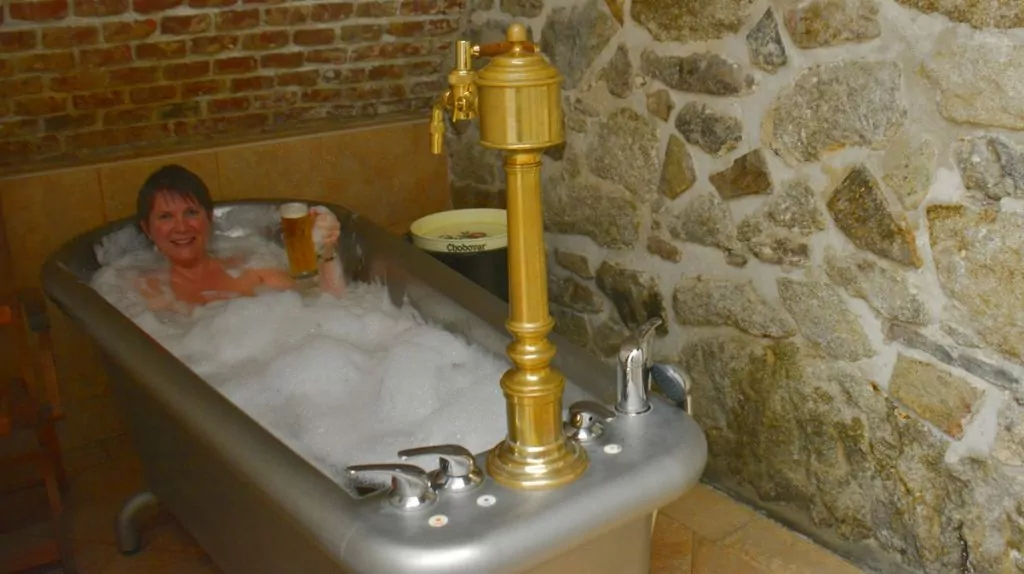 28. Munching on a trdelnik
Trdelnik or trdlo is a pastry that can also be called 'chimneycake'. The pastry is made by rolling dough around a rod and then grilling it. Traditionally, this pastry has been eaten in Slovakia and in the part of the Czech Republic called Moravia / Moravia. Today, the delicacy is served on every street corner in Prague to tourists, preferably together with ice cream, cream, berries, nuts or whatever you want. Tasty and very powerful!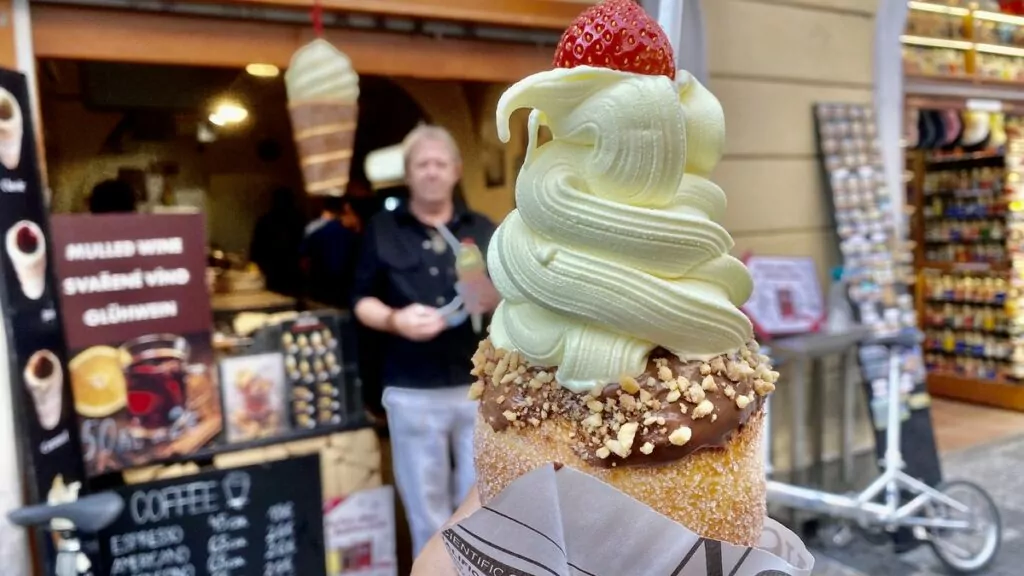 29. Join us on a food tour
A nice way to discover and learn more about food culture is to join a food tour. We followed the "Taste of Prague" to three restaurants in Prague and a wine cellar, over the course of four hours. Interesting, enjoyable and delicious!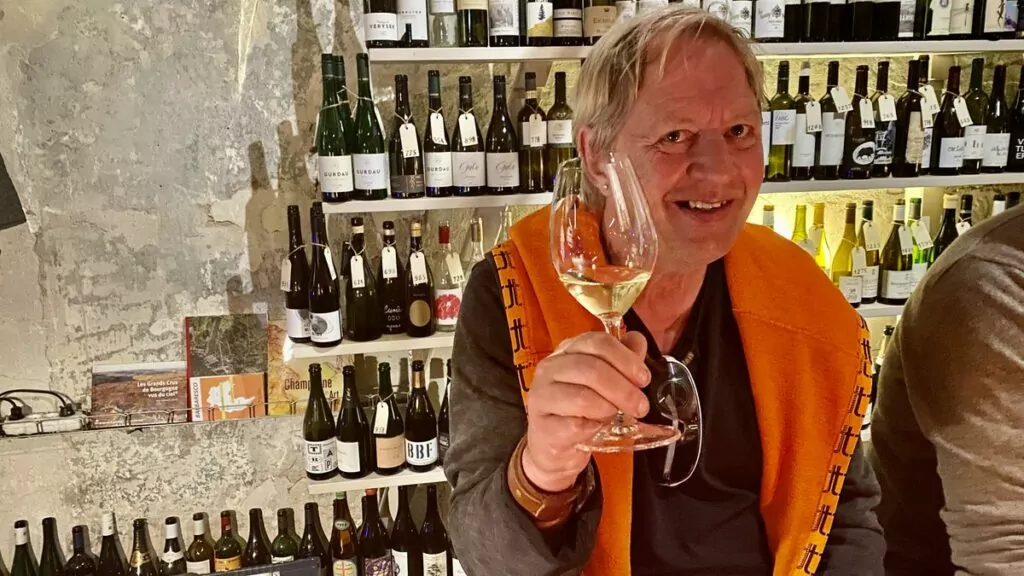 30. See art by David Černý
David Černý (born 1967) is a Czech sculptor whose work can be seen in several places in Prague. He is known for the giant crawling babies that can be seen on Kampa Island, for example. He is also the man behind the 'Piss' statue in front of the Kafka Museum.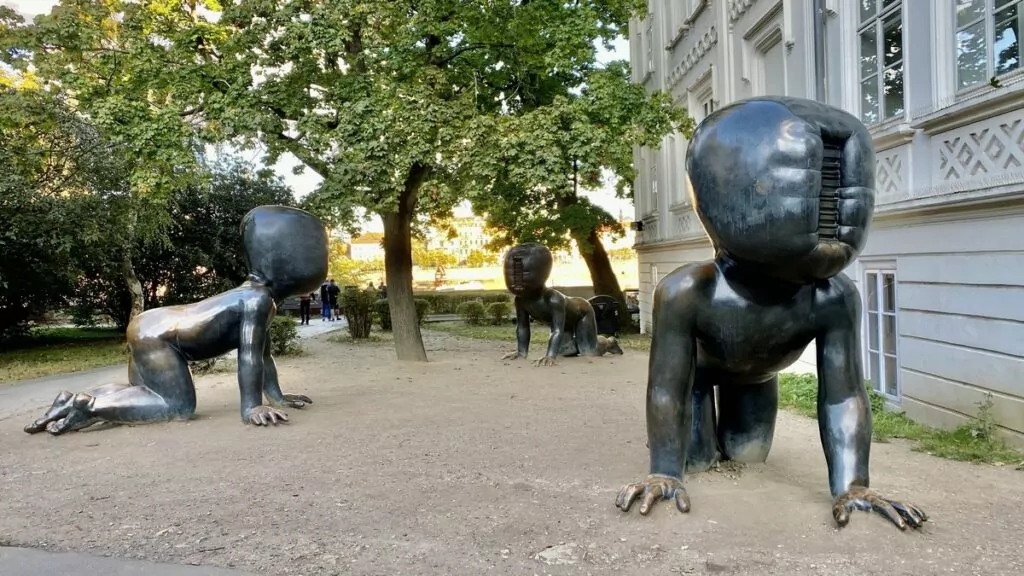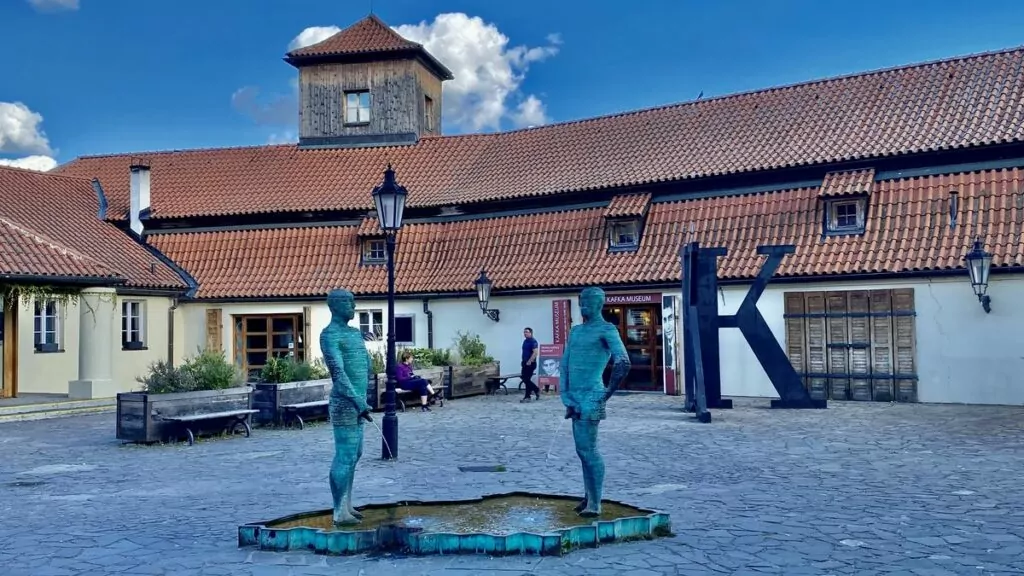 More things to do in Prague for history lovers
Of course, for history buffs, there's even more to do in Prague than our tips. Here are a few more suggestions:
Gammalnya Synagogue is the oldest synagogue in Europe, built around 1270. It was home to Rabbi Jehuda Löw ben Bezalel, known as the creator of the Golem (Červená, Josefov).
Jewish Quarter, Josefov, has a long history and houses the Jewish Cemetery and the Old New Synagogue.
KGB Museum tells the story of the communist era in the Czech Republic. (Vlašská 591/13, Malá Strana)
Museum of Alchemy (Speculum Alchemiae) on ancient science and mysticism. (Haštalská 1, Staré Město)
National Technical Museum is a museum on the history of technology. (Kostelní 1320/42)
Museum of Torture displays all kinds of torture tools and methods from the Middle Ages (Celetná 558, Staré Město).
Vyšehrad is a historic fortress in Prague (V Pevnosti 159/5b, Vyšehrad).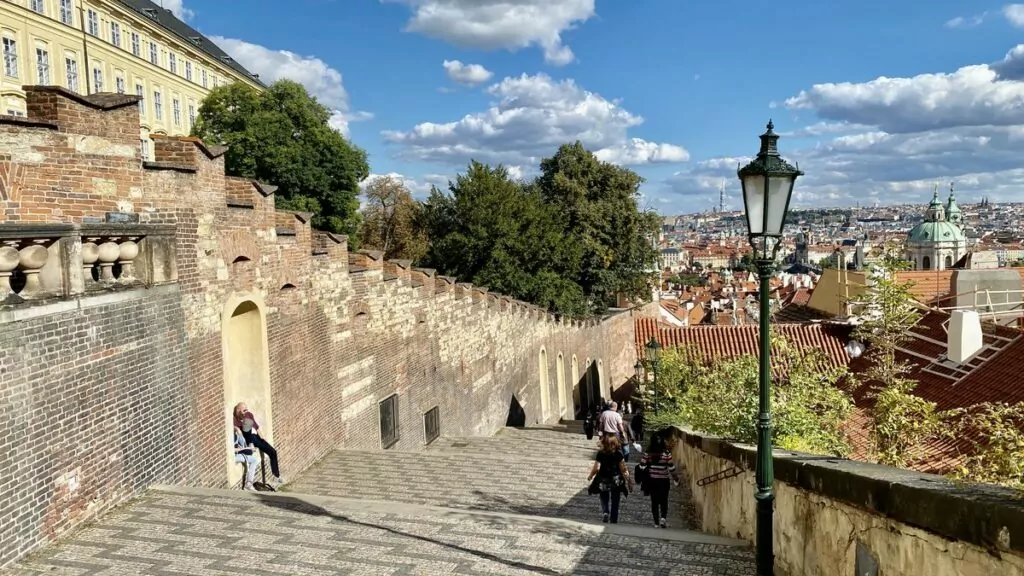 More things to do in Prague for culture lovers
There is also more to do in Prague for those interested in art, music and other cultural activities. Here are some tips:
Central Gallery is located in Týn Church and features works by Salvador Dalí, Andy Warhol and Alfons Mucha. (Staroměstské nám. 15, Staré Město)
Lucerna Palace is a beautiful 1920s Art Nouveau building with a cinema, bar, party room and more. (Štěpánská 61, Nové Město)
Puppet theatre Plays are usually performed at the National Puppet Theatre and several shops sell puppets.
Municipal House (People's House / Town Hall) is a beautiful house, which is shown during guided tours (Náměstí Republiky 5, Staré Město).
Museum Kampa is a museum of modern art. (U Sovových mlýnů 2, Malá Strana)
National Gallery in Prague is an art gallery with collections in several locations in the city.
Czech Music Museum is a museum of music history. (Karmelitská 2/4, Malá Strana)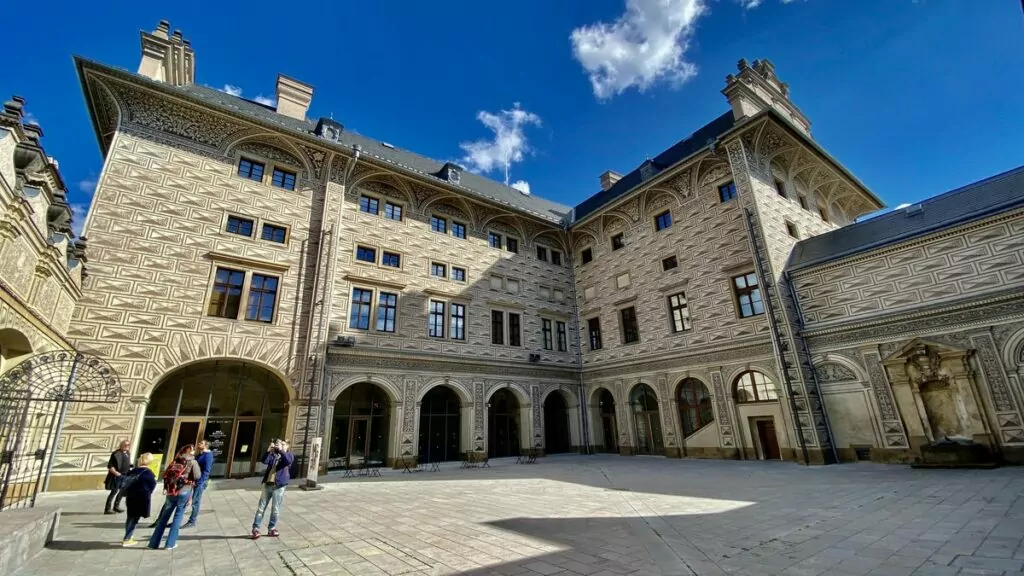 More things to do in Prague for food and shopping lovers
Do you like food and shopping? Then you will also find more to do in Prague. Here is a small list of additional tips:
Gingerbred Museum is a museum (and shop!) for all gingerbread lovers. (Nerudova 254/9, Malá Strana)
Glass from Crystal Valley in the north of the Czech Republic is a well-known and appreciated craft, which is sold in many places in the city.
Christmas market in Prague is recognised as one of the best in Europe. Read about our visit to the Christmas market a few years ago.
The market in Holešovice (The Prague Market) is a large market with food, clothes and other items. (Bubenské nábř. 306, Holešovice)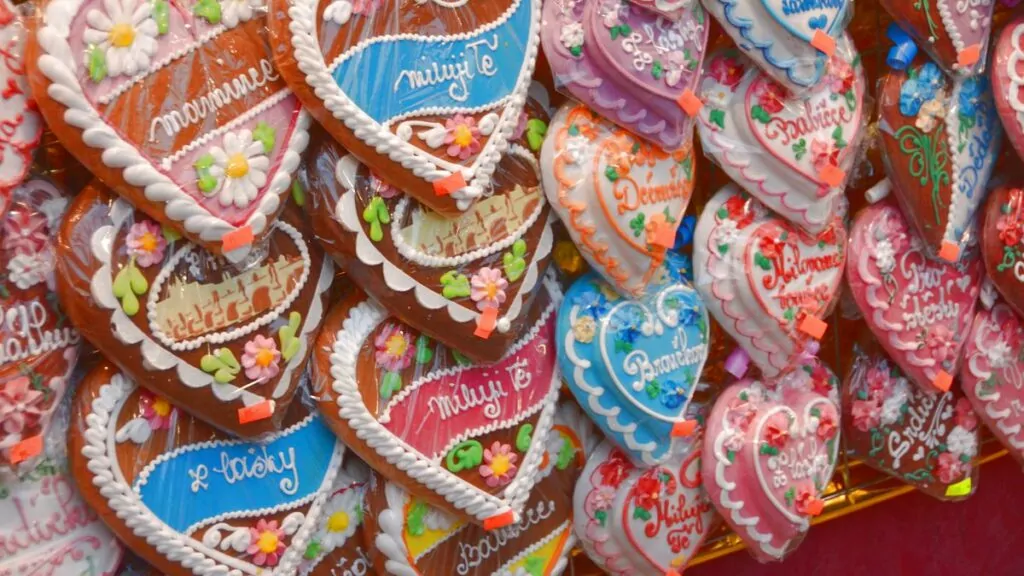 More things to do in Prague for nature and tranquillity lovers
Of course, if you're looking for 'real' nature, it's best to go outside the city, but even the centre of Prague can offer peaceful oases in various forms.
Havličkový Sady is a beautiful park inspired by the Italian Renaissance.
Petrine litter is an oasis in the centre of the city, with the Petrine Tower, the Mirror Maze and the Petrine Hill Gardens.
The Wallenstein Garden (Valdštejnská zahrada) is a baroque garden at the Wallenstein Palace in Prague.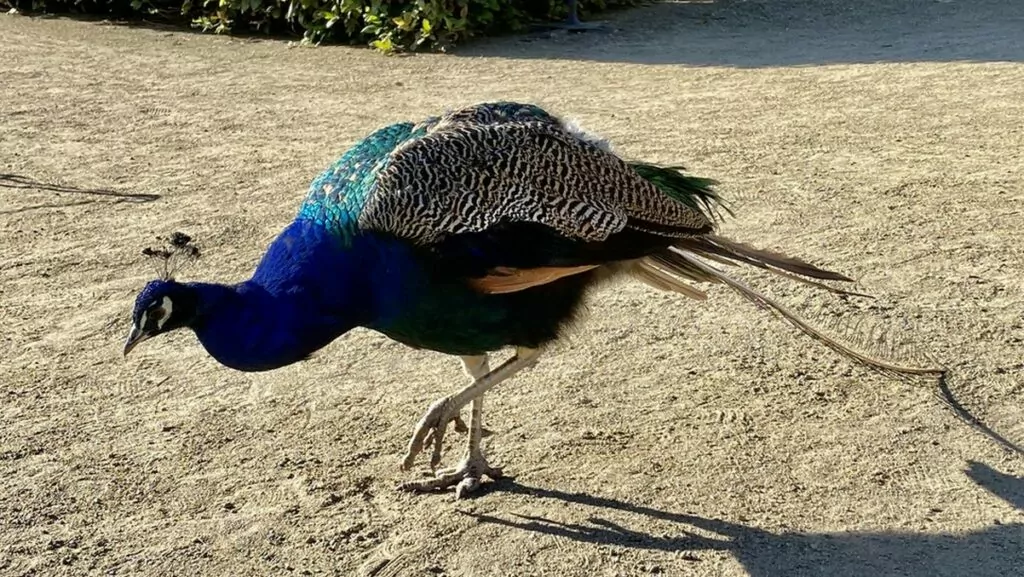 More things to do in Prague for travellers with children
For those travelling with children, we've also gathered a few more tips for things to do in Prague. Enjoy!
Mountain railway to Petrin Hill can be an adventure. On the hill, towers, mazes and gardens await.
Crocodile Zoo shows different kinds of alligators and crocodiles (Tusarova 1548/39, Holešovice).
Lego Museum is the largest in the world, with over 3000 models (Národní 31, Nové Město).
Gallery Of Steel Figures shows characters from films and cartoons (28. Října 377/13, Staré Město).
Prague Planetarium shows a projected starry sky on a dome that is one of the largest in the world (Královská obora 233, Holešovice).
Prague Zoo shows animals from all over the world (U Trojského zámku 120/3).
Tramp boat on the river Vltava.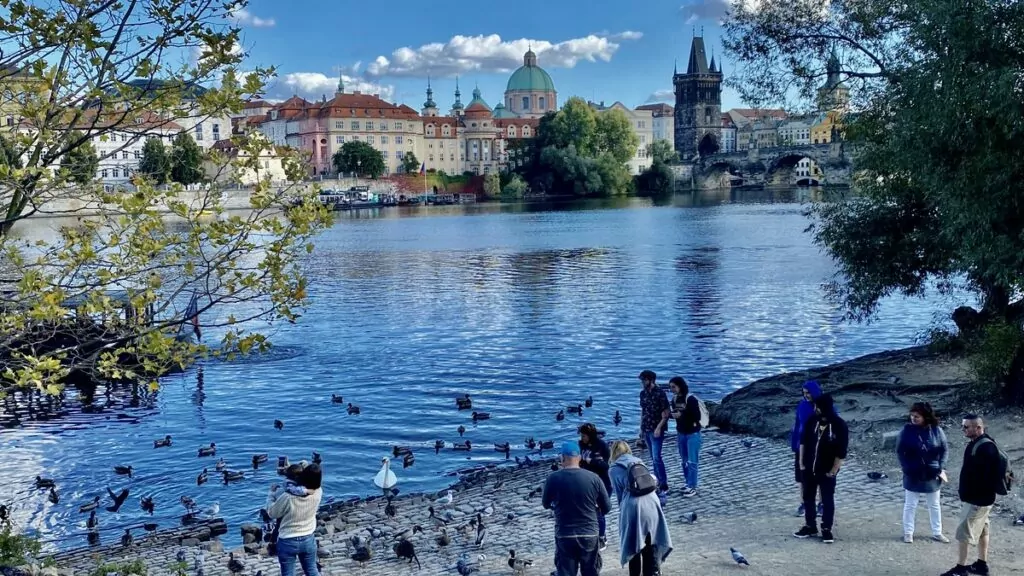 Get discounts on things to do in Prague with the Prague Card
Prage Card (or CoolPass as it seems to be called on the new website) is a card that gives free entry or discounts to a wide range of attractions and activities in Prague, but by no means all.
Is it worth buying the card or not? That depends entirely on what you plan to do! To find out if it's worthwhile for you, check whether the activities you want to do are included and how much of a discount you can get.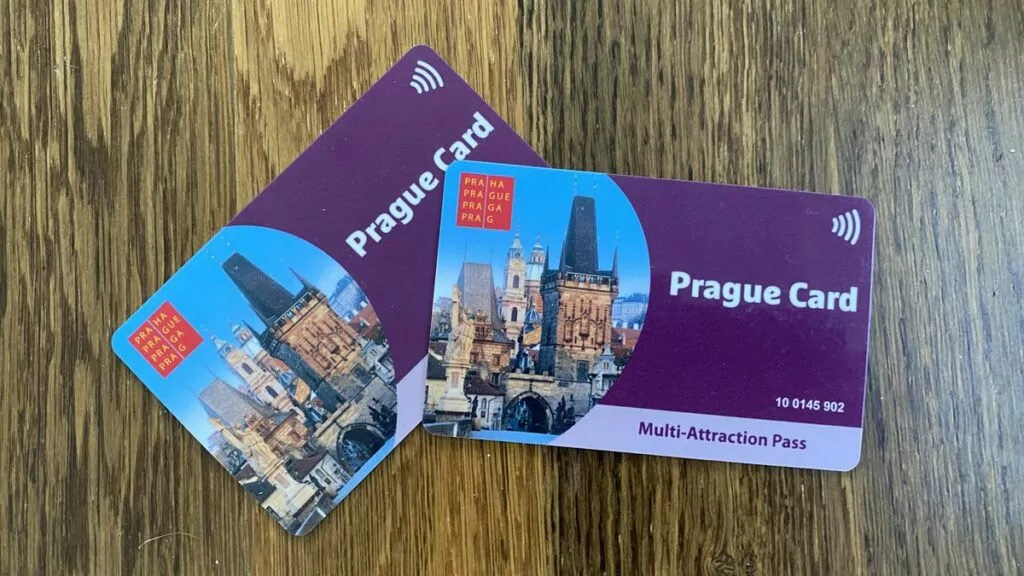 Where to stay in Prague?
If you come by motorhome or want to camp in another way, there are several campsites to choose from. We have stood on Camping Sokol, from where you can take a bus into town. Other campsites are Triocamp Prague and Praguecamp. You can find campsites in the Czech Republic at camp.czand, of course, in various apps.
If you prefer to stay in a hotel, there are of course many hotels to choose from. For example, we've heard good things about Vienna House Andel's. This time we stayed at Design Hotel Neruda, a small, cosy hotel perfectly located on a charming street near Prague Castle.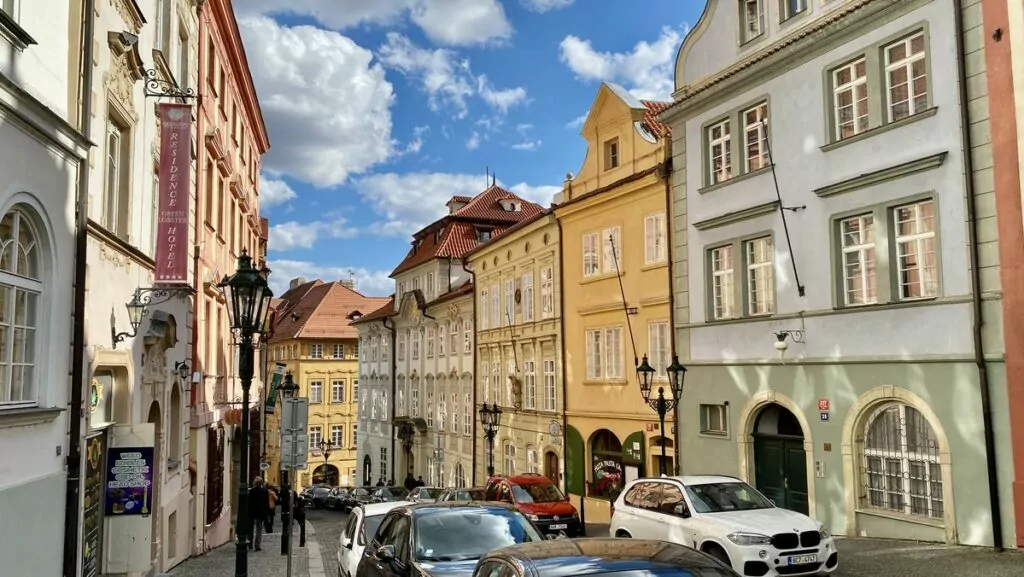 The hotel was clean and fresh. We had a cosy room where we were very comfortable, and we were also pleased with the breakfast. It was reasonably large, fresh and varied from day to day, which was nice.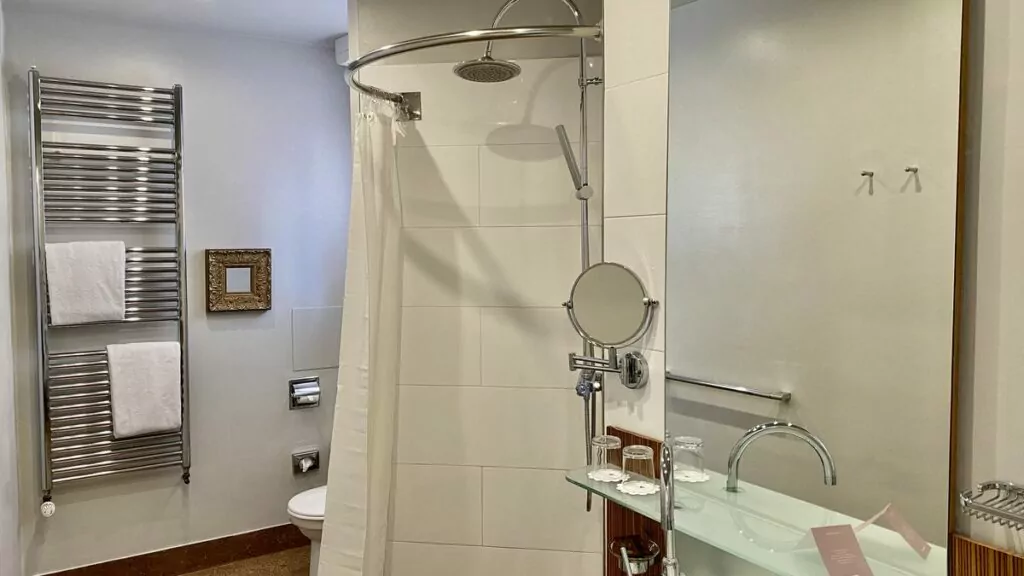 More to do in Prague and surroundings - five excursions
If you have a little more time on your hands, you can go on various excursions in addition to doing things in Prague. Here are a number of excursion tips.
Things to do in Prague - uescape tip 1: Kutna Hora
The town of Kutna Hora, seven miles east of Prague, is a UNESCO World Heritage Site for its architecture. In the Middle Ages it was the centre of a thriving silver mining industry and today it is famous for its buildings and churches - not least the skeleton church in Sedlec, which is decorated with the bones of 40,000 people. Travelling time by car: approximately 1 hour and 10 minutes.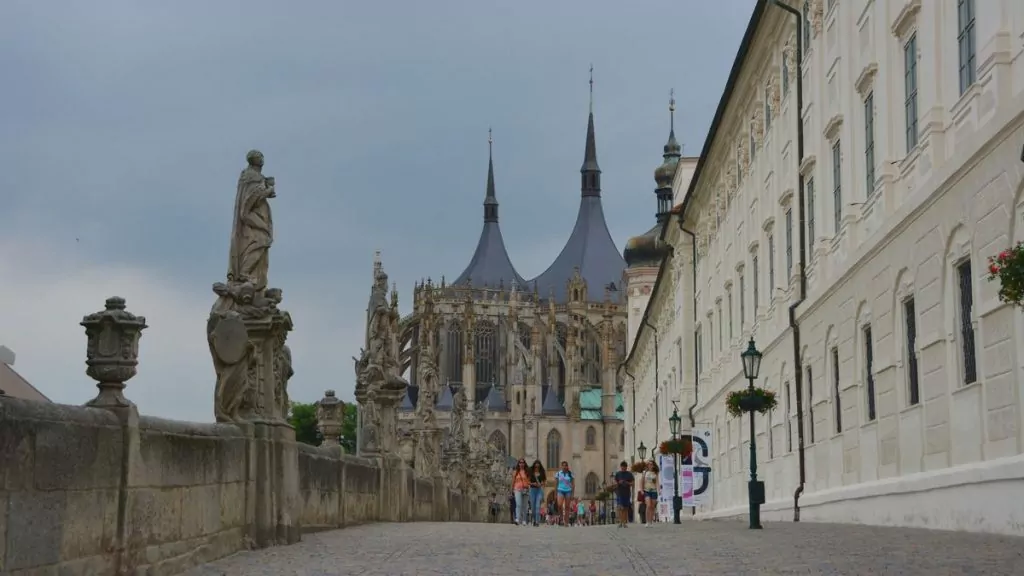 Things to do in Prague - uescape tip 2: Liblice Castle
Liblice Castle is a beautiful castle that serves as a hotel, restaurant and spa, located just over 40 kilometres north of Prague. Here you can spend a relaxing day with good food and great spa experiences. Travelling time by car: about 50 minutes.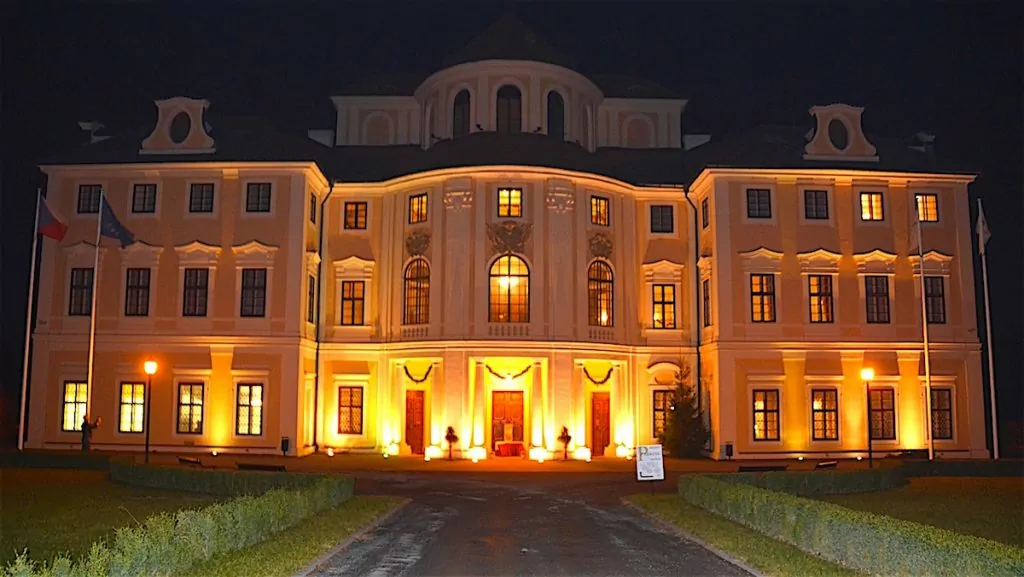 Things to do in Prague - uescape tip 3: Konopiště Forest Castle
Konopiště Forest Castle is located four kilometres south of Prague. Although the castle is magnificent, it is well hidden in the forest. When you arrive, you are greeted by both deer and peacocks. The castle is also surrounded by beautiful gardens and statues, and it is also possible to book a guided tour in English inside the castle. Travelling time by car: about 40 minutes.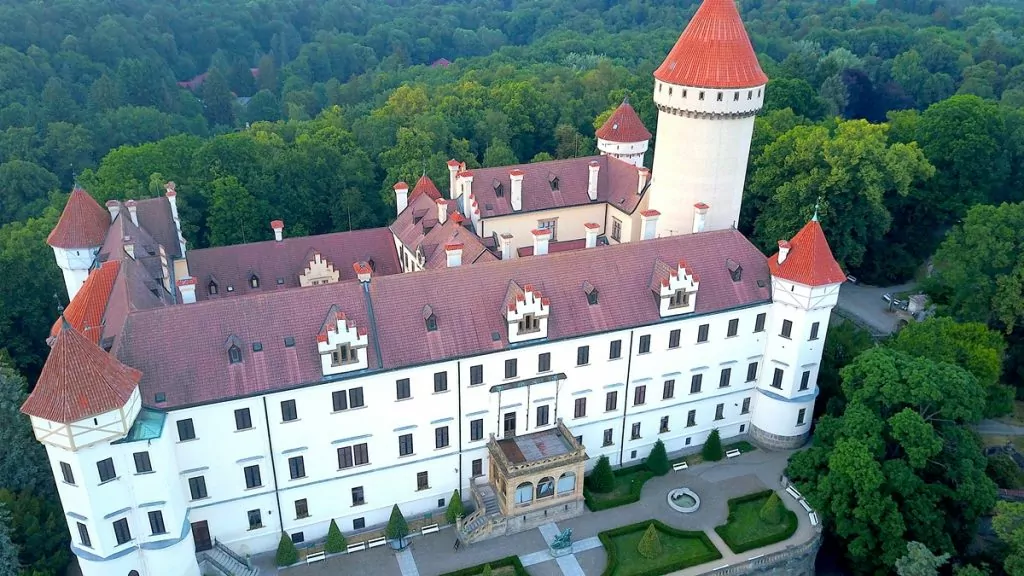 Things to do in Prague - uescape tip 4: Terezin and Litomerice
Terezin (Therezienstadt in German) is just over 20 miles north-west of Prague, with the small town of Litoměřice just beyond. Terezin is best known as a dreaded World War II concentration camp, and a visit can be interesting and important, if heavy. Instead, Litoměřice offers pleasant neighbourhoods and a fine castle. Travelling time by car: about 1 hour.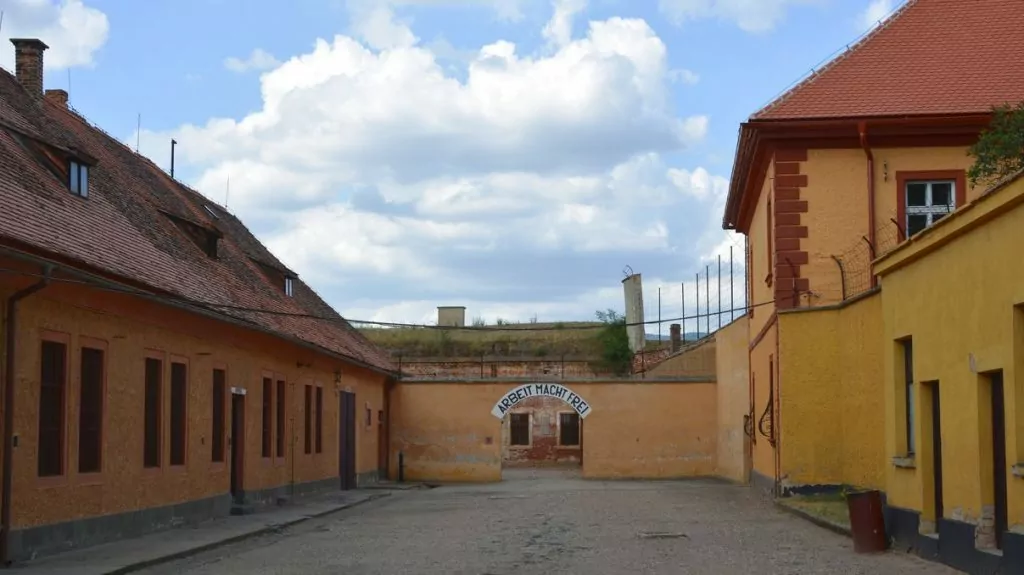 Things to do in Prague - uescape tip 5: Liberec
Liberec is the fifth largest city in the Czech Republic and offers beautiful historical buildings. The surrounding area offers dramatic scenery, with mountains such as Ještěd. There are also plenty of breweries and artistic and craft glass production. Travelling time by car: approximately 1 hour and 30 minutes.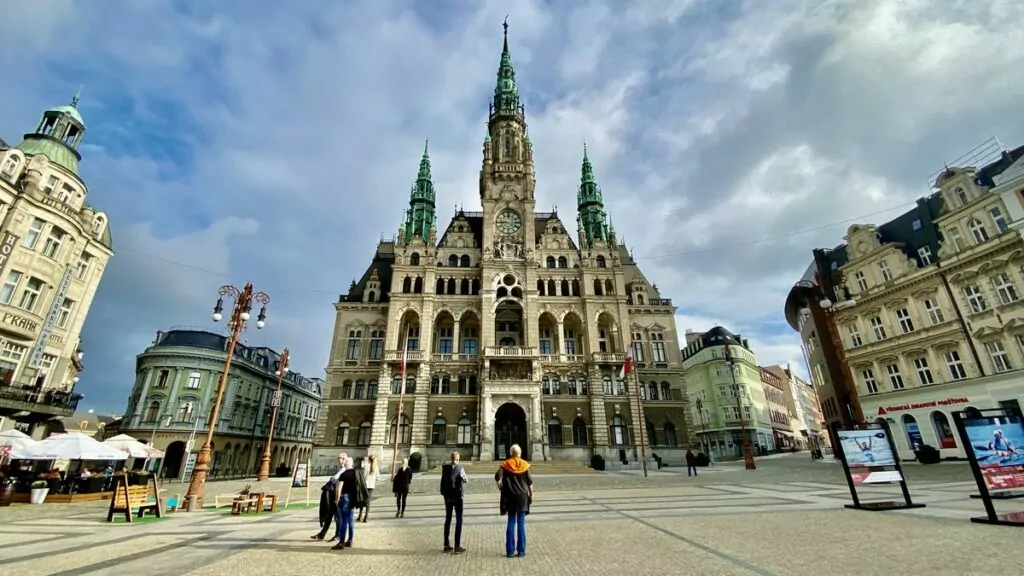 Things to do in Prague - on film
More tips for things to do in Prague?
Do you have more tips for things to do in Prague? Let us know!
Facts about Prague
Country: Czech Republic
Area: Bohemia / Bohemia
Region: Prague
Residents: Just over 1.3 million (2019)
Travelling to Prague
Flight: You can fly directly from Stockholm, Gothenburg or Copenhagen to Prague and the flight takes less than two hours. For example, you can fly with Czech Airlines, SAS, Ryanair or Norwegian.
Car: To drive a car from Sweden to Prague, you can, for example, take a ferry from Ystad to Sassnitz. The car journey from Sassnitz takes about 7 hours and 30 minutes, without breaks.