Curious about Saranda in Albania? Today we offer some tips on the lovely holiday resort of Saranda on the Albanian coast. In many ways, Saranda reminds you of a typical charter resort in Southern Europe, but there are some things that are definitely different... We share our experiences, and we have also listed five great excursions around Saranda.
Saranda in Albania
Many of the beaches along Albania's coastline feel untouched, and with 300 days of sunshine a year, the country is of course ideal for a sun holiday. We have come here with our motorhome, but today it is also possible to go here on a charter holiday. There is construction on every street corner and they are working hard to catch up with other countries' tourism. Albania was closed until 1991 and was a communist country before that, and now they want to catch up as soon as possible.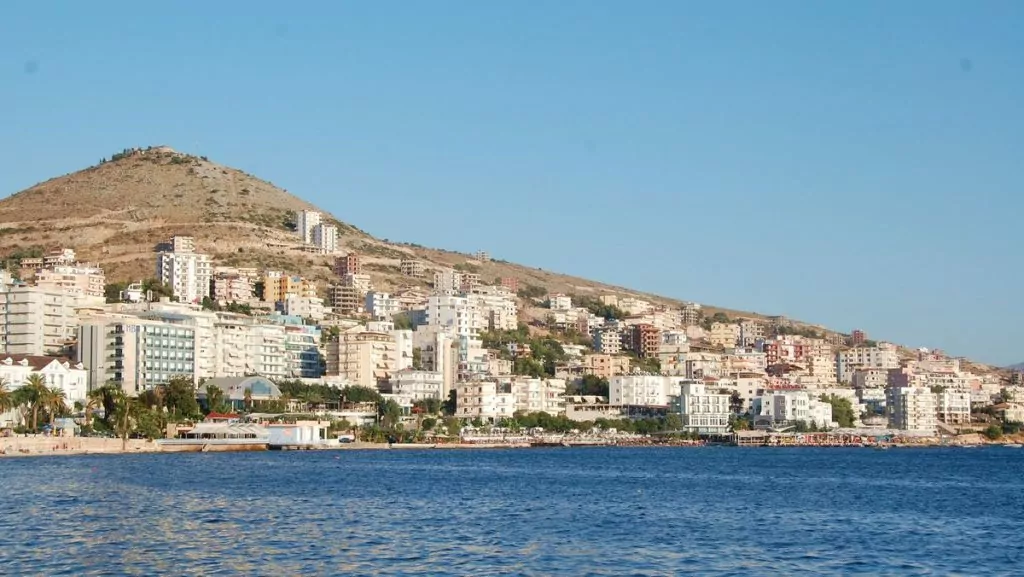 Saranda is located on the Ionian Sea in southern Albania, just off the coast and close to the Greek island of Corfu. Saranda, sometimes spelled Sarande, means forty after the monastery of Hagia Saranda which had 40 churches around it.
The town is perhaps the most famous seaside resort in Albania, with plenty of hotels and apartments along the seafront. There is also a seafront promenade and a castle, Lëkurësi Castle, which is said to have a fantastic view of Saranda.
Parking in Saranda - and a cow in the way
We drove into Saranda with our motorhome and first on our agenda was to get internet sim cards for our phones. Parking a 7.3 metre motorhome in the middle of town is not easy, as cars are parked everywhere. They tend to be parked wide on the streets or at an angle so that they stick out far into the lane. But eventually we find a car park just outside the Vodafone shop. We go out and cross the street and then there is ... a cow! On its way to the pharmacy perhaps?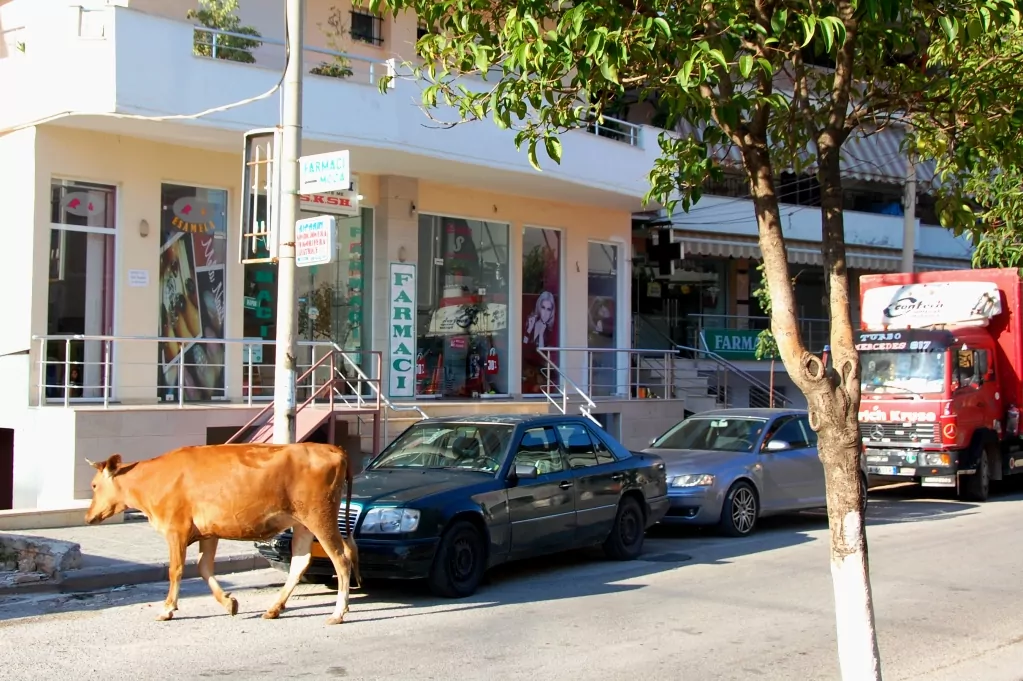 Dad's name to buy a SIM card?
Buying an internet sim card in Albania is no problem (registration + sim card + 3 GIG = 75 kr), at least if we show our passports and give my dad's first name. Yes, you read that right! I ask three times: Do you mean the surname perhaps? Are you sure you really want ...? Yes, my father's first name, otherwise there will be no SIM card. Ok, we give the name of course and all is well. But how patriarchal is this society really, anyone know?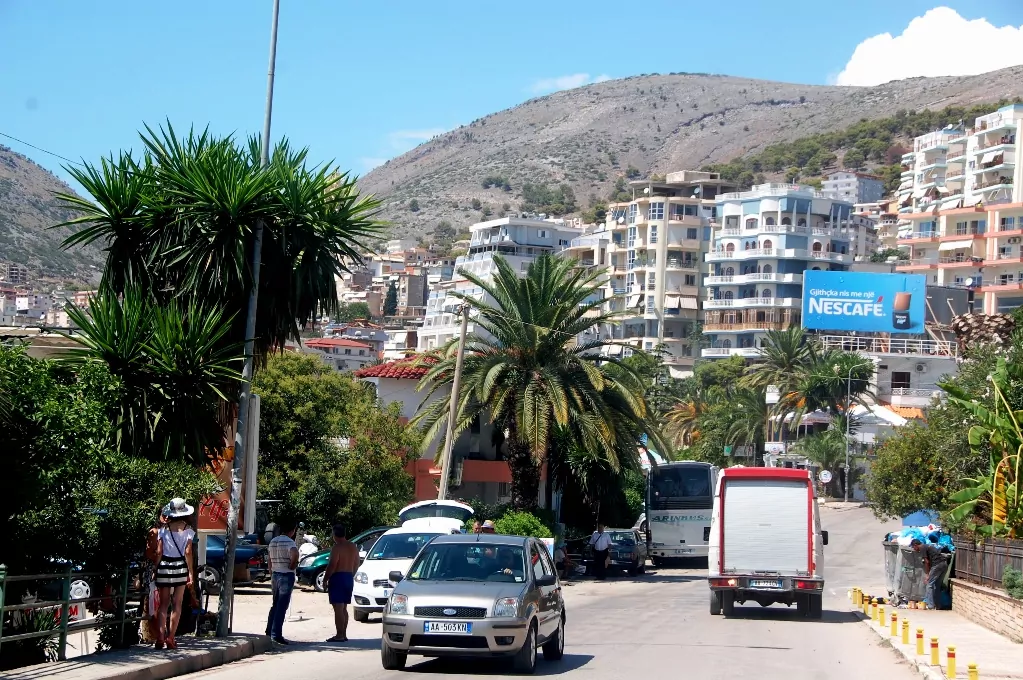 Shopping and prices in Saranda
We met two Swedes inside a clothes shop who had travelled here on a charter trip, and they seem very happy. They say they are staying in a nice hotel, and they have the beach right below the hotel. They think the food is good and appreciate the low prices.
Albania is one of the cheapest countries in Europe, and here you can have a simple three-course meal with beer for around €100. Given that the prices are so good, you might also want to check out some of the city's shops while you're here.
Food in Saranda
The food is influenced by Greek cuisine, with almost every restaurant serving Greek salad and feta cheese by the pound. Italian cuisine also has a strong influence on restaurant menus, perhaps due to the fact that Albania has many tourists from Italy. You'll often find grilled meat and seafood, but also pizza and pasta.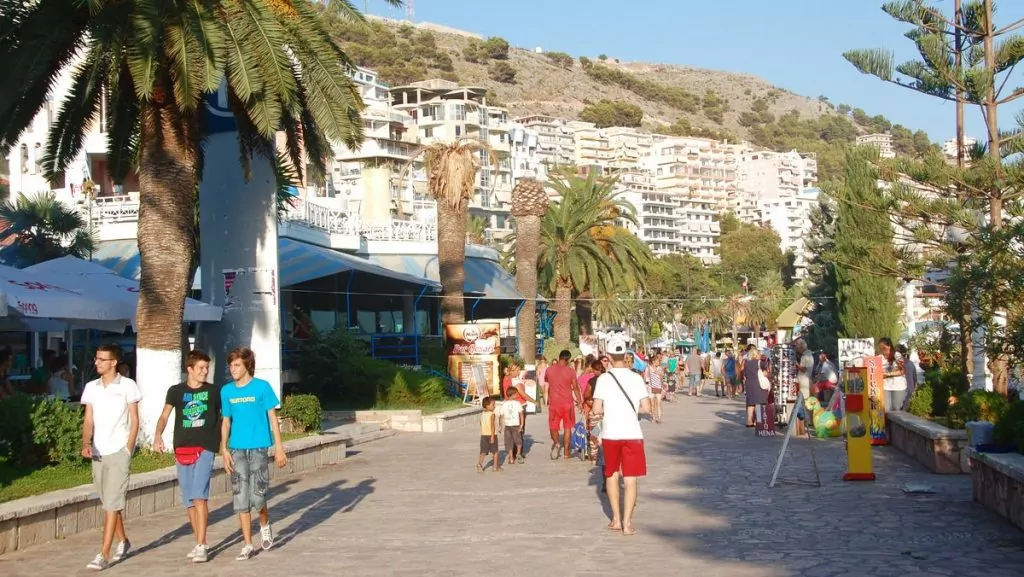 5 great excursions around Saranda in Albania
There are many interesting excursions in the area around Saranda. It is possible to rent a car, and since the prices are so good, you can also take a taxi. There are also buses to some of the destinations, or you can join an organised tour. Here are some tips and inspiration for excursions around Saranda in Albania.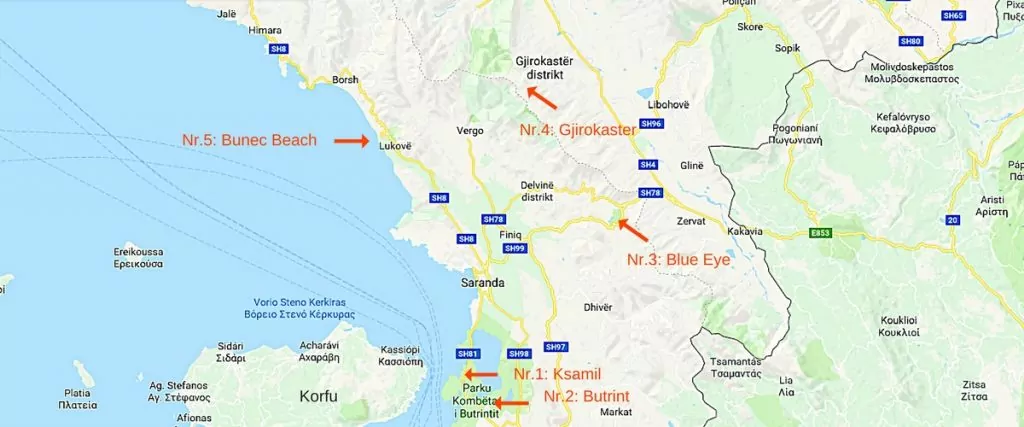 1st Ksamil
Located just south of Saranda 20 minutes away, Ksamil is a seaside resort in Albania's archipelago. Around the Ksamil Islands, you can enjoy pedal boats, canoeing, jet ski hire or hang out at a beach bar around sun loungers and parasols around the green-blue sea.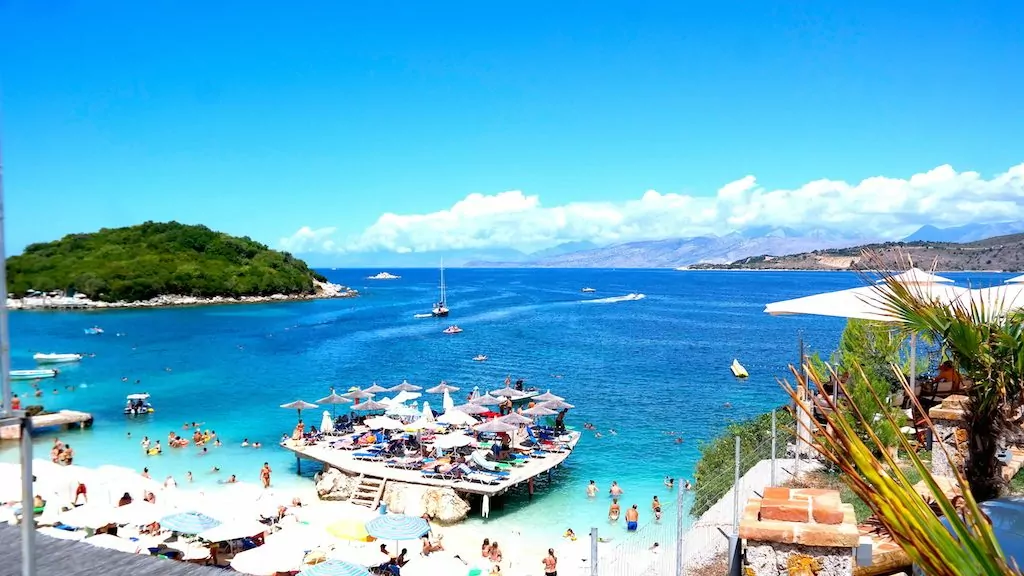 2. butrint
Located a little further south from Ksamil, an archaeological site in southern Albania, Butrint is a 3000-year-old city, with the oldest finds dating back to 800 BC. A historic day trip and a Unesco World Heritage Site! Read more: Butrint - an archaeological site in Albania
3. Source Syri in Kalter
The Syri i Kalter (Blue eye) spring is a natural phenomenon - a bright blue-green spring at least 50 metres deep. You can swim in the 12.7 degree water or just enjoy the beautiful scenery. Read more: Blue Eye - source "Syria in the cold"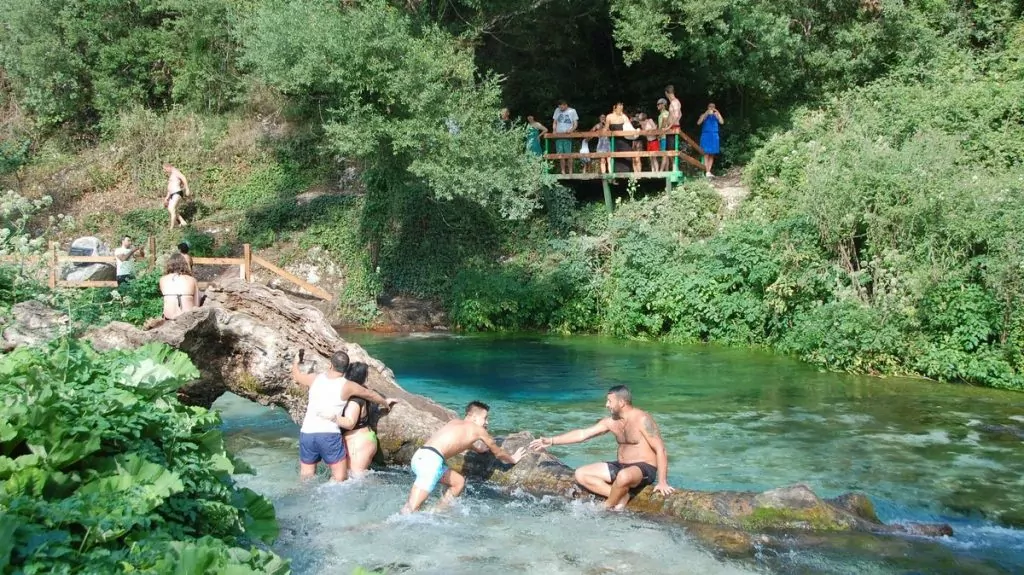 4. Gjirokaster - UNESCO World Heritage Site
Gjirokaster dates from 1336 and is just over 50 kilometres away. Gjirokaster is a city with many nicknames and a lot of history. The old Ottoman (Turkish) Empire called the fortress Ergiri Kasri when they ruled here initially. When the Greeks came it became Argyrocastro, Argyron=silver and Castrum=castle which becomes the silver castle. The English say "city of Stone".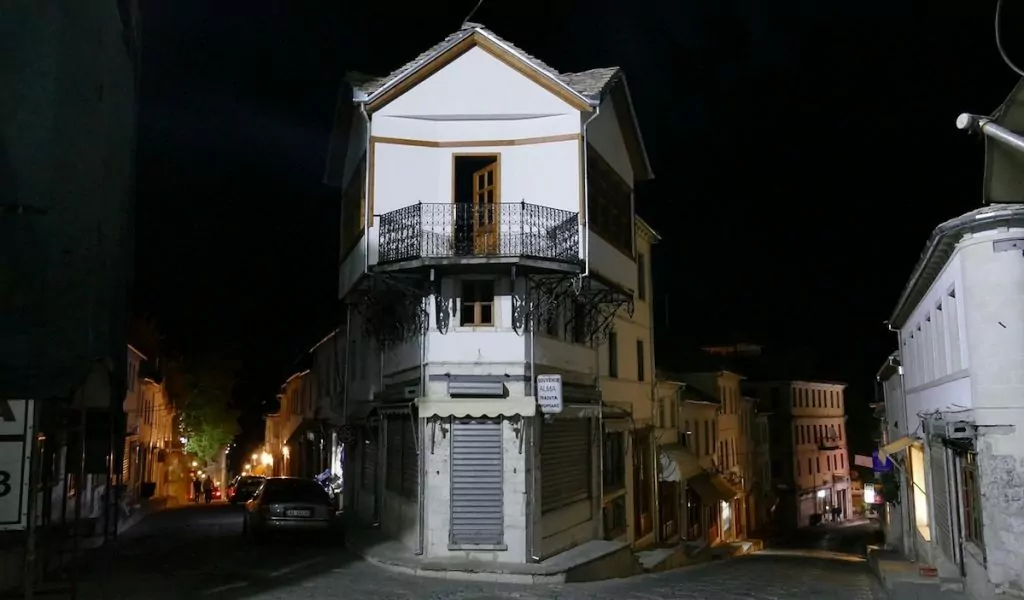 5. bunec beach
Located four kilometres north of Saranda, Bunec Beach is a magical beach you won't want to miss. Swimming in the sea with the cold water flowing from the mountains is an experience. We drove down to Bunec beach, just south of Saranda. Piqeras. Wow, we say! We think Bunec Beach is one of the finest beaches in Albania, and one of the country's best kept secrets. Read more: 5 magical beaches in Albania - our favourite Bunec Beach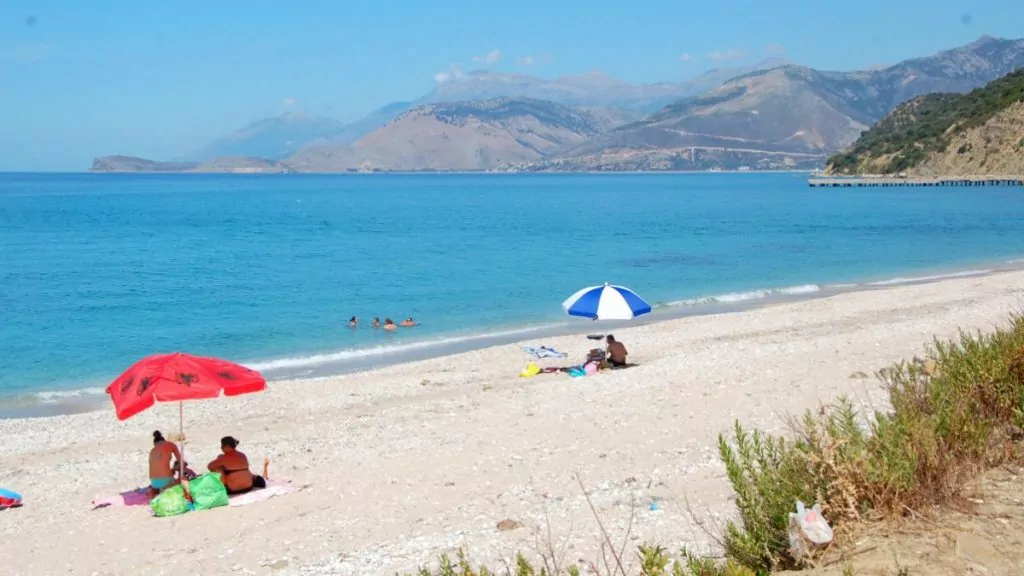 Facts about Saranda
Language? Albanian (many also speak Italian, English or other languages)
Residents? About 35 000 in Saranda
Currency? Leakage (ALL)
Price point? Cheap (much cheaper than Sweden)
Time difference? None
Emergency number? Police number 129, ambulance number 127 and emergency services number 128.
El? Like Sweden
Water? A bit unclear, but it may be safer to buy bottled water.
Religion? Islam (57 %), Christians and others.
Travelling to Saranda
Car: The road from Stockholm to Saranda is about 320 kilometres long, and it takes about 35 hours to drive, counting pure driving time.
Flight: You can fly to Tirana, and continue by car hire or bus to get to Saranda. An alternative is to fly to Corfu in Greece.
Charter: Charter holidays to Albania have been available in recent years, with Apollo and TUI.
Accommodation in Saranda
There are plenty of hotels in Saranda in different price ranges. For example, check Trivago or Booking.com.
Campsites in Albania can be found at camping.info.