Aphrodite's Rock in Cyprus, or Petra tou Romiou as it is actually called, consists of a series of rocks on a pebble beach. According to myth, this is where the Greek goddess Aphrodite was born and landed.
Aphrodite's Rock in Cyprus
Aphrodite's Rock is a famous and popular attraction, usually visited by many tourists. We visited the site on a slightly rainy day in November, and still we met some other tourists here. If you look closely at the picture below, you can see a person who swam up to the black rock and almost seems to embrace it ...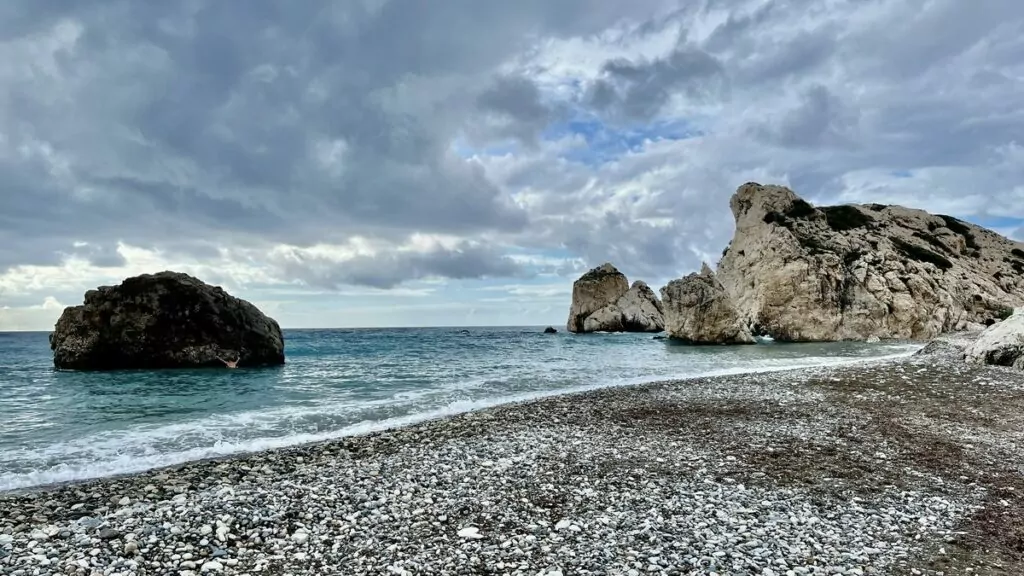 Aphrodite's Rock is located on the coast of south-west Cyprus, about 2.5 miles south-east of Paphos and about 4.5 miles west of Limassol.
The myth of Aphrodite's rock
In Greek mythology, Aphrodite is the goddess of love, fertility and beauty. She is equivalent to Venus in Roman mythology, and was worshipped by sailors as the mistress of the sea.
But where did Aphrodite come from? According to one myth, she emerged from the foam of the waves, right here at Petra tou Romiou.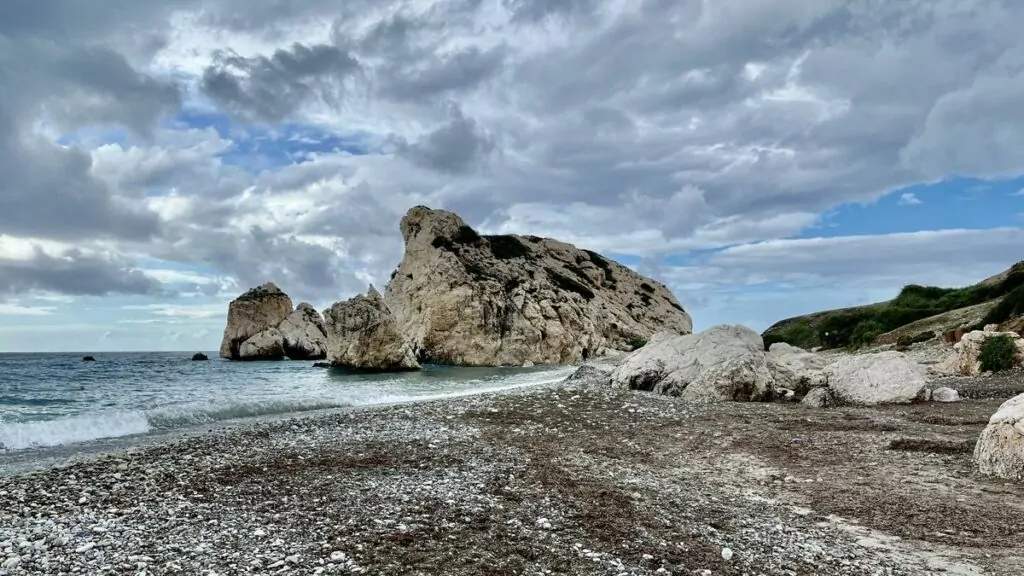 Gaia (Mother Earth) was distraught because the god Uranus (Heaven) hated their twelve children together and hid them in the worst prison of the underworld. When she found her children, she asked them to help her overthrow Uranus.

The children feared their father's size and strength, but the youngest son Kronos was persuaded to carry out his mother's plan. He ambushed Uranus with a huge shimmering scythe, attacked him and cut off his genitals.

Blood dripped on both the earth and the sea, and from the blood that dripped into the sea, Aphrodite was born.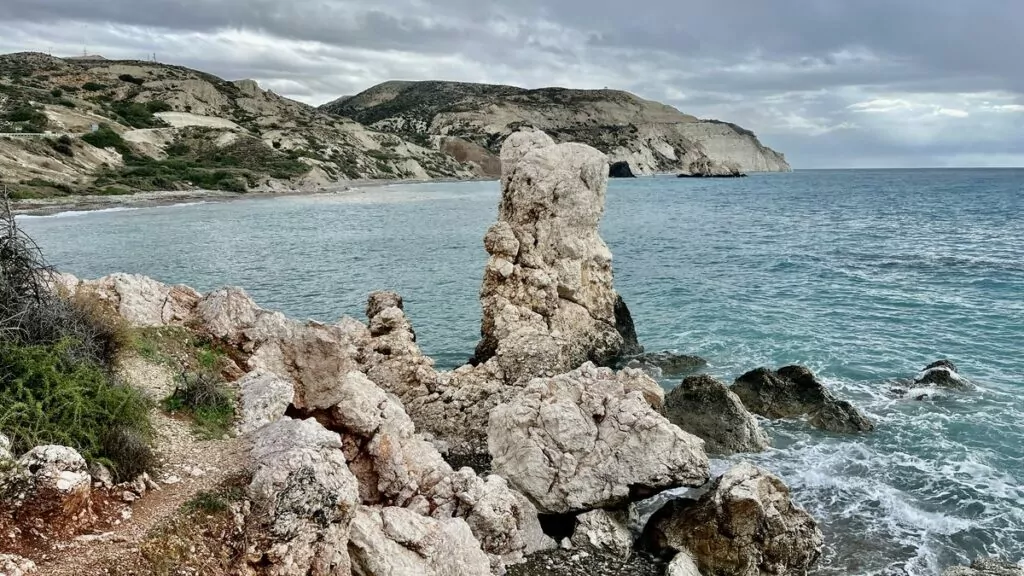 Visiting the Rock of Aphrodite
Aphrodite's Rock is a popular attraction in Cyprus and can be reached by car hire or tour bus. There is a car park right next to the site, and a short pedestrian tunnel leads down to the beach and the cliffs.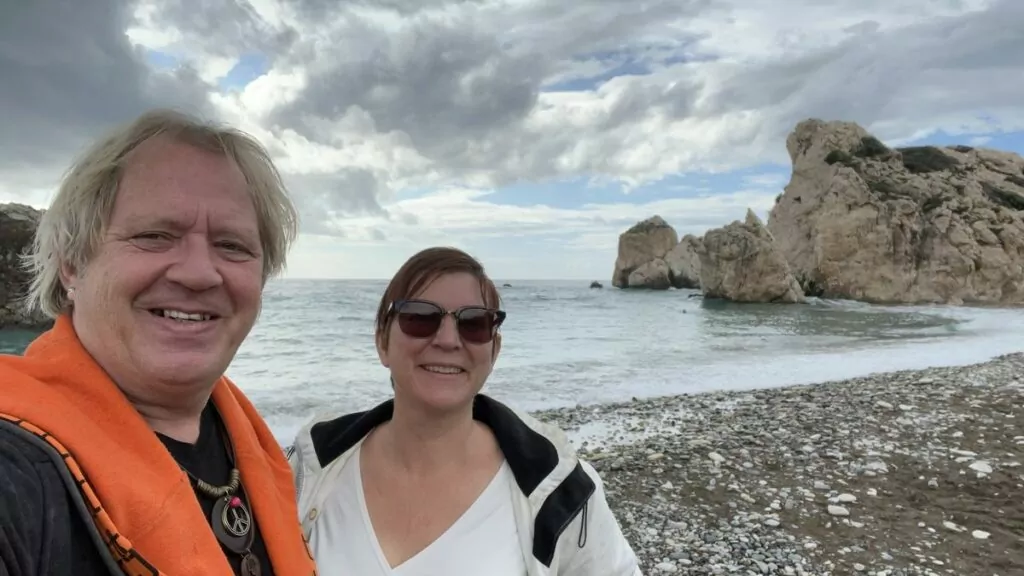 On sunny days, it can certainly be crowded, and as well as admiring the view, you can of course swim in the shimmering green waters. There's a myth that you can get younger (or find love) by swimming three laps around the cliff, but note that it has to be anti-clockwise - otherwise you might end up getting older.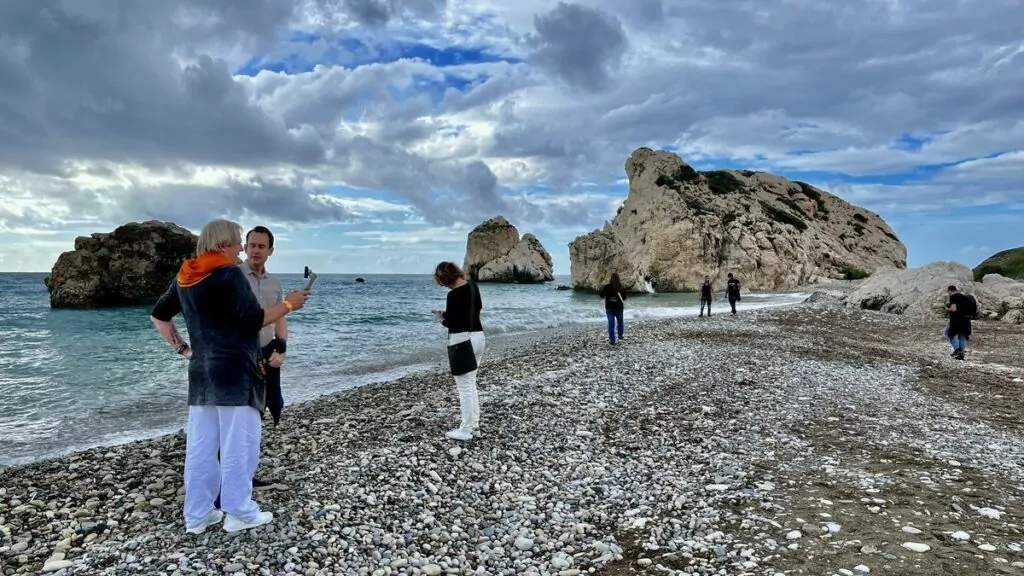 When we arrived at the place, the rain was hanging in the air and it was time for a light jacket on top of the summer clothes. In addition to our group (we are here on a press trip with a total of seven travel writers), some other tourists were hanging out on the beach, but not too many.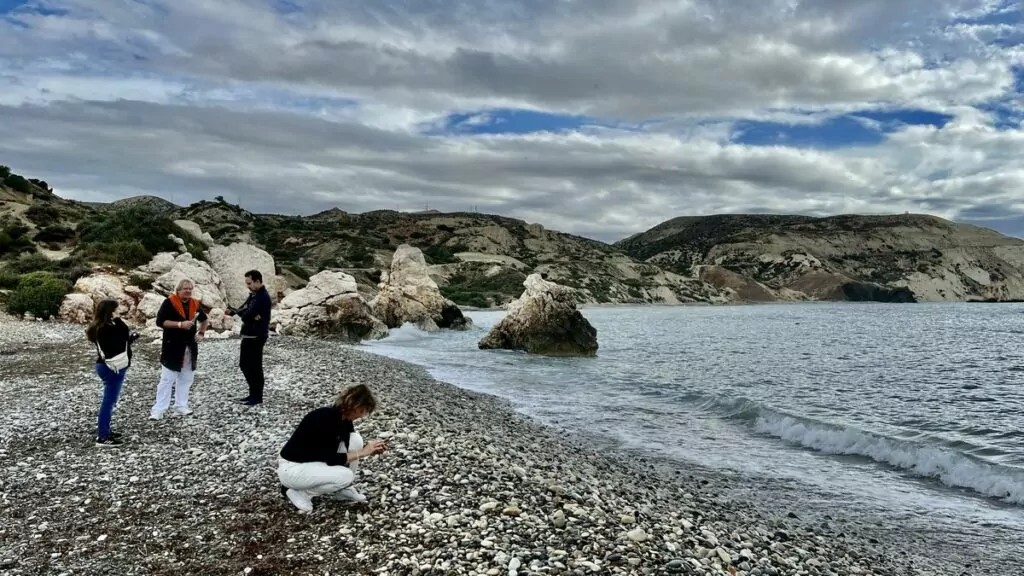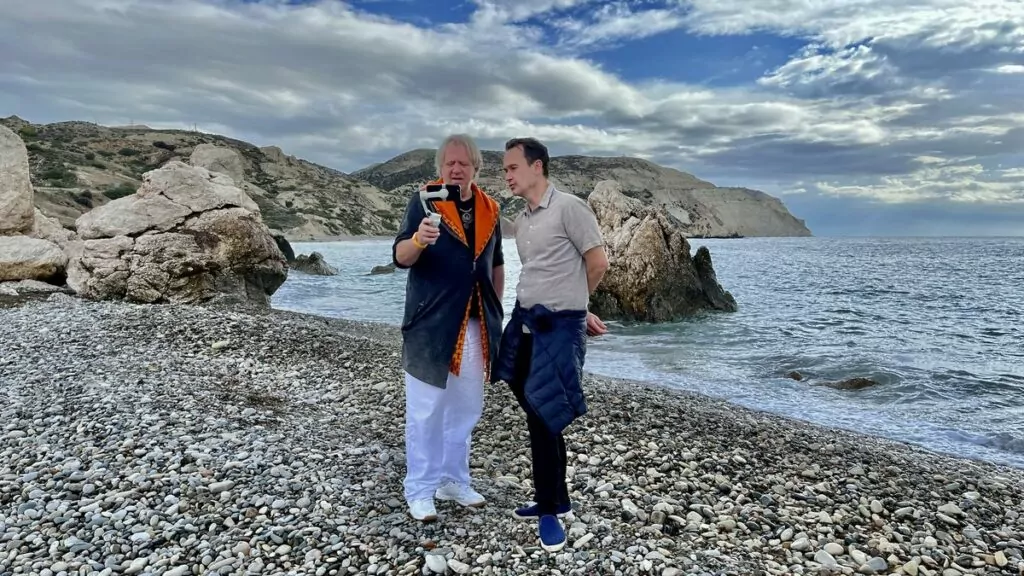 There is a sign on the beach with a QR code. Scanning the code will take you to the "Aphrodite's Birthplace" app. You can then use the app to take a photo of yourself with Aphrodite ...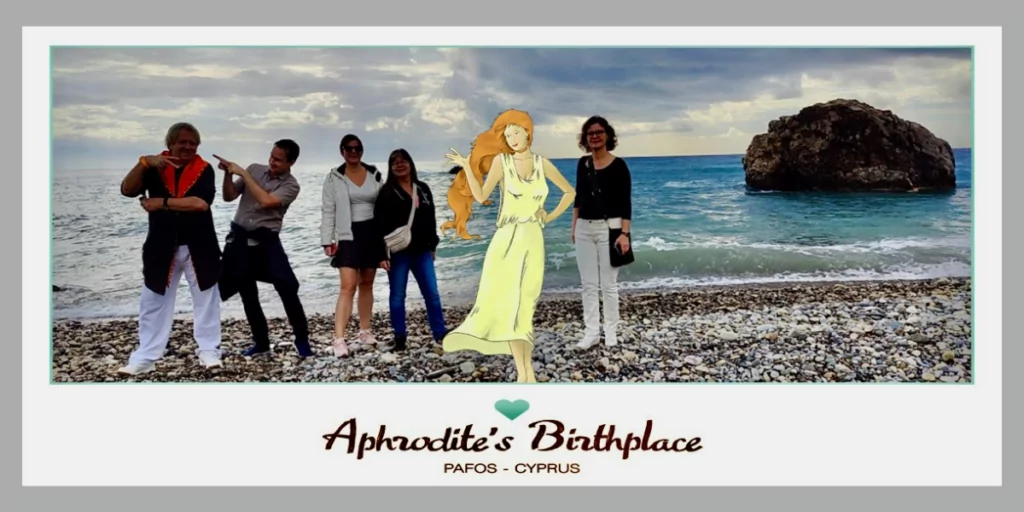 More to see and do in the neighbourhood
There is of course much more to see and experience in Cyprus. Don't miss the interesting Pafos, which offers historical sights among other things. Limassol is also not far away, with its cosy Limassol marina.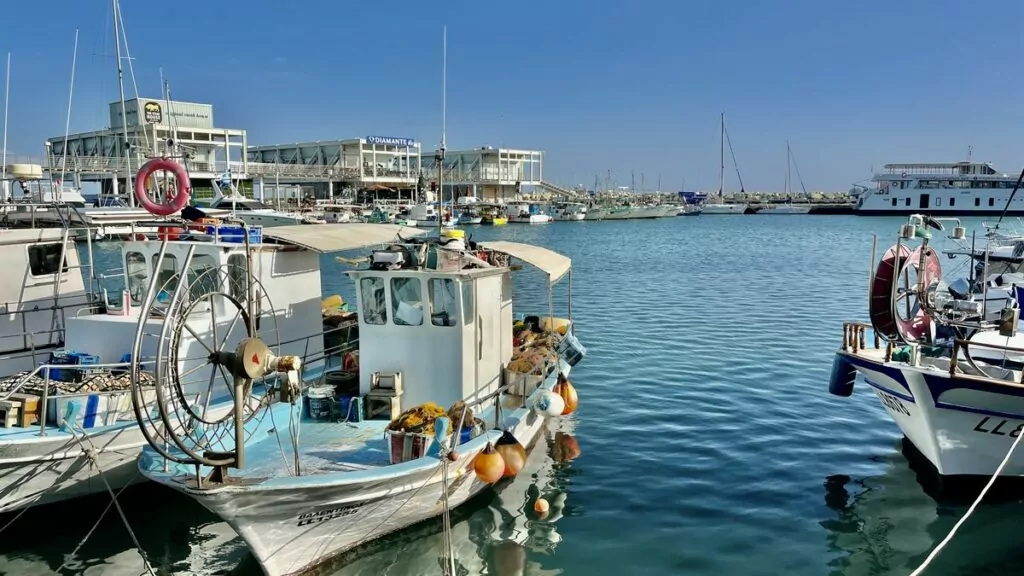 By the time you read this, we will have already left for Cyprus for just under a week,...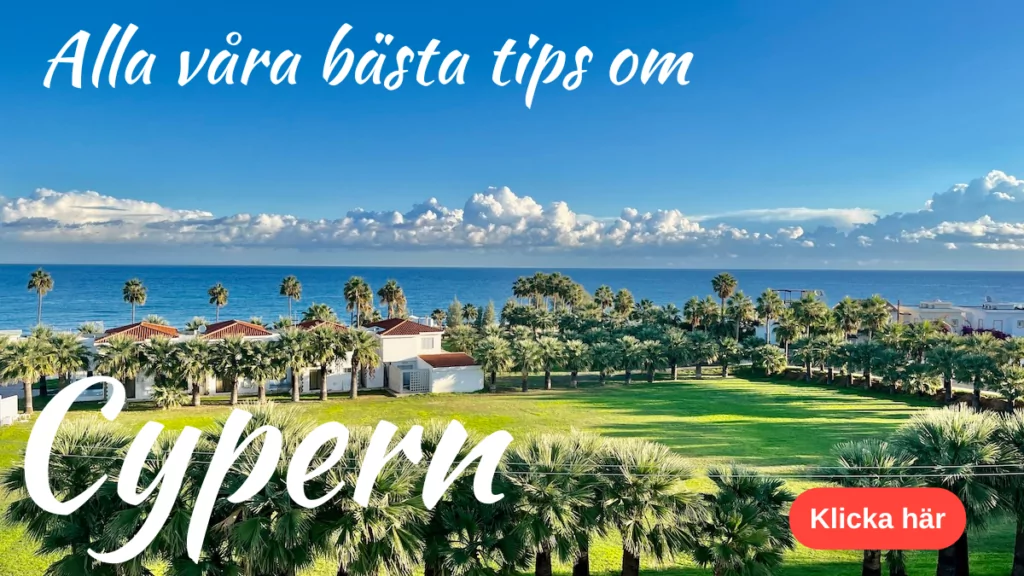 Have you visited this mythical place?
Have you visited Aphrodite's Rock? If so, what was it like when you were there? By the way, do you like Greek mythology?
Facts about Aphrodite's Rock
Country: Cyprus
District: Eparchía Páfou
Location: On the coast, about 2.5 miles south-east of Paphos and about 4.5 miles west of Limassol.
Nearest major community: Geroskípou
GPS coordinates: 34.66421°N 32.62706°E
Name: The real name of the site is Petra tou Romiou. It can also be called Aphrodite's Rock or Aphrodite's birthplace.
Price: Visiting the site is free of charge
Service: A car park is just next door. There is also a kiosk.