We have spent another week in beautiful Malapascua in the Philippines. This week we have been to a school event with fantastic dresses, and we are getting ready for a boat trip!
Skolevent på Malapascua – Prince and Princess of Hearts
Genom den filippinska familjen vi lärt känna här på Malapascua blev vi en dag inbjudna till ett skolevent på basketbollplanen, det vill säga samma ställe där det var Sinulog festival för några veckor sedan.
Nu var det istället dags för "Prince and Princess of Hearts". Om vi förstår det hela rätt så är detta ett årligt event som görs för att samla in pengar till skolan. Barnen (och deras föräldrar) samlar in pengar, och de barn som bidragit mest till skolan utses till Prince and Princess of Hearts.
På eventet kröns "vinnarna" på scen, samtidigt som ytterligare ett tjugotal pojkar och flickor som bidragit till insamlingen får visa upp sig i vackra kläder.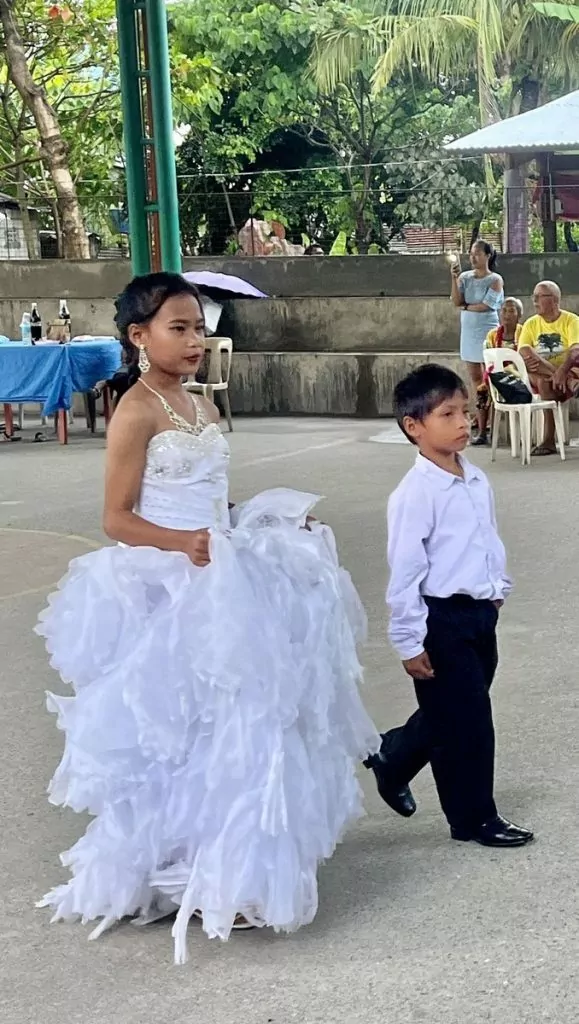 Barnen promenerade in två och två medan de, och deras föräldrar, presenterades av en talare på scen. Gilsams dotter Alleah var en av "tvåorna" och var klädd i en helt fantastisk röd klänning, som du kan se på bilden nedanför.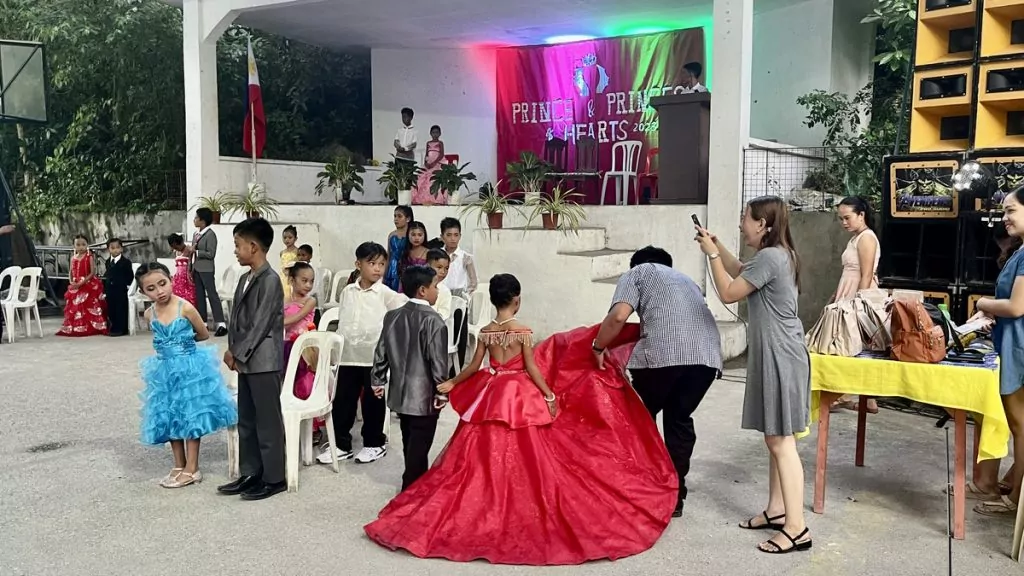 Precis alla barnen hade otroligt vackra kläder.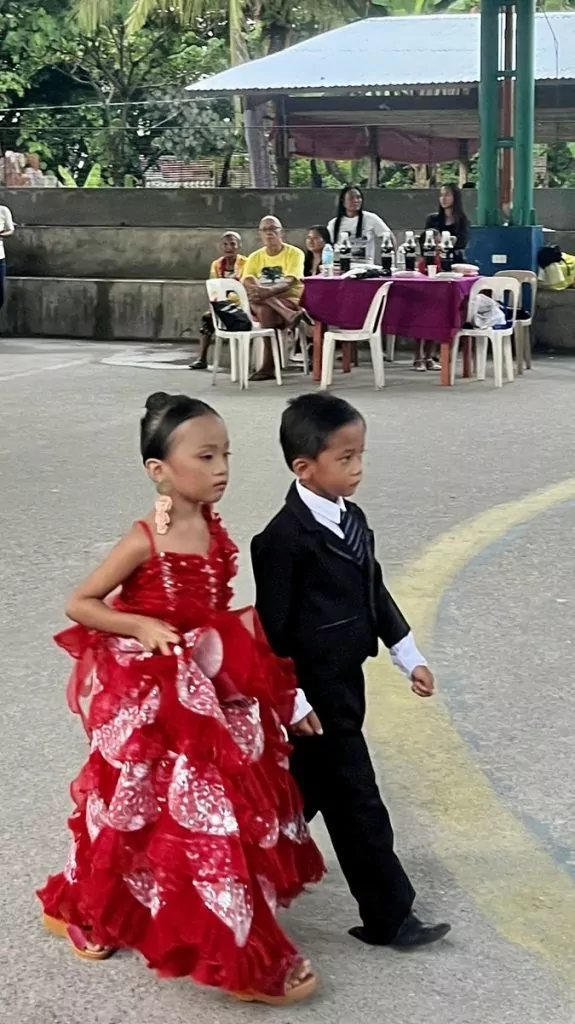 "Vinnarna" stack ut med extra speciella kreationer och fick ta plats mitt på scenen.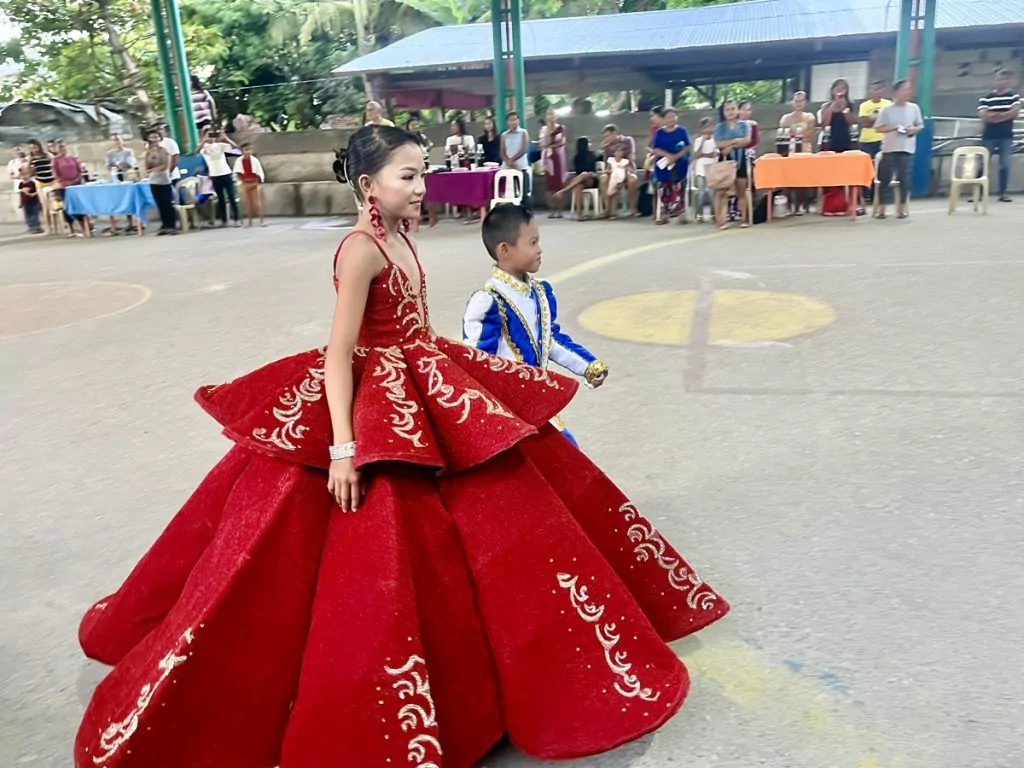 Därefter blev det många långa tal av skolledning och andra. Mycket var på engelska (ett språk som används i relativt hög utsträckning), men ibland hade vi ändå svårt att hänga med på grund av det höga och bullriga högtalarljudet. Vi förstod i alla fall att en av talarna presenterade ordet FAMILY som en akronym för "Father And Mother I Love You".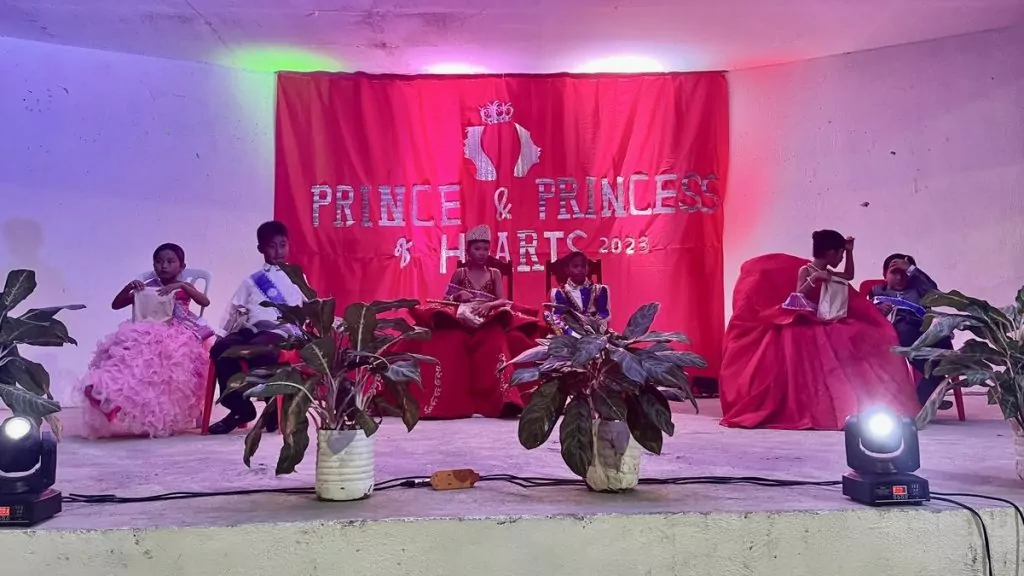 Regnväder
Med tanke på att det är torrperiod på Filippinerna just kan vi konstatera att det ändå regnar relativt mycket. Att ta sig fram på de små leriga vägarna kan vara en utmaning ibland … Men, det är ändå betydligt mer sol än regn!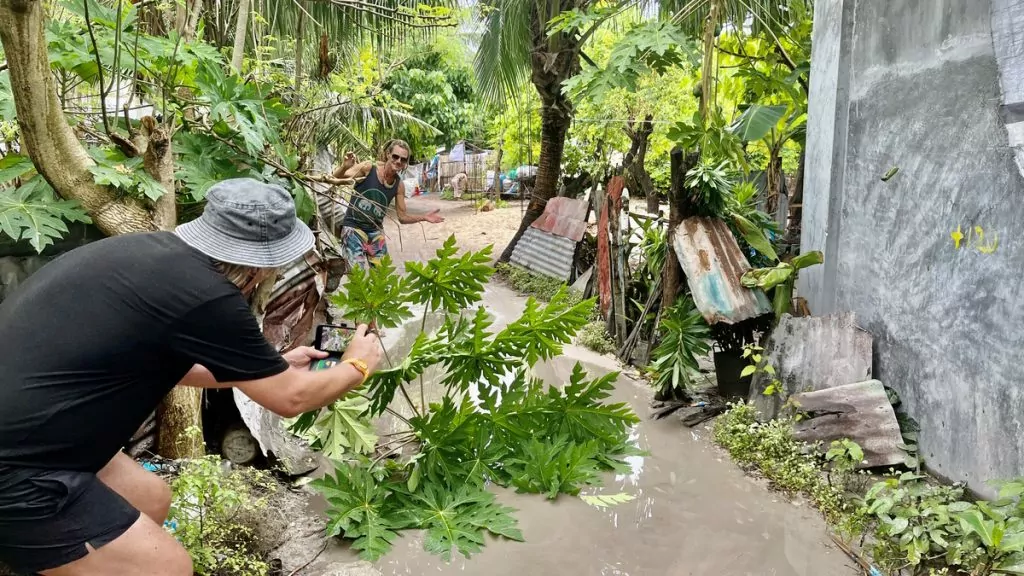 Äntligen redo för båtluff
Malapascua har börjat kännas "hemma" nu, på gott och ont. Det är trevligt att hitta i gränderna och att få fler och fler välkända ansikten att heja på och prata med. Samtidigt börjar tillvaron bli lite ensidig, och nu är vi riktigt taggade på båtluff och äventyr (som vi förberett så länge för)!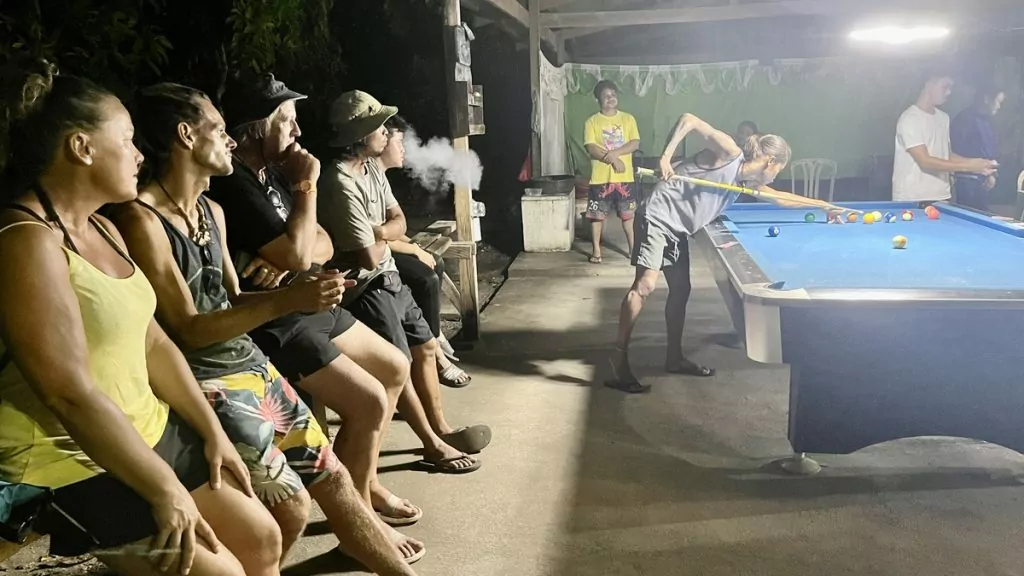 Hildem, som ska vara med oss på båtluffen, har skaffat ett nytt oljefilter till motorn och det kan vara en av de sista viktiga pusselbitarna för att vi ska kunna komma iväg. Själva har vi installerat köket (en gasspis) och packat ombord liggunderlag, kuddar och köksprylar. Nu är vi so redo för avfärd!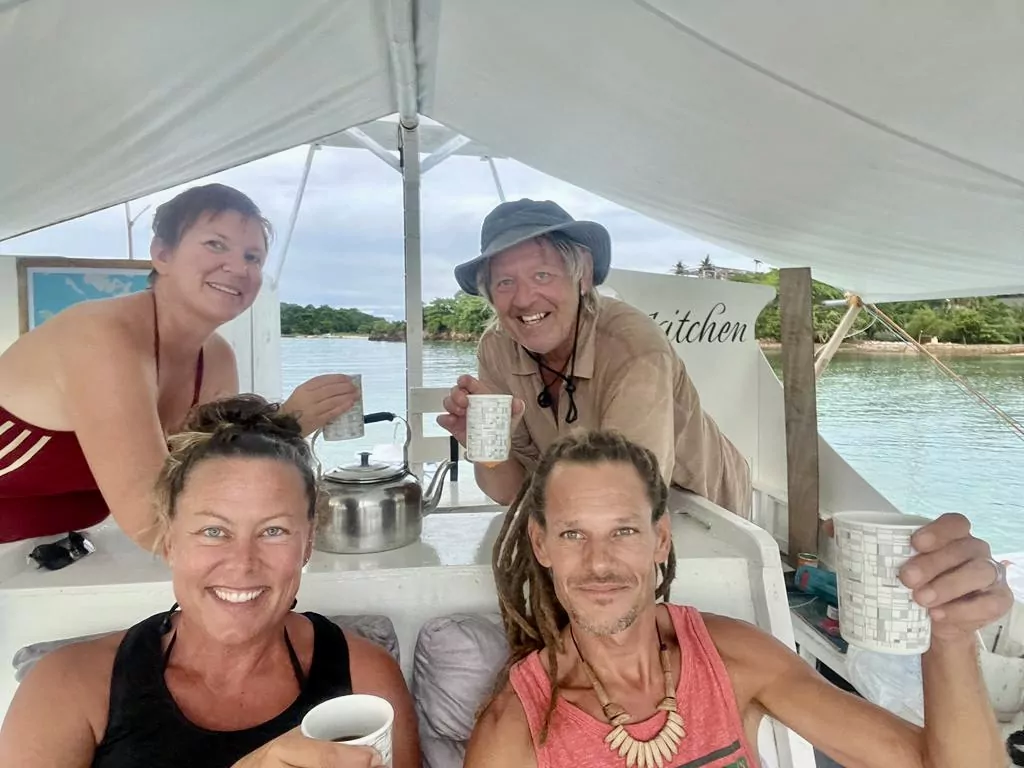 Best this week
Bäst denna vecka är att vi fått spendera ännu en vecka på fina Malapascua – och att vi nu är redo att ge oss ut på båtluffaräventyr! Vad har varit bäst under din vecka?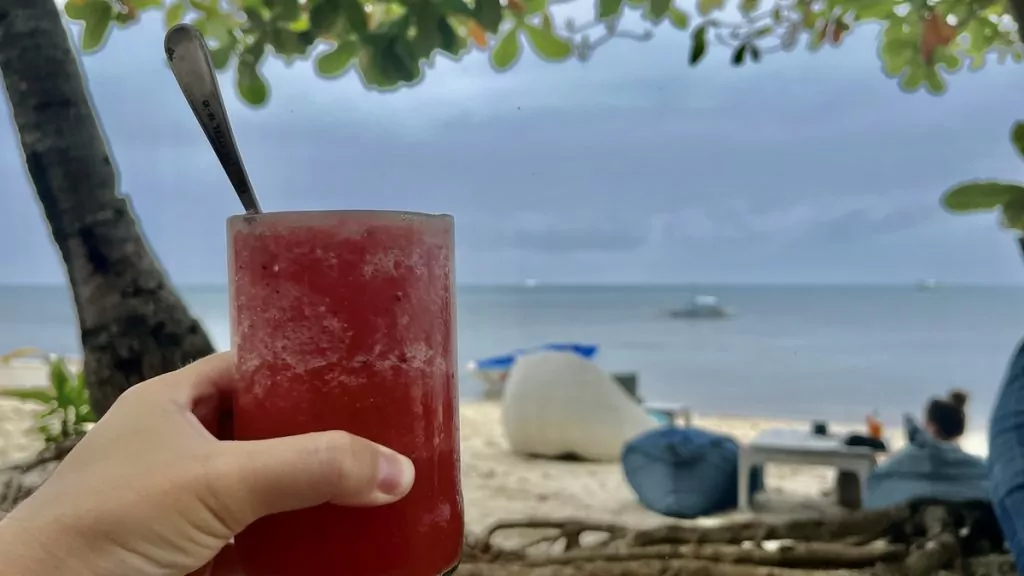 The week ahead
Om allt går som tänkt ger vi oss av med båten Dotche på söndag, och du kommer förstås kunna följa äventyret här på FREEDOMtravel. Vill du vara säker på att inte missa något? Följ oss via:
Vi kommer försöka uppdatera varje dag som vanligt, men observera att det can finnas en risk att vi hamnar i total internetskugga. I så fall uppdaterar vi så snart vi kan!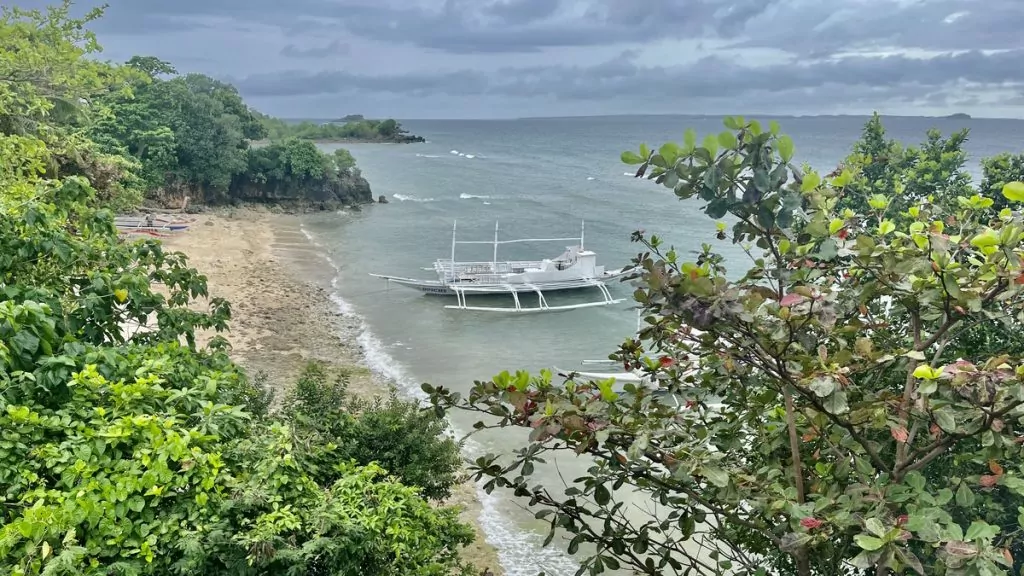 Did you miss the last Happy Friday? Read the Waiting for a boat trip - work, billiards and excursions