What to do in Hjo? This pretty little wooden town on Lake Vättern is a real gem with beautiful wooden villas, steamboat rides and ice cream by the truckload. We have now collected our best tips for experiences and sights in Hjo.
Hjo - the wooden town by Lake Vättern
Hjo's old town is very well preserved, and in 1990 the town was awarded a Europa Nostra award "for the remarkable preservation of the unified wooden town of Hjo, which has maintained its distinctive character and charm". Today the town is part of the "Three Wooden Cities", together with Eksjö and Nora.
The town is also characterised by the fact that - for a relatively short period around the turn of the last century - it served as a health resort with baths and treatment centres, where rich tourists flocked in the summers. Today, Hjo is once again a popular destination, not least in the summer.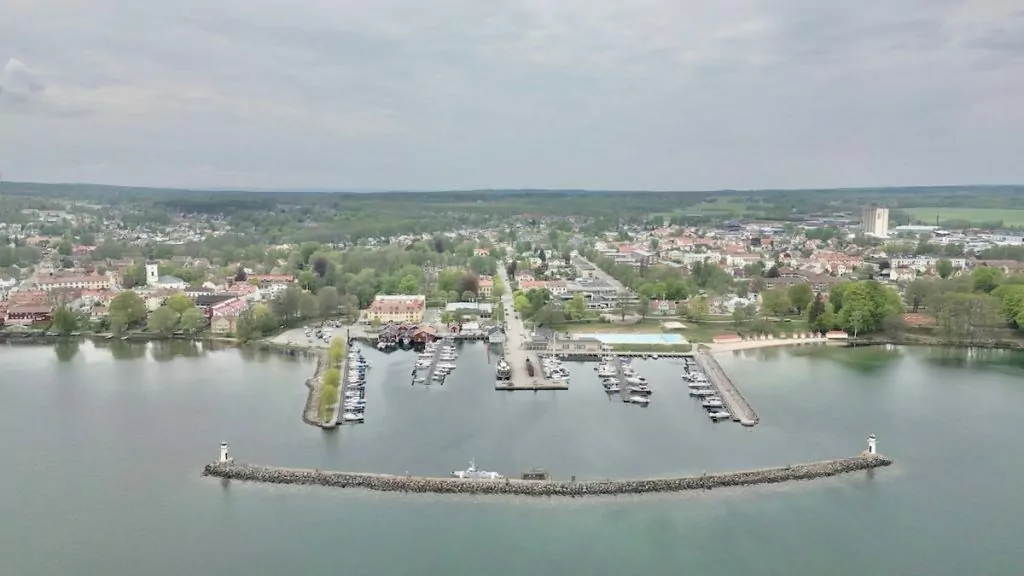 Hjo is located on the western shore of Lake Vättern, in Västergötland.
What can you do in Hjo?
So, what can you see and do in Hjo? This is a really charming and historic wooden town where it's cosy just to stroll around, but there's also more to do. Here are our top tips on what to see and do in Hjo.

1. Take a walking tour of the Old Town.
One thing you won't want to miss in Hjo is a walking tour of the Old Town. The houses in the old town are much more dense than in the rest of the city, and there are plenty of charming wooden houses. If you want, you can stroll around on your own, for example using the app "Tre Trästäder".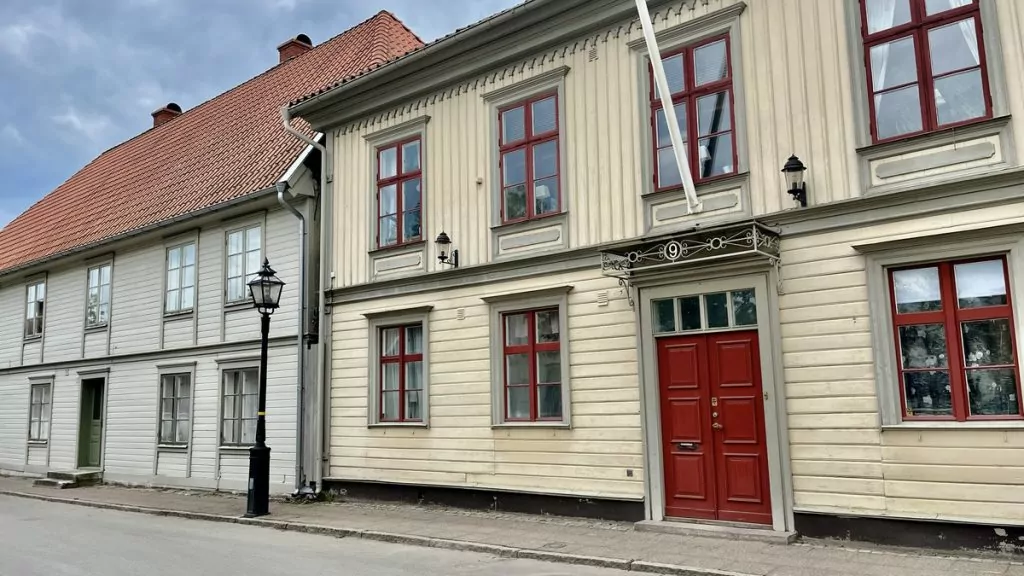 If you want to get even more out of the tour, you can join a guided city walk. This will take you to places you might not have found on your own, and discover what's hidden in courtyards and behind walls.
The memorial to Estrid Ericson, the founder of Svenskt Tenn, who grew up in the former Hotel Royal in Hjo, is not to be missed. Guided tours are mainly given during the summer, so check with the tourist office. Note that interactive city tours for children are also sometimes organised.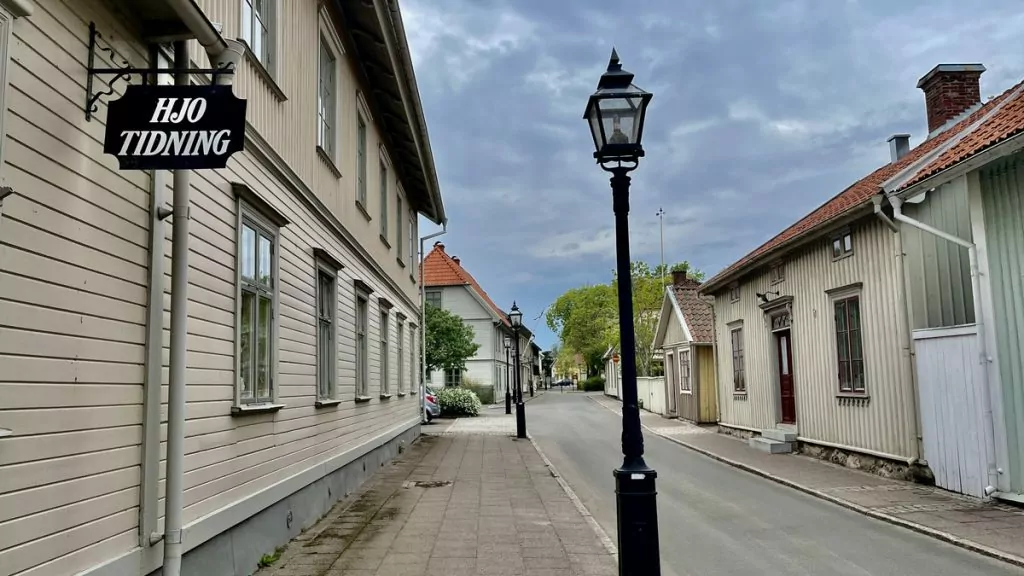 2. see exhibitions in the Pedagogy Cultural Centre
Both permanent and temporary exhibitions are displayed in the Pedagogy Cultural Centre. When we were here, we could see exhibitions about the history of Hjo, about the bathing culture in the spa (the machine in the small picture can give a back massage!) and about the designer Estrid Ericson, who founded Svenskt Tenn. In the Cultural Quarter you will also find Visit Hjo, where you can get more information before your visit.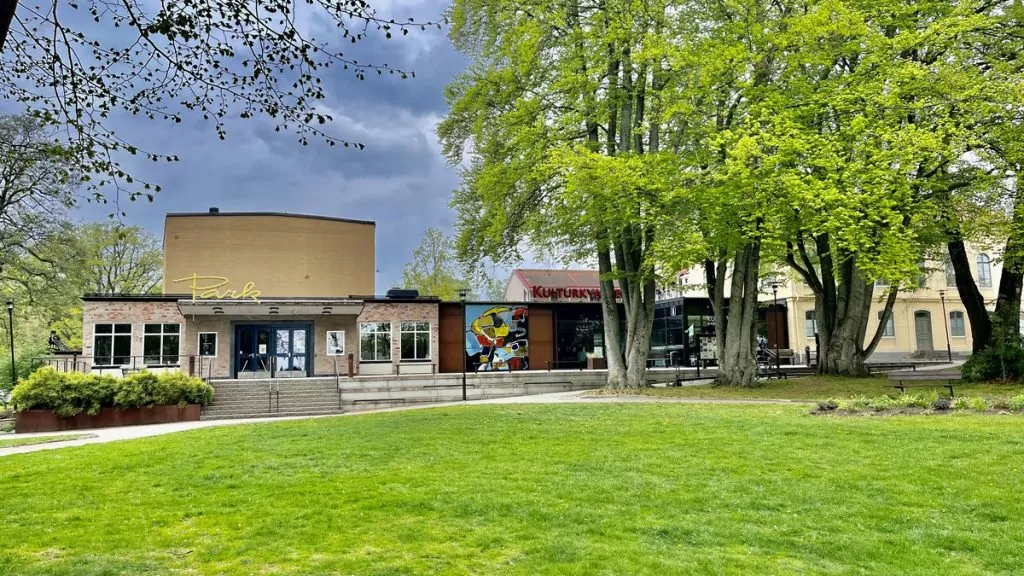 3. Strolling at Hjo harbour
One of the cosiest places in Hjo is undoubtedly the beautiful harbour. Here you can watch boats or just enjoy the sun and the view, if you are lucky with the weather. Hjo Sik, which sells and serves fresh and smoked fish, is also located here.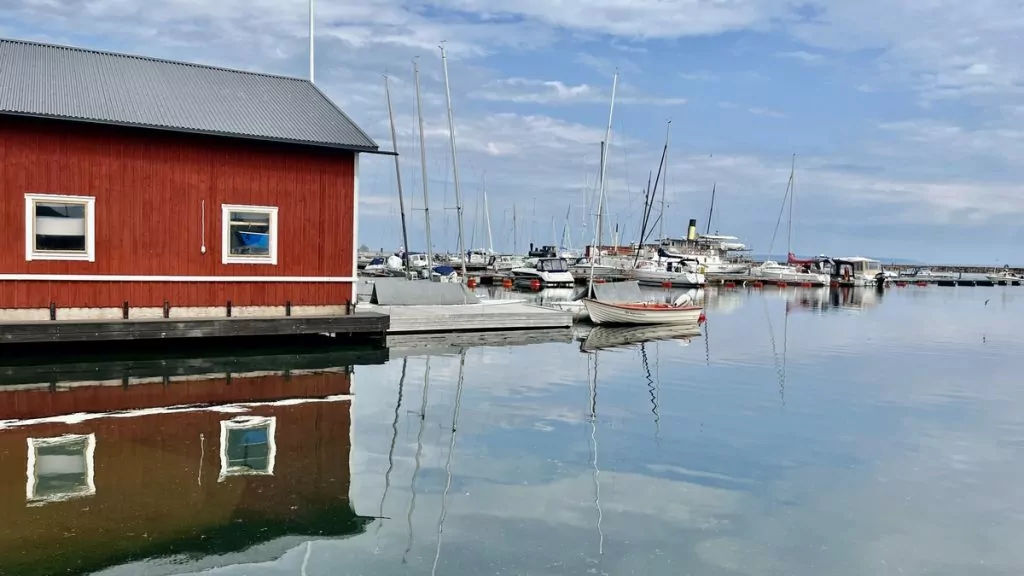 There is also a train in the harbour to remind you of the railway that once ran between Stenstorp and Hjo.

4. Eat ice cream at Aunt Elin's.
A very popular thing to do in Hjo, in the harbour, is to eat ice cream at Moster Elins. The ice cream menu is completely enormously long and there is certainly plenty to choose from. It is also delicious! If you haven't had enough ice cream after this, there are two more ice cream parlours in Hjo: Gula Paviljongen and Österhagen Glass.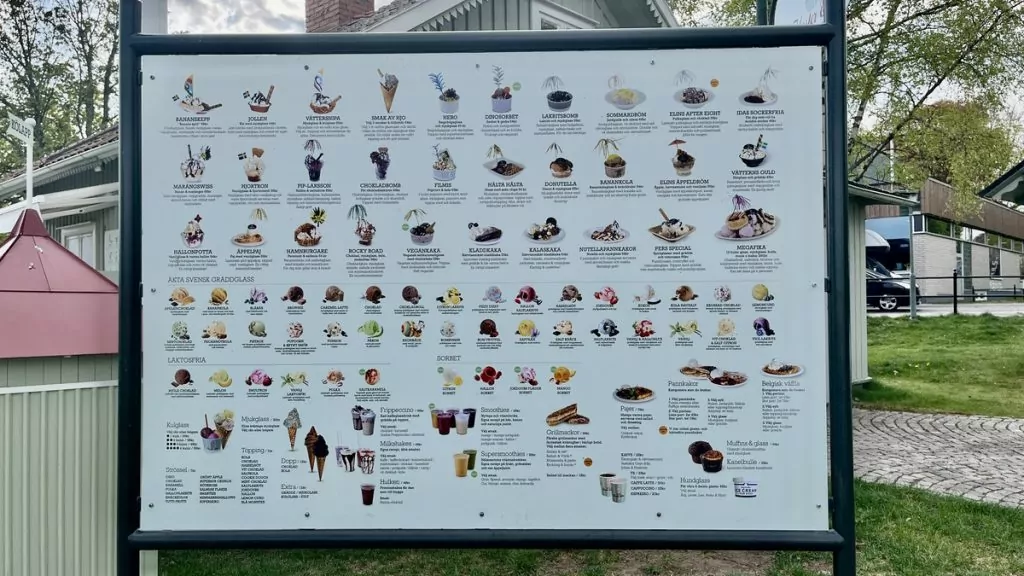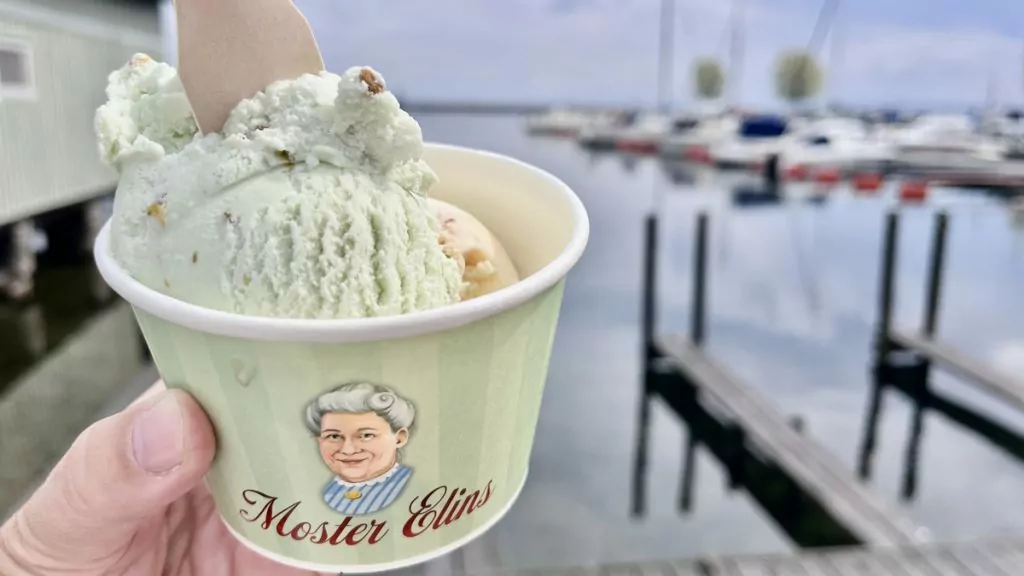 5. Take a trip on the steam boat Traffic
A special thing to do in Hjo in the summer is to take a trip on the steamboat Trafik. In particular, you can make day trips to the beautiful island of Hjo. Visingsö in Lake Vättern, but there are also other tours including shorter round trips.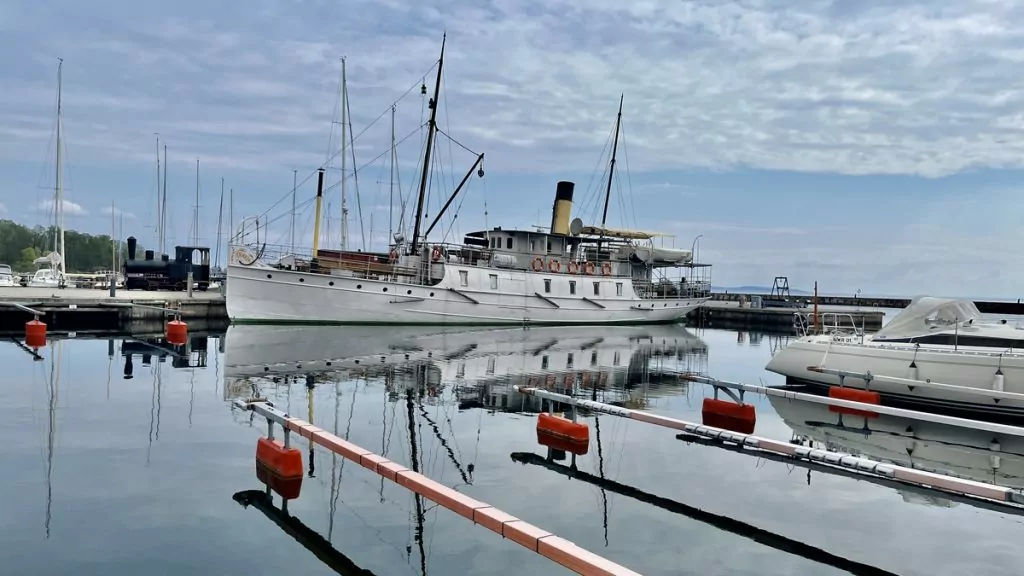 6. Swim at Guldkroksbadet.
Right next to the harbour area is Guldkroksbadet where you can swim either in Lake Vättern or in a heated outdoor pool.
You can also check out the charming bathing huts located right on the beach. Some of these are rented seasonally, while others can be rented by the day.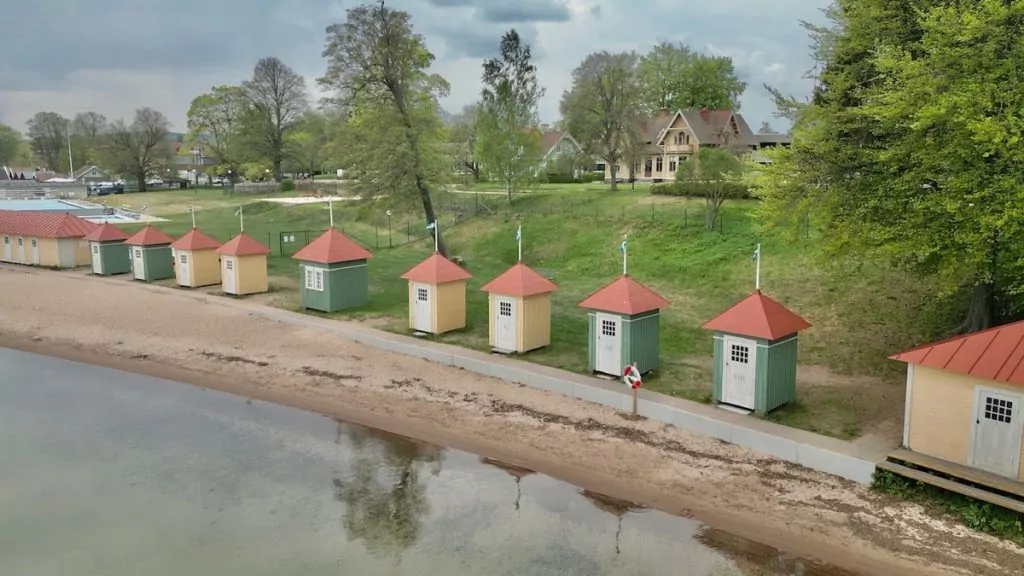 7. Walking in Hjo city park
Hjo City Park was created in the 1870s and is a reminder of the time when the park was used by the guests of the Water Treatment Centre. At that time, guests could walk here, between treatment rooms, parlours, restaurants and hotel buildings. Today, the park still offers a fantastic environment, not least with the beautiful wooden villas.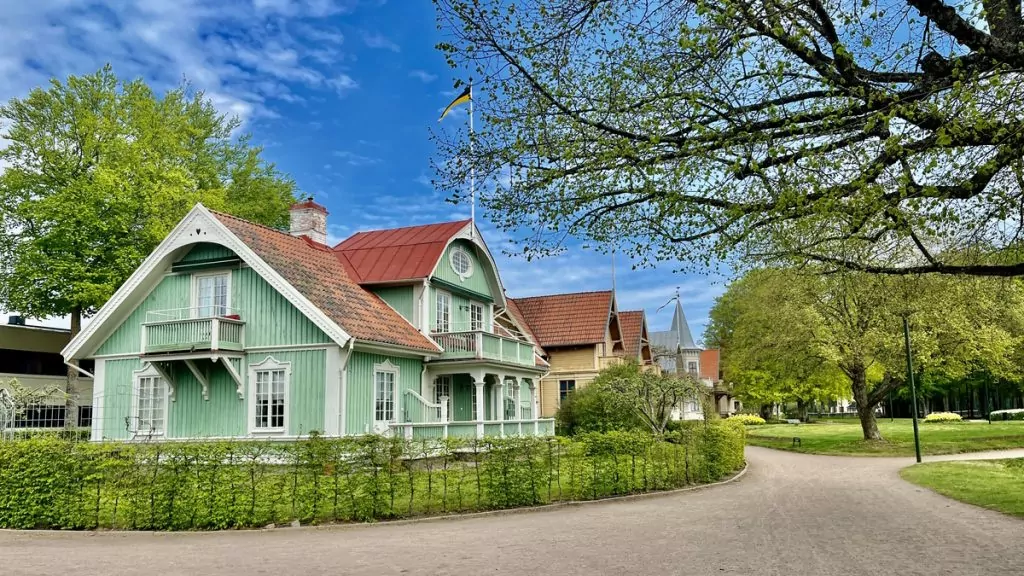 8. Have a beer at the Biergarten
In the city park is the Biergarten restaurant - a classic German-style beer garden. Here you can sit down for a beer and perhaps a schnitzel, hamburger or bratwurst. The restaurant focuses on locally produced ingredients and the meat comes from the farm slaughterhouse Lilla spännefalla.
Unfortunately, we arrived just before they opened for the day, but we will try this place next time. At the Biergarten you can also rent kayaks, SUP (Stand Up Paddle-board) and bikes.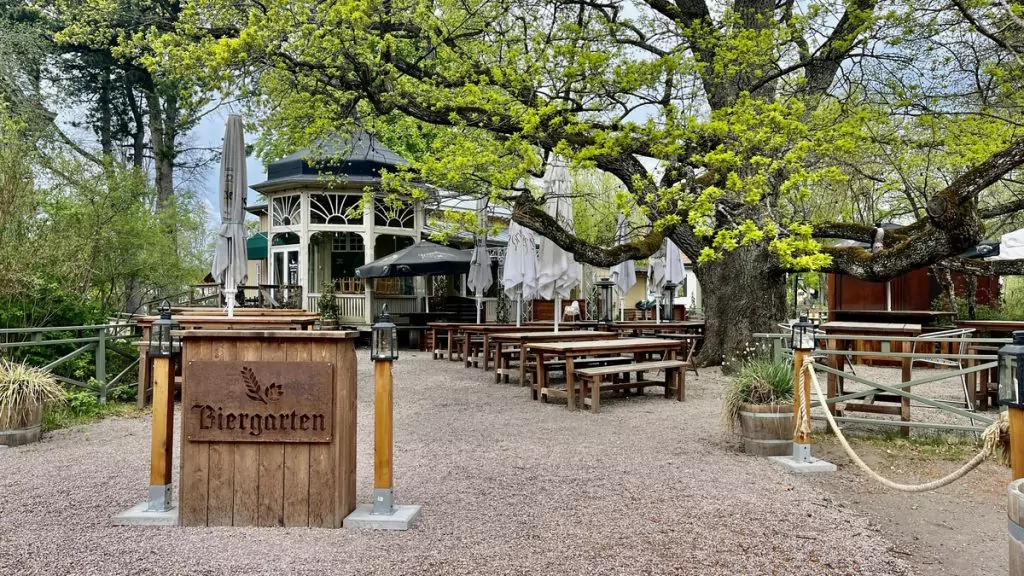 9. Eat asparagus at Känsla restaurant
Another restaurant we can recommend is Restaurant Känsla, which actually also offers German-Swedish flavours. The restaurant is mainly known for its white Vättern asparagus with various accessories. For our part, we had lunch here and it was not asparagus but Wallenbergare, which tasted excellent.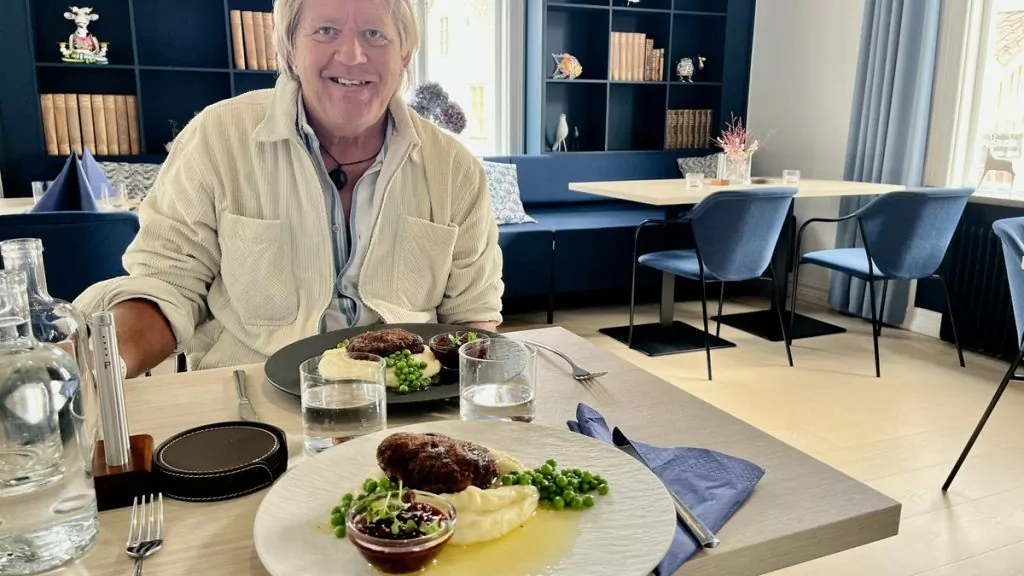 10. Shop for cheese at Almnäs Village
If you like delicacies, you won't want to miss trying the cheeses from Almnäs Bruk in Hjo. In fact, you can drive into the farm and shop at their self-service centre. You simply pick a cheese from the fridge and swish! We bought both Wrångebäck Sweden and Almnäs brickboth of which are amazingly good, with lots of flavour. If you miss shopping at the mill, or if they discontinue self-service, the cheeses can also be purchased in local shops.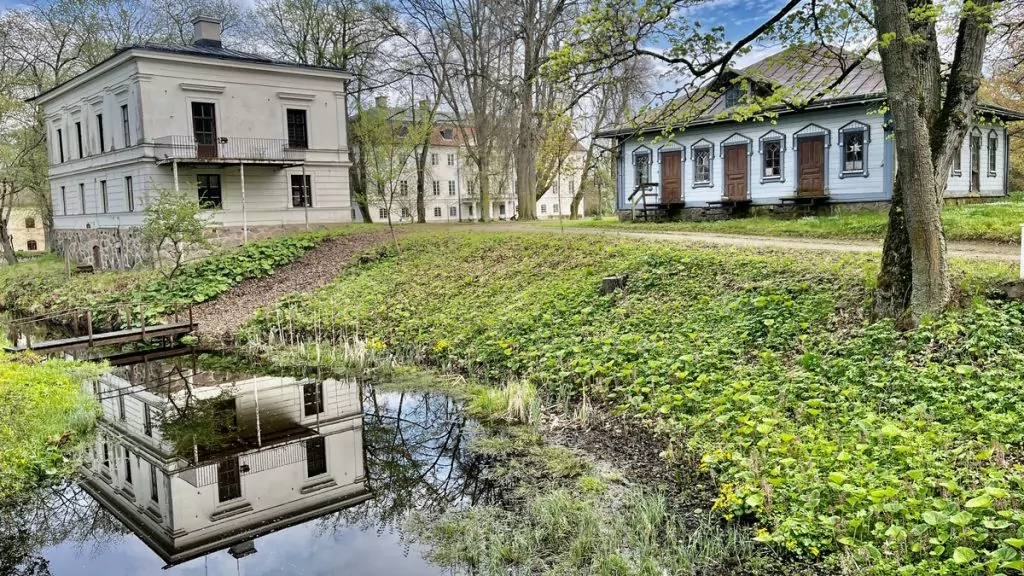 11. Shop for goodies at Delikatezza Bianca.
For those who like delicacies, we can also recommend the cosy little shop Delikatezza Bianca, where you will find Italian, French and local goodies. For example, you'll find well-chosen olive oils and things like good cheeses, salami and pasta.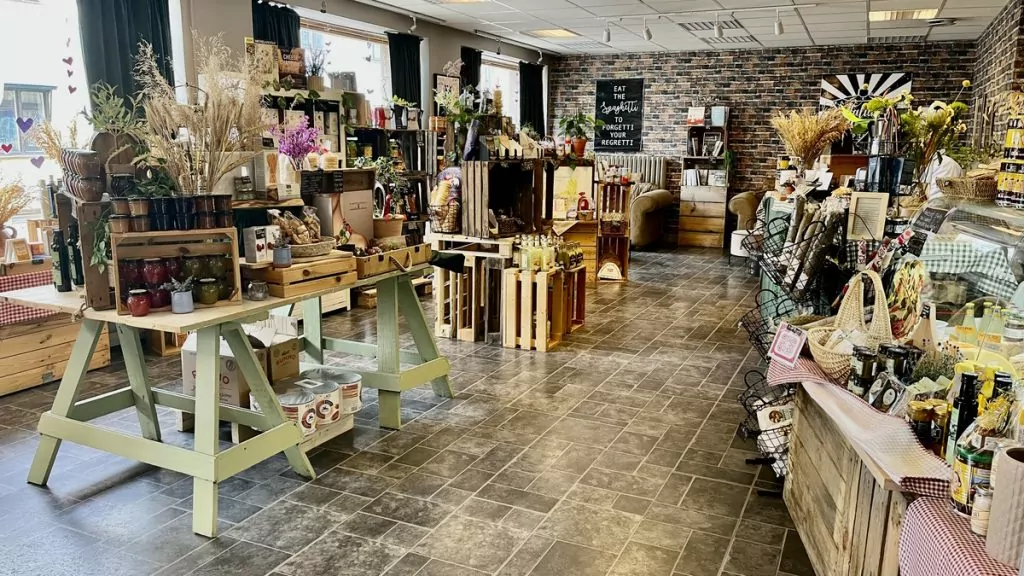 12. Try the longest bench in Sweden.
Hjo has had Sweden's longest bench since 2022. The bench, which is located along Strandpromenaden, is 265 metres long and thus beats both the Gustav Vasa bench in squid (222 metres) and the long bench in the Karlskrona (260 metres).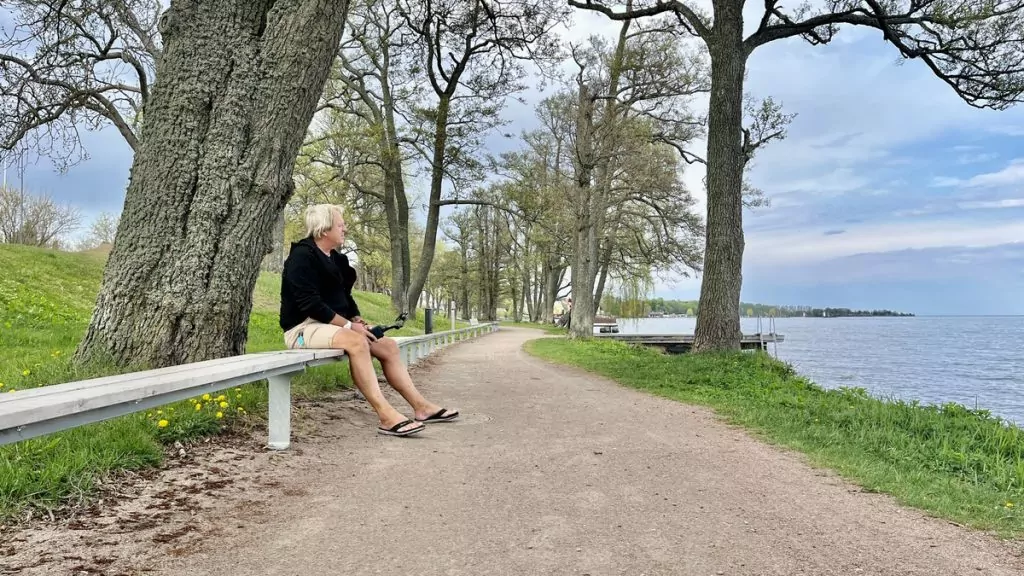 More to do in Hjo for those who like culture and history
There is of course even more to see and do in Hjo, in addition to our suggestions. Here are some more tips for those who like culture and history.
Hjo church is located in the centre of the city and is around 200 years old.
CLAY is a ceramics workshop in Hjo city park, with workshops and courses.
Norra Fågelås church is Hjo's oldest church, dating back to the 12th century.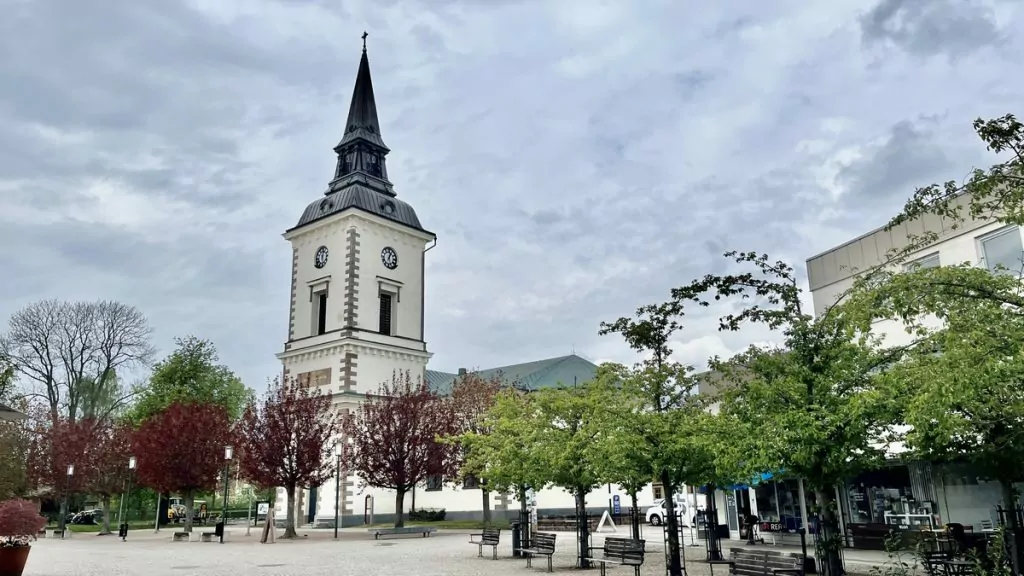 More to do in Hjo with kids and teenagers
Travelling with children or teenagers? Here are some more ideas on what to do in Hjo and the surrounding area with the family.
The bison farm in Gate offers bison safari, bison saloon, farm shop and overnight accommodation (Mobolet's farm).
Cattus family walk is a guided family walk available in the 'Three Wooden Cities' app.
The experimental centre is a small science centre that aims to stimulate interest in science and technology (Stadsparken).
Hjoån valley is a nature reserve located in the centre of the city.
The Lok-Hjo motif is a sightseeing tour that runs in the summer.
Minigolf can be found in the city park during the summer months.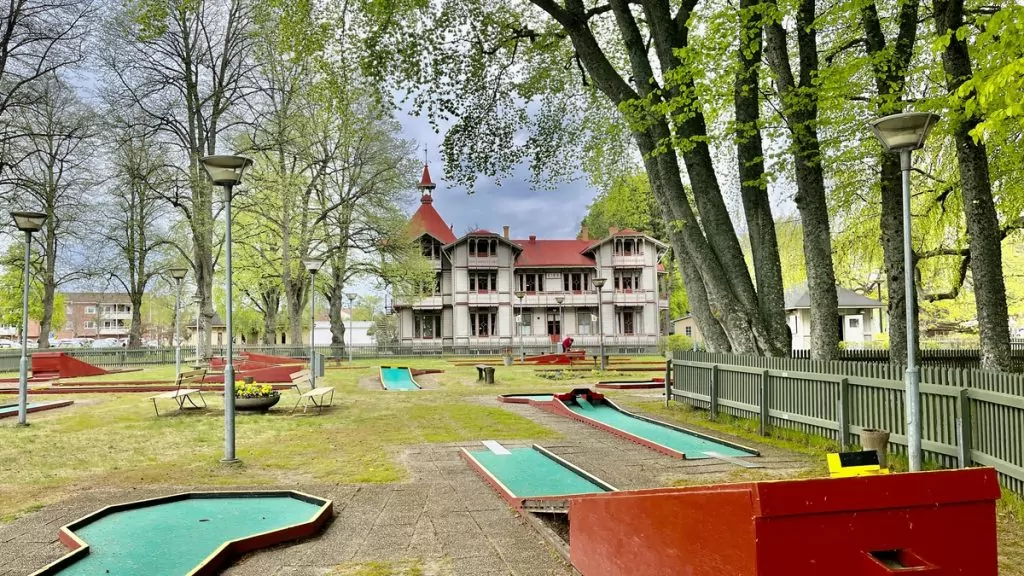 Things to do in Hjo - on film
Here you can also get some inspiration for things to see and do in Hjo via a little film that Peter has put together.
Where can you stay or park your motorhome?
There are of course plenty of hotels and other accommodation options in Hjo. In the centre of town, for example Bellavue Hotel and the hostel STF Villa Eira.
If you're travelling with a motorhome and want to be centrally located, there are either Hjo Camping or the car park Locomotive stables. We stayed at the latter, which had a good location and excellent service in terms of electricity, water and rubbish collection.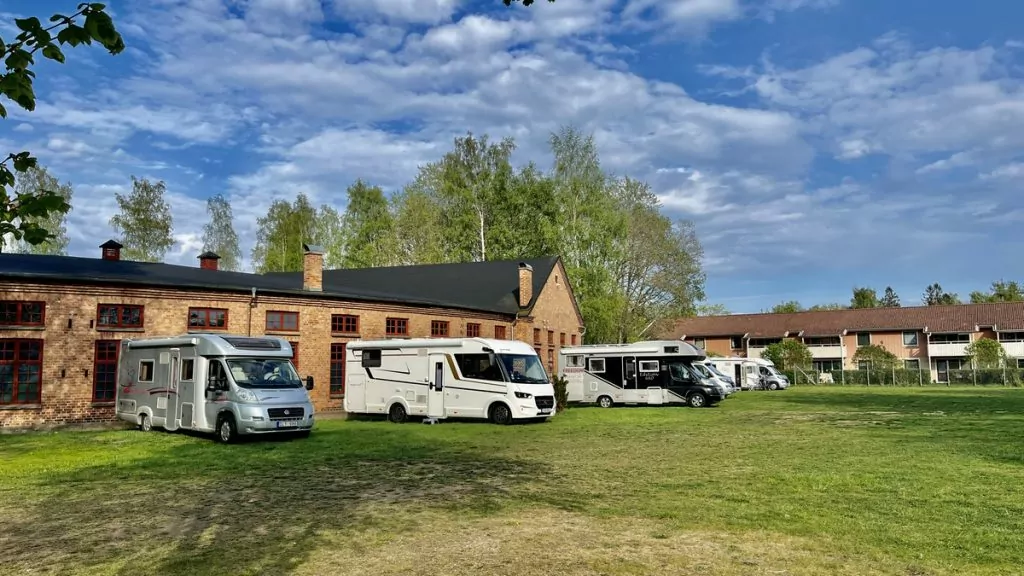 More to see and do in the neighbourhood of Hjo
There is of course more to see and do in the neighbourhood of Hjo. Just south of Hjo you will find for example Brandstorp local history centre, fishing camp First Camp Hökensås - Tidaholm and beautiful Habo church. If you are travelling north instead, you can visit Karlsborg Fortress and Forsvik mill. Below you will find even more tips on things to see and do in Västergötland.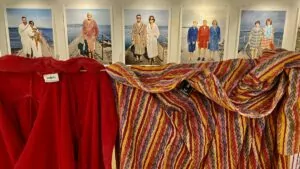 Abecita Popkonst & Foto is an exciting art museum that you won't want to miss if you're...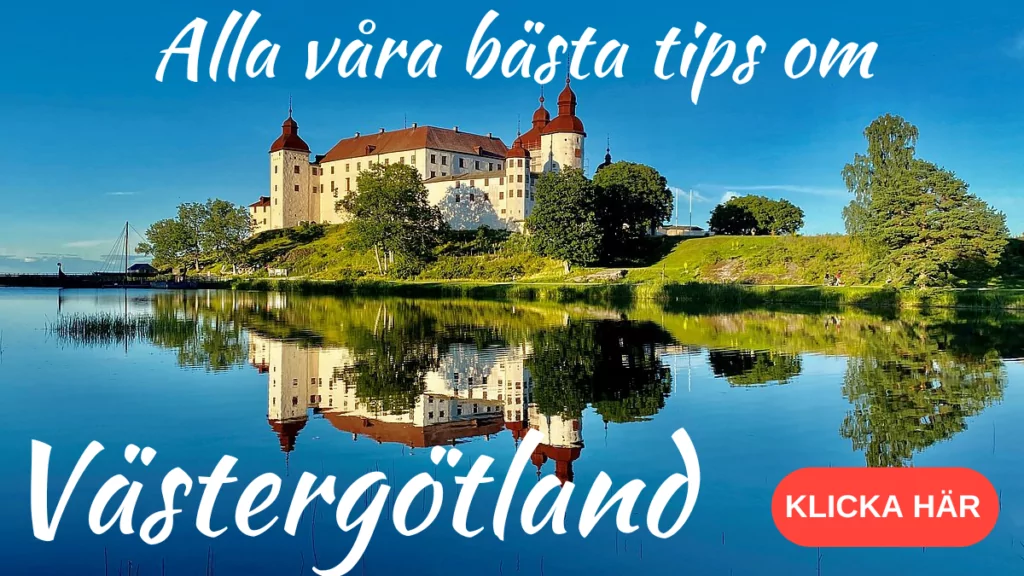 Even more suggestions for what to see and do in Hjo?
We had really nice days in Hjo and can highly recommend a visit here. Have you been here? How was your experience? Do you perhaps have any more good tips on what to see and do in Hjo?
frequently asked questions about Hjo
What does Hjo mean?
A popular explanation for the name Hjo is that a monk washed up on the beach after a storm and exclaimed "Hic Jacet Otium" (Here lies peace), but this is probably a myth. Another explanation is that the water was said to be turbid (or 'cloudy').
When was Hjo founded?
It is believed that Hjo was granted town privileges in the early 15th century. The town was first mentioned in writing in Erik of Pomerania's tax book from 1413. In 1586 the town's privileges were confirmed and extended.
What is Hjo known for?
Hjo is known as the 'wooden town by Lake Vättern'. The city is known for its well-preserved wooden houses and is, together with Eksjö and Nora, part of the "Three Wooden Cities" network.
Facts about Hjo
Landscape: Västergötland
County: Västra Götaland County
Municipality: Hjo municipality
District: Hjo district, Västra Fågelås district
Population: Just over 9000 (2023)
Read more: You can find more information at tourist office website and by downloading the 'Three Wooden Cities' app.
History in Hjo
The Middle Ages: The town was an important harbour, with connections to the towns of Hästholmen and Vadstena.
Early 15th century: The town probably received town privileges during this period.
1586: The city's privileges were confirmed and expanded.
Early 19th century: Hjo was still a small town, with only 350 inhabitants in 1805.
1854: A new harbour was opened, which was considered the best on Lake Vättern.
1873: The narrow gauge Hjo-Stentorp railway was inaugurated, on the Western Main Line.
1877: Hjo City Park was designed by garden architect Johan Joseph Sternemann.
1878: Hjo Vattenkuranstalt was inaugurated, and tourists began to come in the summers. The spa was founded by Harald Röhss at Munkeberg Manor, Count Gustaf Sparre at Almnäs, wholesaler Gustaf Sjöstedt and provincial doctor Wilhelm Baggstedt.
1932: Vattenkuranstalten (Hjo Badanstalt) went bankrupt. The city took over the organisation, which was closed in 1935.