Smart solutions in your motorhome - that's what you want, right? After more than ten years of living in a motorhome, we've come up with various solutions that we think make motorhome life easier. Here are our tips! If you have a motorhome or caravan - please share your tips too!
Smart solutions in the motorhome
When you live or holiday in a motorhome (or caravan, for that matter), you are staying in a limited space. At the same time, you need to make everything work with electricity, water, storage and so on. After all these years on the road, we've come up with some clever motorhome solutions that work for us. We share 11 tips with you. Feel free to add more tips in the comments section!
1. Water hose and fittings for filling water
We have a water hose to fill the tank of your motorhome with water, for example at campsites, car parks and petrol stations. We use always our own water hose, even if there is one you can borrow. The reason is that it is difficult to be 100 per cent sure that there are no bacteria on the borrowed hose.
Our water hose is 5 metres long, which we think is just right. We have it suspended in the motorhome's garage along with a amount different couplings, so that we always have a coupling that fits. Sometimes there's already a coupling that you have to remove before you can put your own, so we also have a polygrip.
2. electric cable without winding/reel
Of course, you need a power cable in your motorhome, and often you buy the power cable in a coil (cable reel). Peter went crazy about the reel. He found that it was tangled, snagged and that grass and leaves were pulled into the reel. Eventually he cut it up and now we have the power cable hanging loose on a hanger in the garage, along with the water hose. Much easier, we think!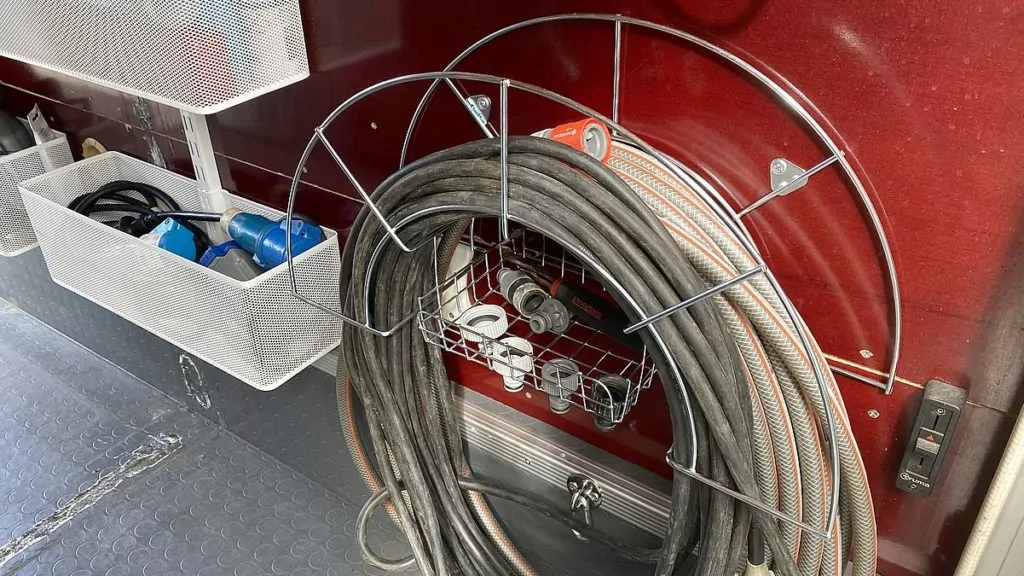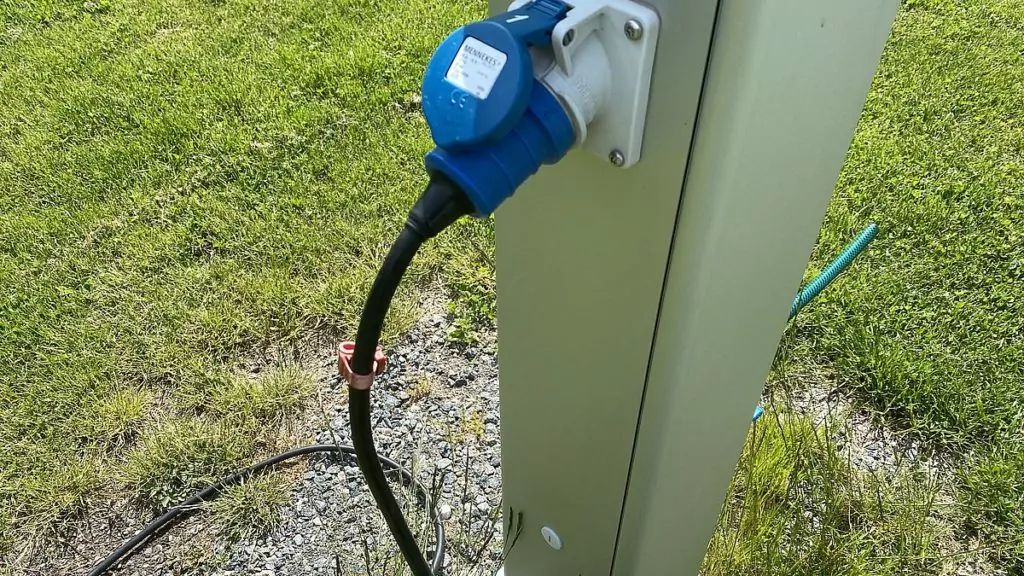 3. Shelves in the garage
When we recently rebuilt the motorhome garage, we hung shelves along the walls. We bought an electrical system from Bauhaus that said "bathroom" on it. Here we store small tools, cables and the like. Practical with a little order! To prevent them from rattling against the wall, we put a sealing strip behind them.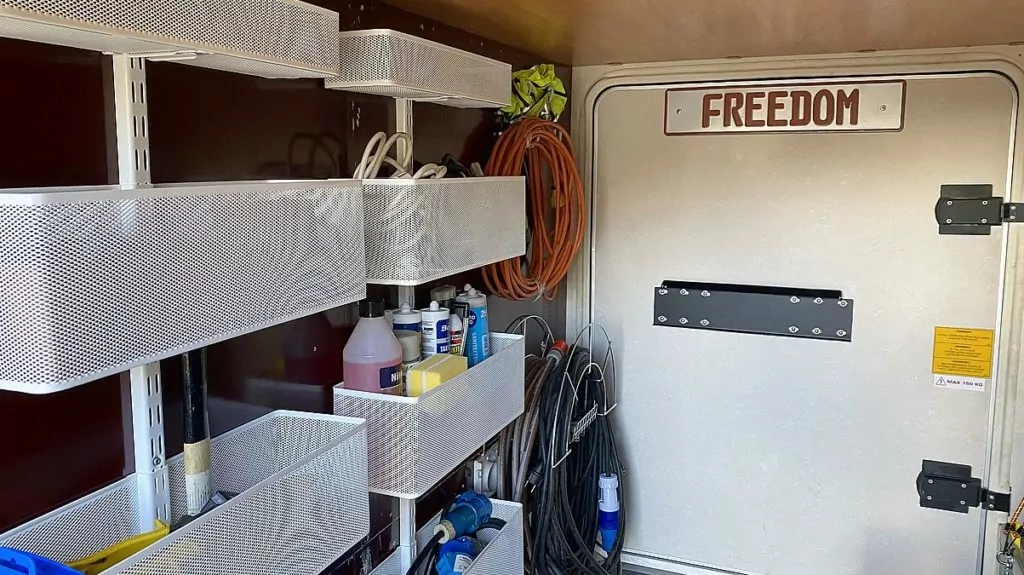 4. Wall-mounted storage
On both doors to the motorhome garage we have put up a kind of wall-mounted storage that we bought at Clas Ohlson. We store various items here, such as work gloves, straps for the awning, "snakes"/straps to secure the bikes, etc.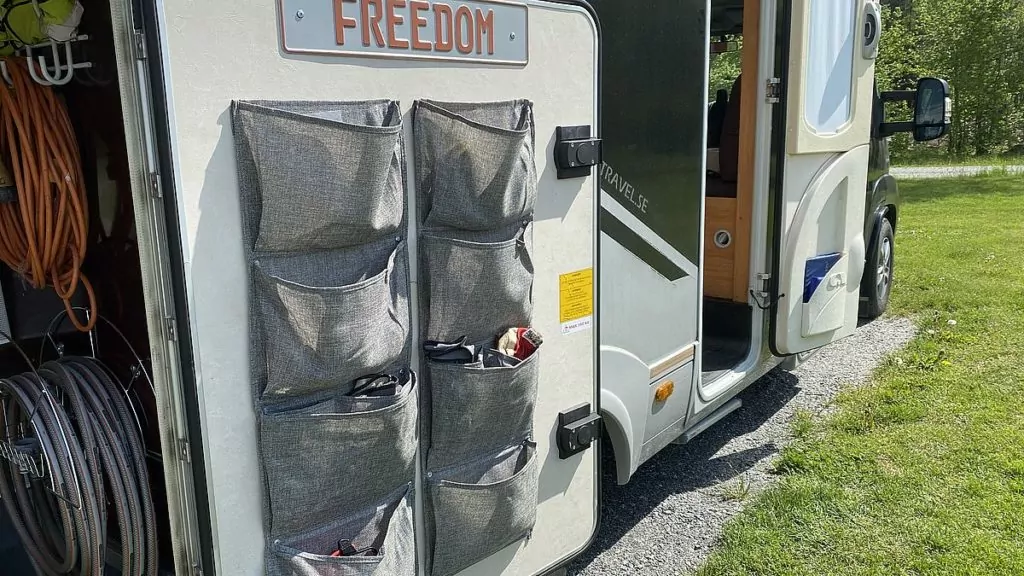 To set up the storage, we used 13 mm long screws with a large flat head, 8 screws per storage to distribute the weight.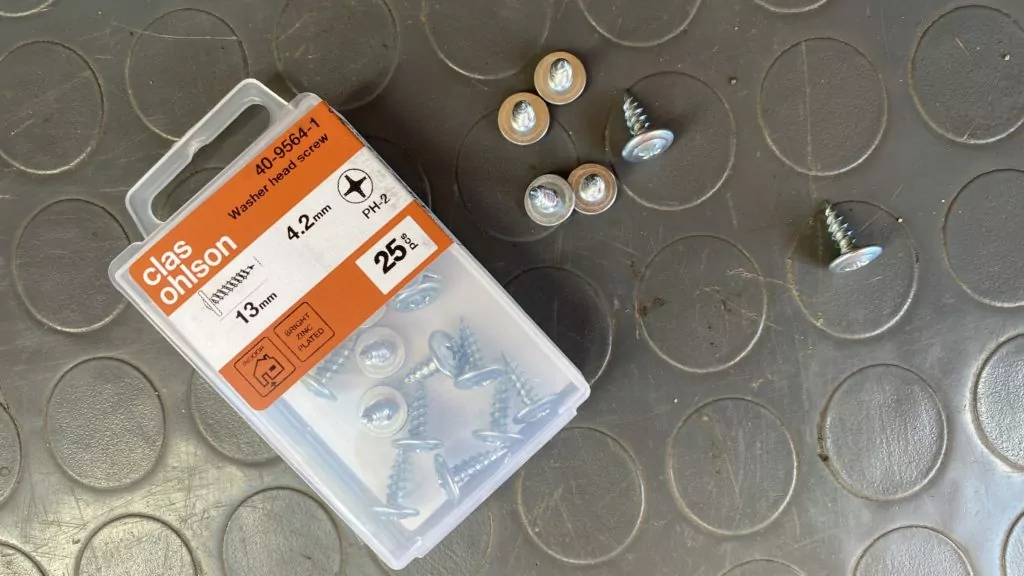 5. Bolted safe
In the motorhome garage we also have a safe. The safe is bolted to the motorhome and we have destroyed the threads. So it's not possible to unscrew the safe if you get that idea. We sometimes use the safe to store valuables such as passports, ferry tickets, insurance papers, extra bank cards or a camera.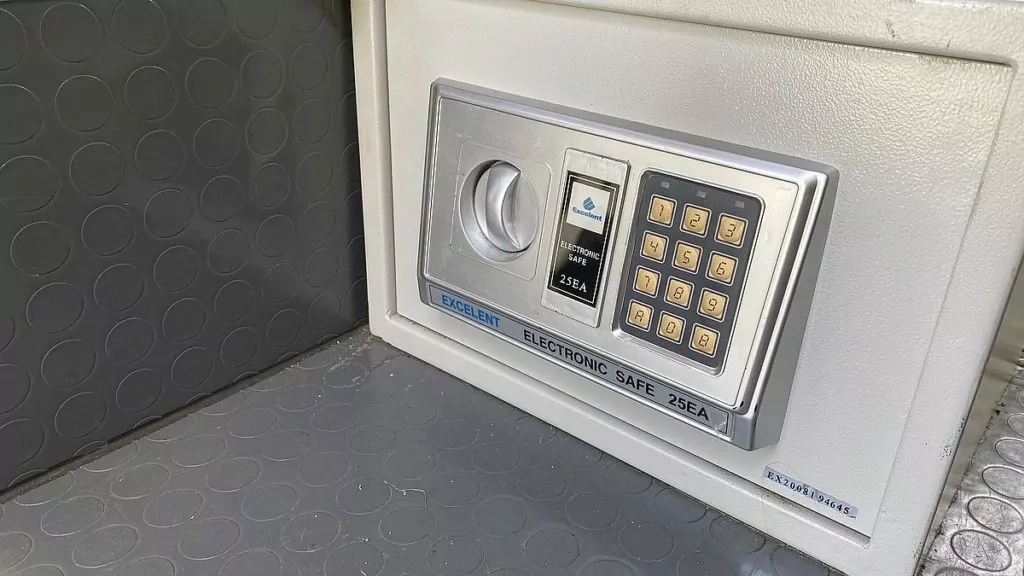 6. larger rubbish bag
If you have a motorhome with a "rubbish bin" behind the kitchen, you can, if you wish, do what we have done. We have a bucket here, which we sawed off the bottom. We then clamp a large black rubbish bag around the bucket. This gives us a big rubbish bag that doesn't get full straight away, and we then empty it from the outside. However, you have to think about waste sorting, so maybe not everything should be thrown into the big black bag ...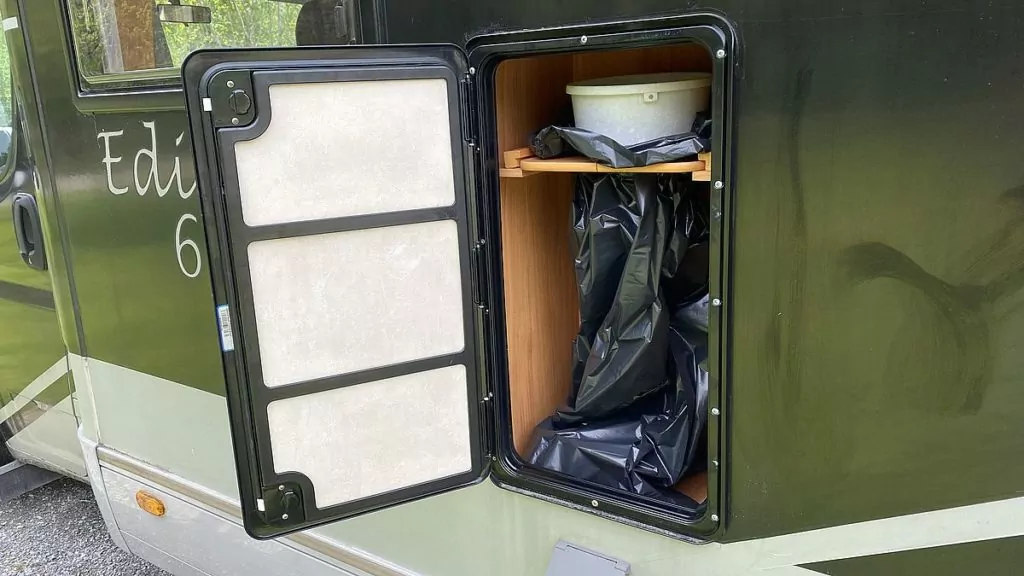 7. cleaning of the fresh water tank
The fresh water tank needs to be cleaned from time to time, otherwise it can harbour bacteria. Of course, it's especially important to do enough cleaning if you want to be able to drink the water. To be on the safe side, we never drink the water in our tank, but only use it for washing, cooking, washing dishes and the like. Even if we don't drink the water, we still want to clean the tank from time to time.

There are special cleaners for this purpose in camping shops. When we travelled around Europe for a whole year in 2015, it was difficult to find camping shops from time to time. We learnt from other campers that you can also use tablets to clean dentures. These can be found in pharmacies and possibly at Lidl.
We pour in a bunch of tablets and let it "rattle around" for an hour or so while we drive. Then we drain the water, rinse the whole tank (by pulling the water hose through the window and flushing) and then fill it with fresh water.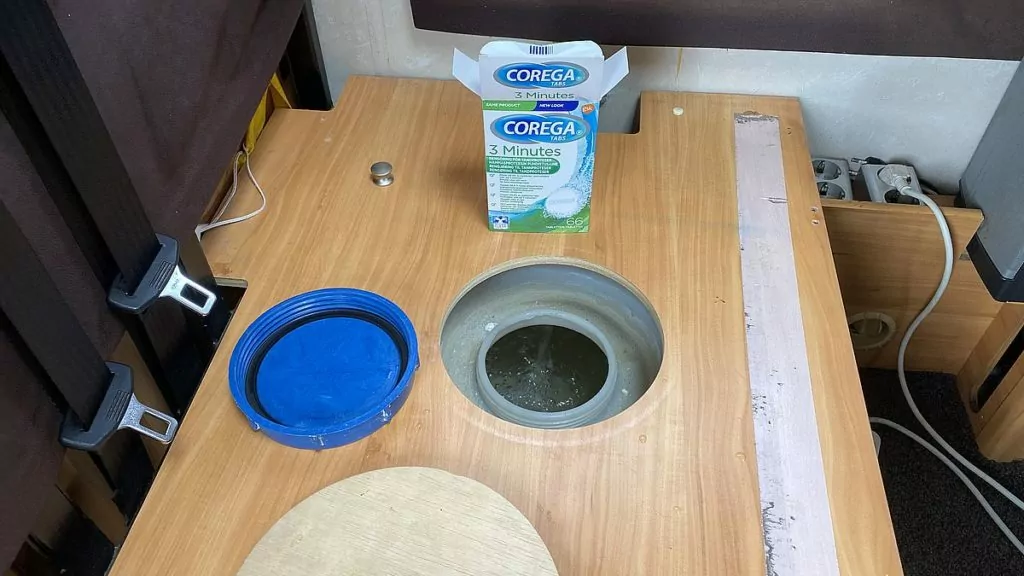 8. extra pantry by the kitchen
In many motorhomes, there is a high cupboard near the kitchen, which is usually intended for hanging outerwear or other clothes. This can be a good thing, but we think that the space is better utilised by having shelves here. Often you have (we think) too few cabinets in the kitchen.
We've put in several shelves and here we store things like paper towels, toilet paper, plastic cups and cutlery (good for some occasions, although of course we have regular cups and cutlery too), beer, wine, hard bread and the like. What about clothes? Yes, we fold them into lockers or put them in the alcove.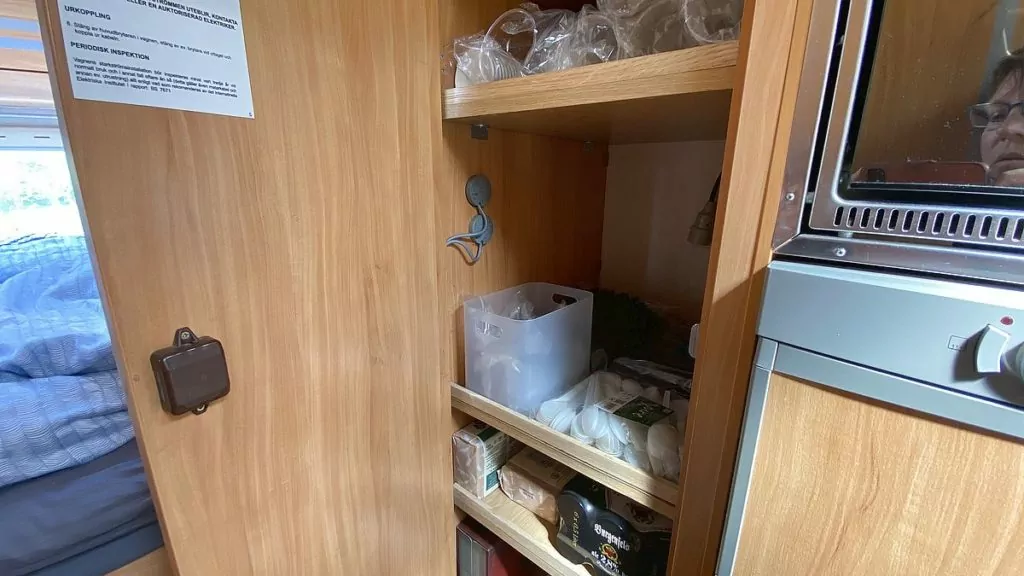 9. baskets for storage
In the kitchen cabinets and drawers we have many different baskets and smaller boxes. This makes it easy to organise the cabinets and keep things in place, even when driving. In many cases, we have chosen fabric-covered baskets to reduce rattling and other noises when driving.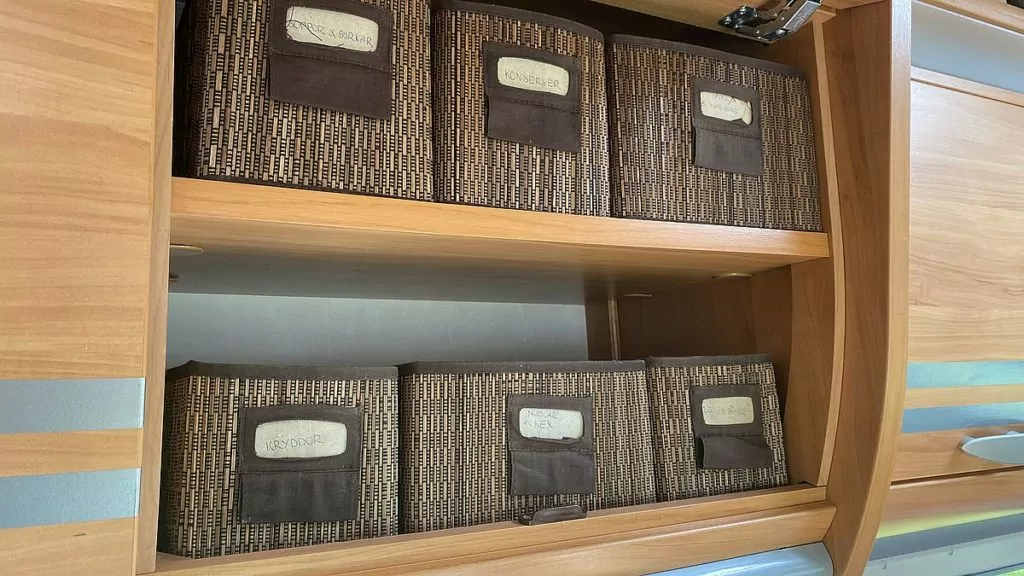 10. Wall-mounted holder for household rolls
In the kitchen we have a wall-mounted paper towel holder. This is convenient because the paper towels can always be in place, even when we are driving. Next to the paper towel, we have a hook for the dish brush.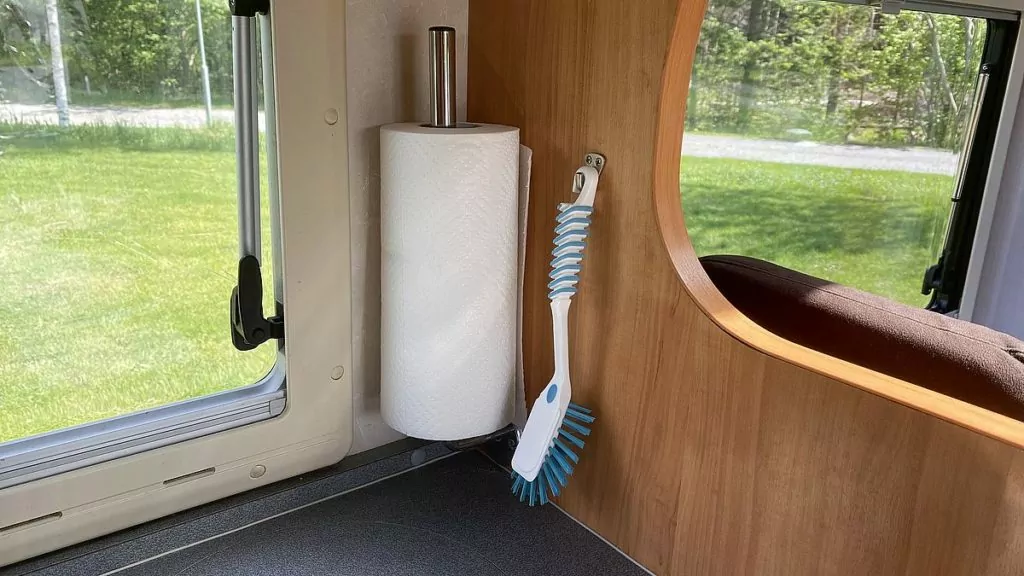 11. moulding for knives
In the kitchen we have also set up a list for knives. No, of course we don't keep the knives here when we're driving, they have to go in a box. However, when we are stationary, we find it practical to hang the knives on the list.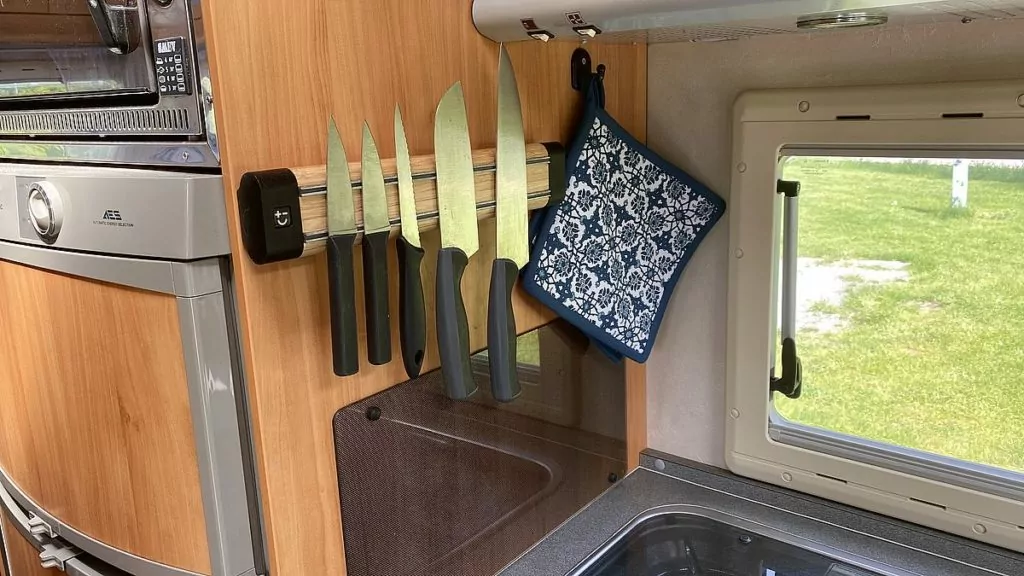 More smart solutions in your motorhome?
Do you have more tips for smart solutions in your motorhome or caravan? Let us know!