Northern Lake Garda in Italy - perhaps the most beautiful part of Lake Garda! Here is, among other things, Riva del Garda, where we are right now. Riva del Garda is located in the province of Trento, and here you will find everything from historical sights to beautiful beaches surrounded by high mountains and a wonderful climate with lemons and olives. We can also tell you about a great motorhome campsite we found.
Lake Garda North in Italy
Lake Garda North is a special and dramatic place with its clear waters and high mountains plunging into the water. Many people who come here once choose to come back, and no wonder. At the northern end of Lake Garda you can sunbathe and swim, surf, hike, enjoy Italian food or just relax with a good book.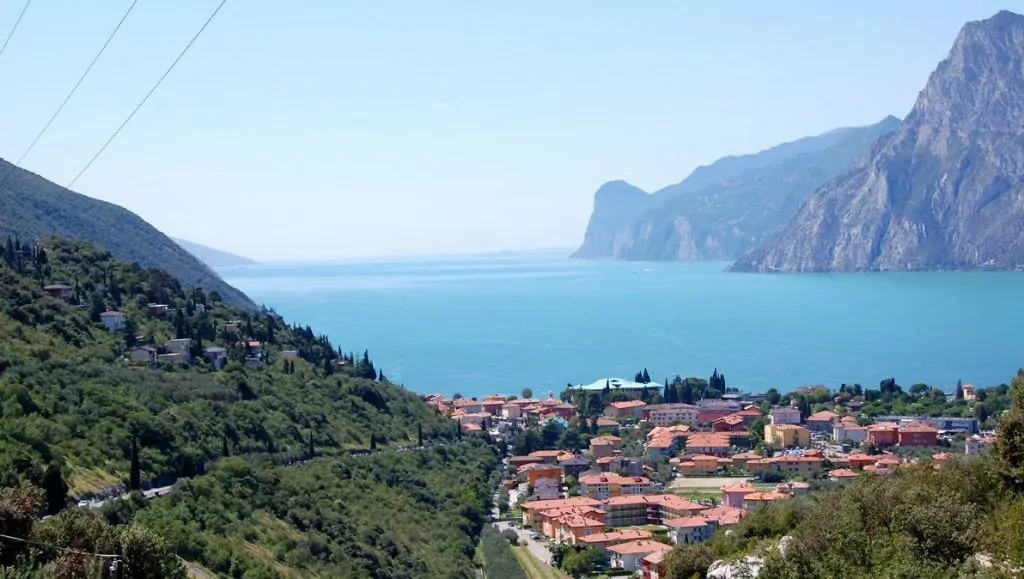 Lake Garda - Italy's largest lake
Lake Garda, or Lago di Garda in Italian, is the largest lake in all of Italy. The lake is located in northern Italy, about halfway between Venice and Milan, and not far from Verona. The lake and surrounding areas are known for both holiday life and vineyards, and many tourists, both Italians and foreigners, come here during the summer months.
In the southern parts of the area, the landscape is flatter, and we have also experienced that the water temperature is a little warmer here. In this part, it is more densely populated and here you will find resorts such as Bardolino, Salize, Peschiera del Garda, Sirmione, Desenzano del Garda and Salò. Further north, on the western side, you will find Gargnano and Limone Sul Garda. On the eastern side are Brenzone, Malcesine and Nago-Torbole.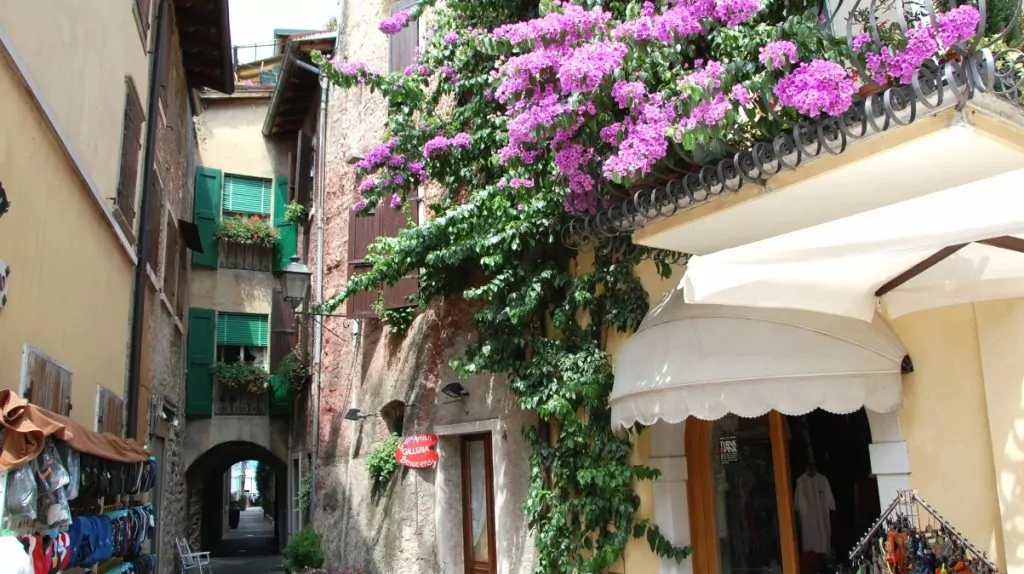 Riva del Garda
Riva del Garda is a municipality in the province of Trento, at the top of northern Lake Garda in Italy. This part of Lake Garda is really beautiful with its dramatic mountains and wild nature. In addition, the old town is really nice to stroll around!


Attractions in Riva del Garda
We walked around Riva del Garda one day, and found some fun shopping, among other things. For those who want, there are also several attractions. Among other things, the Rocca fortress is located here, surrounded by the old city gates of the historic centre. Here, tourists can relax with an ice cream on the beach or stroll along the winding streets.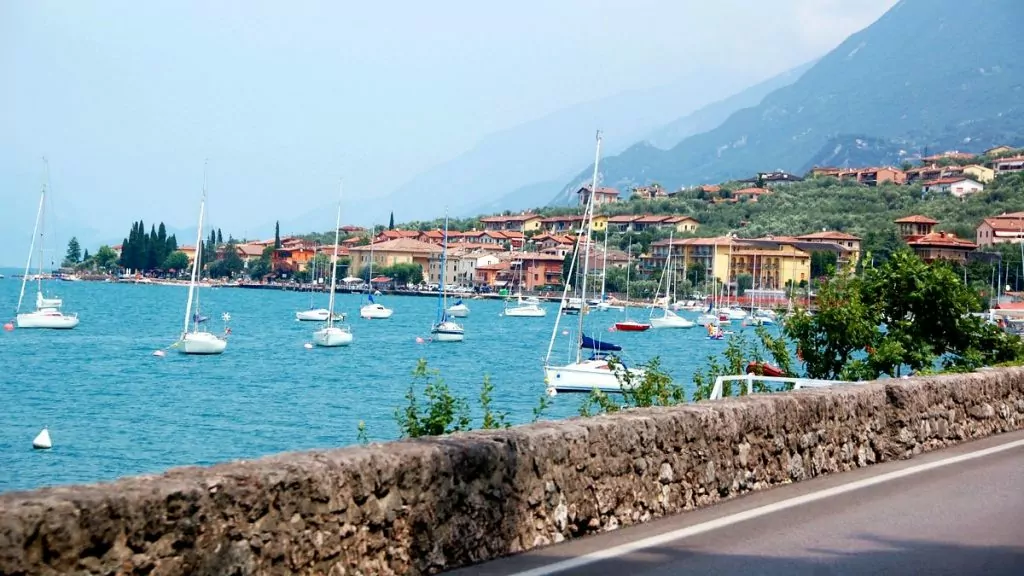 Riva del Garda is home to the Museo Civico, with paintings and exhibits from Riva's history. Torre Apponale is the tall 13th century bell tower in Piazza III Novembre in the centre of Riva. Here you can climb the bell tower if you wish.
The area around Riva del Garda offers great hiking trails. If you have a car, you can also explore the surrounding area and visit vineyards or go to the town of Malcesine, from where you can take a cable car up the Monte Baldo mountain. The cable car runs during the summer months and the views of Lake Garda are said to be stunning.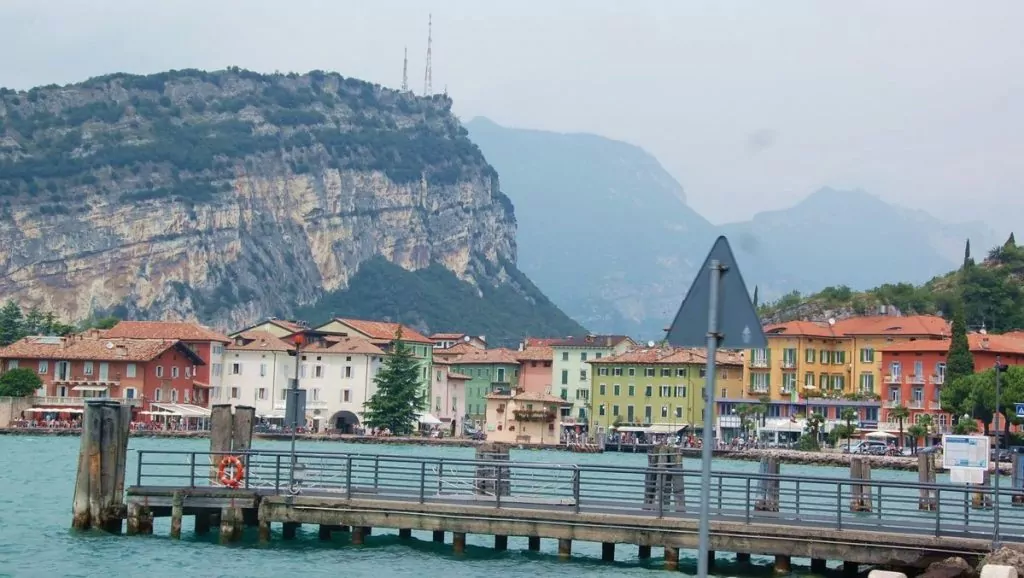 What to do in Riva del Garda?
Riva del Garda is a charming Italian village with winding alleys, right next to a large crystal clear lake. Could it get much better? We don't think so. Here are some suggestions for things to do in Riva del Garda:
Eat ice cream! What tastes better than Italian gelato?
Enjoy Italian food! Not sure how to order at the restaurant? Read our post on the art of eating a meal in Italy
Sports. Riva del Garda is the perfect destination for hiking, cycling, windsurfing, kayaking and climbing.
Sunbathe and swim at the beaches!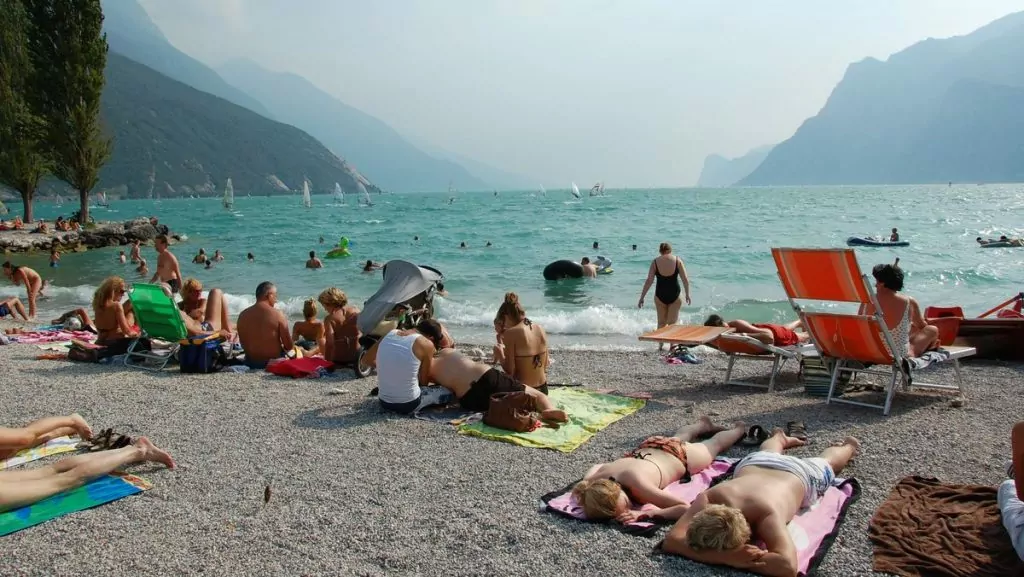 Cyclists and windsurfers
Northern Lake Garda in Italy is surrounded by high mountains and the wind makes the waves quite high. Cyclists and windsurfers, as well as other nature and adventure lovers, are the main attraction here. We've done some sunbathing and it's going very well, even though it's a bit windy. Out on the waves you see plenty of windsurfers.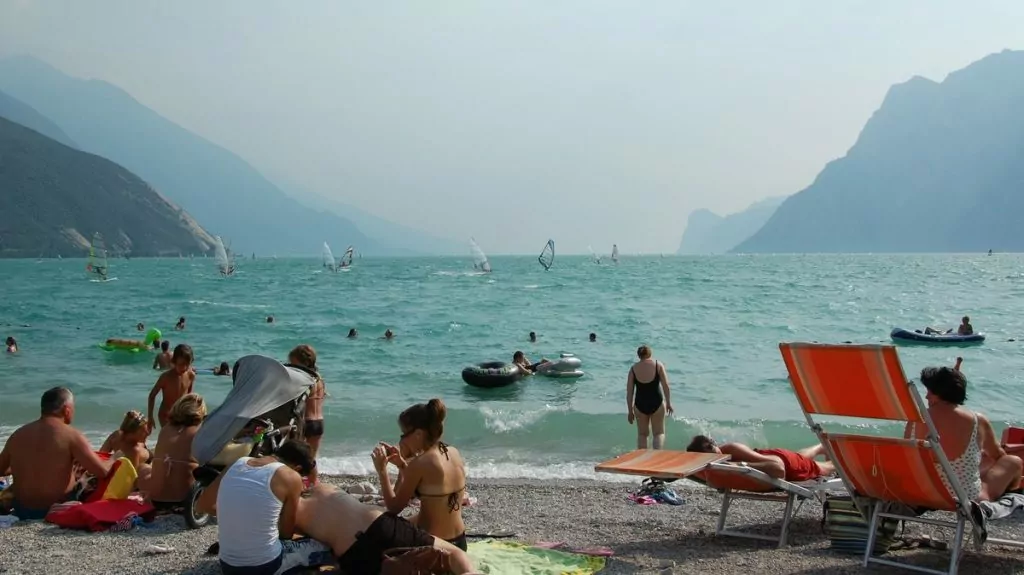 Camping at Lake Garda North
We stayed at a motorhome campsite on Via Brione in Riva del Garda, where only motorhomes were allowed and where you can stay for a maximum of 48 hours. It was easy to check in and slightly cheaper than a normal Italian campsite (29 euros for one night and four adults). At about the same address there are both campsite and car park.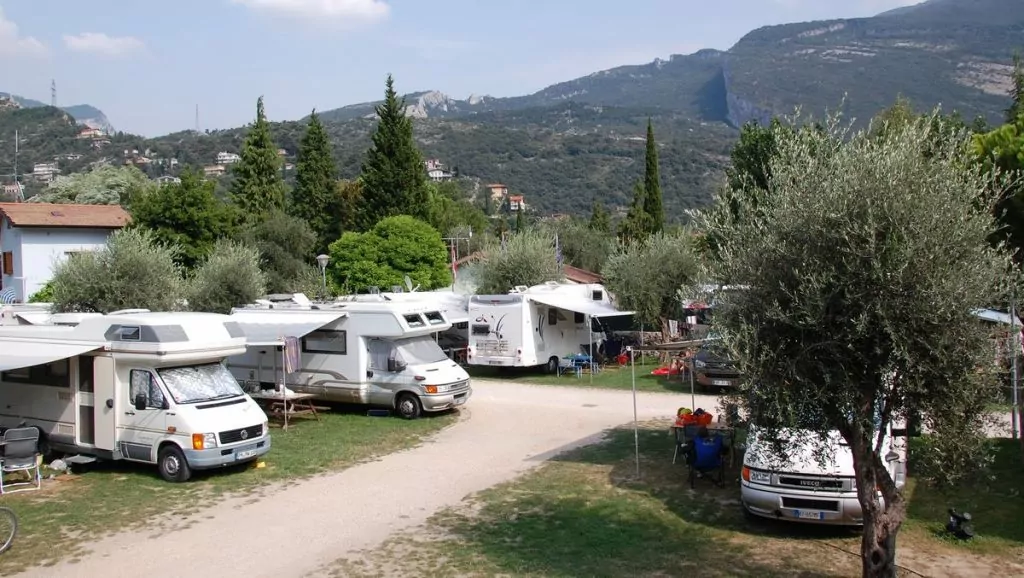 The service is quite basic, with a few toilets and showers and some "emergency food" at the reception, but the beautiful nature is a plus point. From here, it is also very close to the beach, and also to a small centre with shops.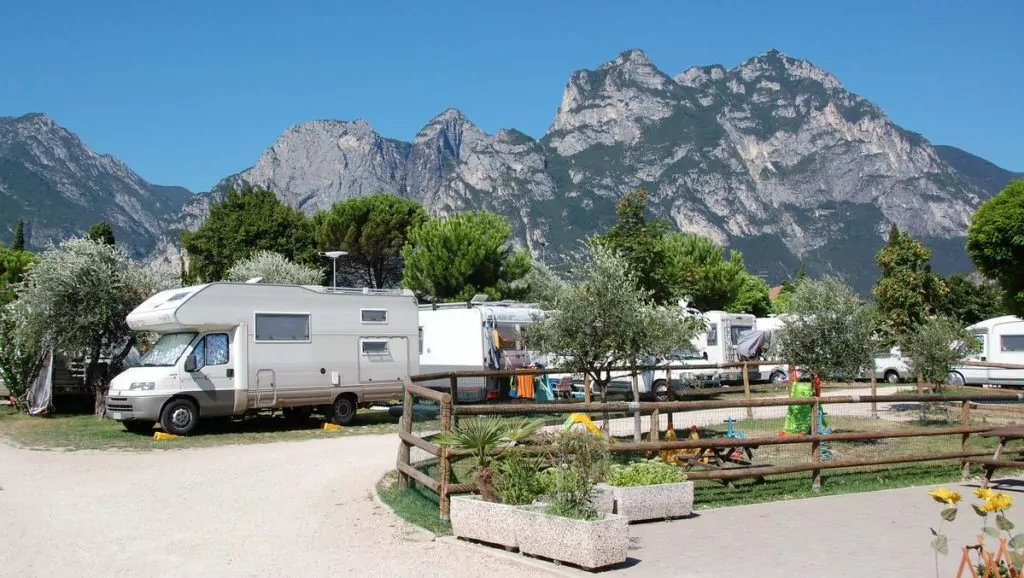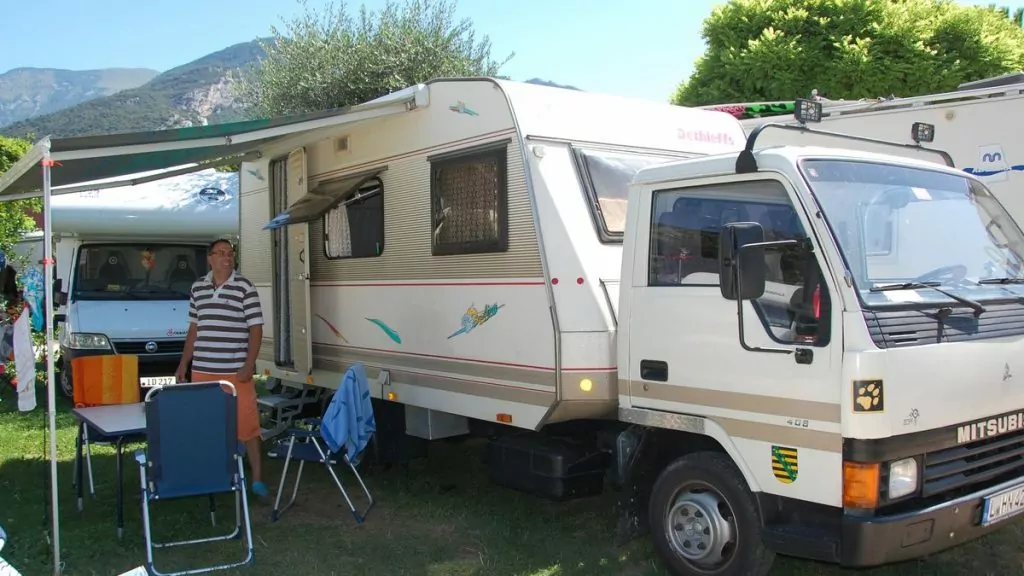 See more around Lake Garda North
Travelling around by car or motorhome? There's plenty to see and do near Lake Garda North and Riva del Garda. Here are our top tips:
Valpolicella are the Vindalars, located just east of Lake Garda. Here you can easily buy wine in Italyand get the best.
Verona located just over an hour from Riva del Garda, is a fine historic town with an amphitheatre.
Lago d'Iseo you will find 1.5 hours to the west. This lake, which is slightly smaller than Lake Garda, is stunningly beautiful.
Facts about Riva del Garda
What country? Italy
Language? Italian (some also speak some English)
Residents? 17 000 in Riva del Garda (2017)
Currency? Euro
Price point? As in Sweden
Time difference? None
Emergency number? 112
El? Like Sweden
Water? Drinkable
Travelling to Riva del Garda
Flights to Verona, Bergamo or Milan. Distance from Verona to Riva del Garda is just over an hour by car, from Bergamo about 2 hours by car and from Milan about 2.5 hours by car.
Bil from Stockholm to Riva del Garda takes about 21 hours in pure driving time. There are several ferry connections to choose from.