Finnline's new ship to Åland and Naantali is called Finnsirius and is a state-of-the-art cruise ship with stylish interiors, a luxurious spa and a wide range of restaurants and eateries. We joined the maiden voyage and experienced a day of stargazing.
Finnsirius - Finnline's new vessel for Åland and Naantali
We have travelled with Finnlines several times before, both on the Malmö - Travemünde route and on the Kapellskär - Åland route. We have always been satisfied, but it has primarily been about practical and smooth transport. Finnlines' new vessels to Åland and Naantali... Finnsirius - is an entirely different matter. Travelling on this ship is far from being just about transport, but rather about starry-eyed enjoyment.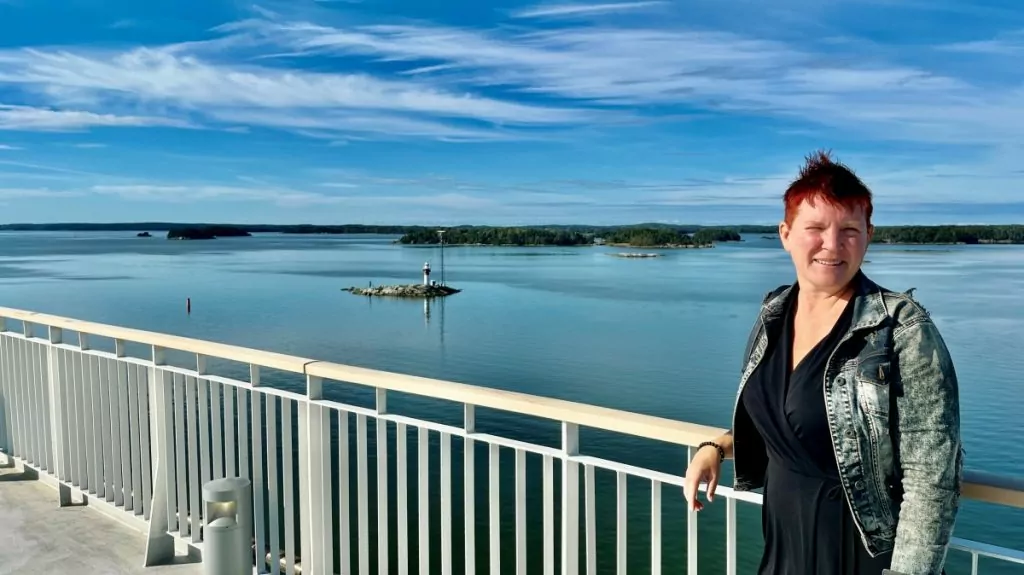 The new Finnsirius runs the route Kapellskär (north of Stockholm) - Långnäs (Åland) - Naantali (Finland), departing in the evening, passing through Åland at night and arriving in Naantali the next morning. You can cruise back and forth if you wish, or walk/drive off in Åland or Naantali, to return later.
There is also a morning/morning ferry that arrives in Naantali in the evening. This route is so far operated by an older ship, but in a while this will also be changed to a new cruise ship. Then Finnsirius' sister ship Finncanopus will arrive. Yes, both ships are named after stars - Sirius and Canopus.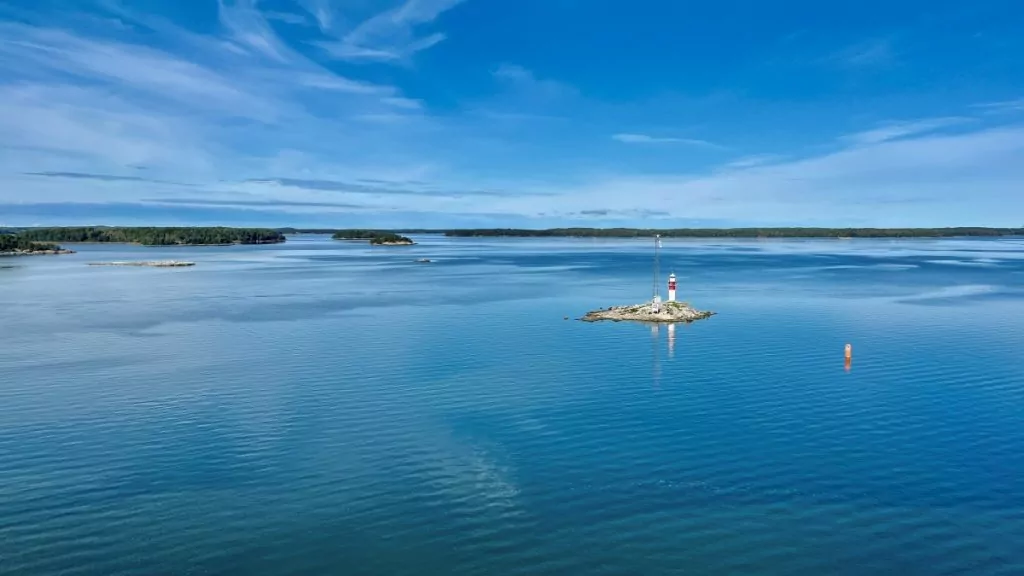 Premiere tour with Finnsirius
We were invited to the maiden voyage of the Finnsirius, to experience the ship and talk about it. In a way, you could say that we came on board already. before the official maiden voyage.

The maiden voyage departed from Naantali in Finland, with both Finnish journalists and "ordinary" passengers, but the Swedish group of invitees (journalists and bus operators) had to travel on the ship from Sweden first to get to the maiden departure. Half of the journey we travelled on an almost empty ship, and on the way back to Sweden it was full of life!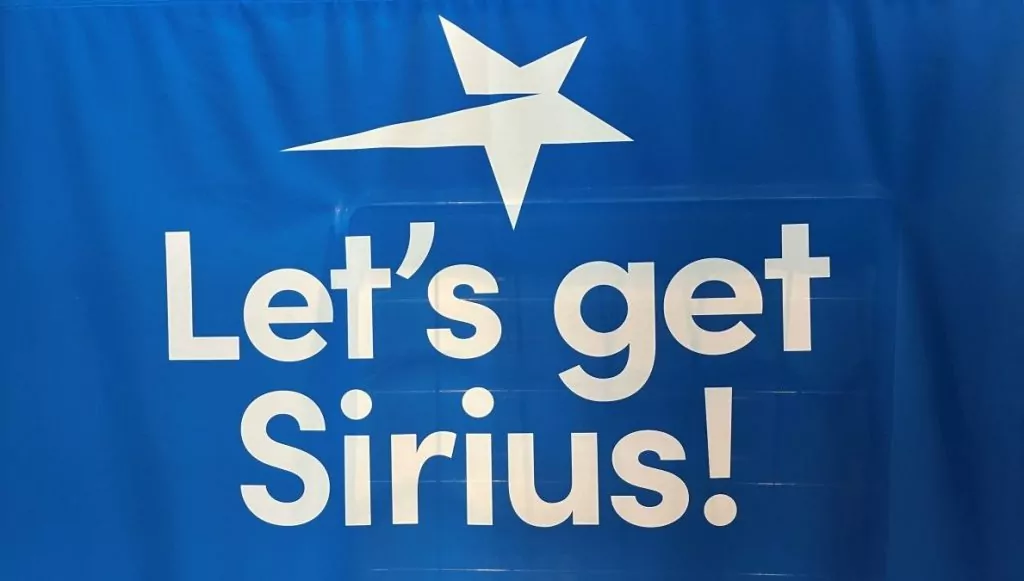 Stylish ship with thoughtful design
The first thing that struck us when we boarded Finnsirius is that this is an incredibly stylish ship with a very well thought-out design. It doesn't matter if you're on deck, in the restaurants or in the cabin - everywhere you go you're met with well-balanced colours, nice details and smart solutions.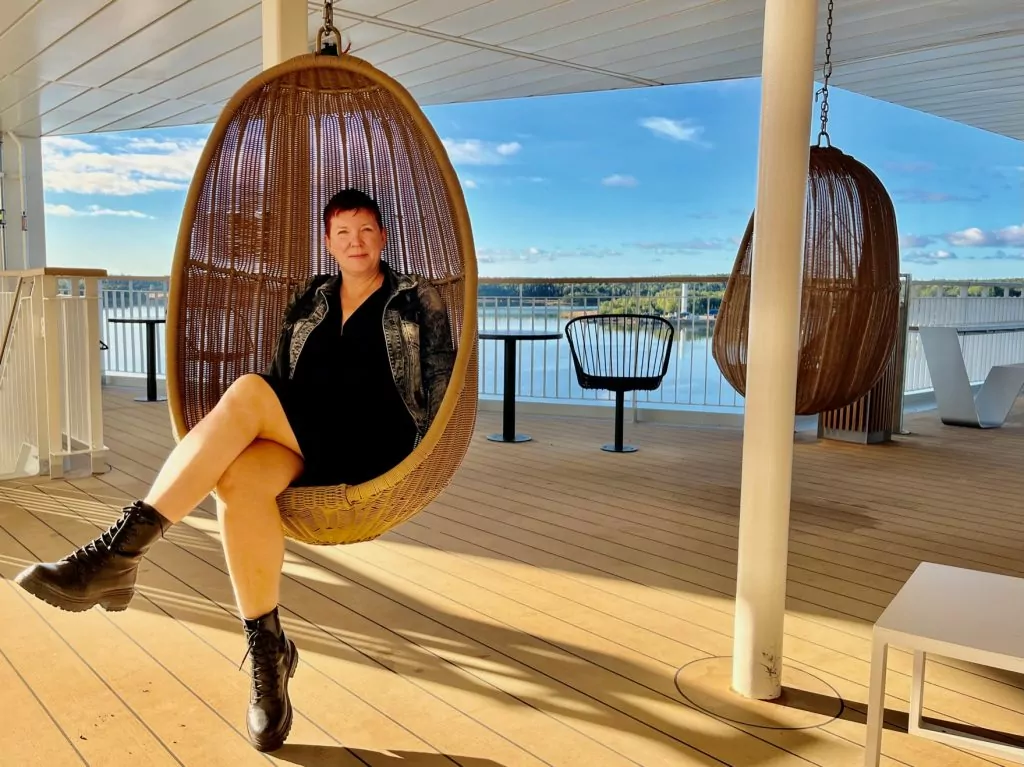 One of the things we liked is the emphasis on windows. Everywhere you look you can see the sea through large generous window panes.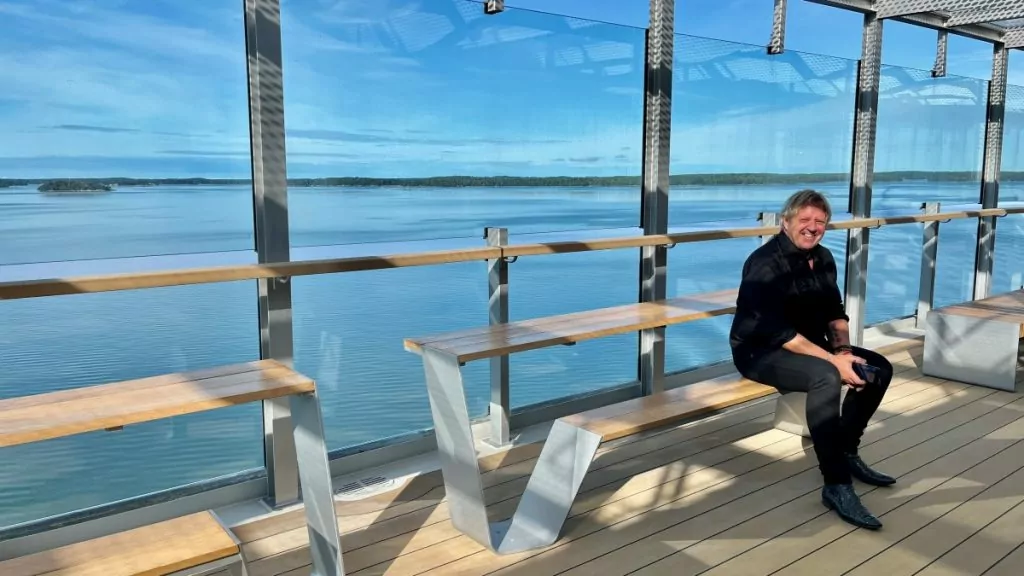 There's also a 'conservatory', which is like the outdoors but under cover, where you can enjoy the outdoors even when it's a bit too cold to be outside 'for real'.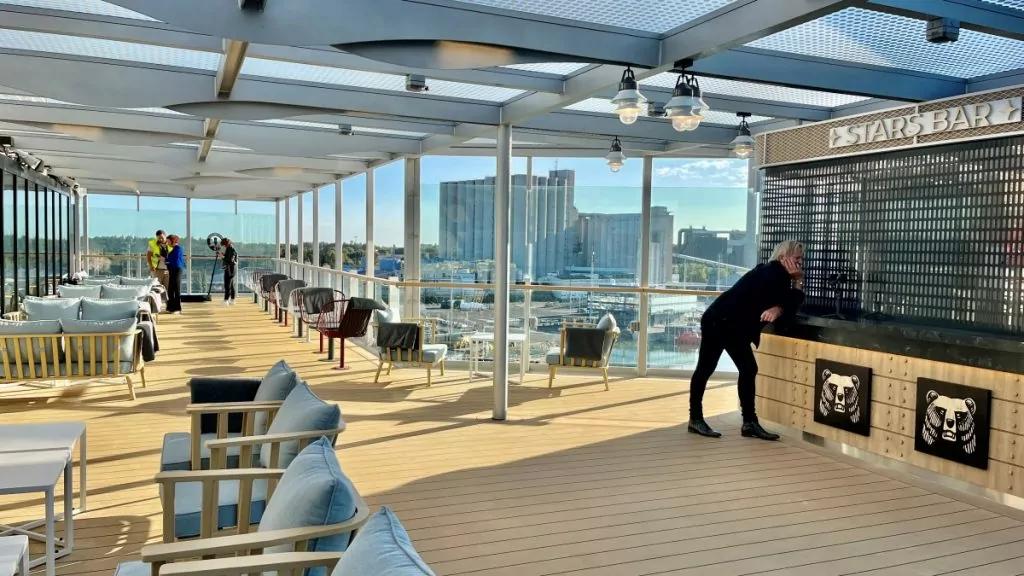 Of course, the stylish details are also evident indoors. We liked the lights, the harmonious colours and the generous range of electrical outlets.
It is of course no coincidence that the design is so well thought out. We got to meet Marco Palmu and Kristiina Uppala, both of whom have important roles in service and passengers on Finnline's new ship Finnsirius. Kristiina has worked on the ship in China, and has been on board all the way to Finland, and you can't doubt the commitment to the interior design. There is a thought behind every detail.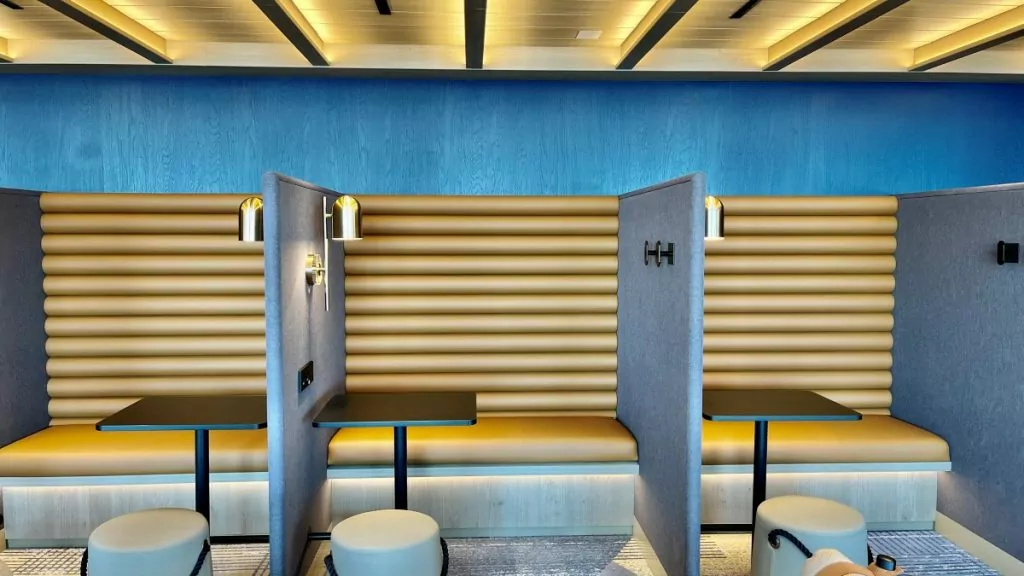 Even the toilets are nice! Of course you should be able to look out over the Baltic Sea while waiting for your turn, right?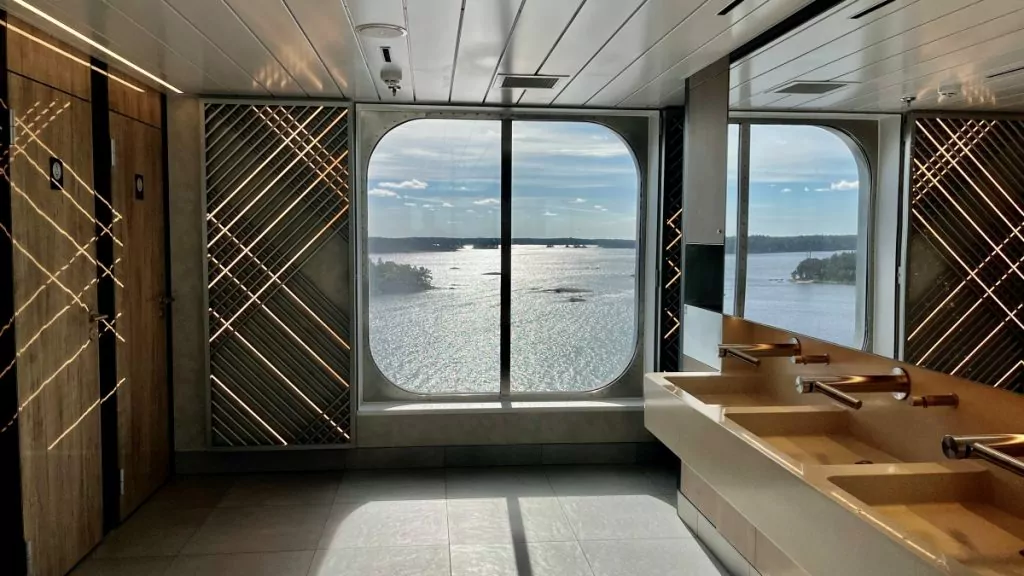 Stylish and modern cabins
The cabins on Finnsirius, like everything else on the ship, are stylish and modern. The simplest cabins have a basic layout with two or four beds and a bathroom, with or without windows. These cabins are also stylish with convenient hanging and storage solutions.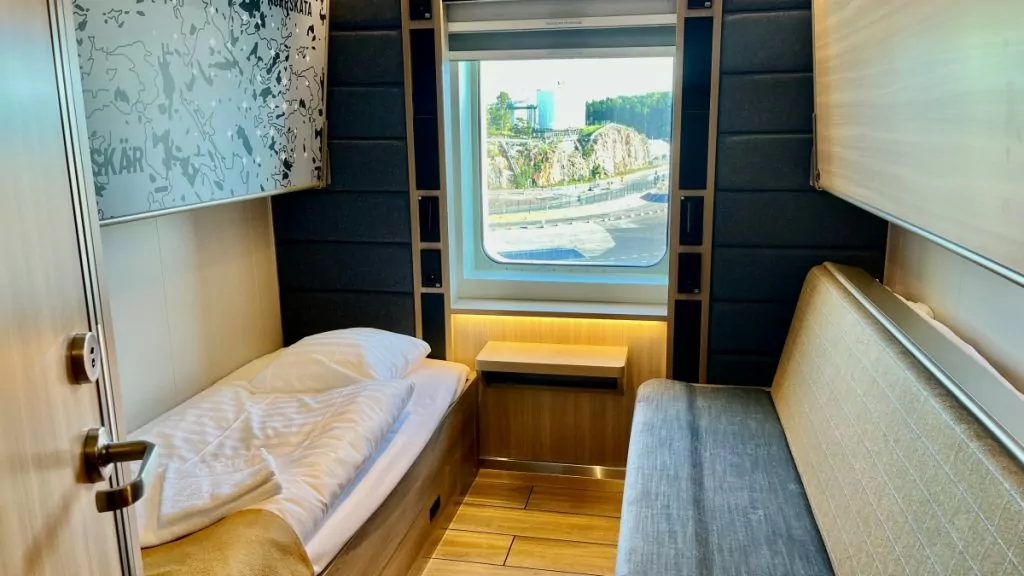 We stayed in a Comfort cabin, with windows, which we thought was fantastic. Here we had everything we needed, including two windows facing the sea. We particularly appreciated the stylish design and all the clever solutions for hangers, hooks, storage and electrical outlets.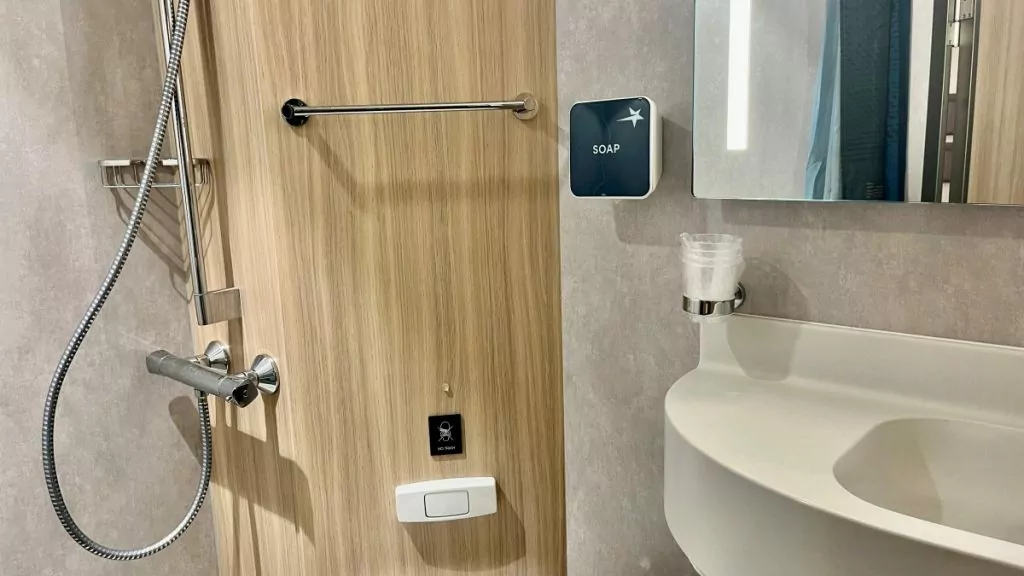 We also had the opportunity to look into some other cabin categories, where we ourselves did not live. Below is Family & Friends, where you can live six people, and which can look like this and with bunk beds.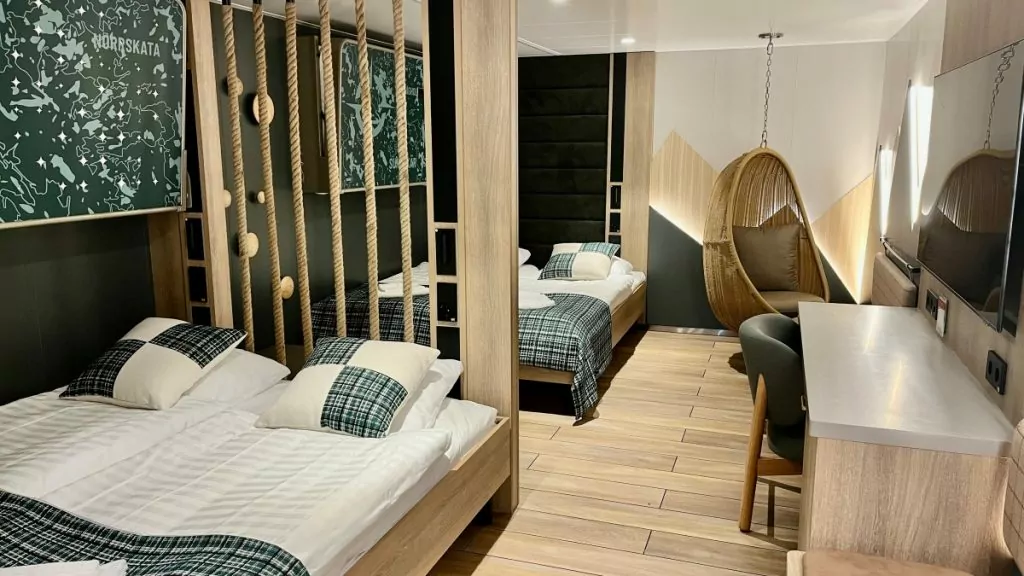 We also got to check out some luxury cabins. These of course cost more, but can be a perfect alternative if you have something special to celebrate, for example. Very luxurious!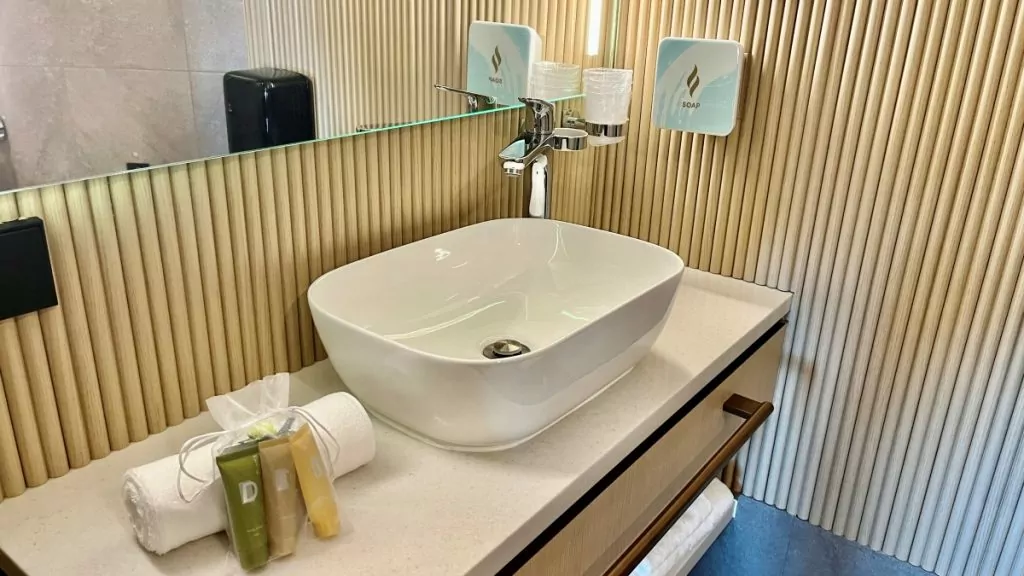 Wide range of restaurants and eateries
Finnline's new ship Finnsirius offers a wide range of restaurants and eateries - from cafés and bars to buffets and fine dining. For example, you can order tapas at the Barrel Bay bar or have a barbecue at Fisherman's Bistro. We had dinner at Micke's Wine & Dine, which is perfect for a more luxurious meal with a table setting.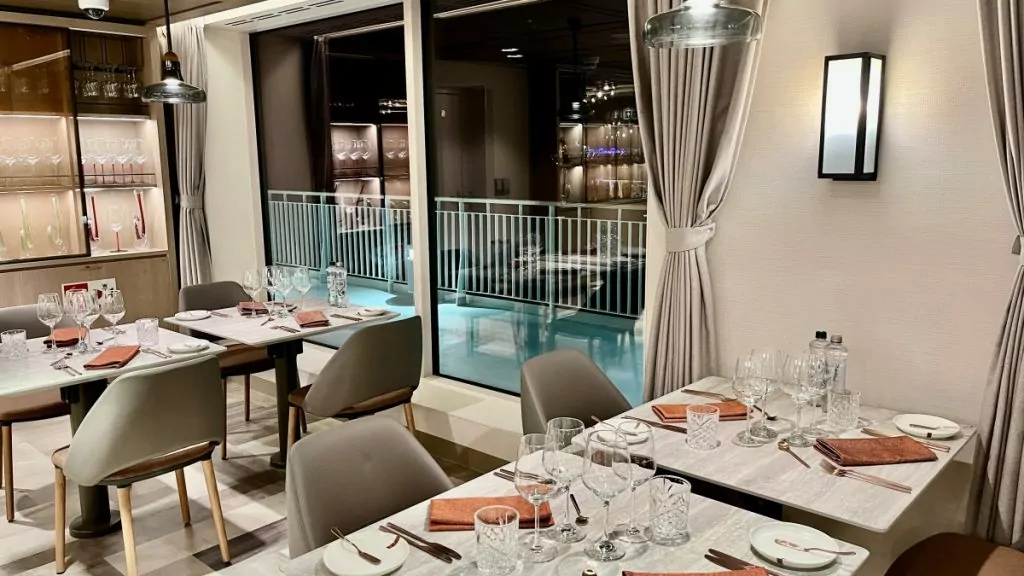 Here we ate a three-course menu that began with cold smoked salmon topped with radishes and crumbs of crispy Åland black bread. This was followed by beef fillet, which was perfectly cooked, along with potatoes and warm vegetables. It all ended with a really tasty dessert!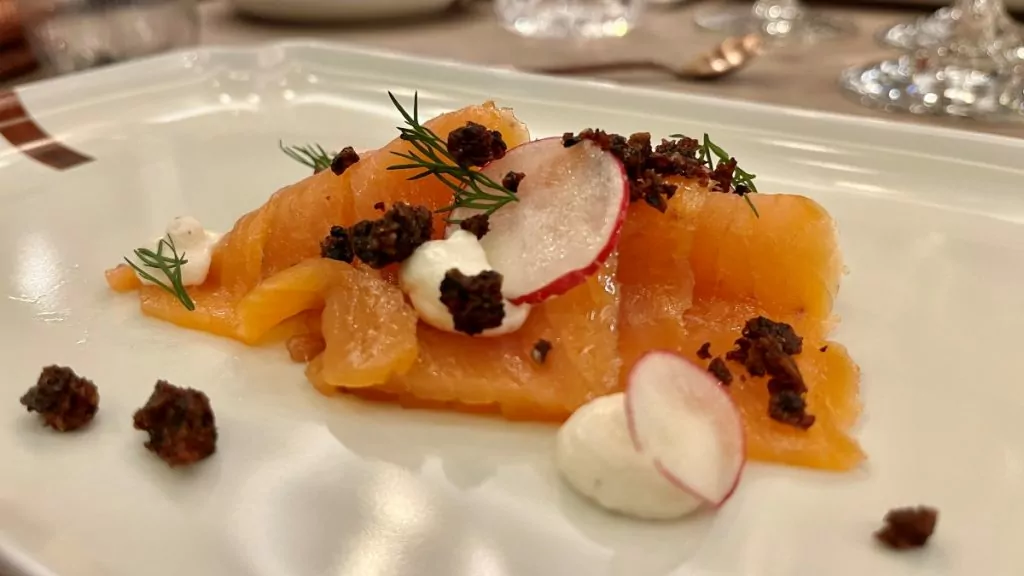 We had breakfast and lunch at Cargo Buffet, which is the large buffet restaurant. There are many tables with lovely views, and the breakfast was really good with, among other things, vegetable pies, waffles and Karelian pies, in addition to everything that is usually available at a breakfast buffet.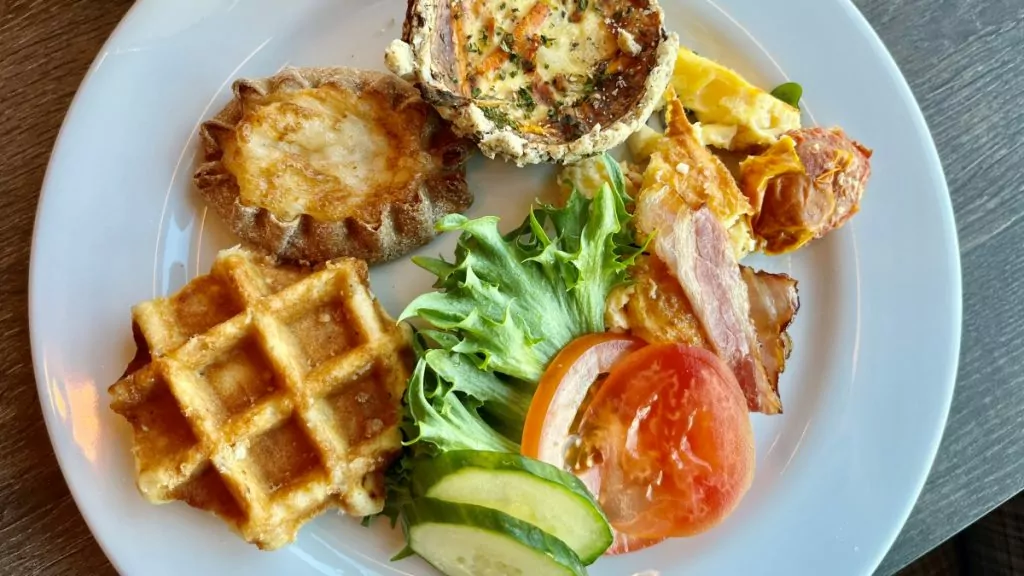 The lunch in the buffet restaurant was also good. As usual, in this type of buffet, we focused on the prawns, salmon and cheeses. There are of course hot dishes and desserts as well, but we didn't get there ...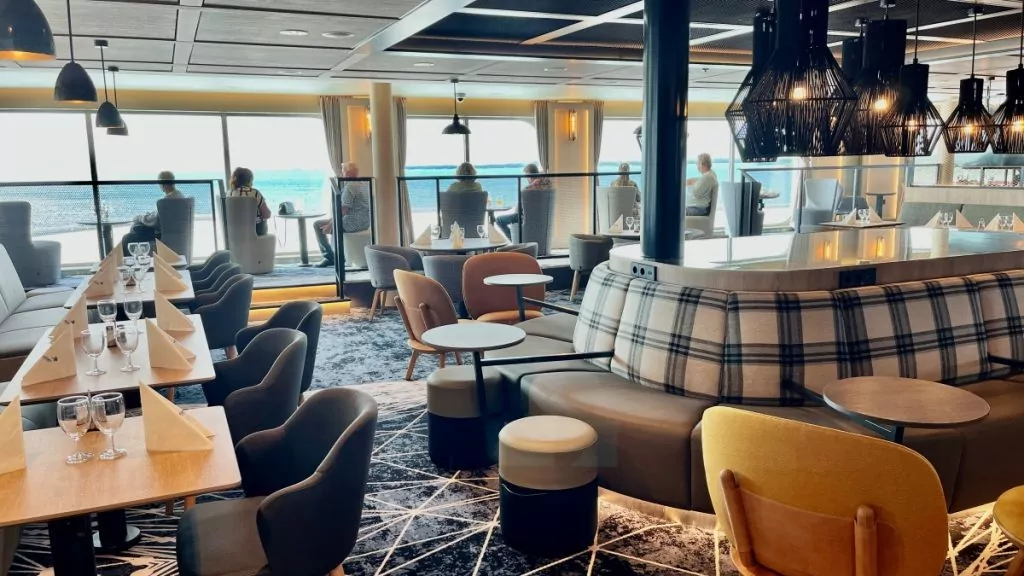 The night is young ...
Once you've finished eating, you might want to move on to a bar, and then you can check out Barrel Bay, for example, where there is a "piano bar" on the big screen, and where you can sample wines, among other things. We also got live entertainment when we were here on the maiden voyage, and it may happen sometimes. Time will tell!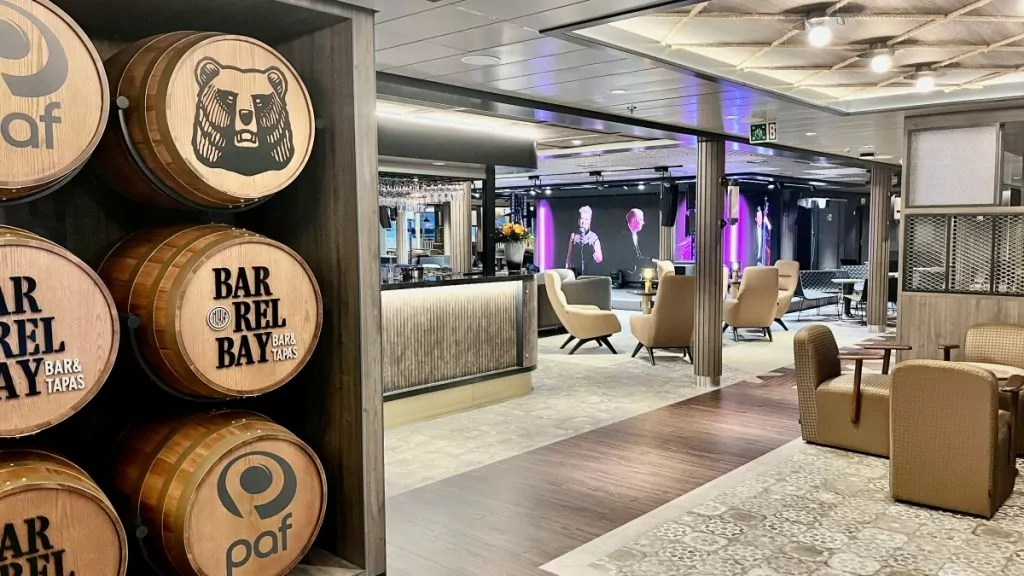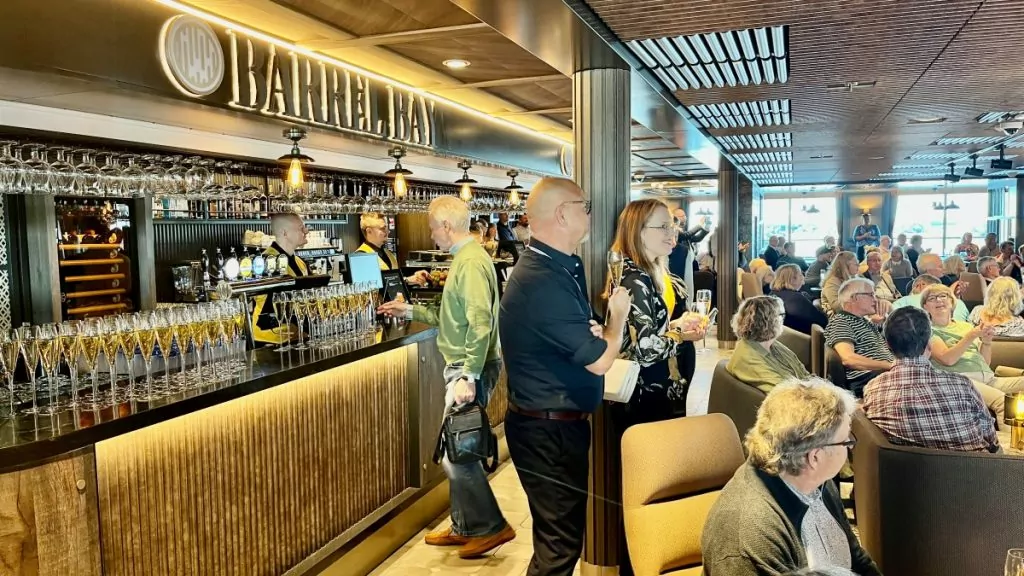 The bar has a bunch of drinks developed by Josephine Sandlo, and we tried her version of the Gimlet. Very good!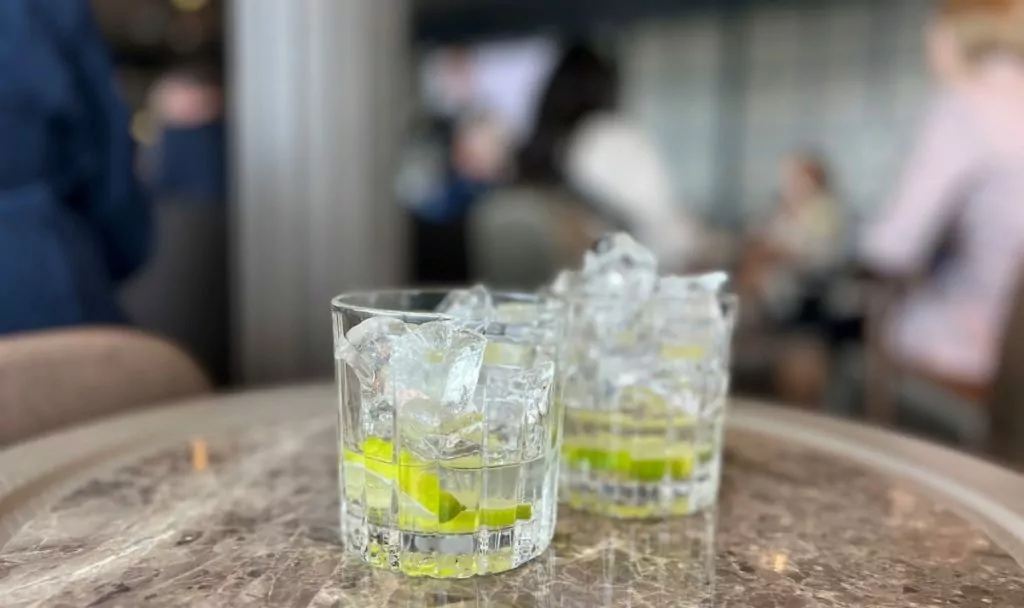 Spa overlooking the Baltic Sea
On board Finnline's new ship is the Höyry Spa - a marvellously beautiful and tastefully decorated spa area. There are several jacuzzis and different places to relax with a view of the Baltic Sea.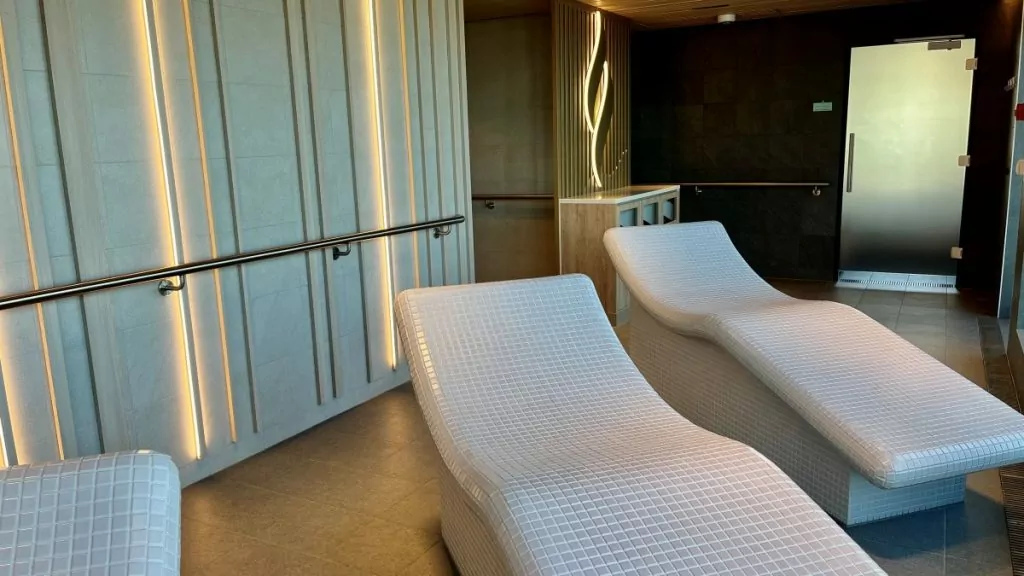 There's also a sauna and a jacuzzi located outdoors on the deck, with possibly even better views. There is also a 24-hour gym and yoga studio.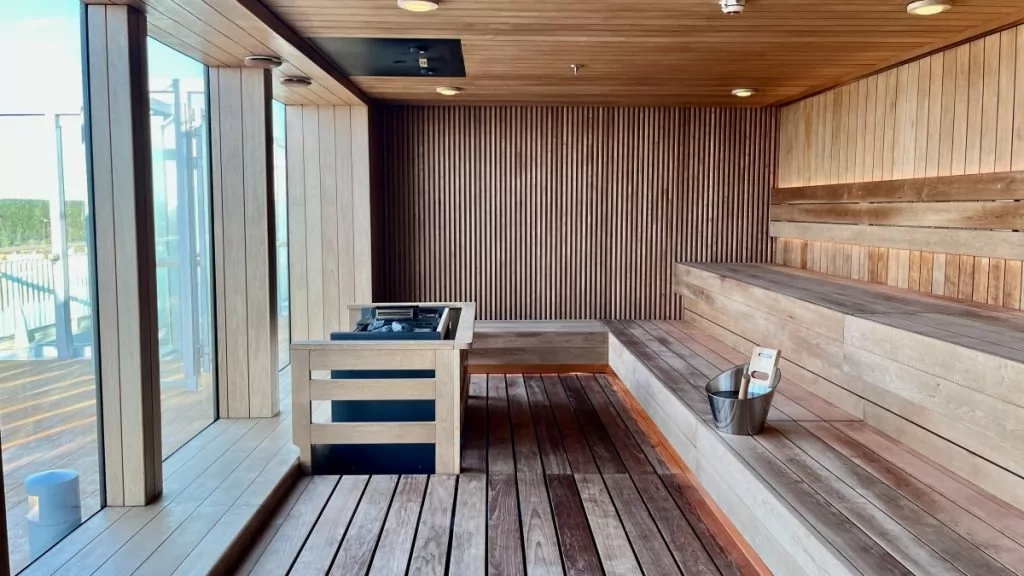 Duty free and shopping
There is of course also a duty-free shop on board and a limited range of clothing and jewellery for those who like to shop.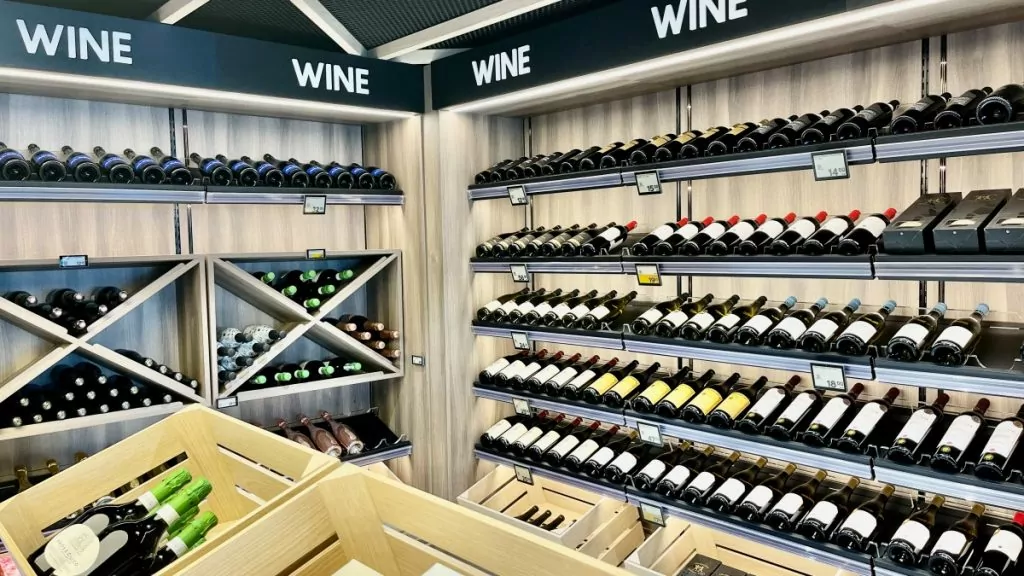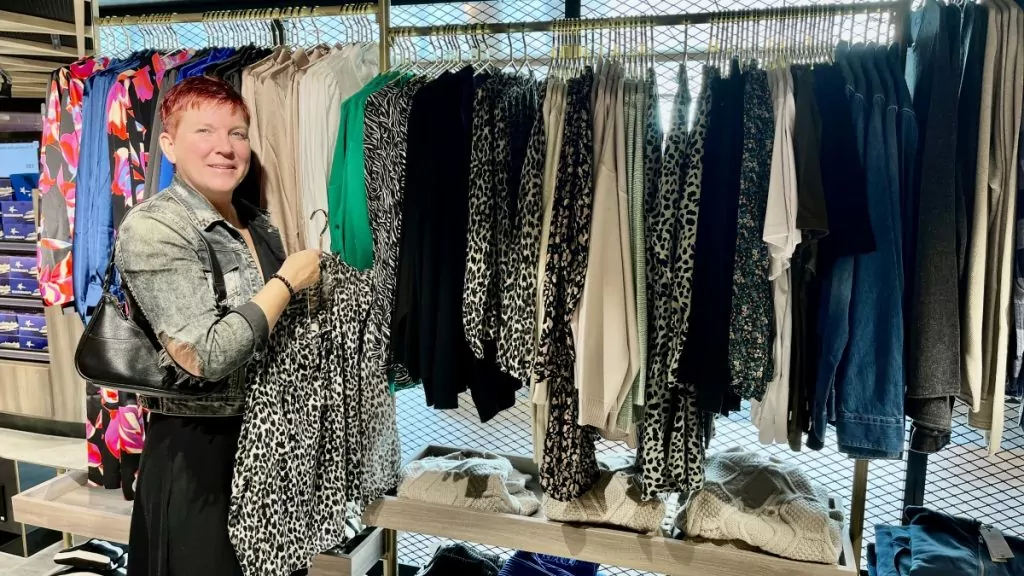 Activities for children on the new Finnlines ferry
It's not only adults who can enjoy themselves on Finnline's new ferry, but also children. There is a 'Kids Corner' with a ball pit and opportunities for active play.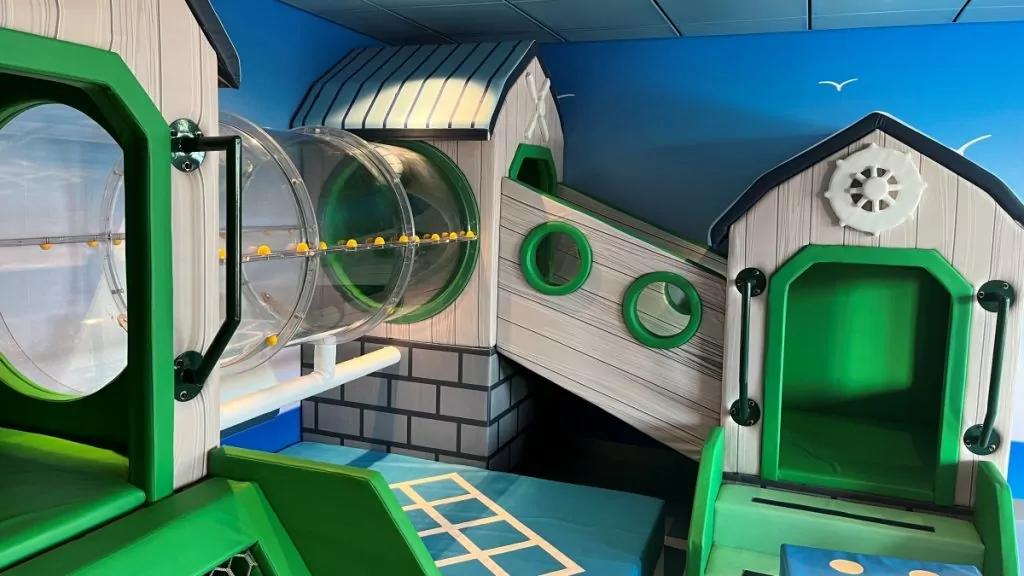 Outside, on the deck, there is another play area.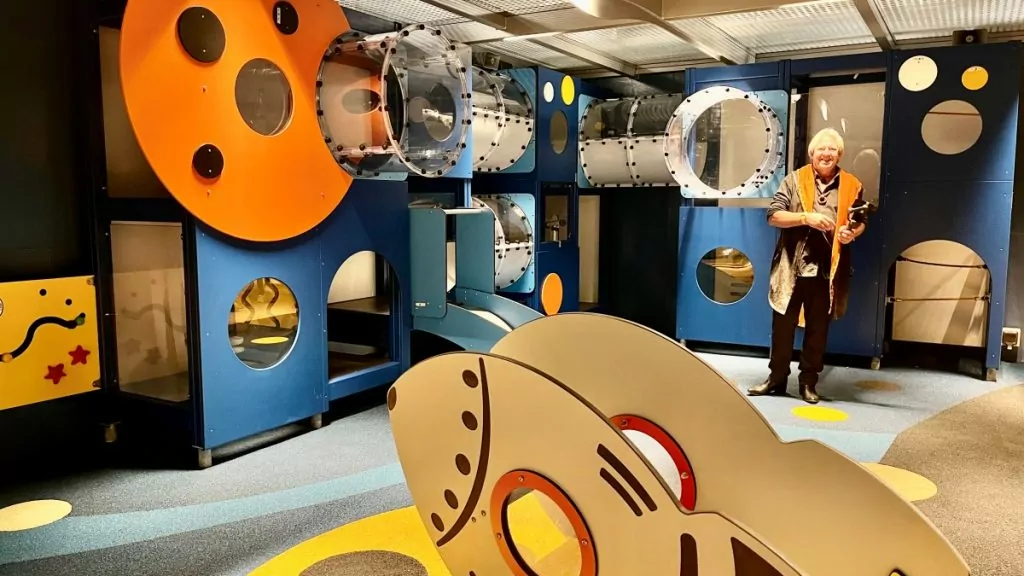 Dogs are welcome on board
In addition to adults and children, pets are also welcome on board. You must always register your pet in advance and when booking a cabin you must book a special pet cabin. Although dogs are not allowed to go to restaurants and the like, there is a "Petzone" where animals are allowed to stay and there are really nice rest areas on deck.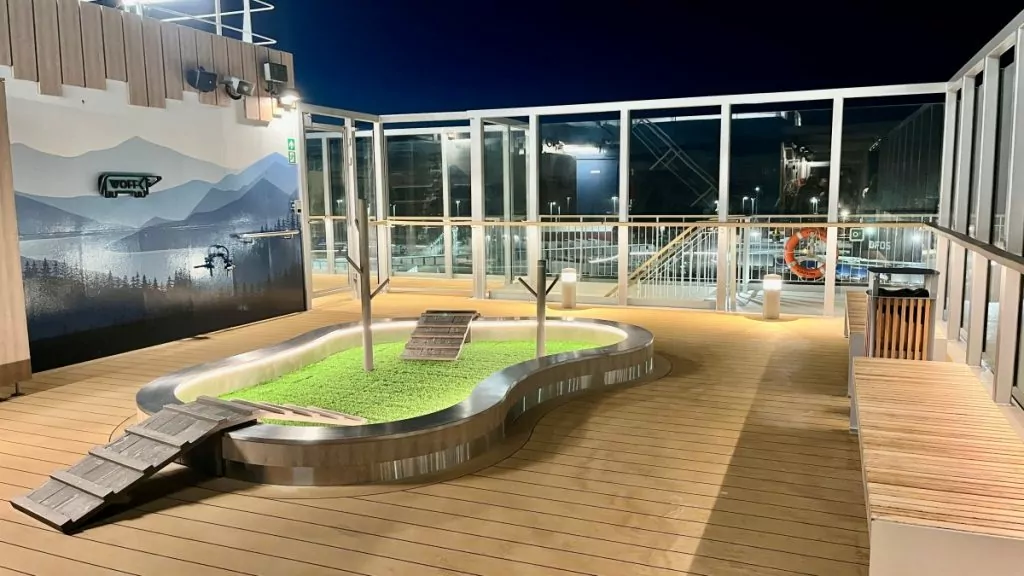 Film from Finnline's new ferry to Åland and Naantali - Finnsirius
Here you can watch a film from our tour on board Finnline's new ferry to Åland and Naantali - Finnsirius. Don't miss this!
Stardust on Finnline's new ships to Åland and Naantali
It was a starry day on board the Finnsirius! Would you like to travel with Finnline's new ships to Åland and Naantali? Have you travelled on the old ships? Or have you even had the chance to take a trip on the new one? Please tell us!
Facts about Finnsirius - Finnline's new vessel to Åland and Naantali
Route: Kapellskär (Sweden) - Långnäs (Åland) - Naantali (Finland)
Departure time from Kapellskär: Evening hours (see current times on the company's website). The route is also operated in the mornings, with another vessel. So far an older vessel, which will be replaced by the brand new Finncanopus.
Travelling time: 3.5 hours to Långnäs and 8-9 hours to Naantali.
Cabins: Economy, Standard, Comfort, Friends & Family, LUX, Junior Suite and Owner Suite. Most cabin categories are available either as inside cabins or with seaview, which affects the price. In addition, accessible cabins and pet cabins are available.
Restaurants and eateries: Cargo Buffet, Fisherman's Bistro, Micke's Wine & Dine, Barrel Bay - Bar & Tapas, Under the Stars, Stellar Lounge, Höyry - Spa Bar
Wellness: Spa, sauna, exercise, yoga
Meetings and conferences: Meeting rooms, meeting packages and After Work.
Read more: You can find more information at the company's website.