The island of Port-Cros in France is one of the so-called Golden Islands on the Côte d'Azur. It is reminiscent of the Caribbean with its lush green vegetation, beautiful beaches and relaxed bars where you can drink mojitos and listen to good music.
On the island of Port-Cros in France
The island of Port-Cros in France, together with Île du Levant and Porquerolles, form the so-called Golden Islands off Hyères on the Côte d'Azur. All three islands have different characteristics: Île du Levant is an island for naturists, Porquerolles is the most touristic island and Port-Cros consists mainly of a national park.
The national park status of Port-Cros means, among other things, fantastic wild and protected nature, and there is no smoking on most of the island.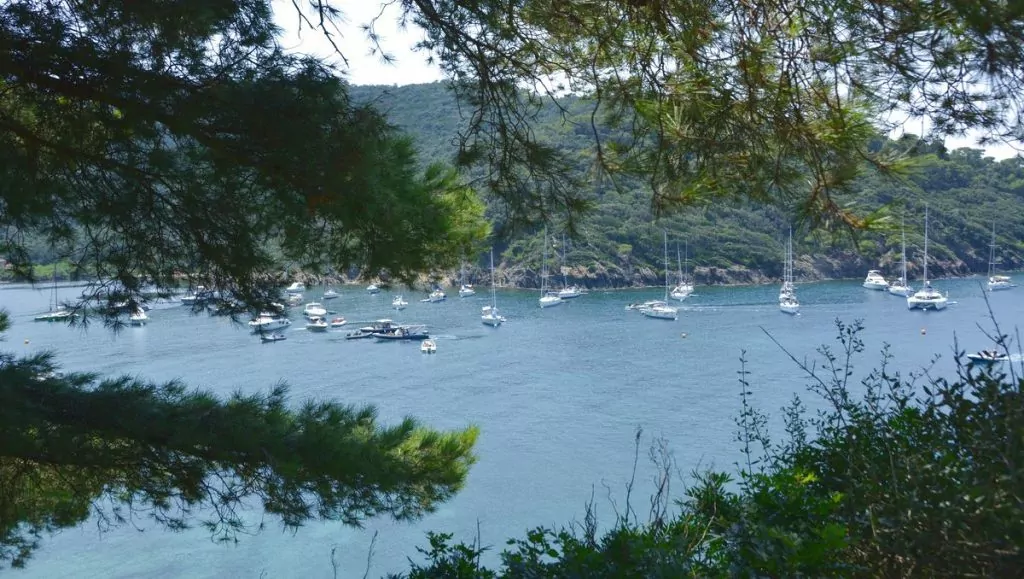 Nice Caribbean atmosphere in the harbour
When you arrive by boat at Port-Cros, which runs from, among other places, the Saint-Pierre Marina in Hyère or from the harbour of La Lavandou (where we took it), you are greeted by the charming little harbour of the island. Here a number of small restaurants are close together and the atmosphere is great. We started with a small lunch in the form of a mozzarella sandwich at L'Hostellerie Provençale, before heading out into nature.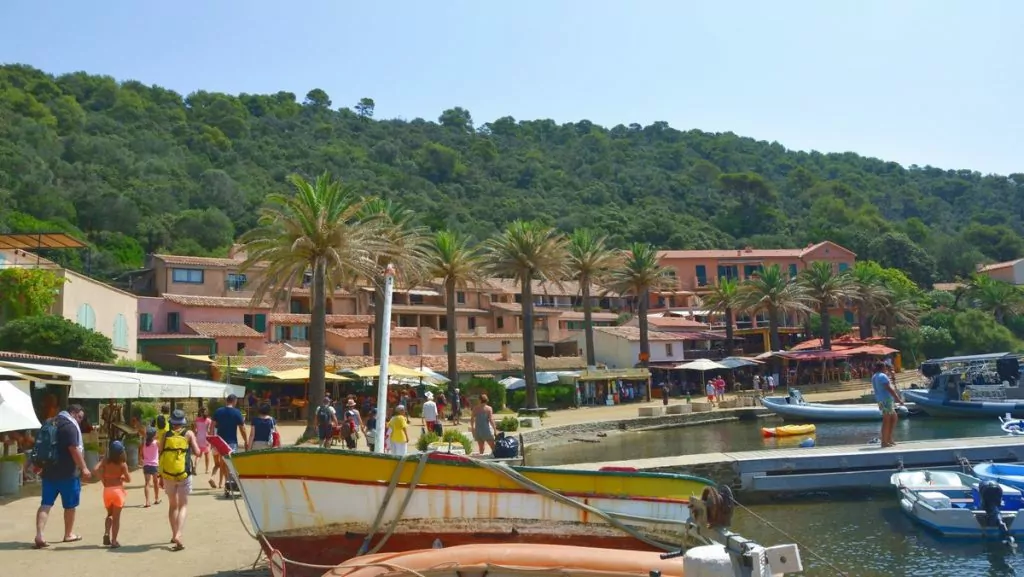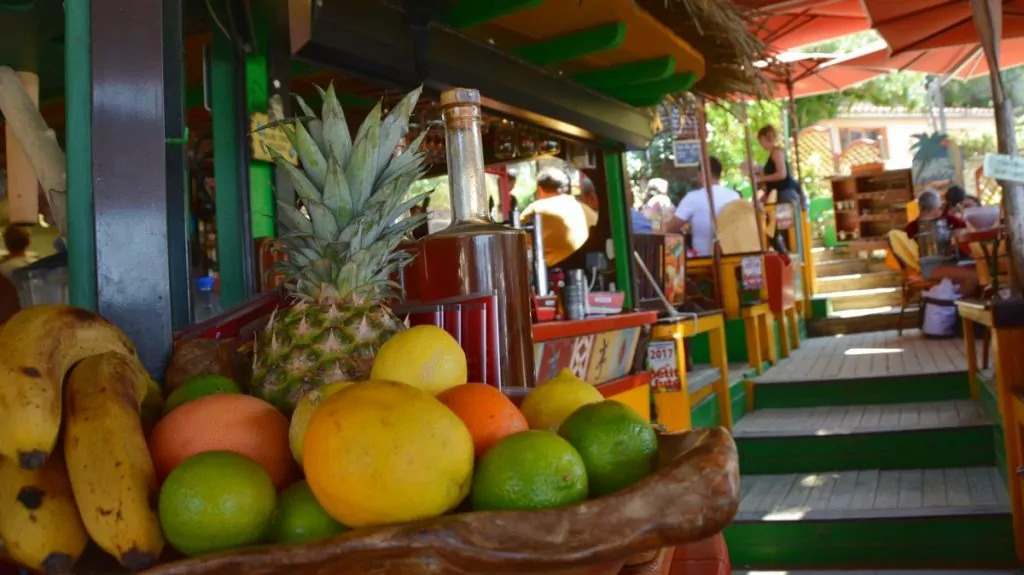 Beaches at Port-Cros
There are several beautiful beaches on Port-Cros, including Plage de Port Man, Plage du Sud and Plage de la Palud. We decided to walk to Plage de la Palud, which involved a beautiful walk through intense greenery, which occasionally opened up to magical views of the sea.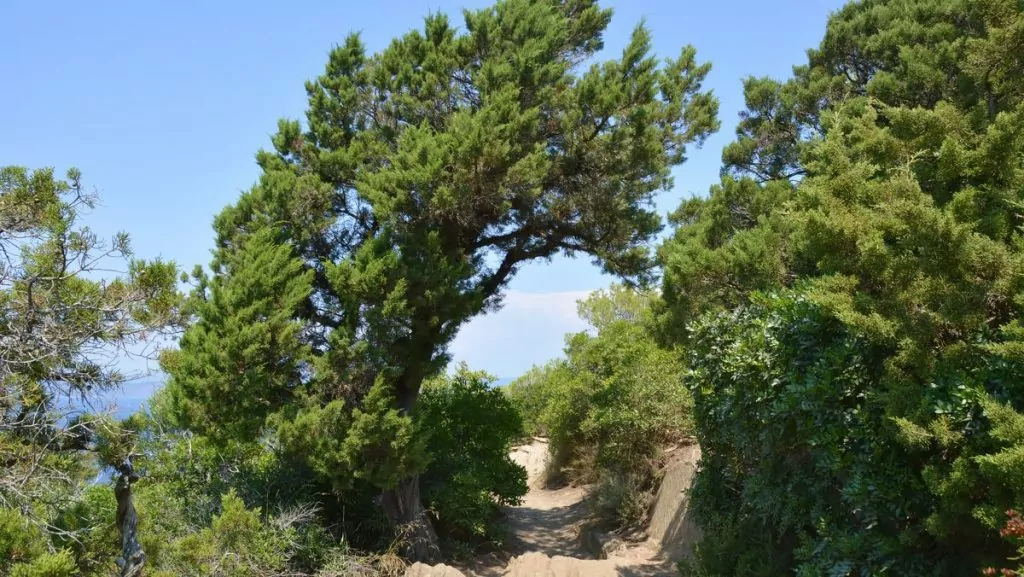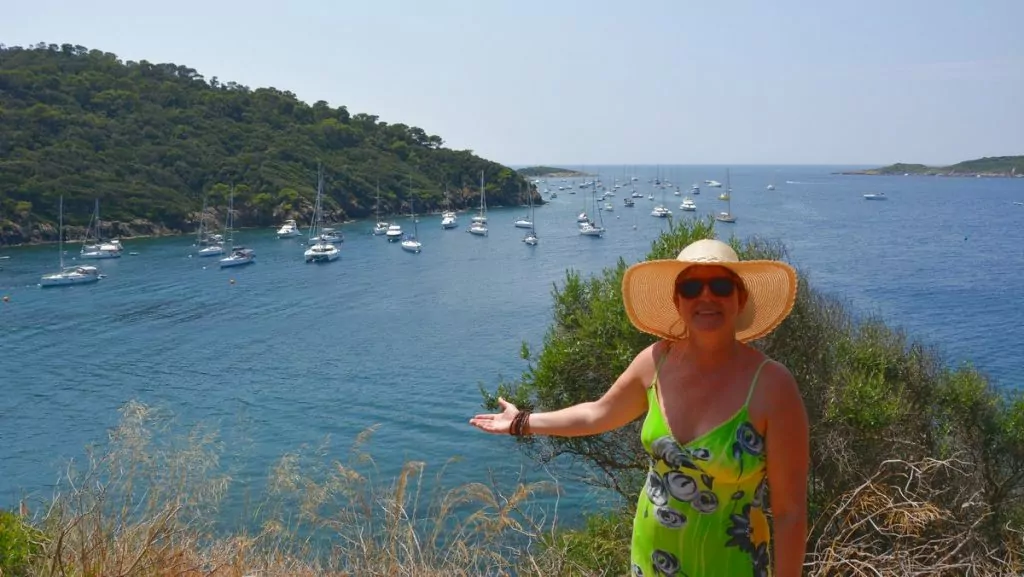 If it hadn't been so incredibly hot, we would of course have reached the beach. I (Helena) am very sensitive to heat due to migraines, and it often doesn't matter that I load up with hat, sunglasses and lots of water. However, sometimes the sun and the heat stop us, and after 35 minutes of walking we had to turn around, because I simply didn't know how to get back otherwise.
The tip for you is to still go here in high season if you can tolerate heat better than me - but to choose June or September if you are sensitive to heat like me.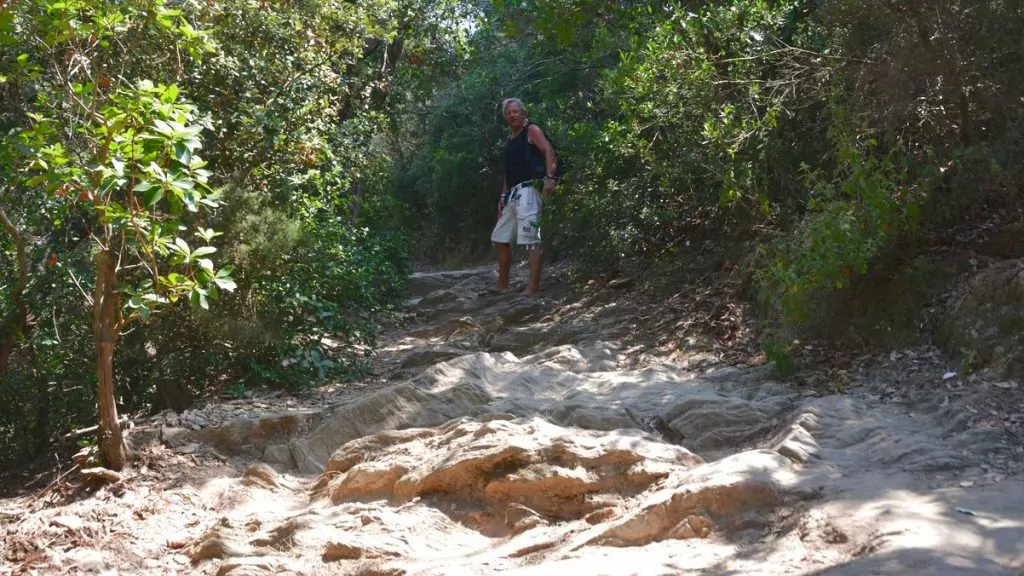 Beaches Plage de la Palud
A series of signs point the way to the Plage de la Palud beach, which is a 45-minute walk from the village. Here, as on the other beaches on the island, there are supposed to be fantastic opportunities to see all kinds of fish in the crystal clear water. We had to settle for looking at the beach from a distance ...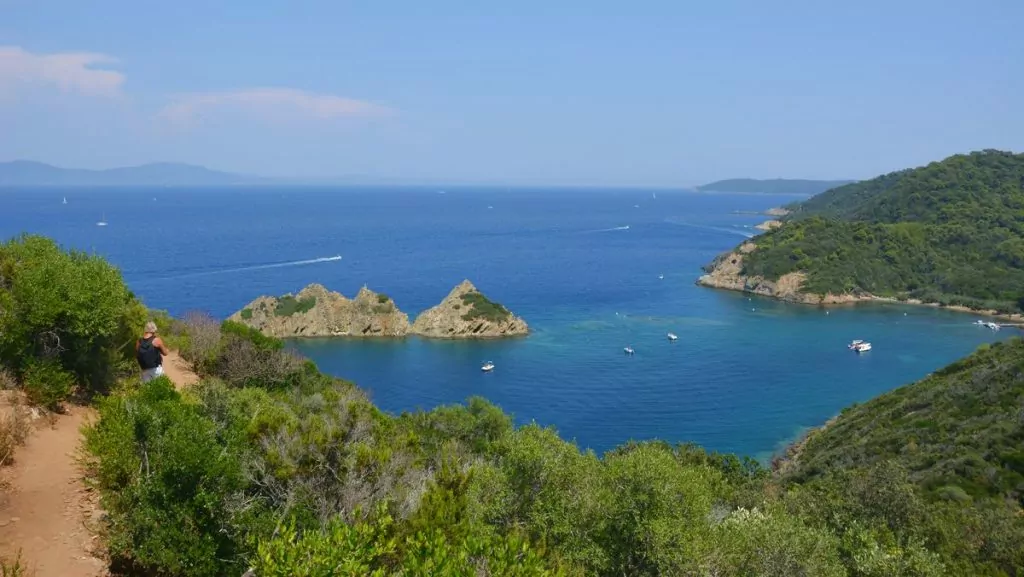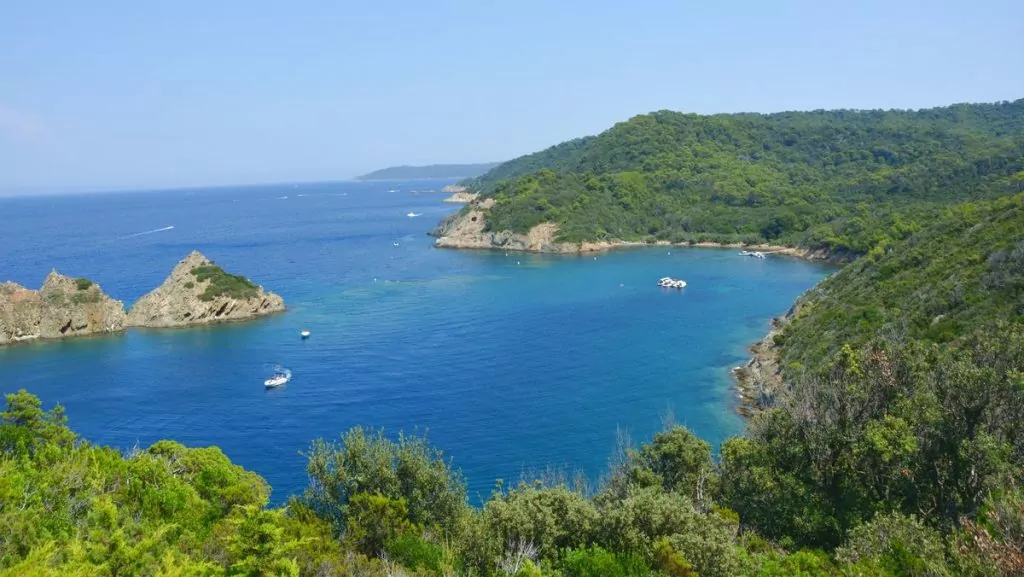 Not always as intended ...
Of course, cancelling the walk to the beach was not part of the plan, but we had to do it to keep my migraine from exploding. When we went to cool off at a small pebble beach near the harbour instead, Peter cut his foot. We have washed and bandaged it and so far it seems to be ok, fingers crossed! We're not showing a picture of it, so instead you'll have to make do with two pictures of the Fort du Moulin from 1580, located on the island.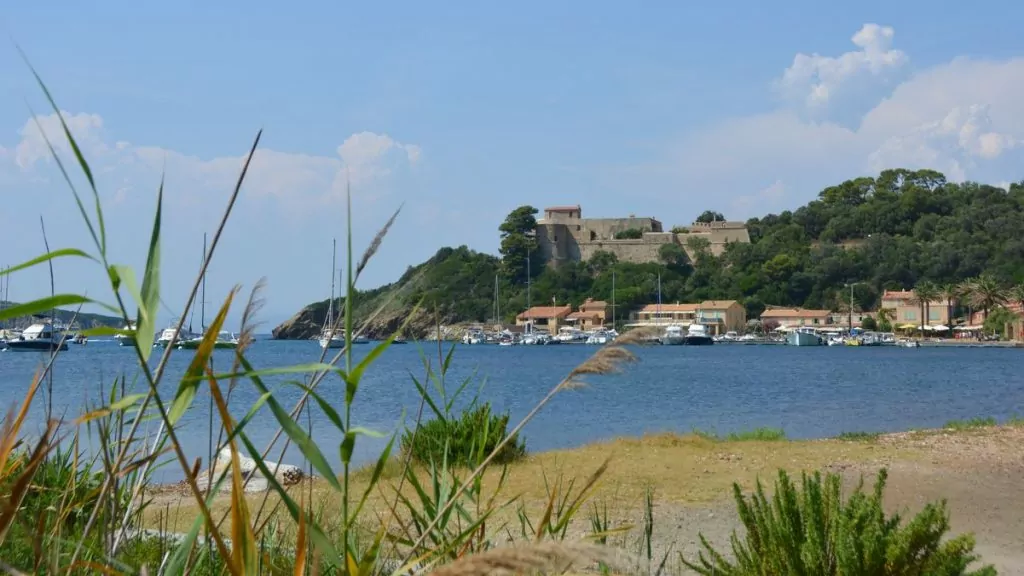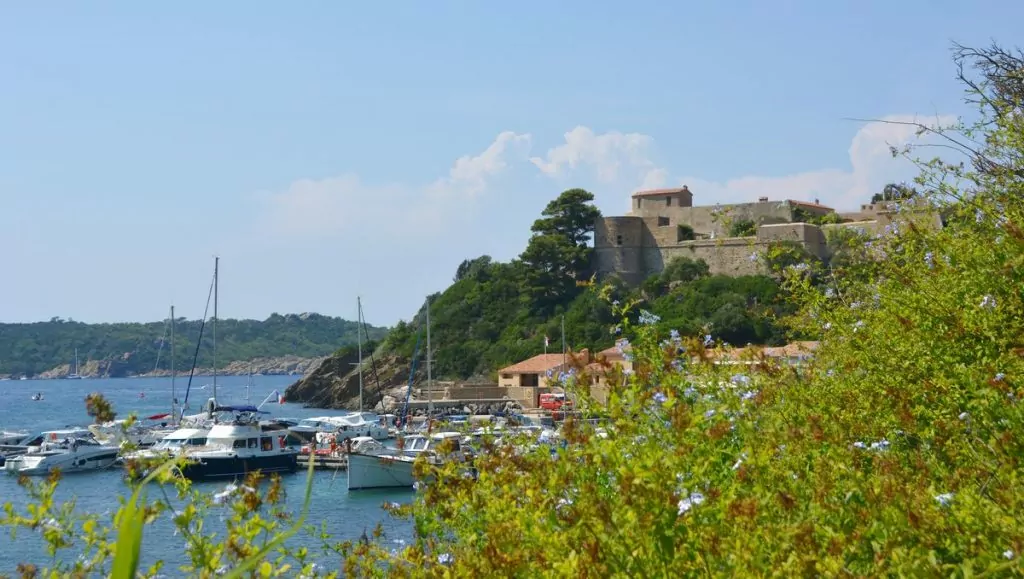 But still pretty good!
After swimming, shade and water, my headache actually got better, and we were able to spend an hour or so at the lovely restaurant in the harbour. Here they played schlager while the guests sang along, and the waiters brought out drinks, seafood platters and coconut ice cream at a fast pace. Shortly afterwards we took the boat to Le Lavandou, where we had an ice cream before continuing by bus to the campsite and our motorhome!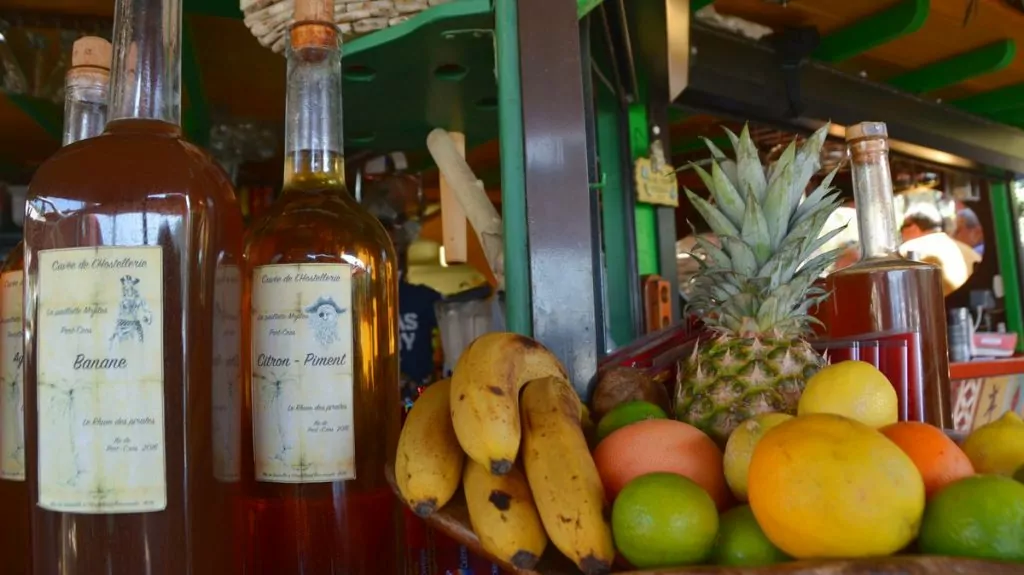 Port-Cros is an amazing island with wild nature, crystal clear waters and a relaxed Caribbean atmosphere in the bars. We thought this didn't exist in Europe - go here if you can!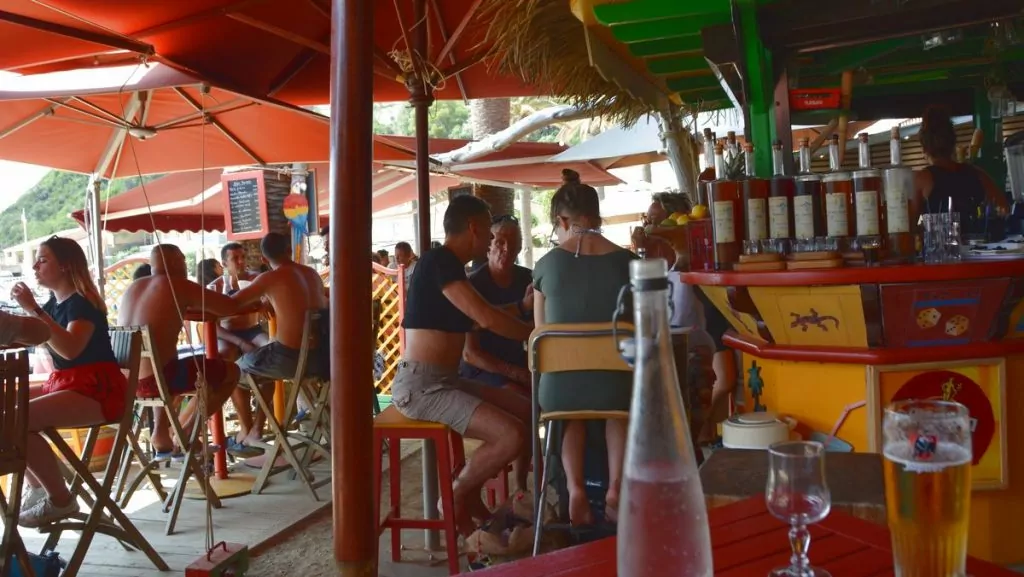 More golden islands in France
Read also about the other two golden islands in France. Porquerolles is the most touristy island with Notre Dame beach, which has been voted the most beautiful in France. The Île du Levant is a wild island where everyone goes completely naked.
There are also three small islands in the archipelago of Iles d'Hyères, located in the south of France between Nice and Marseille, which are Saint Honorat, Bendor and Embiez.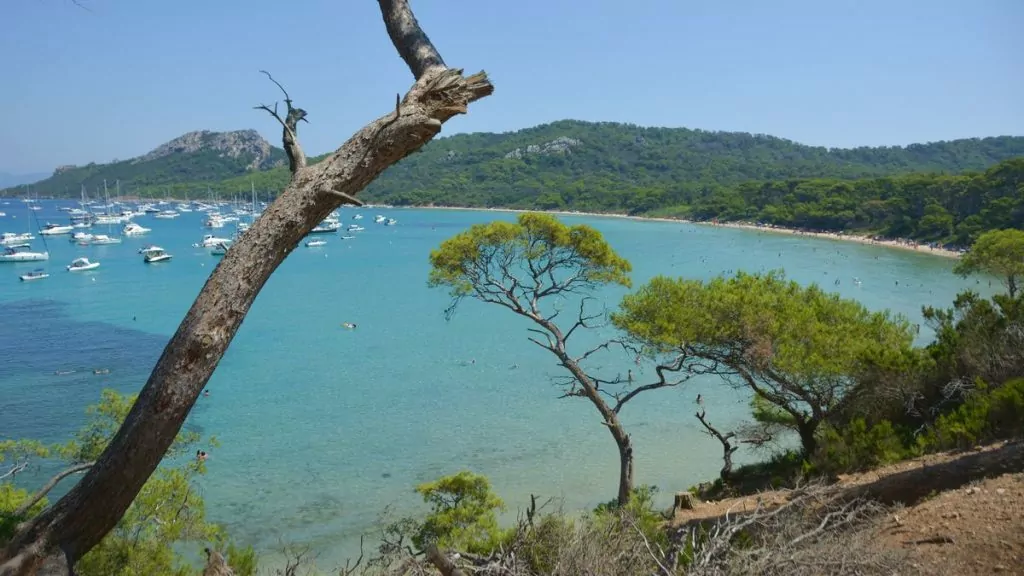 Video from 'Port-Cros'