Right now we are standing, almost alone, on a huge campsite in Pula. Most campsites in Croatia close on 1 or 15 October, but some are open all year round. In particular, you seem to be able to find year-round campsites on the most popular islands and national parks.
Camping Brioni in Pula
Right now we are, almost alone, at a huge campsite in Pula called camping Brioni. Not bad with your own campsite, own beach and sea, but the restaurants are closed here in Pula. Camping Brioni is a nice campsite that has most things for the family holiday and not far from the amphitheatre. We can recommend camping in Pula.
Summer and winter at Camping Brioni
We have actually been to this campsite once before, in July 2011 with two teenage boys. Then the campsite was called Puntizela and the atmosphere was completely different. It was crowded on the beach and Peter and the boys had a lot of fun jumping around in an aqua park.
Then: Packed with caravans and motorhomes, full of families with children, hustle and bustle, pedal boat hire, supermarkets, bakery, sale of bathing toys, beach bar and party with DJ.
NowThere's only one campervan apart from ours (Germans, of course!), boarded-up houses, wrapped-up caravans waiting for better times, stray cats and a service centre that's locked but to which we've been given a key.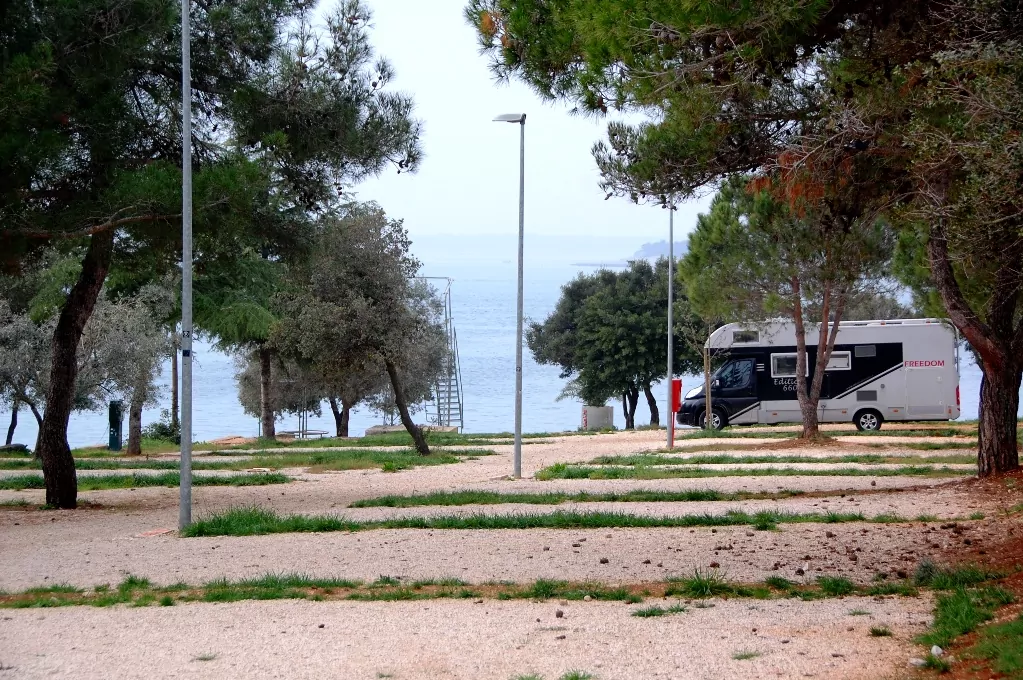 Soon we'll be moving on to new adventures
We stayed here for a day because I wanted to try to rest my stubborn headache (hard to know if it has succeeded as it comes and goes). Tomorrow we roll on towards new exciting adventures in Italy!
There is absolutely nothing fun to photograph here at the campsite so we offer a picture from the harbour in Pula, where there are lots of huge fishing boats. In fact, there were so many and so big that we wondered if a single fish had escaped ...
Last time we were here, we didn't have time to go down to the large fishing harbour, which offers charm and a lot of old buildings and alleys that are cosy.