Görväln Castle and Görväln Nature Reserve are located in Järfälla municipality, northwest of Stockholm. We made an excursion here to get a few hours in the spring sun and nature, but of course also took the opportunity to check out the castle.
Görväln Castle
Görvälns slott, or Görwälns slott, is a castle in Järfälla municipality in Stockholm County. The castle is located on Görväln, a bay in eastern Lake Mälaren, and is surrounded by the Görväln nature reserve. Today the building houses a hotel and restaurant.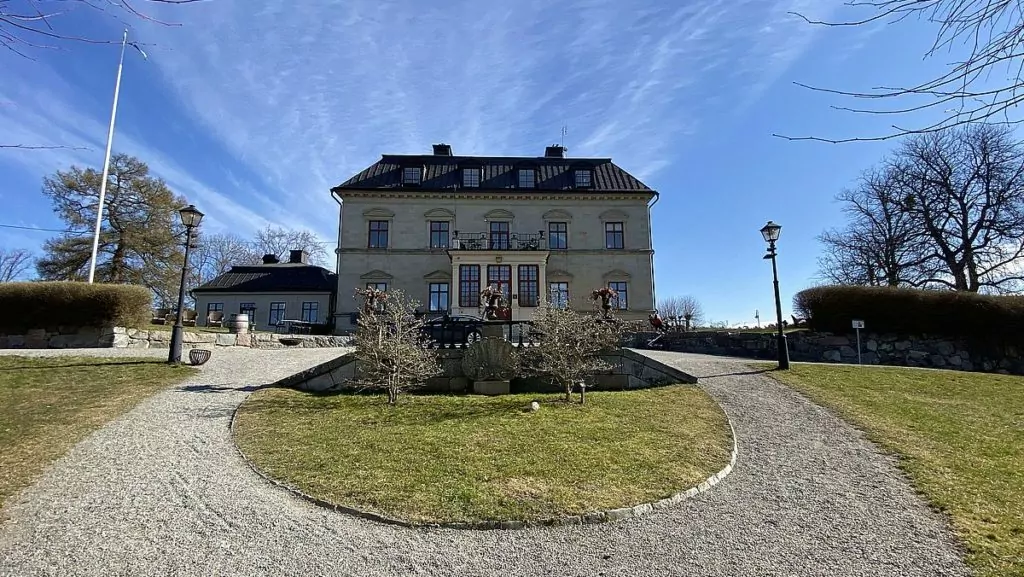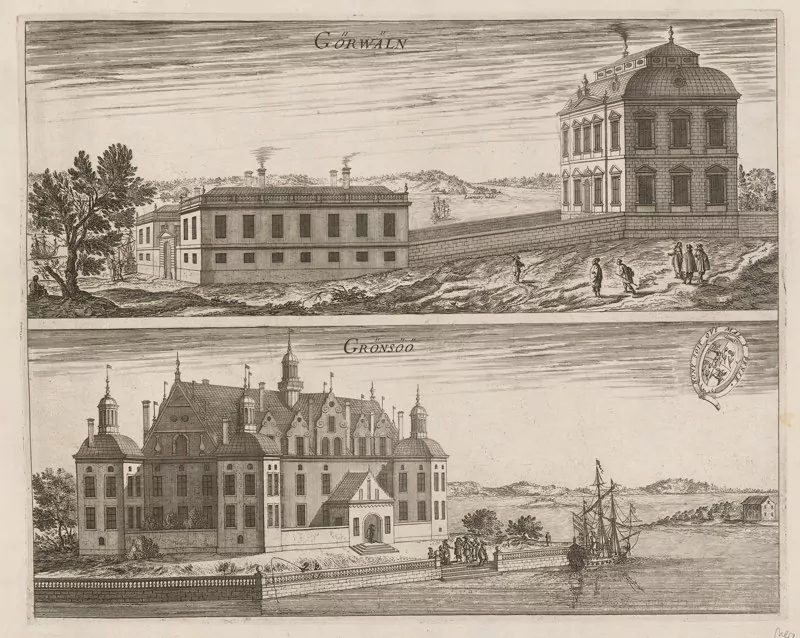 We went to Görväln Castle and Nature Reserve on a sunny day in March. The plan was to practice "social distancing" in nature (the coronavirus is raging), but the castle was quite crowded. Many queued for coffee or sausages at a food truck in front of the entrance or enjoyed the sun along the wall of one of the wings. It was a nice atmosphere anyway, and of course there were less people the further you went from the castle.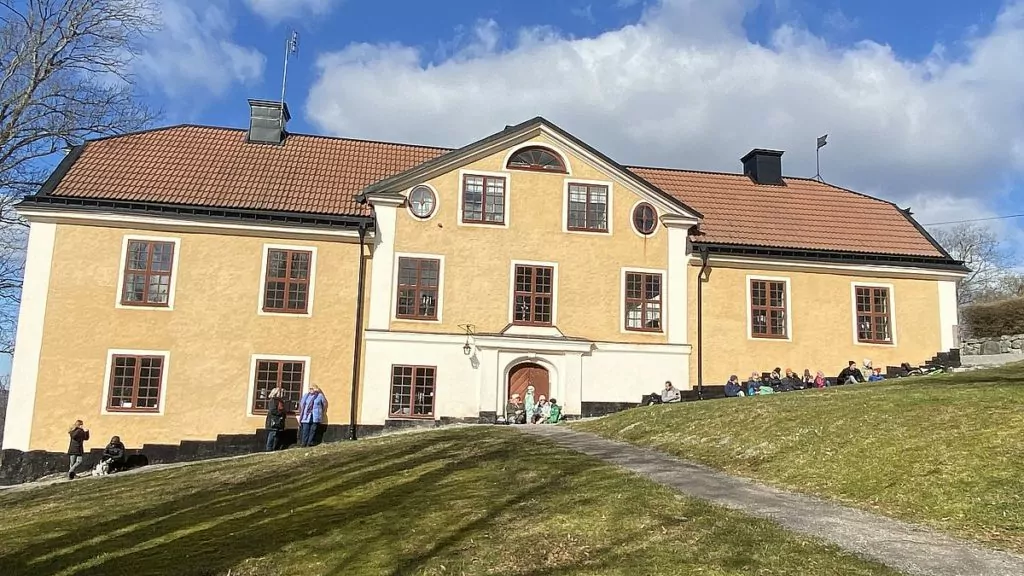 Görväln Castle has had many owners
Görväln Castle has a history dating back to the 15th century and has had many different owners over the years. Here is a brief overview for those who are interested (otherwise scroll on!):
In the 15th century (1460) the name 'Görväln' was documented for the first time. The estate then consisted of two farms, and the earliest known owner was Nils Jönsson Oxenstierna, born in the 1380s.

In the 16th century (1520), Görväln was owned by the Crown until 1571, when John III gave the property to the Italian nobleman Antonius de Palma.
In the 17th century (1605) Görväln was traded to the chancellor Svante Bielke, who had several new buildings constructed. The estate passed through the family to Elsa Elisabeth Brahe. During Elsa's time, the new main building was built in Gotland stone. Construction took place mainly between 1659 and 1661, but was halted for 15 years due to controversy and was only completed in the mid-1670s.
Elsa had a total of 14 children, five with her first husband Erik Axelsson Oxienstierna (who left her as a widow at the age of 25) and nine with Duke Adolf Johan of Pfalz-Zweibrücken, four of whom reached adulthood. These four inherited Görväln Castle.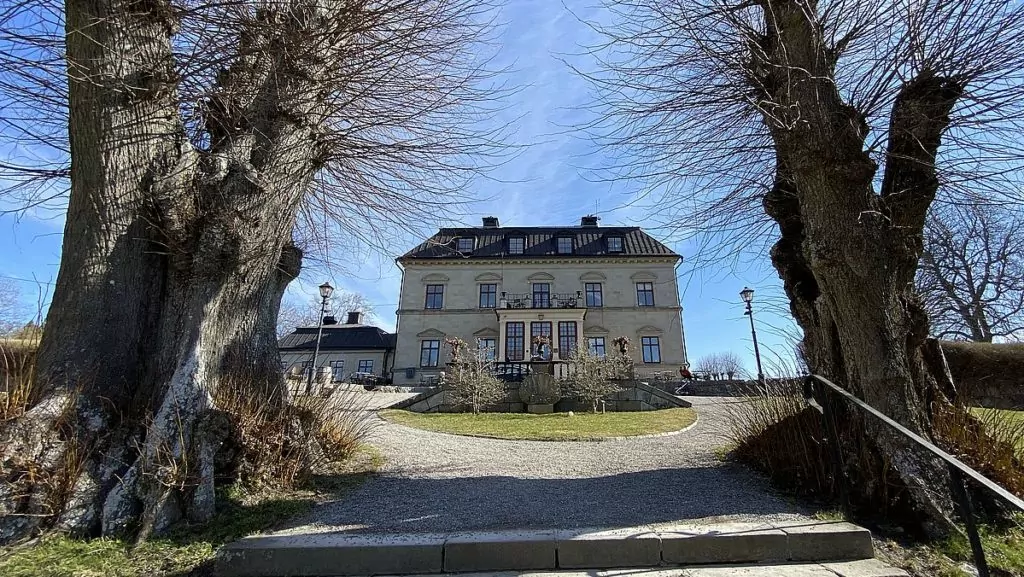 In the 18th century Elsa's children sold the castle to the court preacher Herman Witte. Of Herman's eight children, two survived their father, and Maria Catharina Witte (ennobled von Witten) inherited the castle. The castle was later sold to the member of parliament Pehr Carlsköld, who, among other things, established the Görväln brickworks. In 1757, the castle was sold to Countess Eva Bielke, who had the lower curved wings built. After Eva's death, the castle was sold to Court Marshal Adolf Rudbeck.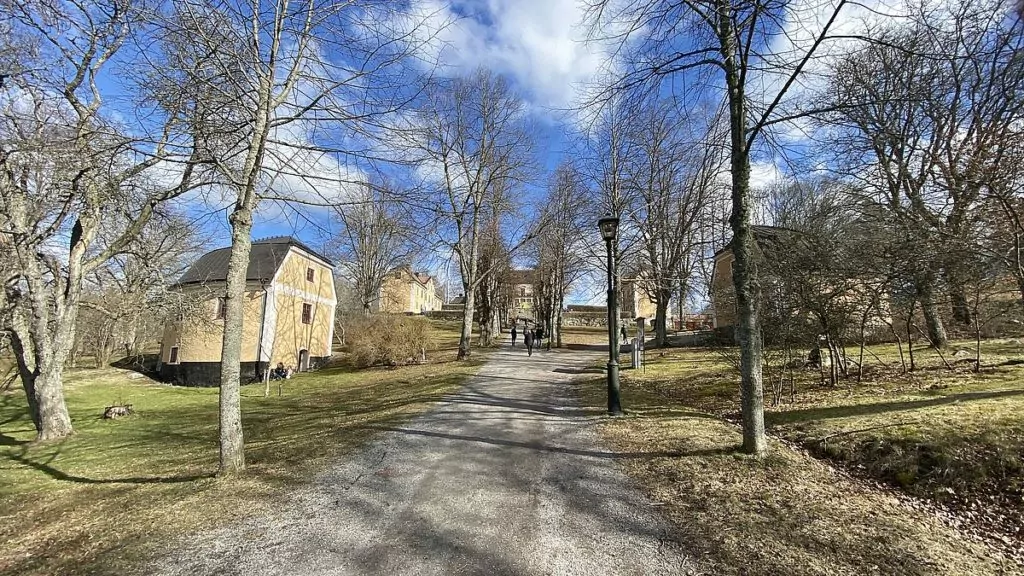 In the 19th century (1802), Görväln Castle was sold, after a few quick changes of ownership, to Bengt Magnus Björkman, who kept the castle in his family until 1882. The castle was then sold to the farmer Georg af Schmidt and later the engineer Antenor Nydqvist.
In the 20th century Görväln was owned by Dr Mauritz Salin and his children. In 1963 Järfälla municipality bought the main part of the farm, and in 1967 they bought the remaining parts of the area. The municipality has spent a lot of money on renovation, and today hotel and restaurant operations are run here.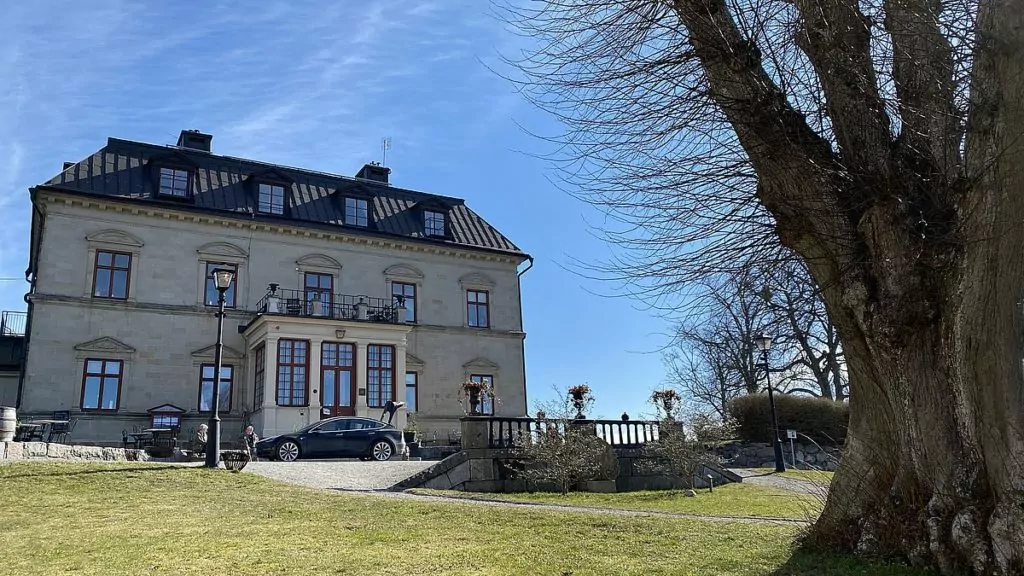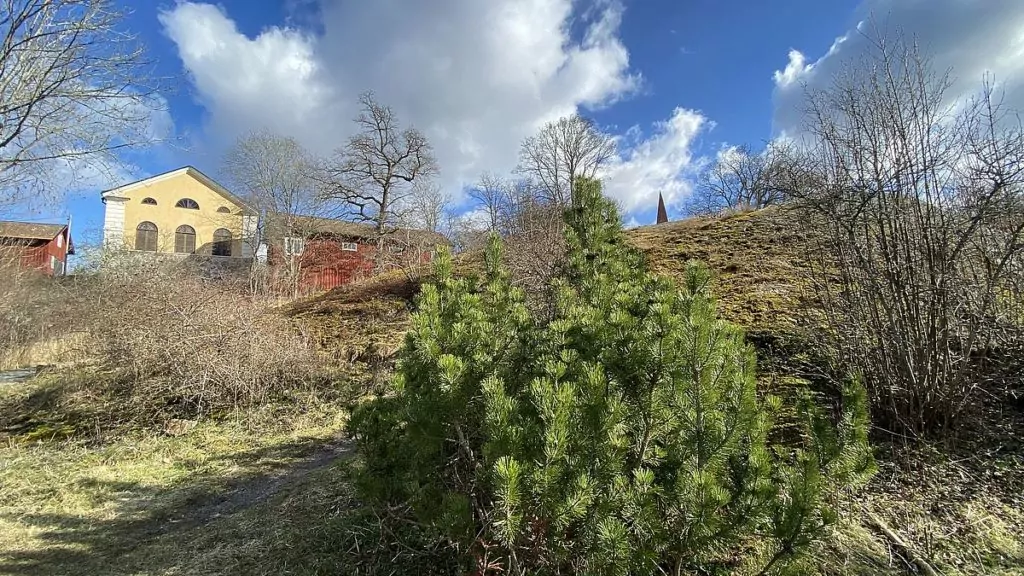 A visit inside Görväln Castle
We peeked into the castle, where today it is operated hotels and restaurants. It has a total of 45 hotel rooms as well as various meeting and conference facilities. In the restaurant it was actually in full, despite the tough times we have right now. We enjoyed looking around the nice rooms, and then went out into the castle park.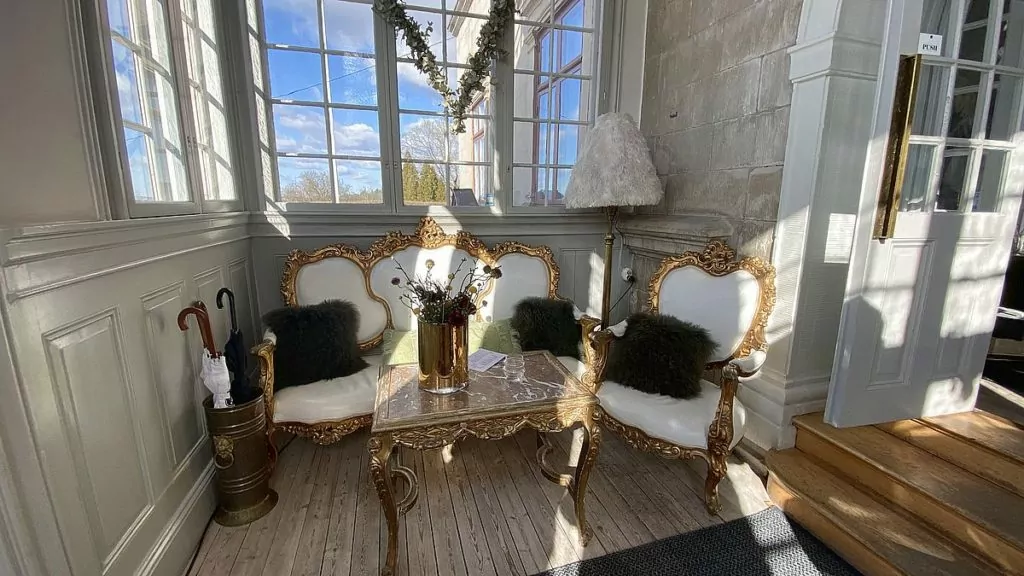 Arboretum and Sculpture Park
Görväln Castle Park is an arboretum, a park that displays examples of trees and shrubs from around the world. The park was established at the end of the 19th century and contains around 150 different species. The large castle park also includes a sculpture park. In the middle of the beautiful nature are various works of art. Really nice!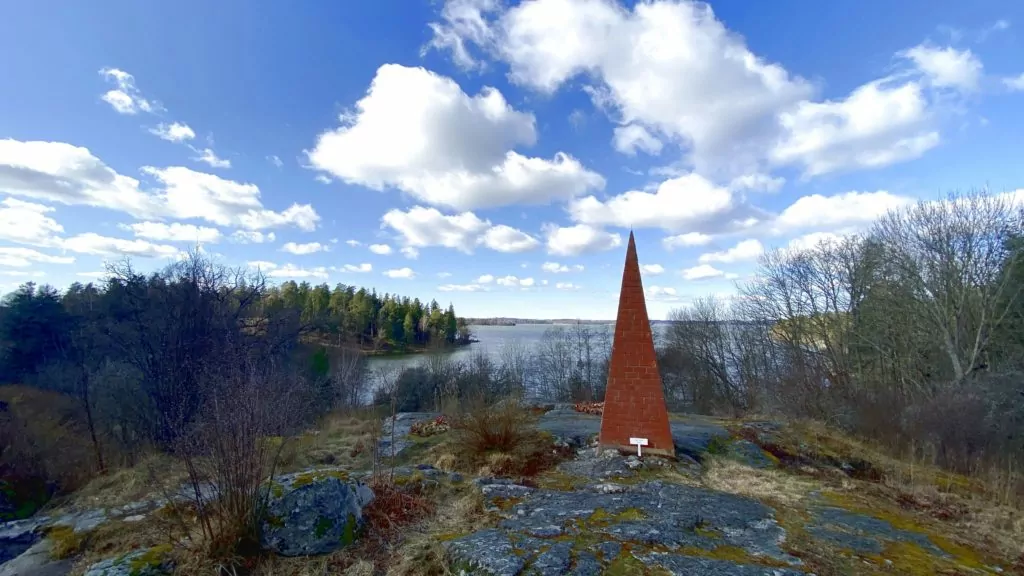 Görvälns pub
Görvälns krog, or Villa Solbacka as the house is also known, is located right next to Gärvälns slott. The building served as an inn until 1830, including for those arriving by boat. Today the house is used by the castle's hotel operations, for example for conferences and meetings.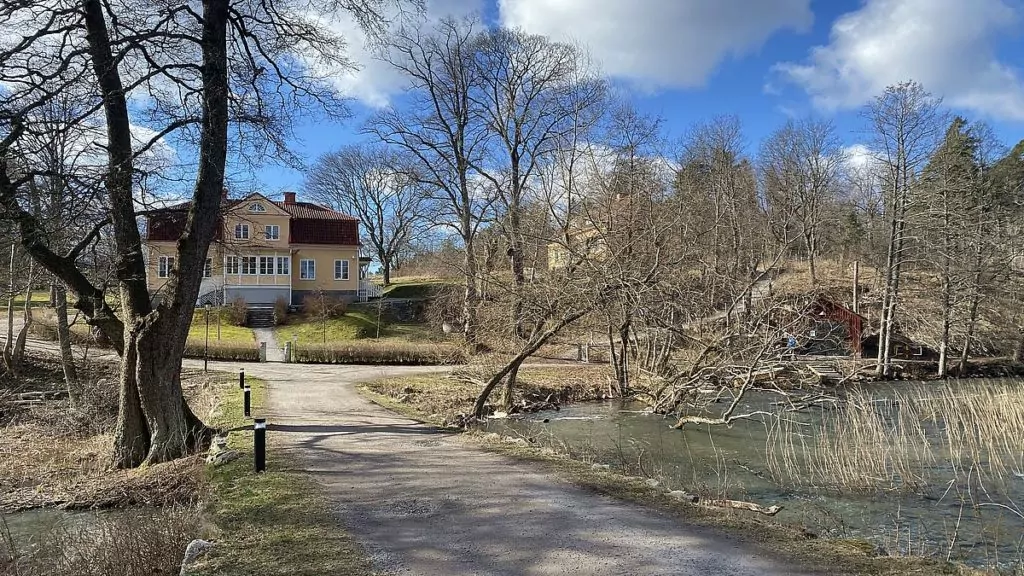 Görväln Nature Reserve
Görväln Castle is surrounded by the Görväln Nature Reserve. Here you can walk in beautiful nature, and there are also illuminated exercise trails. We walked along the water, and were fascinated by the "ice drops" that hung along the tree branches by the water. Beautiful in the sunlight!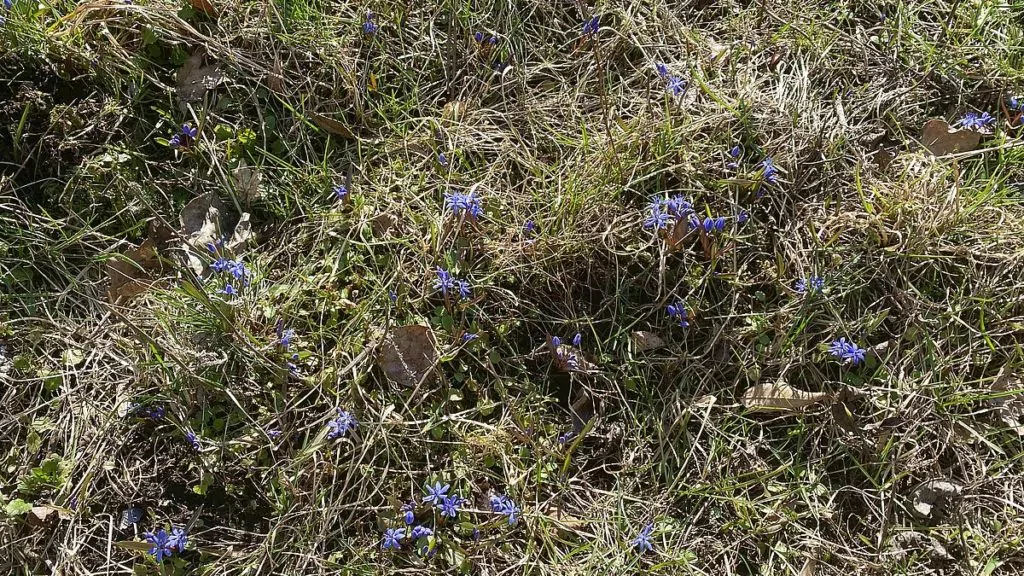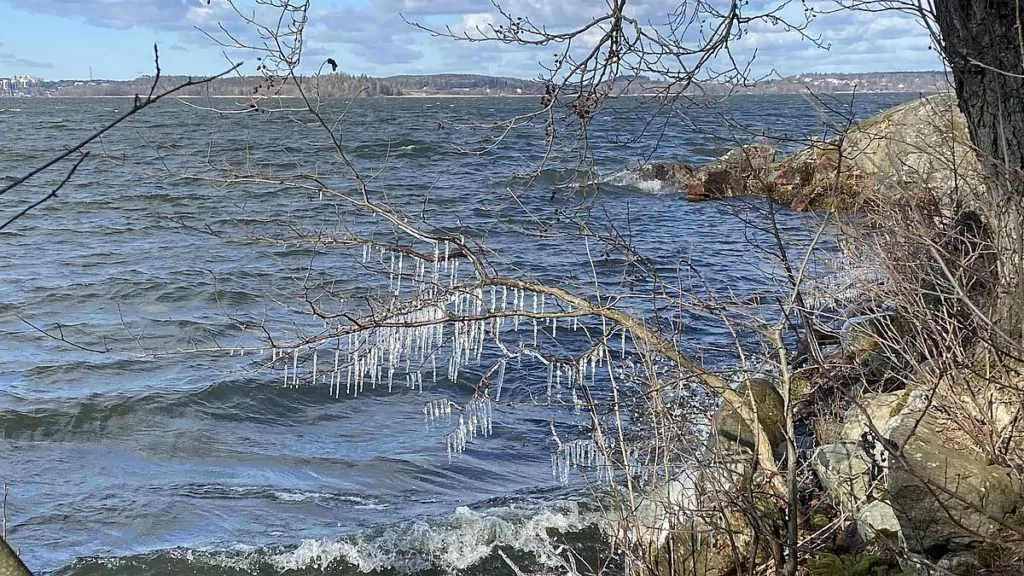 Village ski slope and baths
There are several swimming spots in the Görväln nature reserve. For example, there is a nice bathing area near the "Bruket". This red house was originally a residence for workers at the brickworks, but today it serves as a café in the summer. Close by is also the Brukets ski slope, which is equipped with a ski lift. Peter has skied here many times when he was younger, but at that time there was no lift ...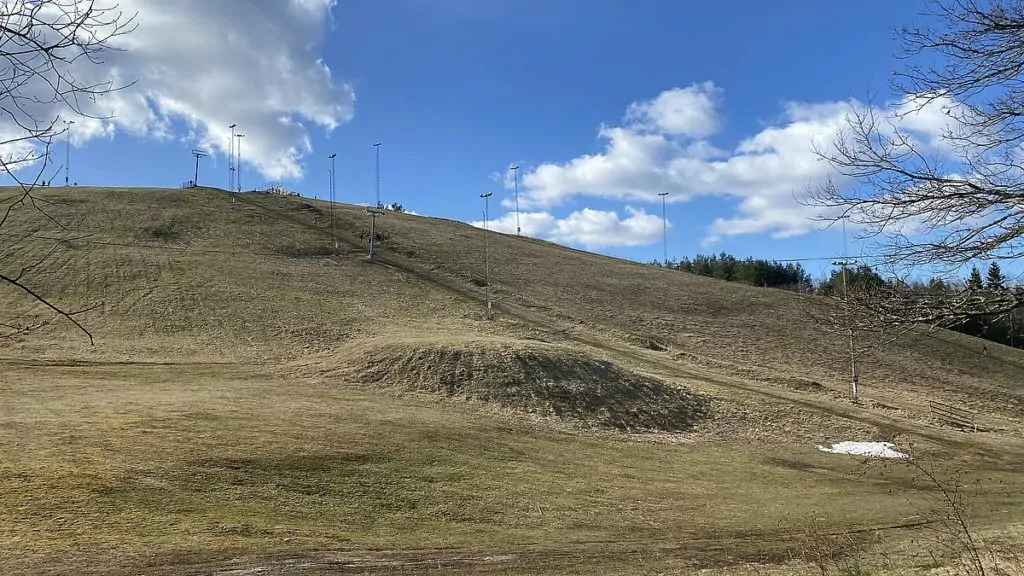 Gåseborg ancient castle in Görväln nature reserve
Further south in Görväln nature reserve you will find the ancient castle Gåseborg. We drove here by car, and went for a nice walk through the nature before we arrived.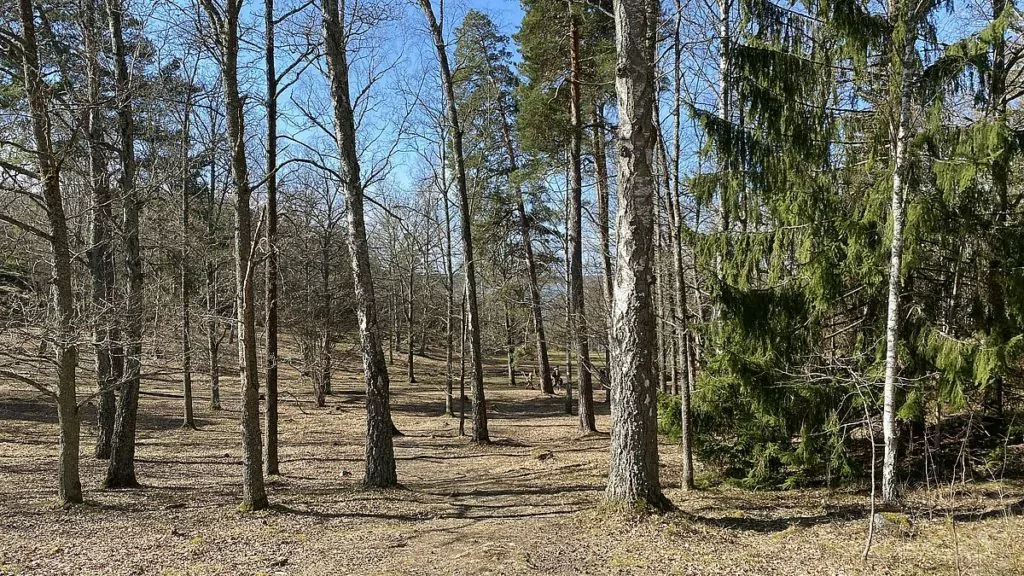 On the way we passed Sandvik's farm, which was owned and occupied by Sweden's first Prime Minister Louis de Geer the elder. The farm was originally built in the 1770s, and was rebuilt in the 19th century in the Swiss style.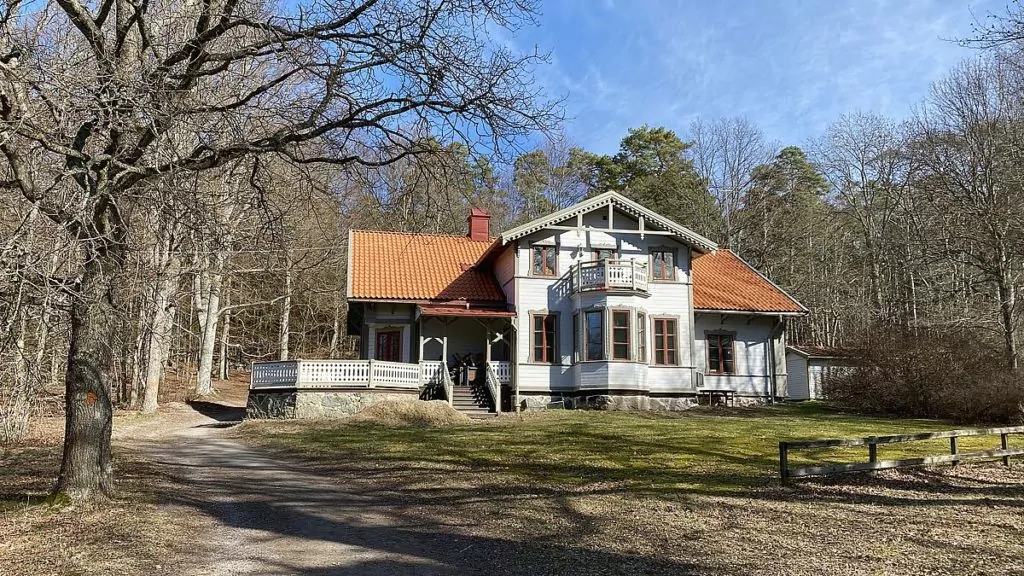 Arriving at Gåseborg was really fascinating. Here you see the ruins of a large ancient castle, which has been dated to somewhere between 300 and 500 AD. The castle has a natural slope towards the sea, and is surrounded by walls with two entrances.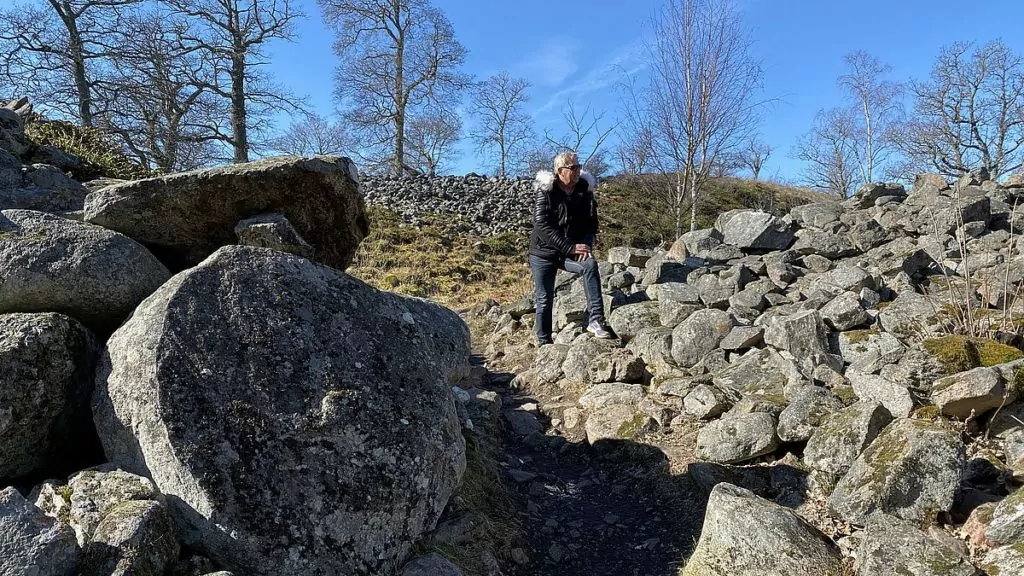 Another reason to visit Gåseborg in the Görväln nature reserve is the fantastic view. Some people had come here to eat a packed lunch, enjoy the sun or watch the birds. Really, really nice!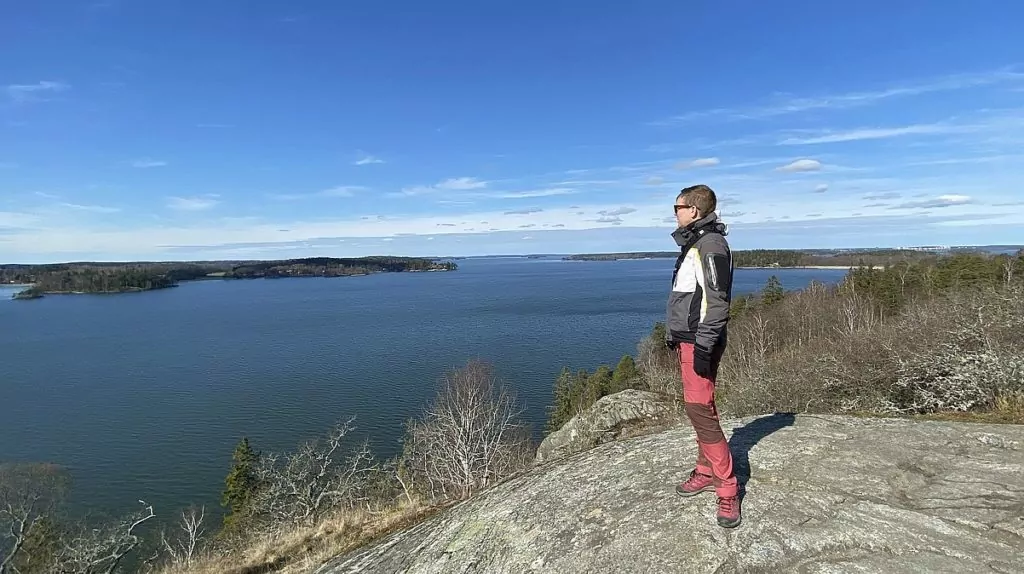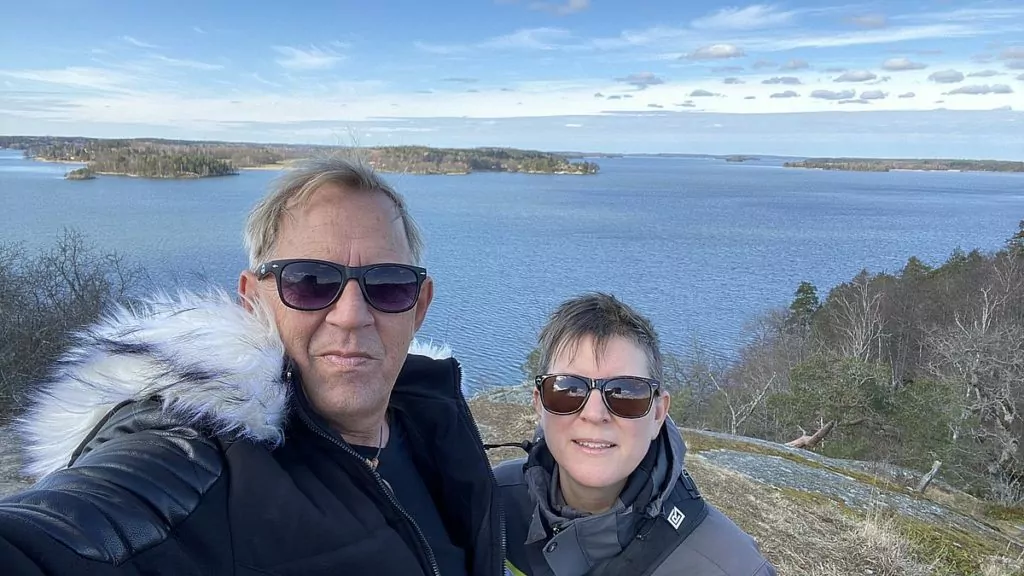 Have you been to Görväln Castle or Görväln Nature Reserve? Tell us about it!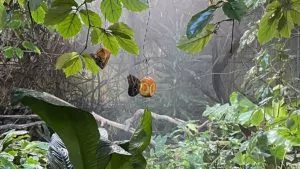 Have you visited the Butterfly House in Haga? For us it was a long time ago, but now...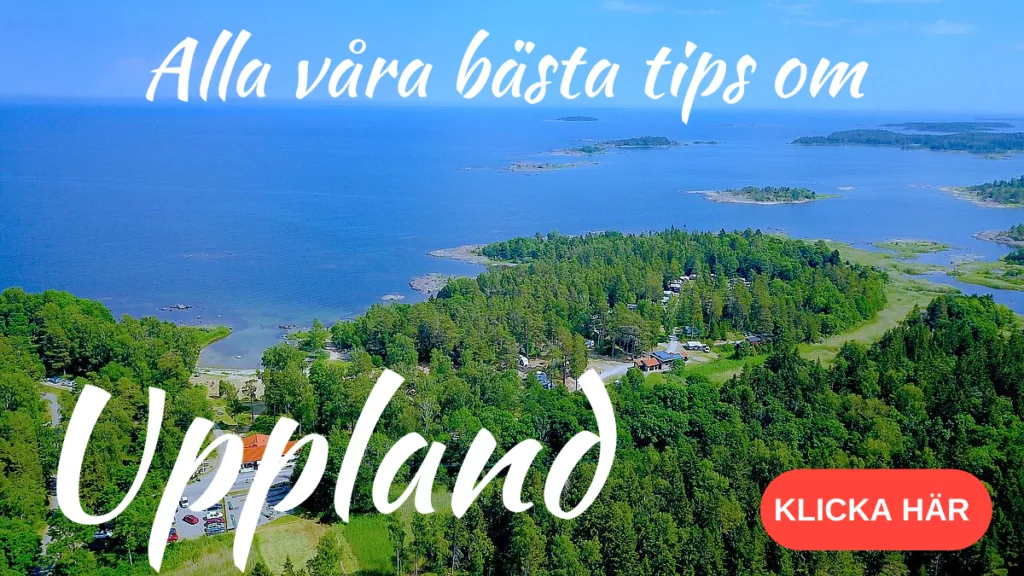 Facts about Görväln Castle
Location: By Lake Mälaren, Järfälla municipality
Architect: Jean de la Vallée (1624-1696)
Developer: Axel Sparre (1620-1679)
Owners: Järfälla municipality
Start of construction: 15th century (main building built 1659-1661)
Completion: 1675
Hotel and restaurant operations at Görväln Castle
Hotel operations: Adults Only hotel (welcomes guests from 16 years old) with 45 rooms.
Conference: Meeting rooms and the possibility to organise tours and activities.
Activities: Themed activities, lectures, tastings (wine, champagne, cheese, etc.), exercise (yoga, mountain biking, etc.) and adventure (helicopter, sailing, etc.).
Restaurant: Restaurant Galleriet offers hotel breakfast, lunch and a la carte dinner.
Packages and offers: Weekend packages with different themes, celebrations on different weekends, etc.
Facts about Görväln Nature Reserve
Size: 900 hectares, 9 km2
Formation: 1995
Municipality: Järfälla
Areas
Kallhäll area: Kalhällsbadet and the farms Källtorp, Slammertorp, Lädersättra and Dikartorp and the nature areas Hälleboda, Grävlingsberget, Ekberget, Sågängen, Smedhagen, Simonsberget and Ormberget.
Görväln Castle Park area: Görvälns castle, the castle park, Kvarnberget and Bruket.
Henrikstorp, Marhagen, Baset and Sandudden: Görvälnsbadet, Baset parish centre and Basetkärret.
Hummelmora Mountain and Hummelmora Garden: Hummelmora Mountain is 67.37 metres high and is known for its "pebble valleys".
Sandviks gård, Gåseborg and Gåsberget: Sandvik Farm, owned by Sweden's first Prime Minister Louis De Geer, the 55 metre high Gåsberget mountain and the ancient castle of Gåseborg.
Törndal, Henriksdal and Nyaland: Henriksdal croft and Nyaland with a Bronze Age cairn.
Animals and nature
Open fields: Moorland, coastal meadow, arable land, fallow land and pasture.
Forest types: Coniferous forests, rocky outcrops, rocky pine forests, deciduous forests and deciduous areas.
Deciduous trees: Alder, aspen, birch, hazel, oak, ash, elm, hornbeam, maple, maple, linden, beech, birdberry and sweet cherry.
Wild mammals: Hare, deer, wild boar and others.
Birds: Many different birds, such as nuthatch, warbler, rosefinch, greenfinch, yellow eagle, flycatcher, barn owl, woodpecker and buzzard.
Services in Görväln Nature Reserve
Hotel: Görväln Castle runs a hotel.
Serving: There is a restaurant at Görväln Castle. There is also Café Bruket and Café Baset.
Rest areas and barbecue areas: There are several fireplaces, marked on a map. There are also shelters in some places.
Toilets: Toilets are located in several places, marked on the map.
Activities in Görväln Nature Reserve
Hiking: There are several fine hiking trails. For example, the Upplandsleden trail runs through the Görväln nature reserve.
Motion: There are two electrically lit jogging trails, one in the northern part of the nature reserve and one in the south.
Bird watching: The mountain at Gåseborg is great for bird watching.
Ski slope: Ski slope available, with ski lift.
Bath: There are several bathing areas, Kallhällsbadet, the bathing area at Bruket and Görvälnbadet.
Rules in Görväln Nature Reserve
Certain rules must be observed in the nature reserve. It is forbidden to
Destroying or damaging fixed natural objects or surfaces.
Breaking branches, damaging vegetation or felling living or dead trees and shrubs.
Disrupting wildlife.
Bringing an off-leash dog or cat (unless specifically authorised).
Fire in places other than designated areas.
Camping for more than two days.
Riding in places other than designated areas.
Driving a motorised vehicle in places other than designated roads.
Using disruptive motorised devices for play or sport.
Organising marked trails, fixed orienteering controls or competitions for more than 200 participants, without special authorisation.
Landing on land or water by aeroplane.
Finding Görväln Castle and Görväln Nature Reserve
Car: From Stockholm, take the E18 northwards. Turn off at Trafikplats Barkarby, and turn left towards Viksjöleden. Turn right at Järfällavägen and follow signs for Mälarvägen and Görvälns slott. If you come from the north, take the E18 south and turn off at Jakobsberg/IKEA/Bauhaus. Follow signs for Viksjöleden/Mälarvägen and Görvälns slott.
Commuter trains: There is a commuter train station in Kallhäll.
Bus: Bus stops are located in several places in the nature reserve, marked on a map. See traffic on sl.se.