Noor's Castle is a wooden Carolingian castle in Knivsta, Uppland. It may be a very small and perhaps unassuming castle, but the ground has been trodden by important people such as Karl XI, Verner von Heidenstam and Steve Jobs. Once upon a time there was also an impressively grand baroque garden.
Norwegian Castle
Noor Castle has a long and exciting history, and today serves as a party and conference centre. We were tipped off about the castle by a follower on Instagram, when we were previously on a castle trip. That time it was not suitable to pass by, but when we now saw the sign, a bell rang!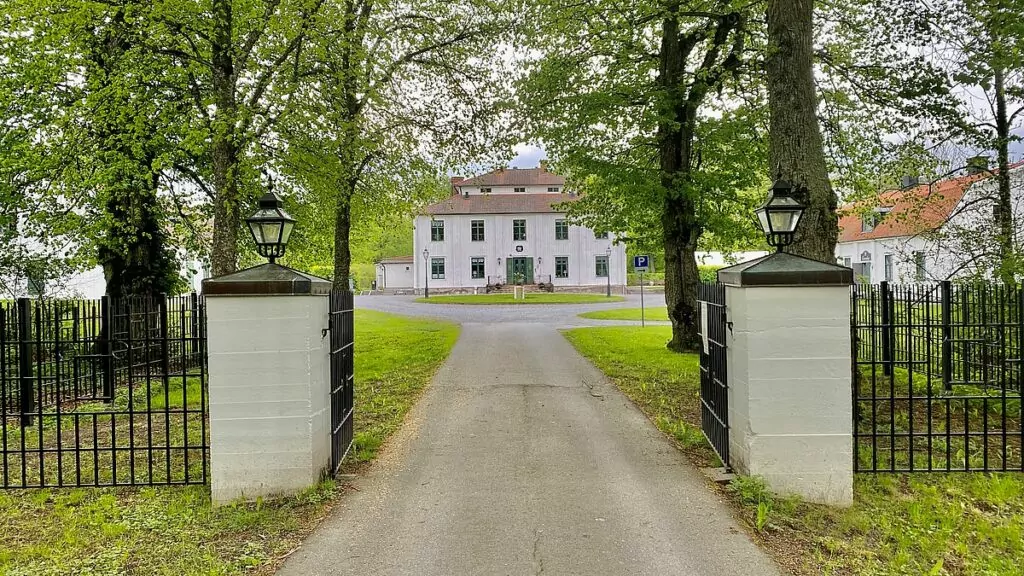 Noor's Castle is located in Knivsta in Uppland, about 2.5 kilometres south of Uppsala and almost 6 kilometres north of Stockholm.
Charles XI, Verner von Heidenstam and Steve Jobs
In the 1680s, Noor Castle was taken by the Crown during Charles XI's reduction, and a few years later the King sold the castle to his advisor Nils Gyldenstolpe. He had the castle rebuilt into a grand manor house in the Carolingian style. Don't think the little wooden castle is so grand? Then take a look at old drawings of the baroque garden. the was magnificent.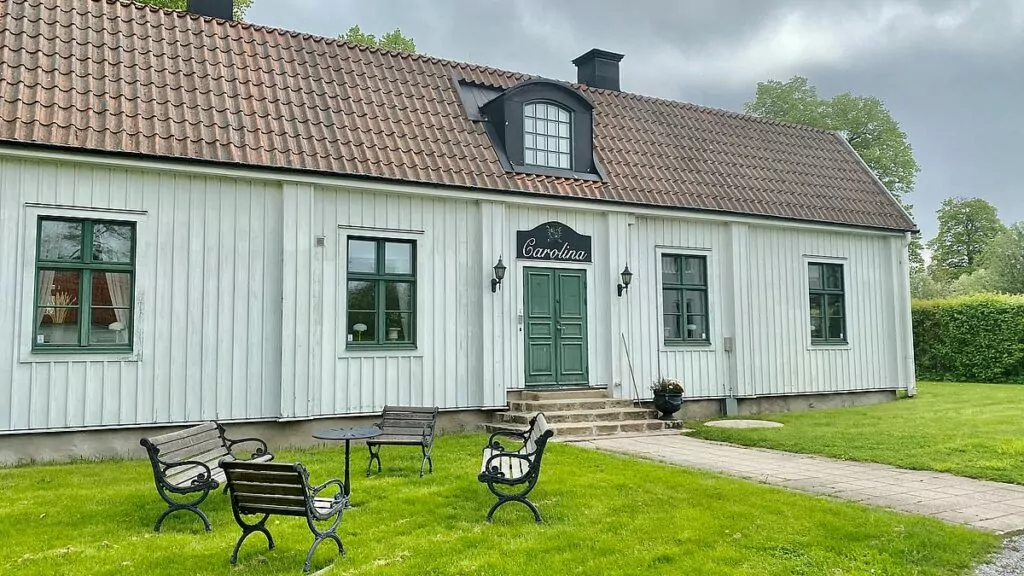 In the 18th century, the castle was owned by the Hermelin family, and in 1898, the writer Verner von Heidenstam spent a year at Noor Castle to get the right feel for writing 'The Carolinians'. One night he had a ghostly experience, which he himself has described:

Outside my writing room were two large rooms, almost pitch black at night, with walls full of old family records. There was also a large equestrian portrait of Charles XI. When I was at my best working on the conclusion of the chapter on the death of Charles XII in Fredrikshald - it was about two o'clock in the morning - I heard footsteps and a tinkling, rattling sound. I looked up and in the dark doorway stood none other than my hero Charles XII himself, in field uniform. His face was white as plaster. His gloves were white. The Wraith sat down in a chair with his sword over his knee and said in a clear voice:

- What you write may be real and true, but you forget one thing. Last night I called upon God. I remember that.

Then the ghost was gone. I hurried downstairs and woke my wife and told her about the ghostly vision. Then, with deep feeling, I inserted the ghost's words into my story. Nobody knows how poetry combines superstition with knowledge. Perhaps it is from that very union that the truth is distilled. With this ghost story I want to end for today.

Verner von Heidenstam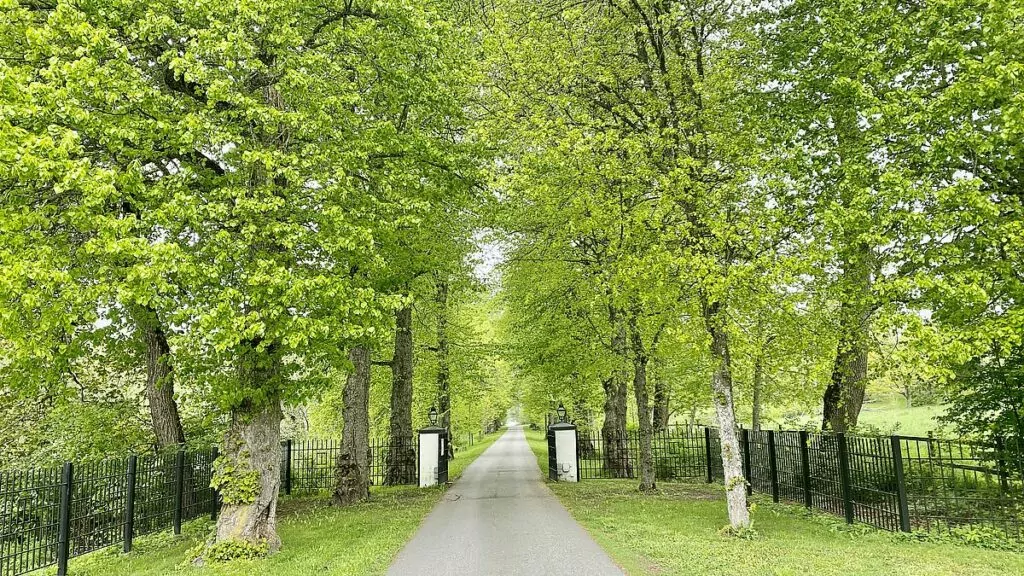 Today, the castle serves as a party and conference centre and perhaps some modern history is written here. For example, it is known that Steve Jobs had an important meeting with Ericsson here, two months before the first version of the iPhone was released.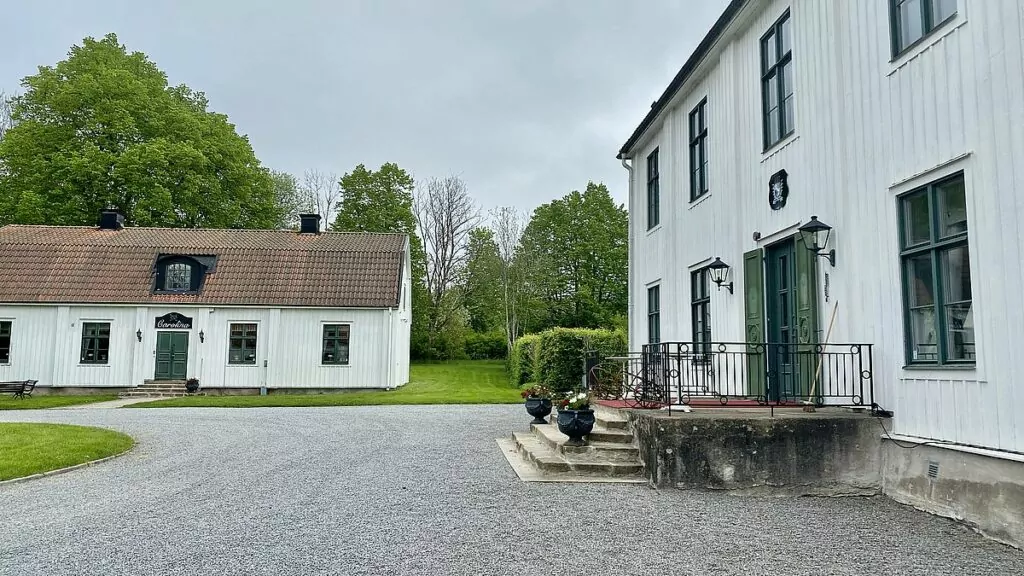 Visiting Noor Castle
Today, Noor Castle is primarily a castle you visit for parties, weddings, conferences or perhaps a cosy castle weekend. There is a luxurious outdoor tent and a relaxation area with a sauna and jacuzzi.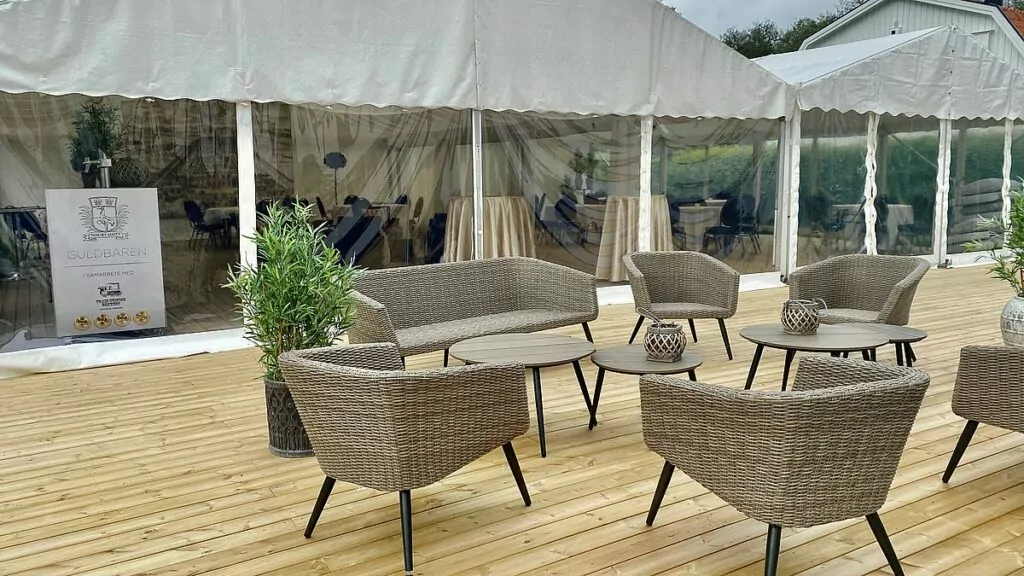 We only stopped with the motorhome to look around, so it was a relatively short visit. The garden is nice, and it looks like they usually organise weddings here. Once upon a time there was an even more magnificent baroque garden here.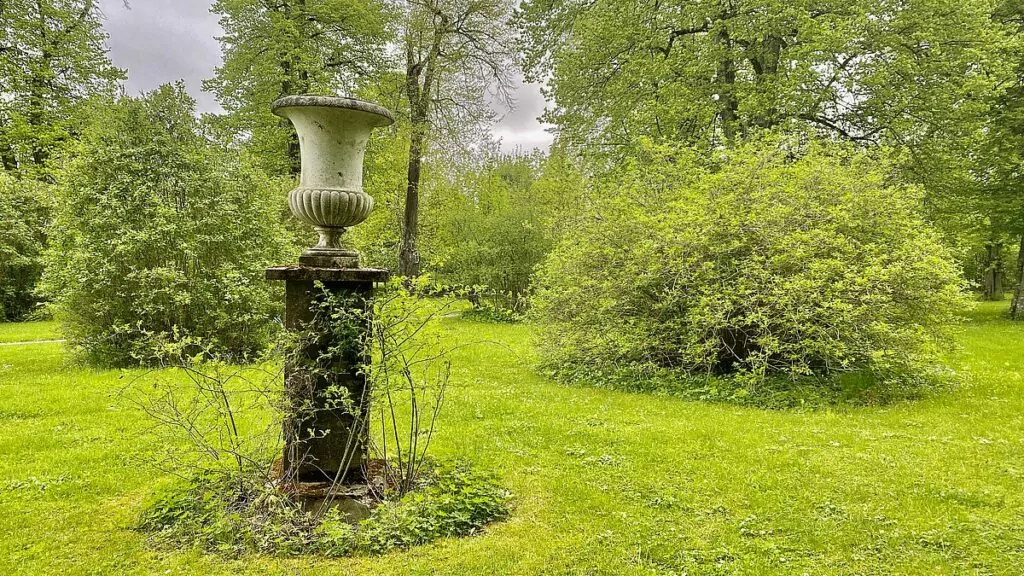 RV park in Knivsta
We were, after our visits to the vallon mills, heading south and looking for a suitable site with electricity. It was not easy, but in the end we found a site for motorhomes and caravans at Kvarngården, Knivsta Hembygdsgille in Knivsta. This was a very nice place that we liked!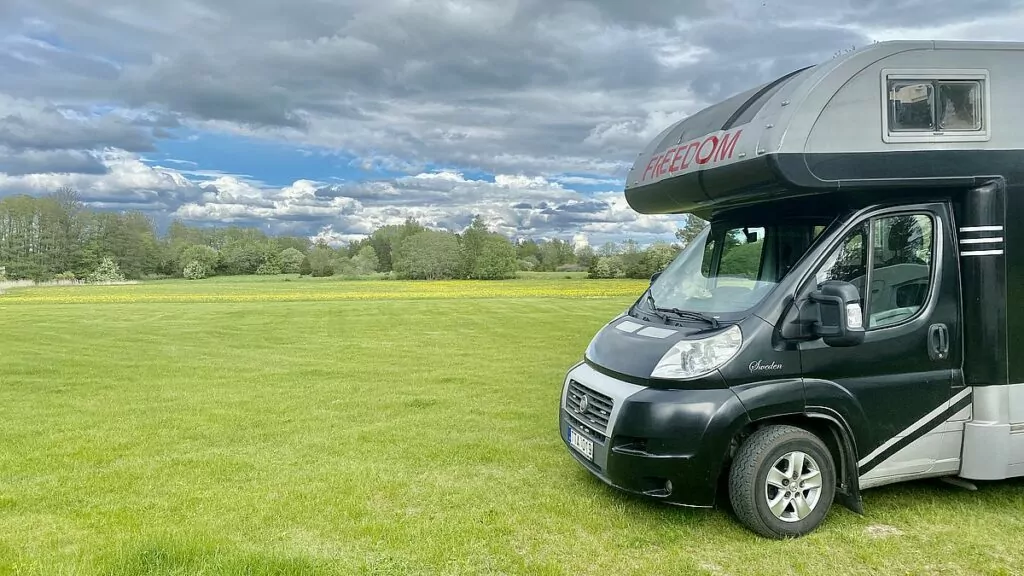 We stood nicely on a lawn and had access to all the services we needed in the form of electricity, toilets, showers and the opportunity to empty the toilet tank. For this we had to swipe 250 SEK. We can definitely recommend this place!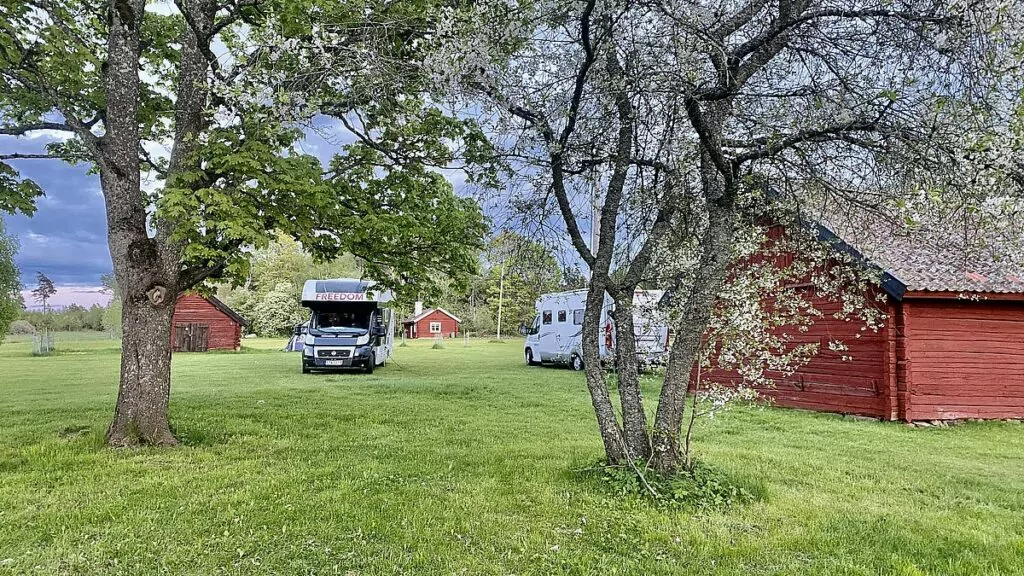 See more in the neighbourhood
From Noor Castle it is not far to Uppsala, and it is also not very far to Sweden's oldest town Sigtuna. Exciting castles to visit nearby include, among others Wenngarn Castle, Rosersberg Castle, Skoklosters Castle and Salsta Castle.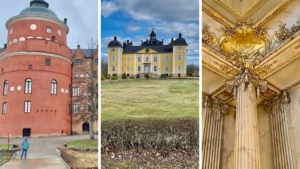 Royal palaces in Sweden are the subject of today's article. Did you know that there are 11...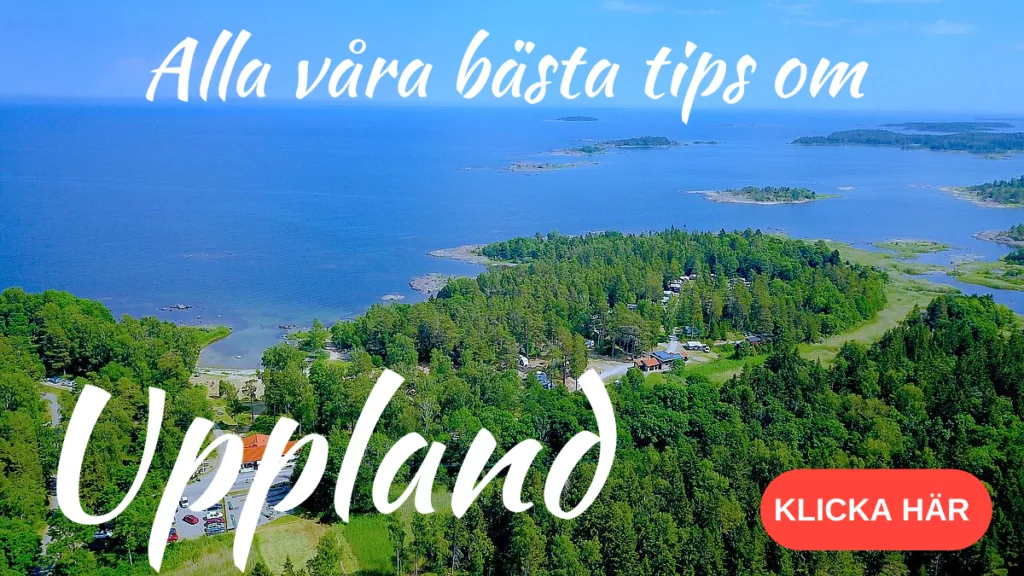 Have you visited Noor Castle?
Have you visited Noor Castle or the car park in Knivsta? How was your experience? Do you have any other tips for the local area?
Facts about Noor Castle
Address: Ledingevägen 93, Knivsta
Municipality: Knivsta
County: Uppsala County
Landscape: Uppland
Developer: Nils Guildenstolpe
Completion: 1690s
Style: Carolinian style
Owners: The business is run by Sofia and Håkan Hjärner and the property is owned by Landia AB.
Read more: You can find more information at the castle's website.
Services and practical information
Conference: The castle can organise conferences with meals, a relaxation area and more.
Weddings and parties: The castle can be booked for weddings and parties along with the garden and the castle's summer lounge (tent).
Weekend: Castle weekend packages can be booked with coffee, relaxation area, dinner, double room and castle breakfast.
Rent the castle: The castle can be hired for parties, customer events, kick-offs and other events.
Finding Noor Castle
Car: Take the E4 motorway from Stockholm or Uppsala and exit towards Knivsta at the Brunnby junction. Follow the signs for the castle.
History at Noor Castle
14th century: The estate is first mentioned in written sources from this period.
1686: The castle was forfeited to the Crown in Charles XI's reduction, and was subsequently used by Charles XI as a hunting lodge.
1689: The King sold the castle to his advisor Nils Gyldenstolpe when the advisor was elevated to the rank of count. Nils Gyldenstolpe rebuilt the castle into a magnificent manor house in the Carolingian style, possibly to the designs of Jean de la Vallée.
Late 17th century: An impressive baroque garden, which no longer exists, was laid out by Johan Hårleman. Among the preserved fruit trees is a unique local apple variety called Noors Glasäpple.
1696: King Charles XI visited Count Gyldenstolpe at Noor on two occasions in 1696.
18th century to the present
1761: Noor Castle was bought by Carl Hermelin, a councillor, and the castle remained in the family as a fideicomiss until 1918. The castle's two rococo wings were built during Hermelin's time.
1898: Verner von Heidenstam spent a year at Noor Castle to get the right atmosphere to write about Charles XII's war. In the castle's Heidenstam Room you can try out the author's chair.
1996-1997: The castle and buildings were completely renovated.
1980s and 1990s: Noor Castle was a treatment centre run by the Alpha Foundation.
2005: The castle was bought by Sofia Hjärner and her aunt Stina Fredriksson, and later Sofia's husband Håkan took over Stina's place. The business is still run by them, while the property has been sold to an external property owner.
2006: Steve Jobs visited Noor Castle for a meeting with Carl-Henric Svanberg, then CEO of Ericsson. Two months later, Steve Jobs unveiled Apple's first version of the iPhone.