Wenngarn Castle in Sigtuna is a beautiful castle, once built by Magnus de la Gardie. Here you can stroll in the beautiful castle park, or perhaps have a coffee or lunch at the bakery. It is also close to Sigtuna, Sweden's oldest town.
Wenngarn Castle
Wenngarn Castle dates back to the 12th century, but the castle you see today dates back to the 17th century. There are occasional guided tours, as well as a castle park, castle shop and bakery.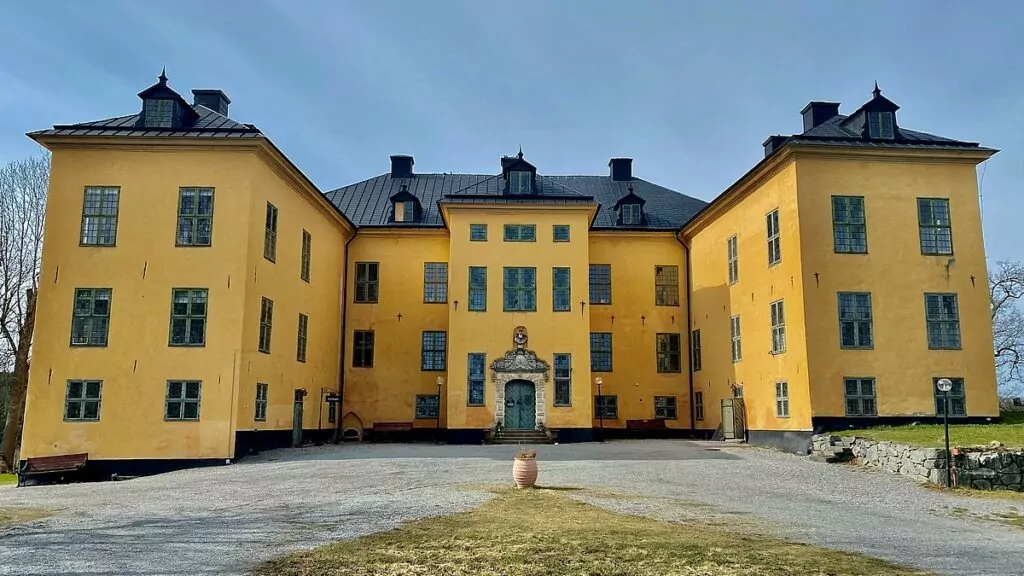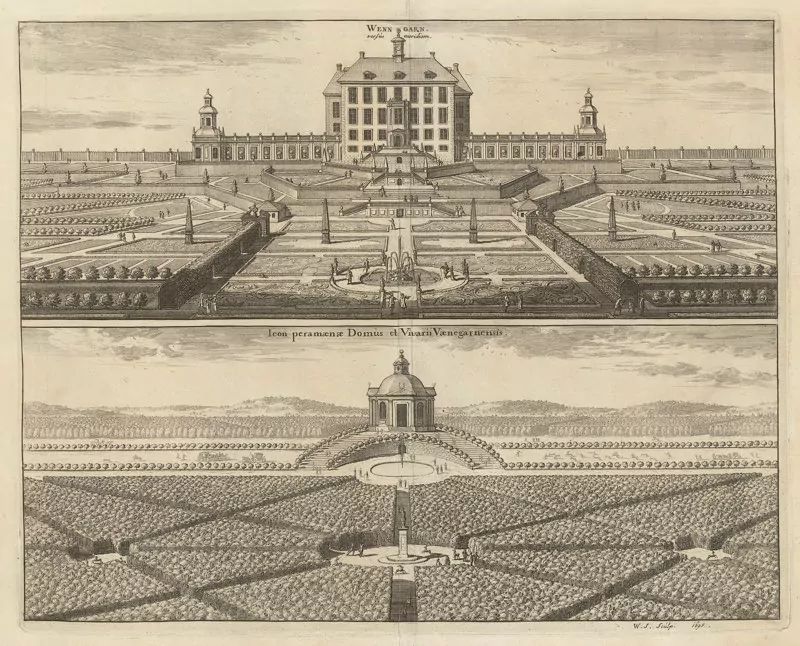 Wenngarn Castle is located a few kilometres north of Sigtuna, in Stockholm County, in the province of Uppland.
From antiquity and De la Gardie to asylums and hotels
Wenngarn Castle is located on a site with a very long history. It is known that people lived here as early as 1500 years ago and around 970 Sweden's oldest town, Sigtuna, was founded nearby. If you want to learn about the history, you can follow the excellent signs around the castle and the castle park.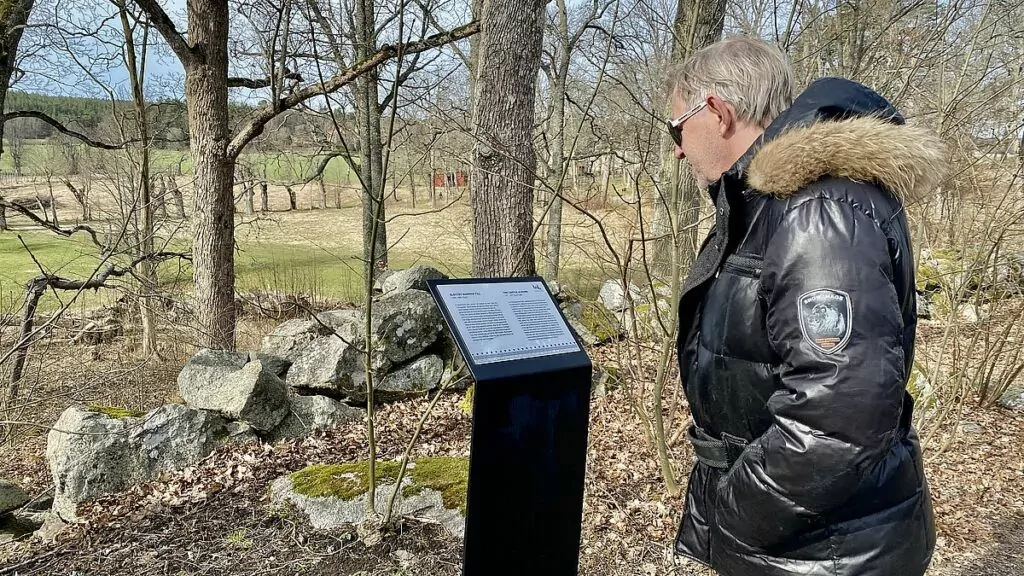 In the 12th century, the first stone house was built on the site, which was impressive at the time as ordinary people lived in wooden houses. In the 17th century, the estate was taken over by Magnus Gabriel de la Gardie, who built the castle that exists today with the help of architect Jean de la Vallé.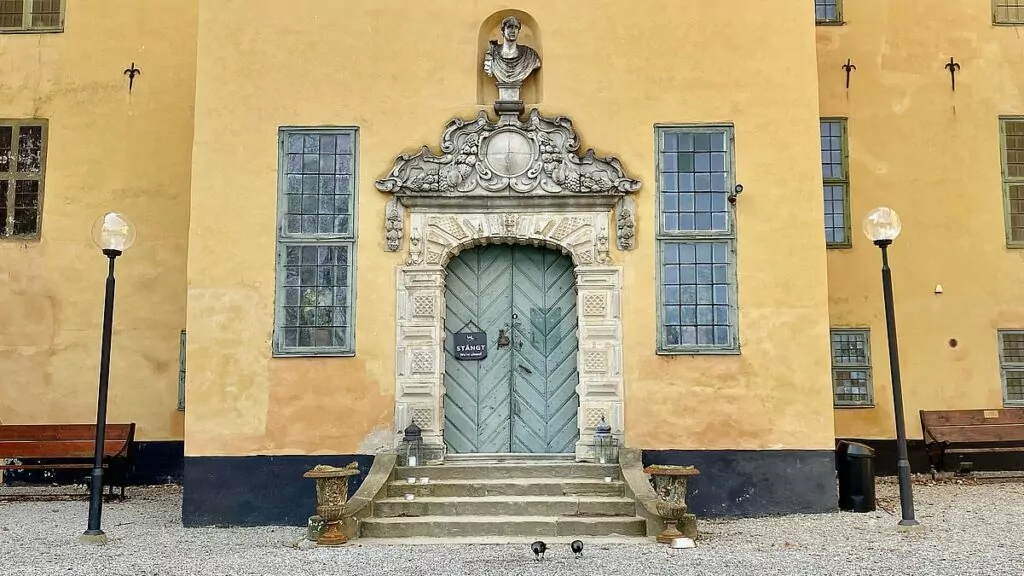 The castle later became the property of the Crown, and in the 1930s it was decided to run a drug treatment centre on the site. An additional building was constructed, which today serves as the 'Hotel Anstalten'.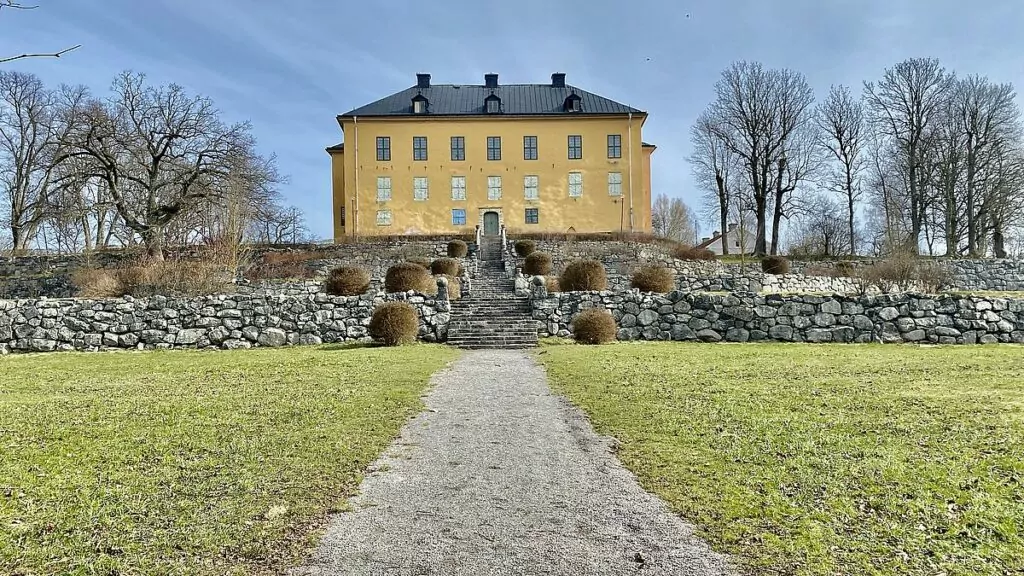 When Magnus Gabriel de la Gardie rebuilt Wenngarn Castle in the 17th century, he erected a first bell tower. After his death, the tower fell into disrepair and was demolished in the 1730s. In the 1940s, the Sigtuna Sewing Society started a fundraising campaign to see a bell tower at Wenngarn once again, and eventually the estate could once again boast a bell tower.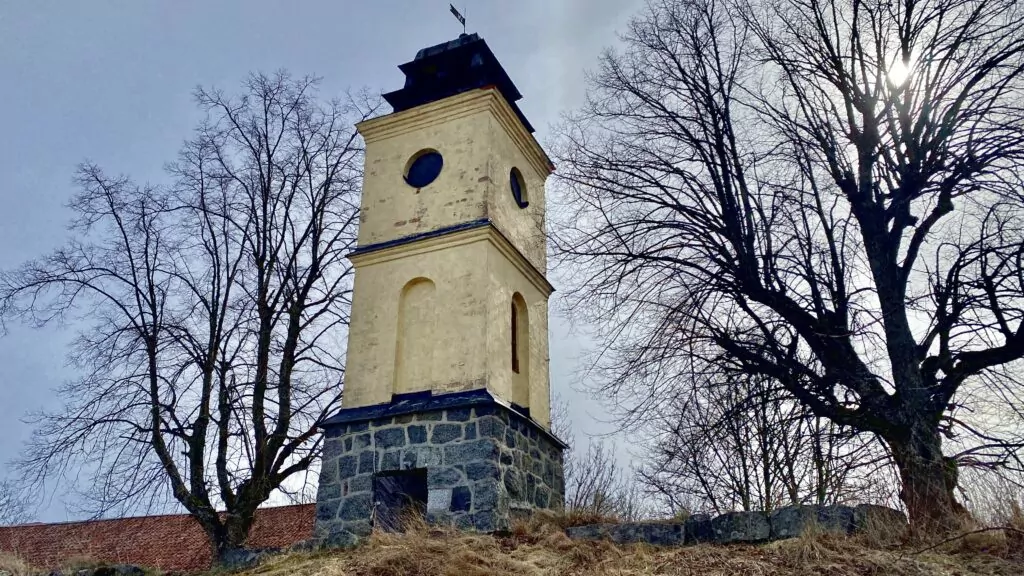 Castle Park
Wenngarn's baroque park was created in the 17th century, under the supervision of Magnus Gabriel de la Gardie, probably with the help of the architect Jean de la Vallée. At the beginning of the 21st century, the park was completely overgrown and, after many years of decay, Wenngarn is now focusing on rebuilding the park.
The park is made up of several grand avenues and large green areas, including a pond filled with small red fish.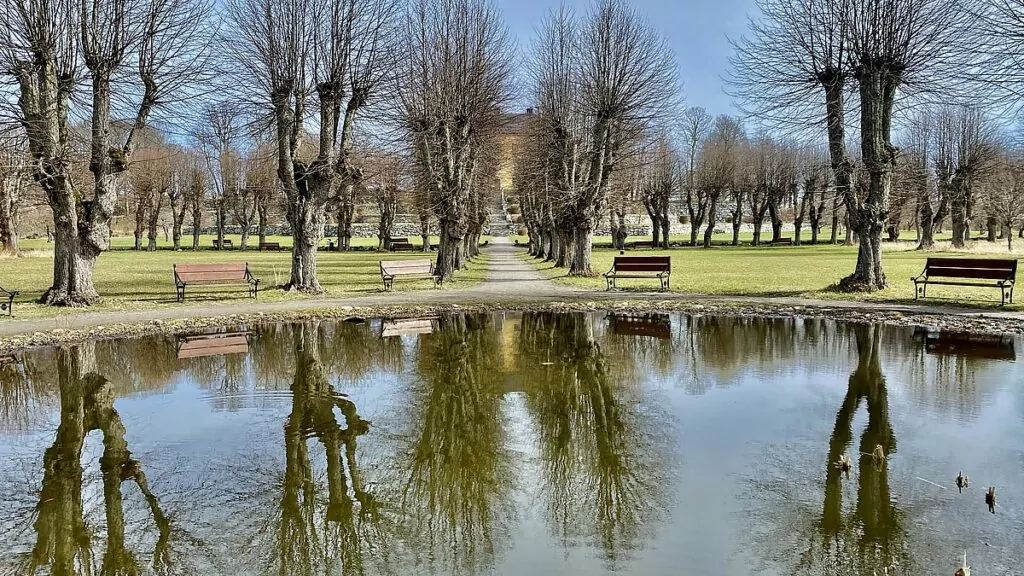 After all the visits to castles, it feels like we have started "collecting" photos of ancient trees. Isn't it a bit fascinating to see these trunks that have been here throughout history?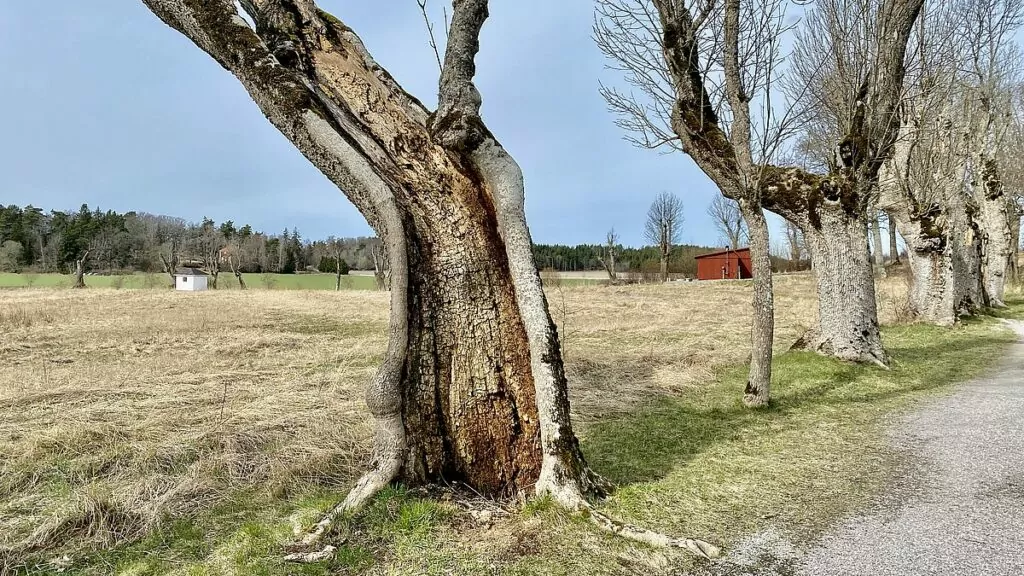 Restaurants at Wenngarn Castle
At Wenngarn Castle there are several options for those who are hungry or hungry. Dammstugan is a charming little house where you can eat wood-fired pizzas.

A little higher up you'll find Wenngarn's bakery, which currently offers a soup buffet at weekends. By the way, there is also a cider brewery and a gin distillery in the area.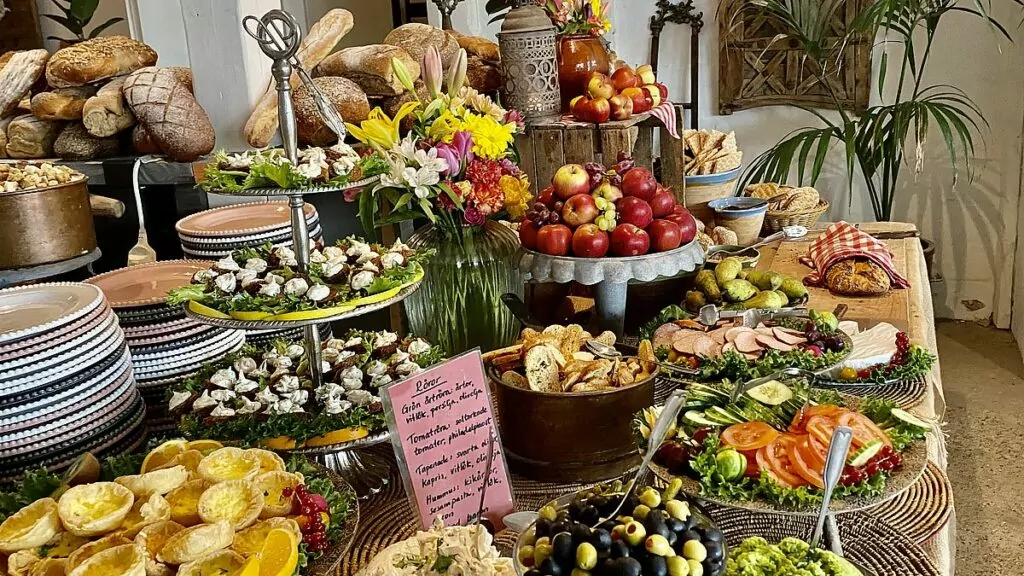 Church ruins in Sigtuna
We continued our journey to Sigtuna. Did I tell you that Peter likes church ruins? We have been to Sigtuna before and then we saw one of the church ruins. Now he had discovered that there are three in total and he wanted to visit them. And they are indeed fascinating!
St Peter's church ruin is the ruin of St Peter's Church, which was completed around 1100. The church is thought to have been the cathedral of the archdiocese before the move to Old Uppsala in 1190.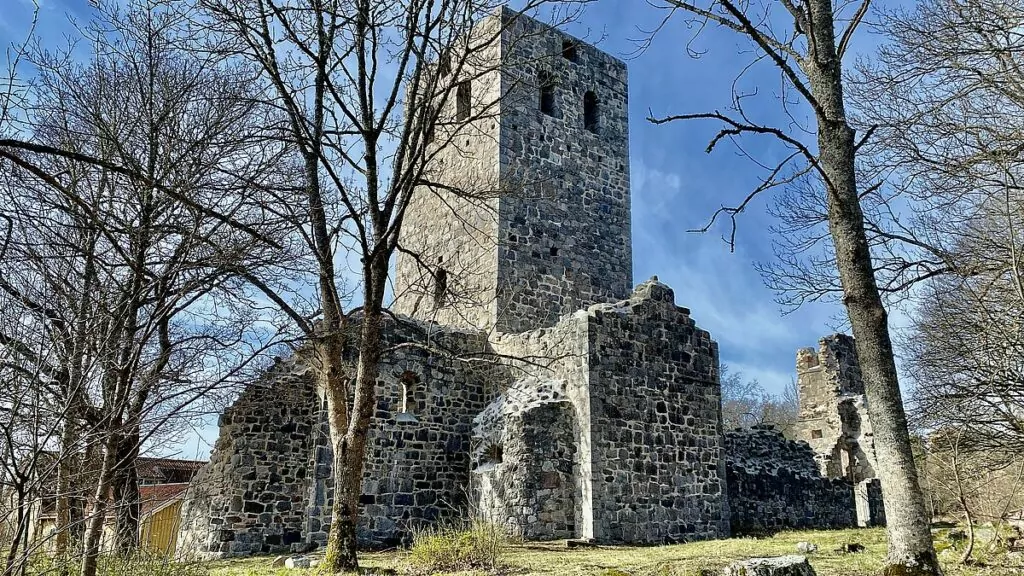 St Olaf's churchyard is approximately contemporary with the St Peter's church ruin.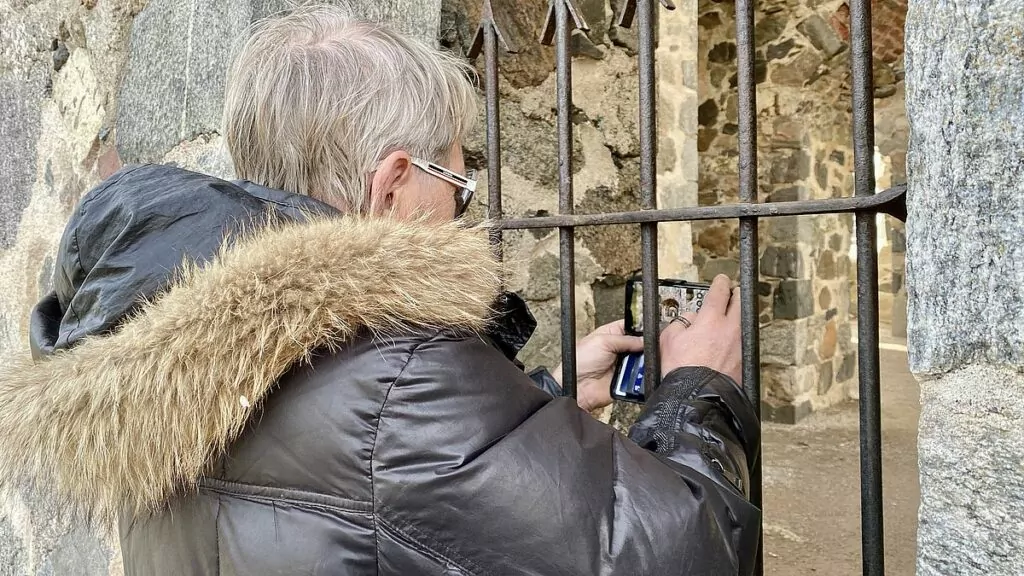 St Lars church ruin is the church ruin of which the least remains. This church was also built in the 12th century, at the time of Christianisation.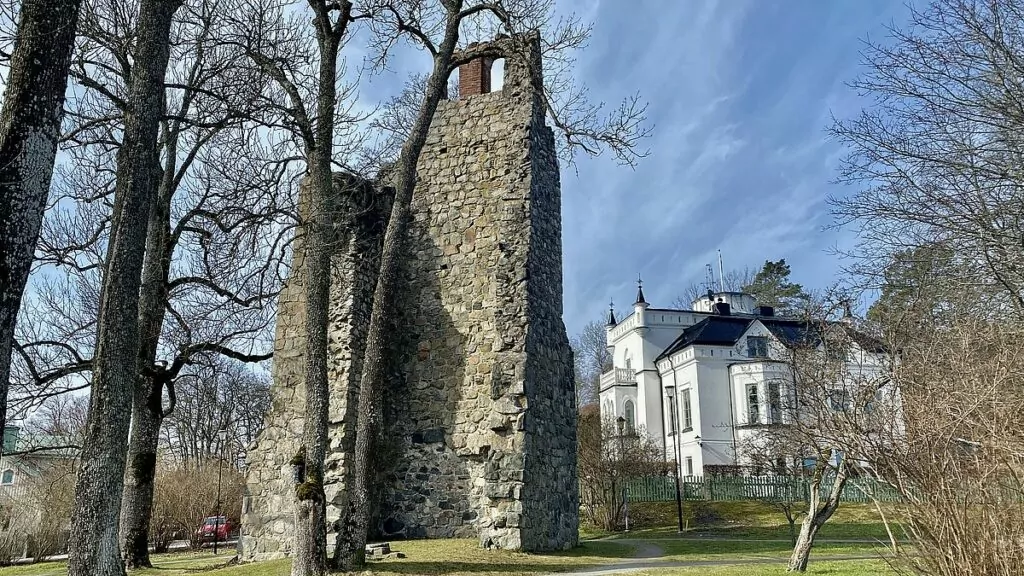 More to see and do in Sigtuna
There is, of course, much more to see and do in Sigtuna. If you like castles, you can visit the royal one Rosersberg Castle, but also Skånelaholm Castle and Steninge Castle. Sigtuna, considered Sweden's oldest town, is also a cosy place to visit with charming alleyways, cafés, bakeries and a nice seaside promenade. Below you will find even more tips for Uppland.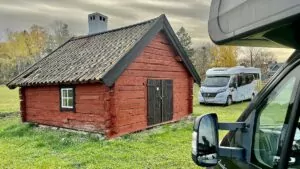 Kvarngården in Knivsta is a local history centre and caravan park run by Knivsta Hembygdsgille. Here...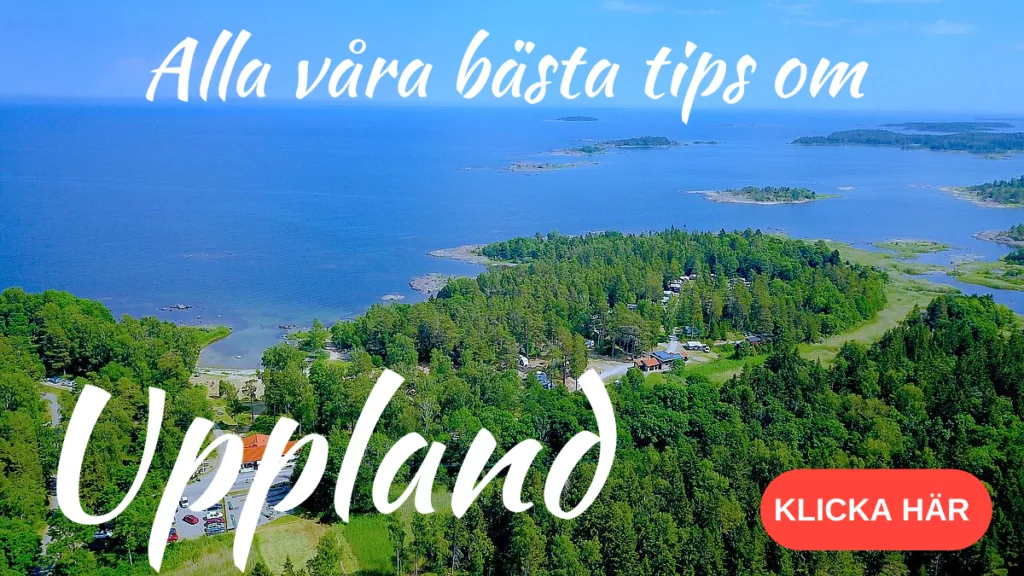 Have you visited Wenngarn Castle?
Have you visited Wenngarn Castle, or any of the other castles in the area? Perhaps you have even more tips?
Facts about Wenngarn Castle
Country: Sweden
Landscape: Uppland
County: Stockholm County
Municipality: Sigtuna
Developer: Magnus Gabriel De la Gardie
Architect: Jean de la Vallée
Completion: 1670
The name: The final word (garn) may refer to something long and narrow in the terrain, and the castle is located at a bay called Garnsviken. The prefix seems unclear, but one suggestion is that it was the dialectal word "fin", which describes a place where birds have mating games.
Read more: You can find more information at the castle's website
History at Wenngarn Castle
Early history: The oldest graves in the area are 1500 years old.
970s: Sigtuna, Sweden's oldest town, was founded and Christianity began to take hold. Garnsviken was an important communication route, along which 12 rune stones have been found.
12th to 15th century
12th century: A grey stone house was built on the site of Wenngarn Castle.
1160s: In the oldest letter written by a Swede, Archbishop Stephen resolves a dispute between Doter and her son Gere regarding a donation to the Cistercian monks in Viby. The dispute was partially resolved by King Knut Eriksson donating parts of his land in Julita to the monks.
1282: On 27 September a Mr Gere is mentioned on "Vinagarum", which is the first time Wenngarn is mentioned in writing. The name Gere is unusual and Gere at Wenngarn was probably a relative of Gere in Viby.
15th century: Eskil Banér gave Wenngarn as a morning gift to his wife Cecilia Haraldsotter. Their daughter Sigrid Eskilsdotter became the mother of Cecilia Månsdotter, who in turn became the mother of Gustav Vasa. In her second marriage, Sigrid had the daughter Kristina Gyllenstierna. Kristina lived at Wenngarn with her husband Sten Sture the younger.
16th century
16th century: Wenngarn became part of King Gustav Vasa's land ownership.
1520: At the Stockholm bloodbath, Kristina Gyllenstiena was sentenced to death, but the sentence was never carried out.
1568: The estate was donated to Gustav Vasa's daughter Sofia Vasa, who was married to Magnus of Saxe-Lauenburg. Magnus replaced the old stone house with a larger building.
1590s: Duke Gustav of Saxe-Lauenburg had Wenngarn rebuilt as a Renaissance palace. Shortly afterwards, Gustav died after shooting himself in the knee during a military exercise and the castle was returned to the crown.
17th century
1619: Wenngarn fell to Gustav II Adolf, who later passed it on to Count Frans Bernhard von Thurn.
1653: The estate was sold to Count Magnus Gabriel de la Gardie. He lost ownership due to reduction, but was allowed to dispose of the property until his death.
1661: Magnus Gabriel de la Gardie began a major remodelling of the estate, with the help of the architect Jean de la Vallé.
1686: Magnus Gabriel de la Gardie died at Wenngarn Castle, and the castle remained in the possession of the Crown.
End of the 17th century: Wenngarn stood empty for a while and was then rented out as a residence for the county's governors.
18th century to the present
1789: One of Sweden's largest silver treasures, weighing around 4 kilos, was found near Wenngarn and Viby by the farmhand Anders Ersson.
1913: The law on the treatment of alcoholics was adopted by the Riksdag, and the following year a decision was made to locate an alcoholic institution at Wenngarn Castle. The building was completed in 1916.
1930: The orangery was built as a residence and workplace for Wenngarn's gardener. They also wanted to create space for horticulture.
1983: Wenngarn was sold to the Lewi Pethrus Foundation. They provided care for addicts until their bankruptcy in 1997.
2014: Hotel Anstalten opened in the prison building with accommodation, conference and hotel facilities.